The experts answered 31 questions you asked during the Crypto webinar.
Find out everything you wanted to know about the Crypto niche and how to work with it.
Last week we hosted our first webinar about the Crypto vertical in affiliate marketing. During it, we got many questions about the Crypto niche, profitable geos, offers, budgets, etc. Some of them were left unanswered. Our experts stepped in to answer them anyway.
Who are the Experts?
The best way to gain a deeper understanding of a subject is to explore it from different angles. On the webinar, we looked at Cryptocurrency niсhe from 2 sides: CPA and ad networks.
We have invited two experts from the iGamingCombo to talk from the affiliate network side. This CPA network provides crypto offers and knows everything about them.
RichAds discussed push ads for Cryptocurrency with all its peculiarities from the ad networks' side.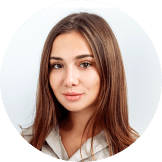 Daria Maichuk
Head of customer service at RichAds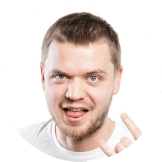 George Kach
Senior Affiliate Manager at iGamingCombo

Skype: egor.kacherovsky
Telegram: @GeorgeAdCombo
george@adcombo.com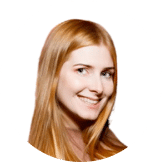 Jane Zim
Product manager at iGamingCombo

Skype: zimina_evgenia
Telegram: @JaneAC
jane@igamingcombo.com
FAQ About Crypto Vertical in Affiliate Marketing: 29 Questions You Asked
Common Questions About the Cryptocurrency Vertical
What is actually the crypto offer? Is it a brokerage account where the person trades him/herself, or a trading robot, or an investment like stacking?
GamingCombo: Most crypto platforms now are managed through a combination of call-center support and various automation techniques. But since CPA crypto offers are targeted at those who haven't dealt with trading before, extensive care and help of call-center workers is needed in order to motivate and educate clients. The actual spendings are usually made by clients themselves, though.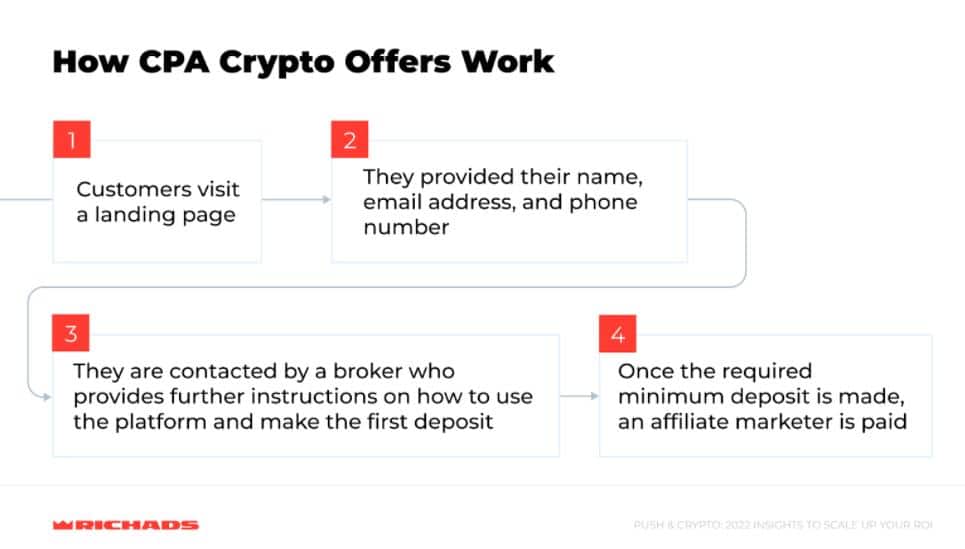 Is the postback set up as with COD offers, or are there any peculiarities?
RichAds: For crypto offers you can set up the postback for 2 actions. So we can see the information about registrations and deposits. We can fully help you with optimization when we see the whole picture.
iGamingCombo: Postback setup on crypto is very similar to COD offers, though with minor tweaks. Here it is split into not only statuses (hold, confirmed, rejected), but also target actions required from clients. We provide options to set up separate postback URLs for registration, first deposit, and further deposits (the latter is mostly used for optimization purposes). Your manager will guide you through the process if necessary.
Hello Jane! Technical requirements for running Crypto are the same as for Nutra?
iGamingCombo: As to the API, it's pretty the same but for crypto, we need to pass some more parameters to the call center and URLs for sending requests are different. But if you already send leads via API for Nutra offers, you'll need no more than 5 mins to start sending leads for crypto via API.
When is it better to launch crypto campaigns: when bitcoin rises or falls?
iGamingCombo: It's better to run crypto when bitcoin is not stable, it doesn't matter if it's rising or falling. The main key is the user can earn money on Bitcoin fluctuation.
I have a question regarding call centers. Does the call center for crypto, e.g. in Serbia, speak the native language?
iGamingCombo: In Balkan countries particularly, we provide the absolute best conditions, which include a native-speaking call center, which ensures the closest possible attention and relatability among potential clients. All in all, for offers that are specific to a certain region, call-center workers are usually locals. For more info on a specific offer, you can always ask your personal manager.
Why is iGamingCombo better than other crypto CPA networks?
IgamingCombo provides a number of benefits for our affiliates.
We give the best payments available on the market.
Our database is constantly supplied with the latest and hottest funnels on the market.
We ensure it takes as little time as possible to get your leads approved by our brokers.
Payments are transferred as often as two times a week (for our biggest affiliates it can be even more frequent).
Brand new API integration with full support means your targeting skills are not tied to pre-made funnels.
Any content creation needs are covered free of charge for our top partners.
We support a wide range of payment methods, and are always ready to discuss new ways to send you money.
A dedicated highly-qualified manager is assigned to every affiliate, ensuring a personal touch and care.
Contact Jane or George for more details
Geos for Launching Crypto Offers
Which country to choose for crypto campaigns with a $500 budget for tests?
RichAds: Philippines, Nigeria, Peru, Australia, Netherlands, Thailand.
What is the average lead price on CPA? What offers are the cheapest to start with?
RichAds: The average lead price for TIER 1: is $10-12, for TIER 2 and $3-7.
It is cheaper to start with TIER 2-3 countries as CPC is lower here.
In which GEOs is it better to scale up for experienced advertisers?
RichAds: For experienced advertisers, we can recommend scaling the campaigns with TIER1. These geos have higher CPC but they are interested in cryptocurrency too. So you can have good profit here.
If I want to choose large GEOs, what's the competition there in the crypto vertical?
RichAds: On the platform, we have competition for the whole geo, not for particular verticals. In TIER1 competition is usually higher, but if you start with average CPC it will be enough to test traffic and get the first results.
iGamingCombo: As cryptocurrency grows as a trend, as more people get into trading, more and more marketers are tapping into the market. Large GEOs ensure way higher reachability and larger client base, but also higher competition.
In bigger and wealthier regions and countries it is crucial to,
firstly, have a well-optimized targeting strategy, and
secondly, to stand out from the crowd with creative materials. Igamingcombo provides info and support on both, so you are in good hands.
What about the Balkan region? or Africa? Should I test crypto there?
RichAds: From these countries, I can recommend you to test Africa. This geo shows good results with crypto offers. Philippines, Nigeria, Peru, Australia, Netherlands, Thailand — will be a good options for tests too.
iGamingCombo: Crypto offers can be tested anywhere. We have active offers, since almost anywhere in the world people have already heard and know what it is, thereby they will be interested in making money on it. It usually comes down to how familiar you are with traffic sources and ad formats that work with a given region.
According to our stats, the average registration to deposit ratio in the Balkan region is around 7%.
What is the average lead price on CPA? What offers are the cheapest to start with?
iGamingCombo:
On Tier 1, the average payment is $800-$1100;
On Tier 2, the average payment is $400-$800;
On Tier 3, the average payment is $250-$300.
But these are not final numbers, because if you have high-quality traffic, we can always discuss an increase.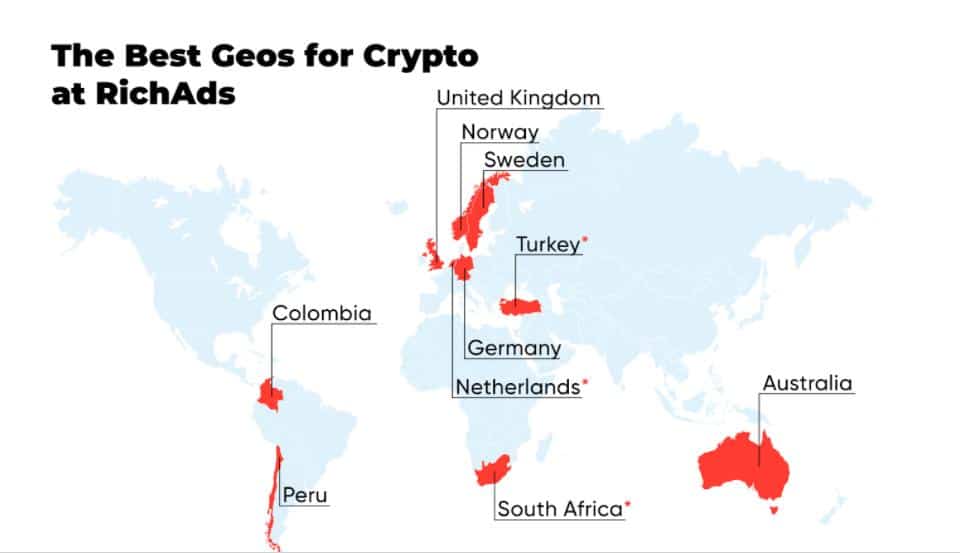 What is RichAds?
🔝 Push and pop ads,
🔼 Domain redirect traffic,
🔝 CPM for domain ads starts from $ 1.5,
⏫ CPC for push ads starts from $ 0.003,
🔼 CPM for pops — from $0.3 in Tier 3, $1 in Tier 1,
⏫ large volumes of available traffic in more than 200 goes.
Offers to Start with Cryptocurrency Offers
Do you have a crypto offer for the Philippines?
RichAds: Yes, sure. This geo goes well for this vertical. You can try the best offer for RichAds right now —Bitcoin ERA.
iGamingCombo: Yes, we have several offers from NFT to usual funnels like Bitcoin Era, Bitcoin Pro, Bitcoin Revolution, etc.
What are the best crypto offers in iGamingCombo?
iGamingCombo: Of course, we can advise something if we know the exact needs of the affiliate and his traffic source peculiarities. Based on statistics, we can advise you to try Bitcoin Evolution for Kenia, Btc Lucro for Brazil, Bitcoin Era for Brunei, Bitcoin B2GO for Turkey, and Bitcoin UP for RS.
Ad Formats for Crypto Niche
What ad format other than push notifications to choose for crypto offers?
RichAds: Calendar push traffic, Domain redirect ads, in-page push traffic.
What converts better in 2022: in-page push traffic or calendar push traffic? What is better to use for crypto?
RichAds: From my side, both formats are good. You can start with calendar push traffic as CR is much higher even in comparison with classic push as this format is new and the users are interested in making deposits.
How to promote crypto with calendar push? I can not get this format at all…
RichAds: With calendar push ads, the users don't see icons and images. So we can recommend to use emoji in the text of creatives. CTR will be higher in this case.
How do pops work with crypto? Should I launch and test?
RichAds: I can recommend starting with push traffic and then scale it for pops.
Push traffic can work better because the users see push notifications and they are initially interested in the offer.
Push ads Peculiarities for Cryptocurrency Offers
What is the optimal budget for a start to test all the hypotheses?
RichAds: It will be better to start with a budget of 500$+. With this budget, you will have a personal manager who will help with the optimization and it can be faster to achieve your goals. With this budget and higher, you can also test some ad formats so you can understand what formats work for you.
How to increase the efficiency of push notifications?
RichAds: To increase the effectiveness of push notifications, you need to pay special attention to the creatives and the offer. We recommend changing the creatives every 5 days to keep the CTR high.
RichAds also recommend starting only with premium sources. The quality of traffic to them is excellent.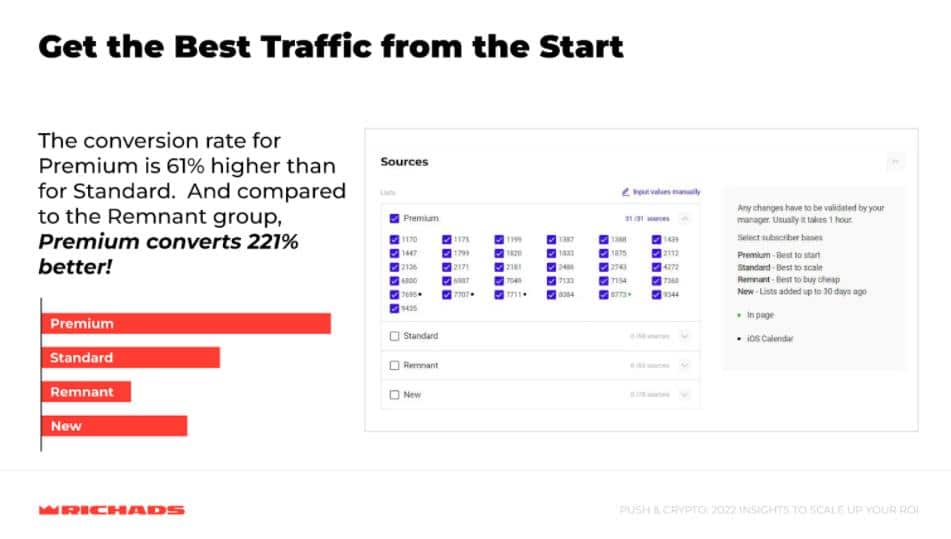 How to quickly increase ROI on push notifications?
RichAds: Optimization of the campaigns is very important. You should check the statistics and turn off the sources that aren't good for your offer.
The tools for optimization at RichAds ad network:
Blacklists and whitelists,
You can also try Target CPA campaigns, the system will optimize the campaigns, and you can save your time.
How long can it take to reach the first stable profit by launching crypto on push ads?
RichAds: It depends on the optimization of the campaigns. If you find a good bundle our managers will do their best to give you the best results as soon as possible.
One more thing: Crypto offers are about making deposits, and they are pretty high. So the user needs some time to make a decision. Sometimes they need a week or even a month to make a deposit.
What to do in this situation? Check the status of calls, if they are good — wait a little longer, but if they are not, then it is worth reconsidering the approach and bundle.
How often do I need to optimize campaigns?
RichAds: It will be cool to check the statistics each 3 days so you will have more data to analyze.
How often should I increase my CPC rate?
RichAds: You can check the statistics each 2-3 days to understand how the source works.
Can I reduce the CPC with the help of optimization?
RichAds: Sure, we have an excellent option — Micro Bidding. With this option, you can change CPC for a particular source depending on their results.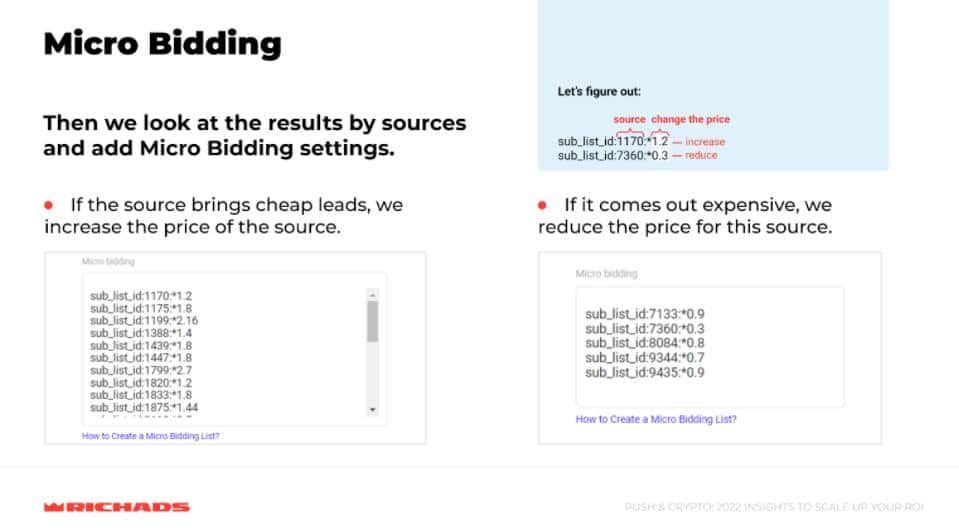 What is RichAds?
🔝 Push and pop ads,
🔼 Domain redirect traffic,
🔝 CPM for domain ads starts from $ 1.5,
⏫ CPC for push ads starts from $ 0.003,
🔼 CPM for pops — from $0.3 in Tier 3, $1 in Tier 1,
⏫ large volumes of available traffic in more than 200 goes.
Crypto creatives and landing pages
What is the optimal CTR value for crypto creatives when working with push notifications?
RichAds: The average CTR for push notifications is in the range from 0.1-2%.
iGamingCombo: All depends on many factors but according to our statistics the average CTR on crypto campaigns is 1-3%.
How to choose the right icons for push creatives?
RichAds: It will be better to test at least 10 creatives to understand what creatives are good for you and then prepare something similar to them. "Money" on the icons, happy reach people, Bitcoin logo work very well.
​Is it obligatory to use pre-landers when working with crypto, or can I run campaigns without them?
iGamingCombo: Of course, prelanding pages are not obligatory but for push traffic, we advise to use them. If the person is involved, in the majority of cases he will register. Also, it's more appealing for the user when there's 1 approach in push->prelanding->landing chain.
Are pre-landing pages for crypto the same as for gambling? Do success stories work?
RichAds: Pre-landing pages for crypto and for gambling are different. For the crypto niche we recommend to use success stories, they always give good results.
iGamingCombo: The approaches we use in crypto and gambling are close to each other, the most popular are:
success story,
shocking news,
blog.
In crypto we also use investing and the smart way of dealing with money approaches, which are not used in gambling. An emotional approach from gambling won't work here as well.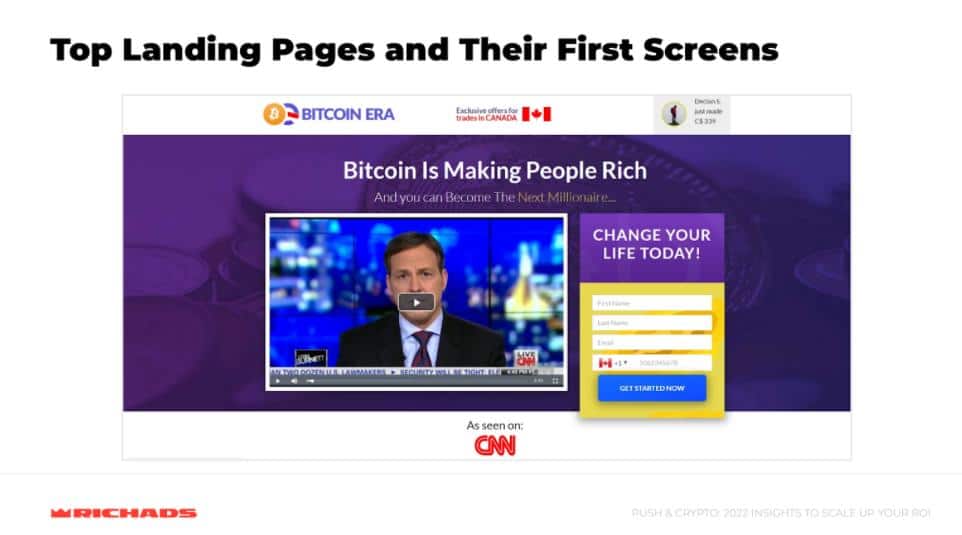 How can I create a landing page in iGamingCombo? I only see ready-made offers.
iGamingCombo: For our trusted partners we provide full creative support with creating a landing page. Just ask your manager about it, send your guidelines, and in a matter of around a week we will create a beautiful prelanding or landing page from scratch to fit your particular source or ad format. Same goes for any kind of localization you might require in order to test a new region. This has become possible since we now work with many brokers via API. The only limit here is your imagination and market expertise.
Is it obligatory to use pre-landers when working with crypto, or can I run campaigns without them?
RichAds: It isn't obligatory, but we really recommend to launch campaigns with them.
Use RichAds traffic to make a profit in 2022
What is RichAds?
🔝 Push and pop ads,
🔼 Domain redirect traffic,
🔝 CPM for domain ads starts from $ 1.5,
⏫ CPC for push ads starts from $ 0.003,
🔼 CPM for pops — from $0.3 in Tier 3, $1 in Tier 1,
⏫ large volumes of available traffic in more than 200 goes.