As you remember, our team has recently launched In-page push notifications ads. They let you target iOS devices and counteract the recent Chrome 80 updates. After we saw the first results such as incredible 3x increase in CTR and 4x increase in Conversion Rates we've decided to go even further, this time, with in-app ad format.
In-app push notifications let you place your ads inside popular consumer apps and engage a totally new audience. The app ad is just around the corner, and here is how you can be the first to launch mobile push ads campaign:
Subscribe

RichAds to receive an invitation
In order to inspire you to take a step, check the pros of In-app push ads that will definitely spice things up.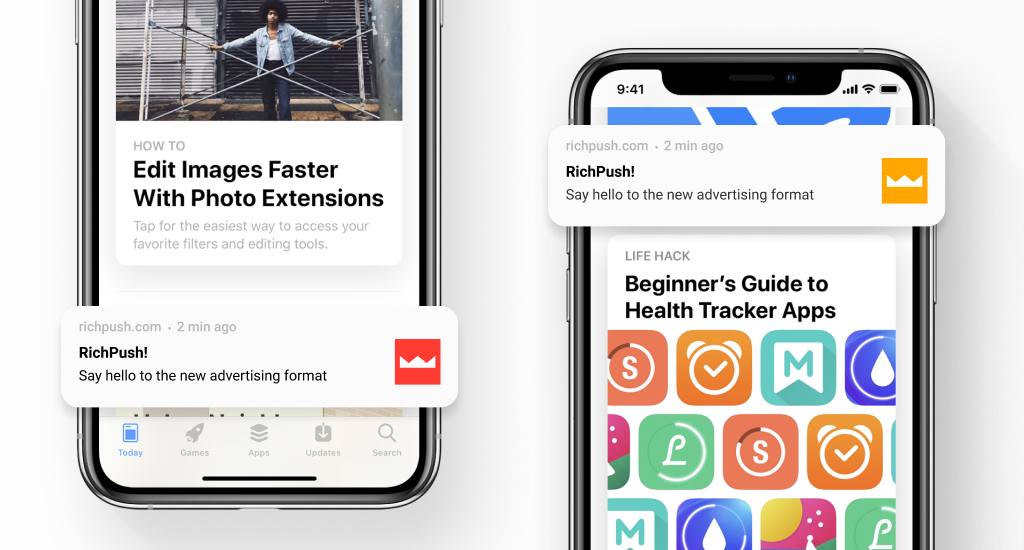 What makes In-app Push ads so special
1. User engagement, CTR, and conversion rates are higher than ever
There are several reasons to make it work. Firstly, the format is fresh, thus, more eye-catching and attracting user attention. Secondly, the audience using the app is highly engaged real users. Thirdly, they see such ads quite rarely – this way, we avoid so-called banner blindness which is a common problem of most banner ads.
2. Extended Targeting Options
Target different apps by ID and Category (e.g., Games) depending on your offer.
3. Ads Diversity
You can launch only a one-time in-app push ad within one campaign. This way, users see varied advertising, get a better experience, and grow their loyalty to advertisers' brands. And it's not the only perk for the brand image.
4. Protected Brand Safety
All In-App push ad campaigns should pass serious moderation, thus, supporting much higher quality standards. A lot of giant companies in many industries use this channel of communication to improve their brands' image and raise brand awareness.
5. CPI campaigns reach
In-app Push notifications give a chance to finally launch a marketing campaign with a Cost-per-Install payment model.
How to launch In-app advertising
Follow our updates! The new format is coming up, and we're preparing an extensive email guide for you which we'll send out soon.
Subscribe and meanwhile, Register at RichAds to check our platform, bonuses, and affiliate marketing updates.
See you soon! 👋
Run push ads traffic with RichAds!
Was this helpful?
Yeap
Ok
Neutral
Try harder
Nope