Trends come and go, but each successful marketer knows that keeping abreast of them is a necessity. This year webcam niche is a real mother lode of opportunities, so we've gathered all the vital information in the post, stay tuned.
If you want even more insights, watch our latest webinar on webcam niche.
Choosing the best payout type for webcam offers
Let's have a closer look at the possible payment options for an affiliate who'll increase live webcam traffic. Basically, there are three of them:
Revshare. In this case a marketer will get a percent from the site earnings. This can be either a share from a single sale or a share from total sales amount, it can also be long or short-term.
Pay per sign-up. An affiliate gets his commission only after a client has registered and made the desired action, usually this is the first payment on the exact site.
Pay per lead. This model may seem enticing, as a marketer is paid each time someone registers, though there are several drawbacks. First of all, the payouts for registration are not that huge. Second of all, it's crucial to provide only high-quality leads otherwise an affiliate might be kicked from this or that program.
Of course, you're the one to decide which model to choose, but statistics shows that Revshare is the most common payment method for webcam offers, especially long-term ones.
Most common types of webcam offers and how to choose them
Before we get down to learning how to promote webcam offers, let's have a closer look on their types.There are two categories of webcam offers:
Offers aimed at webcam models. Obviously, in this case you'll need to focus more on benefits for people who decide to start the career path. For such a target audience it's better not to use adult materials and focus more on mainstream pictures.

Offers that attract clients of webcam sources. When it comes to such a user group, you shall concentrate on enticing photos of models, don't hesitate to use nudity on creatives and landing pages.
Tips on choosing a webcam offer
Obviously, there's no universal approach on choosing cam offers, though we've figured out several general tips that may help you with it.
Choose a high-quality site.
It means that a website shall look trustworthy on its own, after all you're gonna attract clients to it! Furthermore, an offer of the website's program shall have clear and concise conditions for a marketer, you shall know the fixed payout, expected ROI and a specific GEO as well as traffic types accepted.
Check the legal aspect.
Before advertising webcam offers, make sure the type of activity is legal in the desired GEO, it's crucial to know. In some countries there's no exact law on promoting such offers, so it's better not to risk and double-check.
Make your own research.
Huge payouts and ready-made creatives is a nice thing, but before actually getting down to launching a campaign, check if there's enough volume for the desired GEO in the ad network. Always be on alert!
Choose the desired niche or micro-niche.
When it comes to webcam offers, there's a huge diversity of sites that offer many categories. It's better to concentrate on one niche to achieve success. For example, you can choose asian girls or MILF category and drive traffic only on such websites.
Consult your manager.
An obvious but always working hack — many CPA networks provide a personal manager who can consult you on all the aspects that seem unclear and help to choose an offer that corresponds to your desires.
Best converting traffic sources for cam niche
Now you might be wondering what the best online marketing tools for an adult webcam website are. Well,there are plenty to choose from, but you shall pay attention to some nuances.
Of course, the first traffic channel that comes to our mind when promoting webcam offers is social networks. Instagram, Youtube, Twitter, Reddit, Tiktok — all of them can show marvelous results if you know how to work with the platforms.
One more way of webcam promotion is backlinking. Connect with sites that provide related services and goods, for example, sex toys or adult content, and exchange links. It'll be mutually beneficial and bring the target audience to your site. This way you'll drive a lot of adult traffic and interested users to the desired source.
Last but not least, pay attention to adult ad networks and their traffic types. For instance, RichAds allows using adult creatives and landing pages on in-page push, classic push and pops ads. You just need to ask your manager for the freshest whitelist, and feel free to use nudity in your campaign. The best results on this niche are actually seen on push and pops traffic channels, they both have loyal content policy and attract users that are interested in such offers.
Furthermore, 60% of the target audience at RichAds is men, which is great for cam advertising.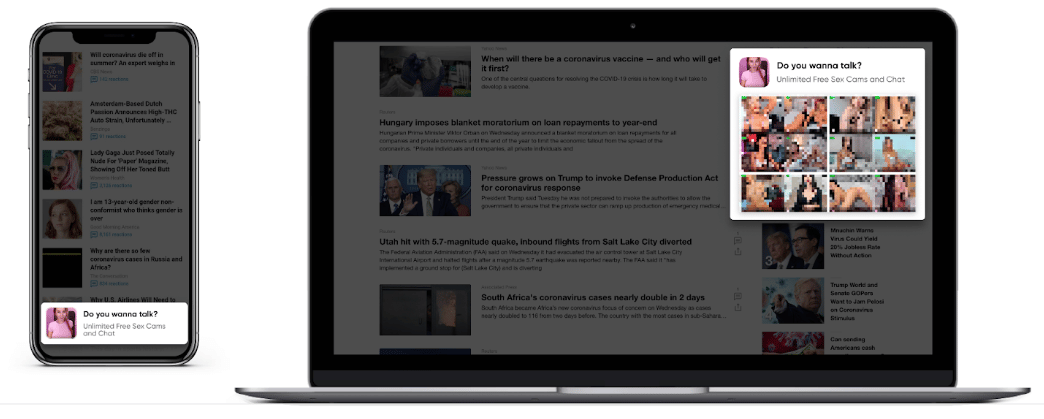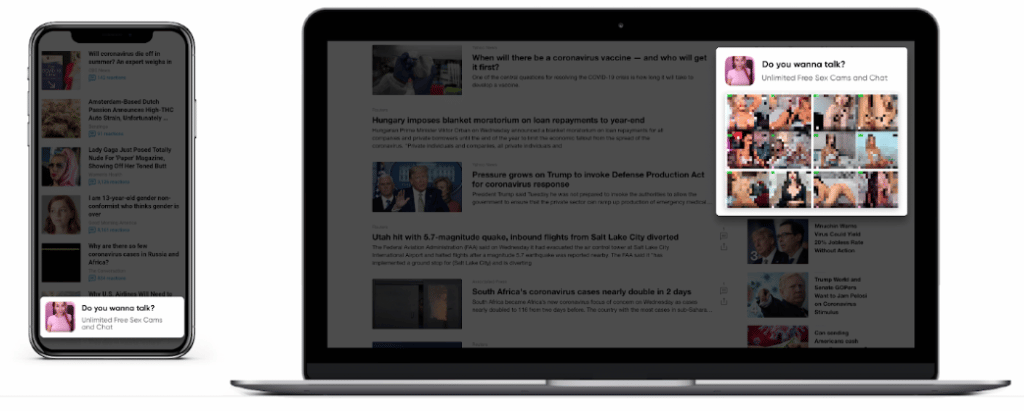 What is RichAds?
🔝 Push and pop ads,
🔼 Domain redirect traffic,
🔝 CPM for domain ads starts from $ 1.5,
⏫ CPC for push ads starts from $ 0.003,
🔼 CPM for pops — from $0.3 in Tier 3, $1 in Tier 1,
⏫ large volumes of available traffic in more than 200 goes.
Profitable GEOs for Webcam vertical
We've checked our stats on webcam advertising trends in different countries, and can assure you that the best option is Tier 1, it's the safest variant to stick to.

Though, one more interesting tendency is that Tier 2 countries also gain momentum, especially Asian GEOs. If you're a newbie and look for a low competition and high CR without specific efforts, pay attention to them.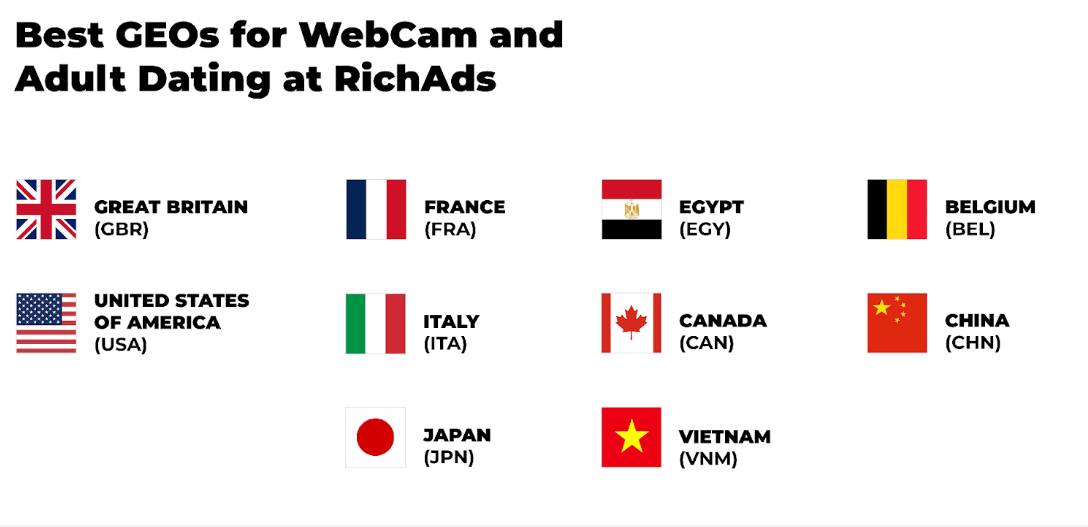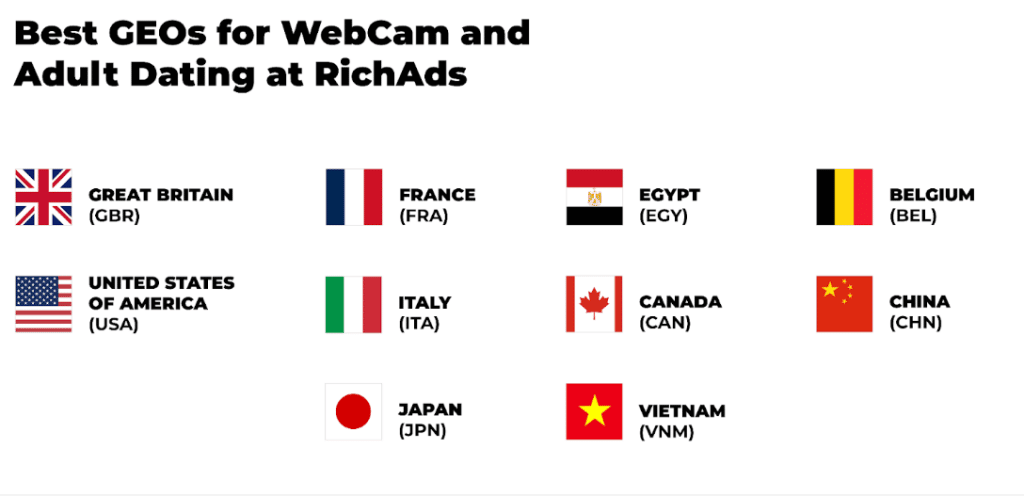 Creatives and successful funnels for cam offers
As we mentioned earlier, there are two target audiences of cam offers — models and clients of webcam sources. Obviously, the approaches for these groups are completely different as well as sales funnels.
Webcam models: approaches and the best funnel
First and foremost, we need to concentrate on the needs of a potential client, in this case those are potential employees of webcam sites. Obviously, they seek for money and a safe option to earn, so the solution is quite simple — show a success story of a similar girl!


Basically, you need to use quite a trivial funnel — a creative gives a hint on an opportunity to earn big money, just use realistic sums, don't mislead your audience.
Then, a pre-landing page tells a story of success in detail and leaves a link to the landing page in the end, which triggers an actual conversion.
Which tricks can be used in creatives? Let's find out.
Specify benefits. Usually men and women who start the profession seek easy ways of income, you can highlight that they can earn money really fast without special efforts.
Make use of pictures with successful people and huge sums of money.

Highlight anonymity. This industry is not the one people usually boast of working at, so make sure the girls know that it can be done anonymously, so their acquaintances won't recognize them or find them on pornsites. Point this out really clearly in the text not to scare a potential model.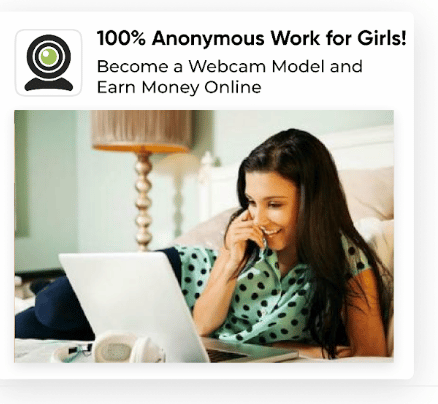 Apply urgency. It's possible to either tell that the model casting will soon be over and this is the last chance to join or highlight that the payouts are immediate and start from the first working day. Any unique selling proposition will work this way, but don't trick your clients, use only true offers.

Webcam clients: best ways of attracting
One of the most common target audiences is actually the visitors of webcam sites. If you want to attract them, use a pre-landing page that includes a range of girls to choose from and the description on their specialization. It may serve as an additional hook to warm up the client and show that you have many options to choose from.


In such a funnel don't hesitate to use nudity on creatives, this is the best way of attraction. Make sure that the pre-landing page shows a teaser and a great diversity of your resource, or you can try just direct linking in this case, it can work great as well.
Let us also enumerate the main approaches for creatives aimed at this target audience:
Choose adult materials. Yes, that's as simple as that — if you use nudity on your creatives, it will convert better. You can try pictures with various girls in different poses, as it's never possible to tell which picture will be a fit for your offer.

Make use of video and audio icons. This actually intrigues a user as you show him a teaser of what he'll get if clicks on the ad. Remember that the "teaser" on the video has to be as eye-catching as possible.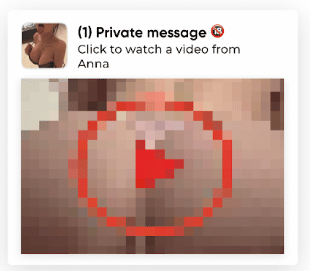 Attract users with bonuses. Most of the webcam clients know that the shows aren't usually free and might be quite expensive. Use numbers — tell them about the bonus for the first show or specify how many free cams exist on your website. Everybody likes discounts, try it!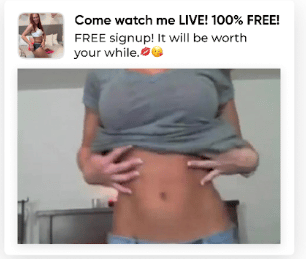 Apply a personal approach. This way of attracting users is as old as the universe but it always works no matter what. How does it work? You just need to specify in your text the name of the girl, state that she's near and alone. Of course, the creative itself shall be enticing as well, you can use nudes or half-naked pictures to leave room for imagination.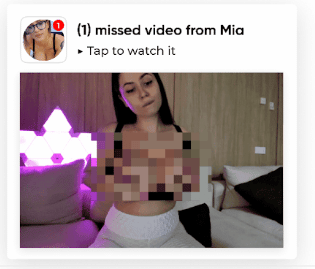 General tips on setting up a working webcam campaign
Now you know all the tricks on choosing an offer, GEO and creatives, let's focus more on setting up a working campaign with highest ROI and CR.
The eternal and effective tip for any campaign is to choose premium sources, especially for adult ones. The thing is that we provide whitelists with adult sources only on premium traffic.
Why? Obviously, the reason is that the premium group has a 61% higher conversion rate than the standard one, and the quality is really decent.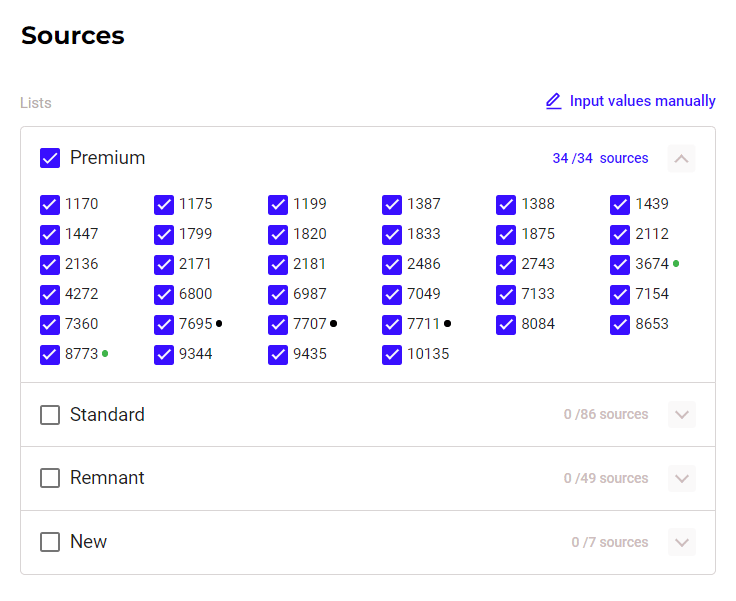 Important: Pay attention to these traffic sources, especially if you don't know what to start with, this is the safest option.
We talked a lot about the importance of a sales funnel and creatives today, so make sure you add at least 5-10 creatives per campaign. You never know what'll convert — blondes, brunettes, redheads,mature or young, so try all of them. It's crucial to know your target audience and it requires constant testing.
One more constant thing to do is to optimize your campaign as often as possible. Yes, it may seem a dull and monotonous task, but there are several options to speed it up and simplify it.
First, ask your manager to help you with white and blacklists for a specific GEO, he'll be glad to help you with it. Furthermore, if you use a tracker, he can assist you with Micro bidding and setting up Automated Rules.
Then, make use of tools that can make optimization a simple task — Target CPA, Automated Rules, Performance Mode, and Optimizer. They're dead easy to set up and will basically do all the work for you or help to speed up the process.
Webcam offers that convert
Our partners from CrakRevenue have gathered a list of freshest webcam offers that guarantee to bring profit this autumn:
Take an offer from CrakRevenue and launch it on RichAds traffic to get skyrocketing results!
What is RichAds?
🔝 Push and pop ads,
🔼 Domain redirect traffic,
🔝 CPM for domain ads starts from $ 1.5,
⏫ CPC for push ads starts from $ 0.003,
🔼 CPM for pops — from $0.3 in Tier 3, $1 in Tier 1,
⏫ large volumes of available traffic in more than 200 goes.
Learn more about promoting Adult ads on the RichAds Youtube channel
RichAds team prepares at least two webinars per month on affiliate marketing topics. A recent webinar focused on webcam ads. During the webinar, the webcam niche and its peculiarities were discussed.
Subscribe to our YouTube channel and click the bell icon not to miss new videos. We plan to add at least 5 videos about Adult ads in affiliate marketing this month.