All books were written with the participation of top marketers and experts of RichAds advertising network. Luke Kling, Servando Silva, IamAttila, KJ Rocker, Nick Lenihan — sure, you know these names.
Some of the books are an excellent opportunity to see how the experts deal with their ad campaigns. What mistakes they have made and what lessons they learn. These are the best options to learn something new about top verticals and some ad formats as well.
Both newbies and experienced marketers will find valuable tips from the books. Cases, tips from top affiliates, peculiarities of working with verticals, and examples of creatives are not a complete list of what you will find in the books from this list.
Read these best affiliate marketing books and learn how to run profitable campaigns or improve your results.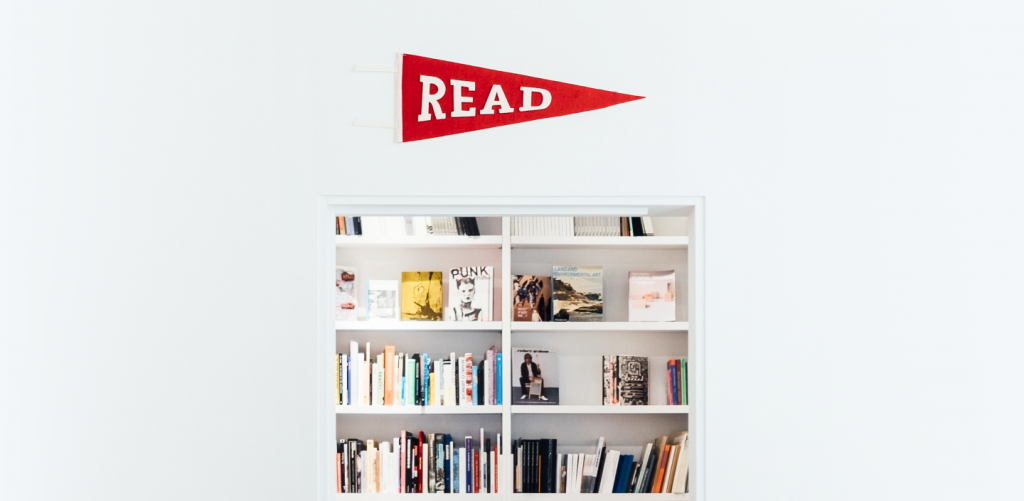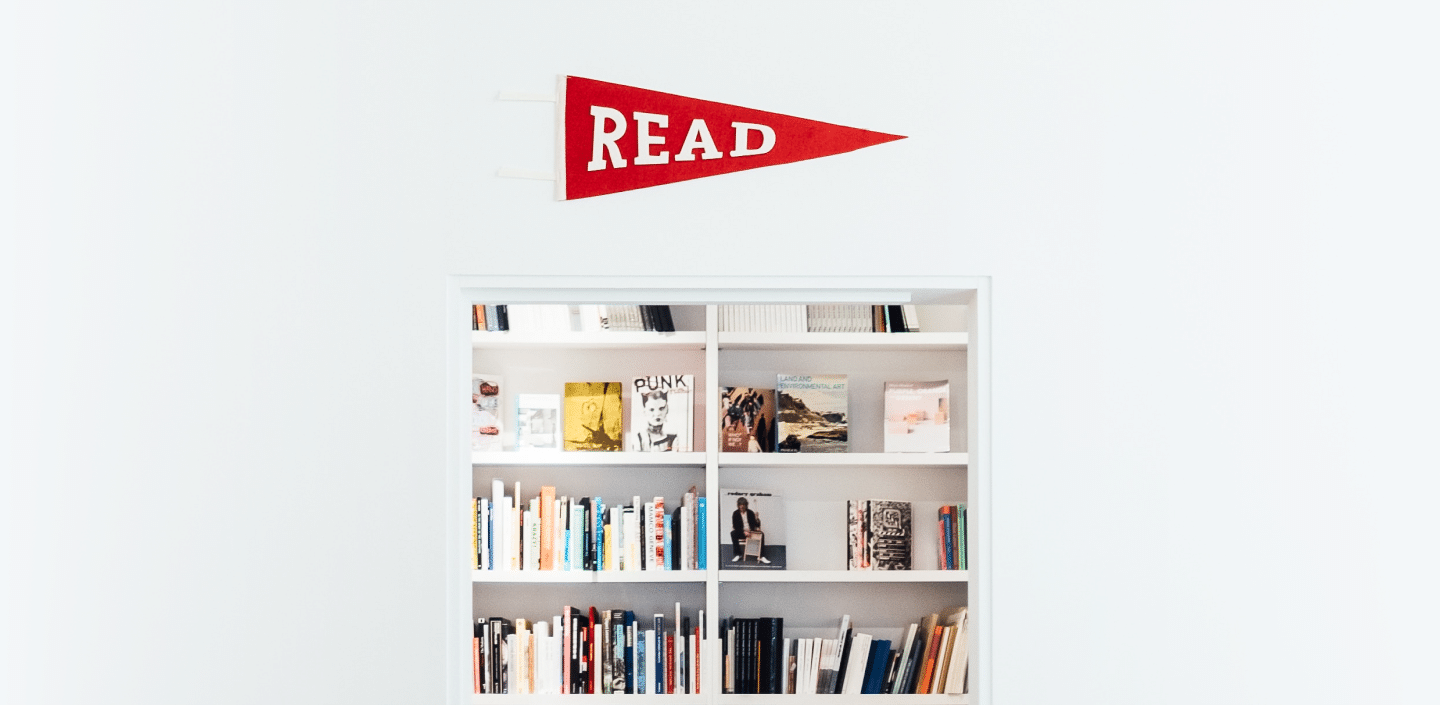 Top affiliate marketing books about the main verticals
Let's start our conversation about the best affiliate marketing books to read with guides about the top verticals. Gambling, Betting, and Sweepstakes are some of the most popular verticals today. Betting and Gambling are more suitable for experienced marketers. Sweeps are perfect for learning affiliate marketing strategies.
Gambling ebook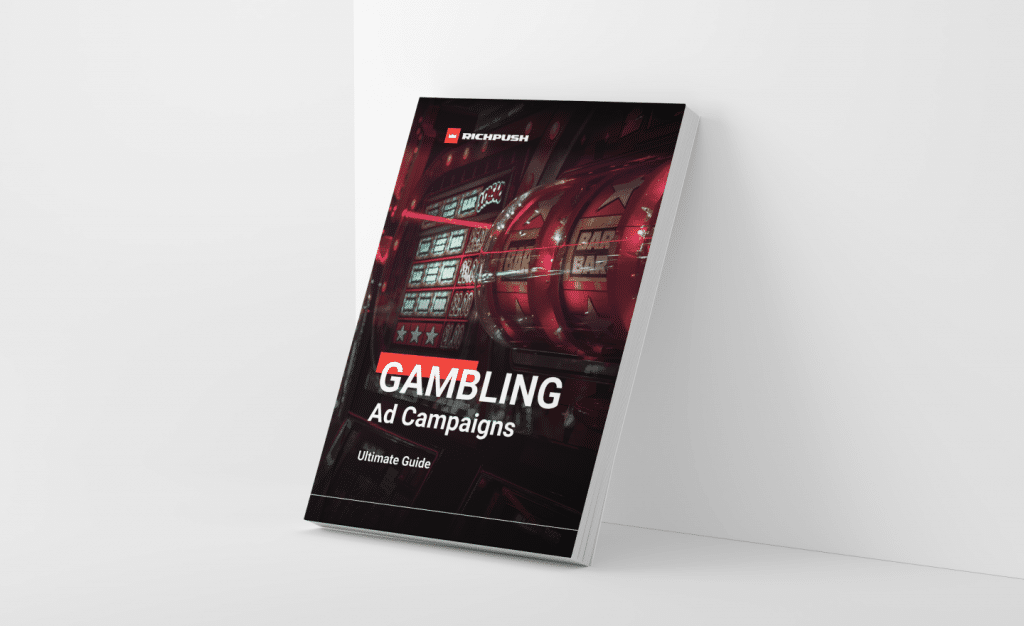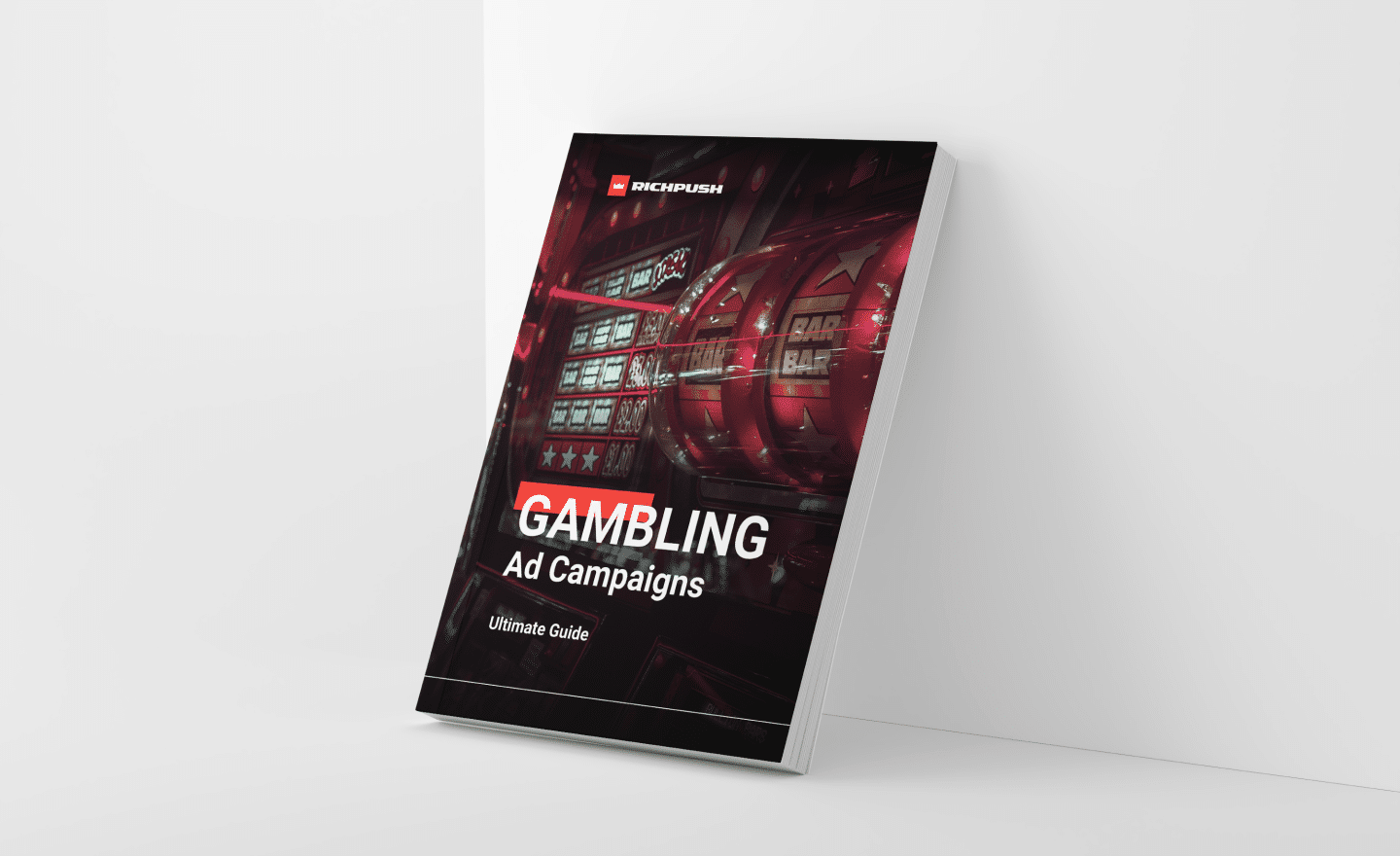 The book will tell you everything you need to know before launching a casino ad campaign. This book about Gambling is written based on the experience of an affiliate marketer — Varun Keskar — who raised revenue from $5.000 to $15.000 per month using additional monetization methods.
This guide is primarily suitable for those who will launch casino ads on push notifications or pops ads. Our expert, Varun Keskar, runs gambling campaigns on them. Many of his tips will be rolled out for other formats, especially for landing pages and creatives.
What's inside the book about Gambling?
Tips for choosing geo and type of traffic.
Analysis of the audience for gambling.
Approaches to creatives and landing pages.
The case itself.
Additional ways to monetize gambling campaigns + statistics for them.
Among the best books about affiliate marketing, this one will definitely take its pride place. All settings, screenshots, statistics — everything will be inside.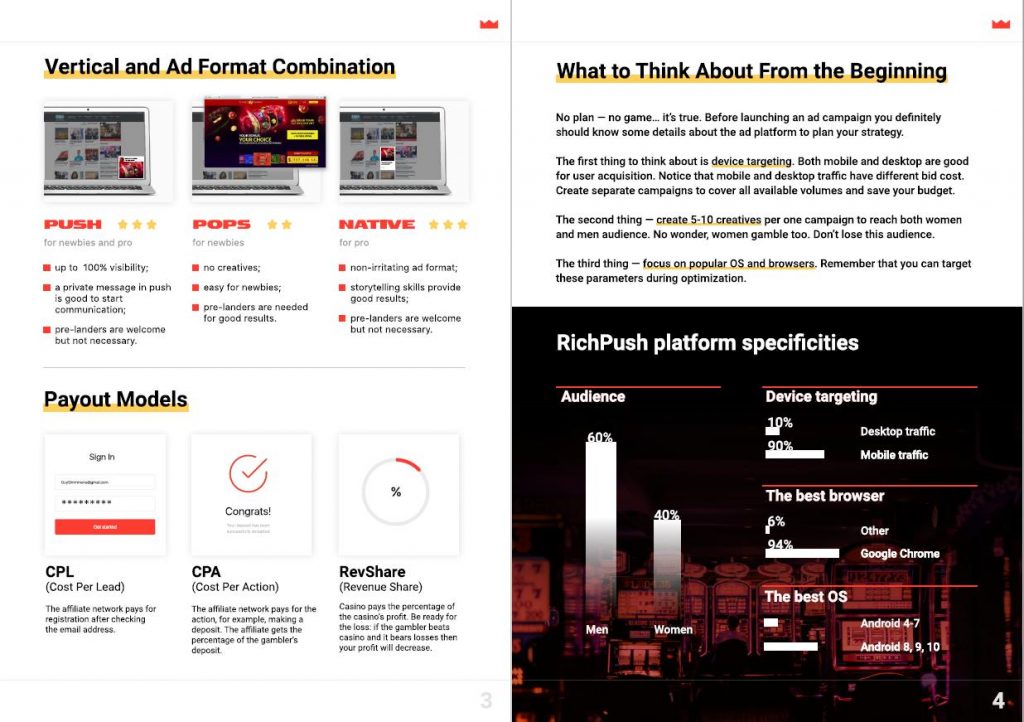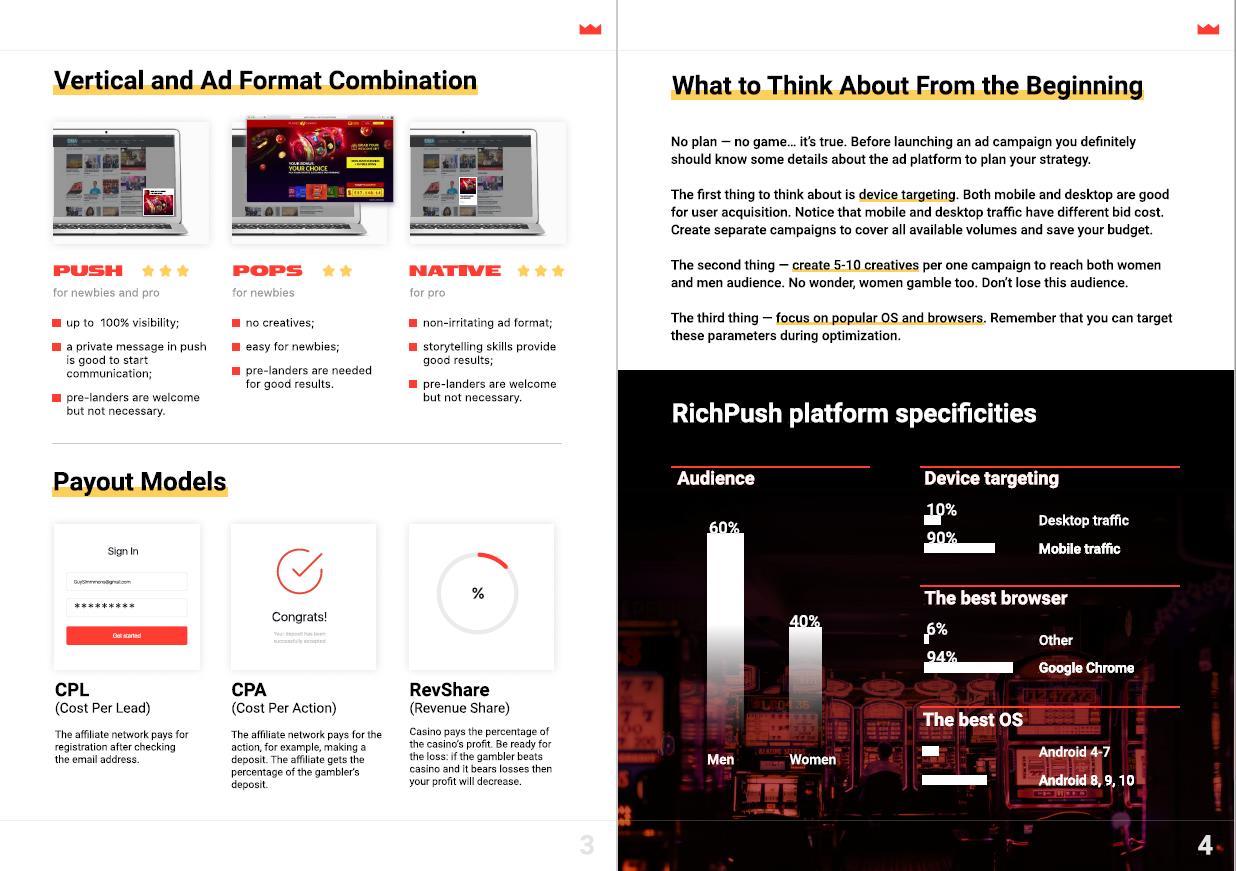 Betting ebook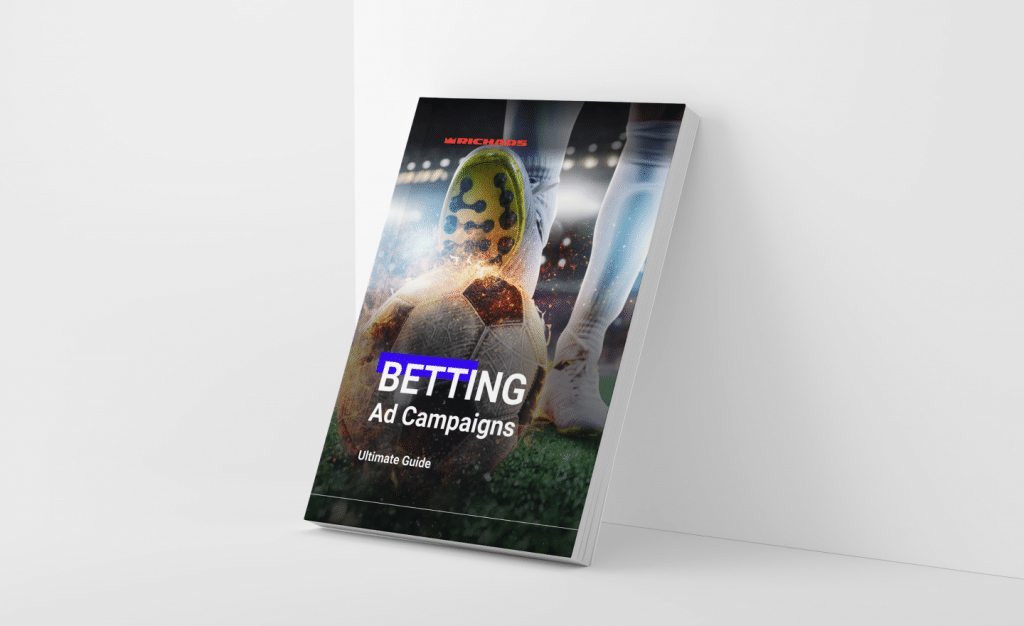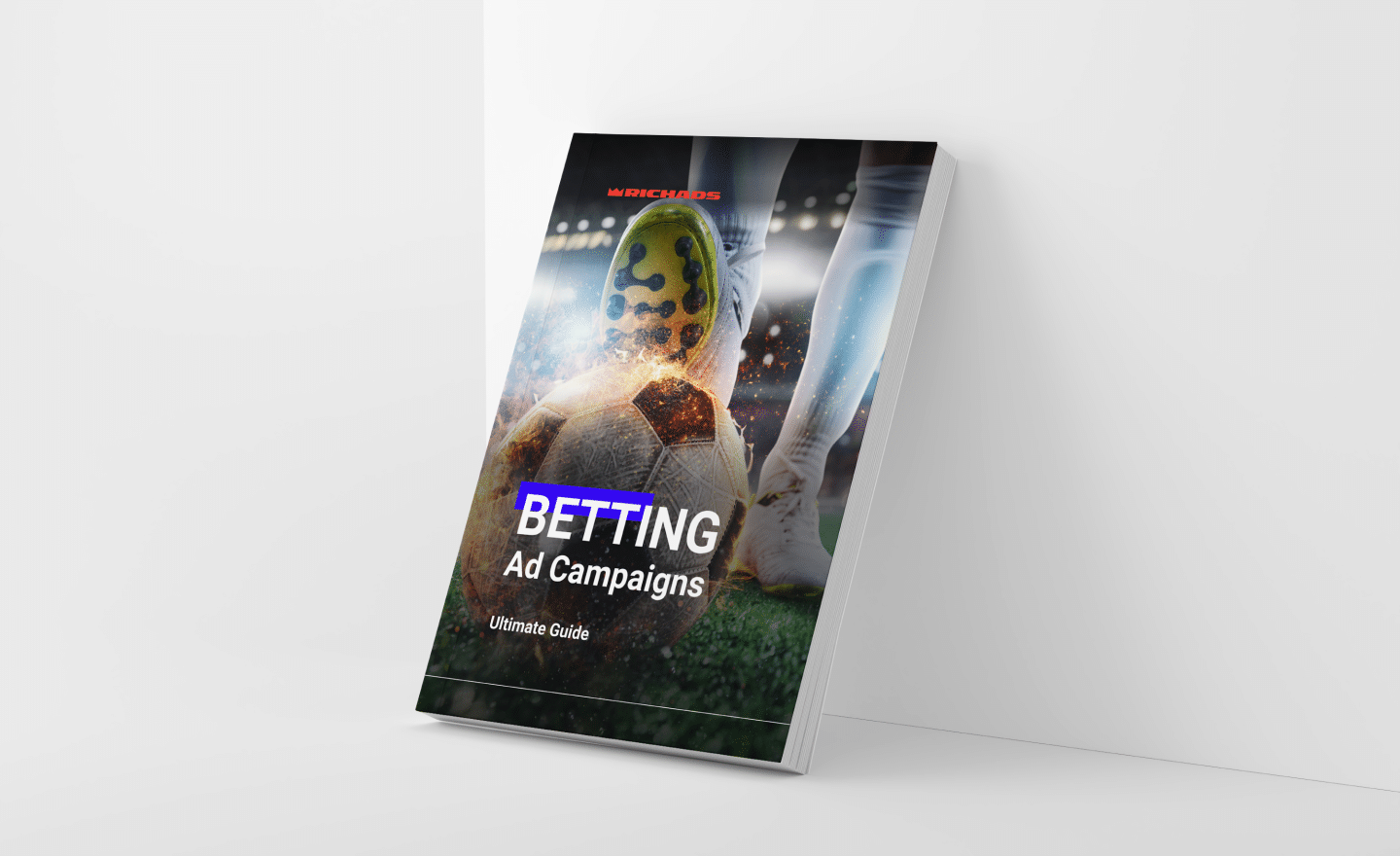 Betting is no less profitable than Gambling, but there is less competition.
This book is suitable for beginners and will bring insights for those affiliates who have already run Betting. Have a note, Gambling and Betting are some of the most profitable niches to launch campaigns at RichAds.
The book consists of many helpful life hacks. And what is most important: there are many examples of creatives and landing pages.
If you work with push notifications, you'll find helpful launching, testing, and optimization tips. The book also has some valuable points about the betting audience, creatives, and landing pages that can be used for the other ad formats.
What is inside?
Overview of 5 most popular sports.
Tips for choosing geo and type of traffic.
Links to the best affiliate programs.
Approaches to creatives and landing pages.
Tips for setting up an ad campaign.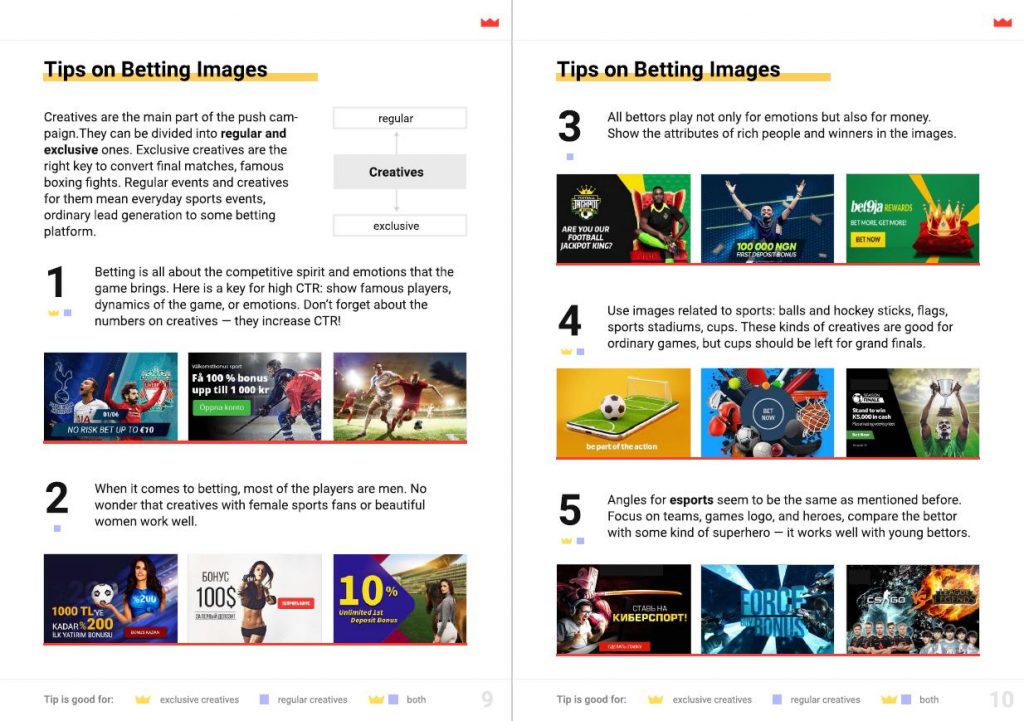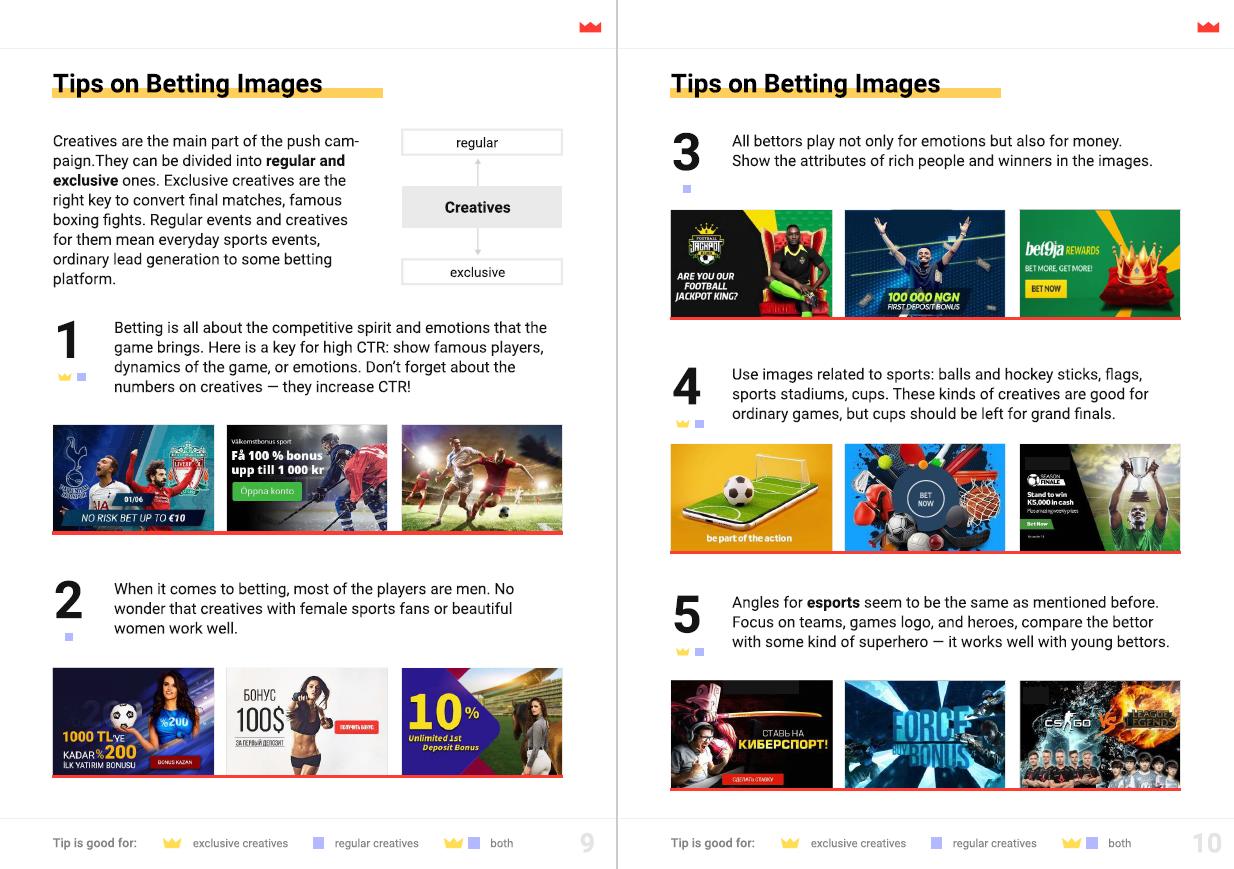 Sweepstakes ebook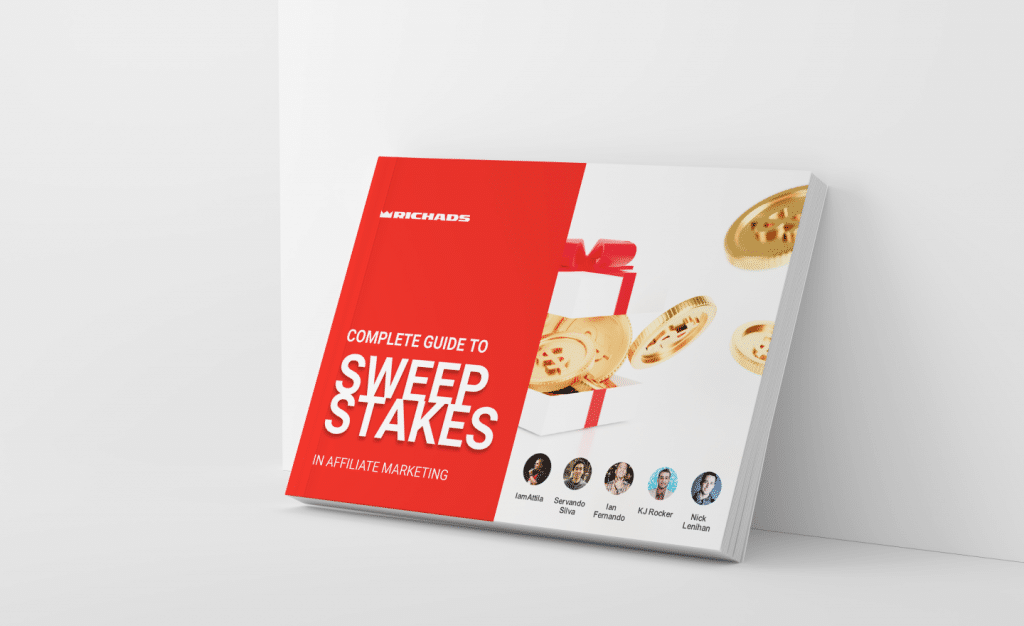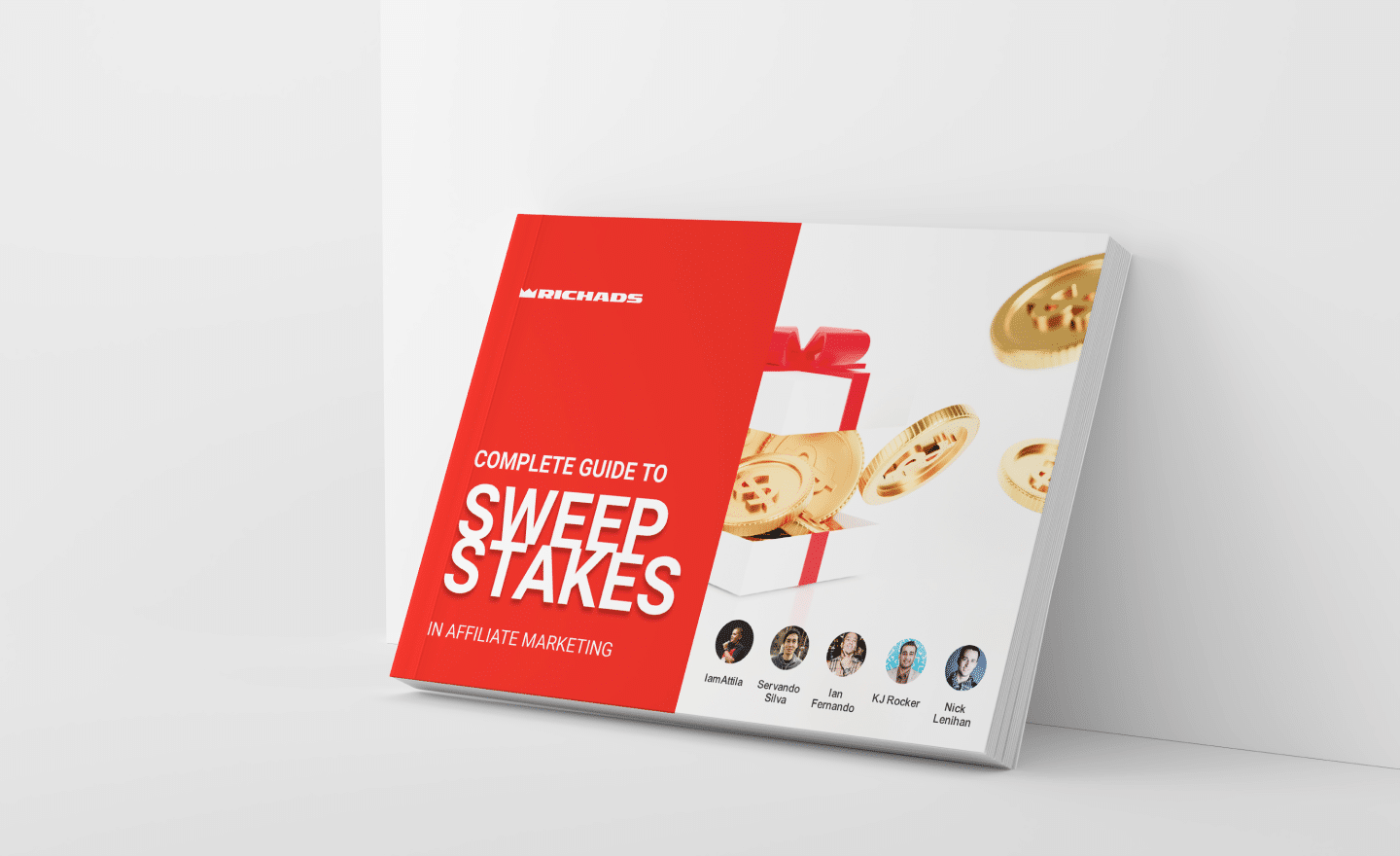 Sweepstakes are one of the best verticals to get started in affiliate marketing. And this is hardly the best book for Sweeps. In it, you will find a full analysis of the vertical and the experience of the 5 coolest world affiliates on each issue that we cover in the book.
Who are the experts?
⭐ IamAttila ⭐ Ian Fernando ⭐ Nick Lenihan ⭐ KJ Rocker ⭐ Servando Silva.
Let's take a closer look at what's inside. Sweepstakes have 4 types of offers, and they all work in different ways. The user only needs to leave their contact details in one type — SOI offers, and the conversion will be counted. For DOI offers, they will have to confirm the email address. CC Submit offers are the most difficult ones. The user will have to pay a small amount of money for participation in the raffle. The book analyzes each type of offer in detail, for example, what difficulties may be encountered, and gives their solutions.
In addition, the book contains information about:
the best geos for different types of offers,
overview of traffic sources for such offers,
list of affiliate programs for sweeps,
creatives, pre-landing, and landing pages examples,
localization tips,
thoughts on how to launch and optimize advertising campaigns.
This book is one of the best affiliate marketing books for beginners. All the essential aspects of working with Sweepstakes are described in detail, and the experts share their opinions in a question-and-answer format.


The best affiliate marketing books to read about push ads
There is one new advertising format in affiliate marketing — push notifications. They have appeared relatively recently, in 2018, and have already shown their effectiveness. If you are looking for a new ad channel, take a look at push notifications.
Unlike other ad formats that suffer from banner blindness, push notification ads are 100% visible. Moreover, the competition here will be noticeably lower than on Facebook or banners. CPC starts from $0.03, which is pretty cool.
Here are two affiliate marketing books about push notifications: the first covers the basics, and the second talks about the trends and experiences of top marketers in a Q&A format.
Complete guide for growth with push ads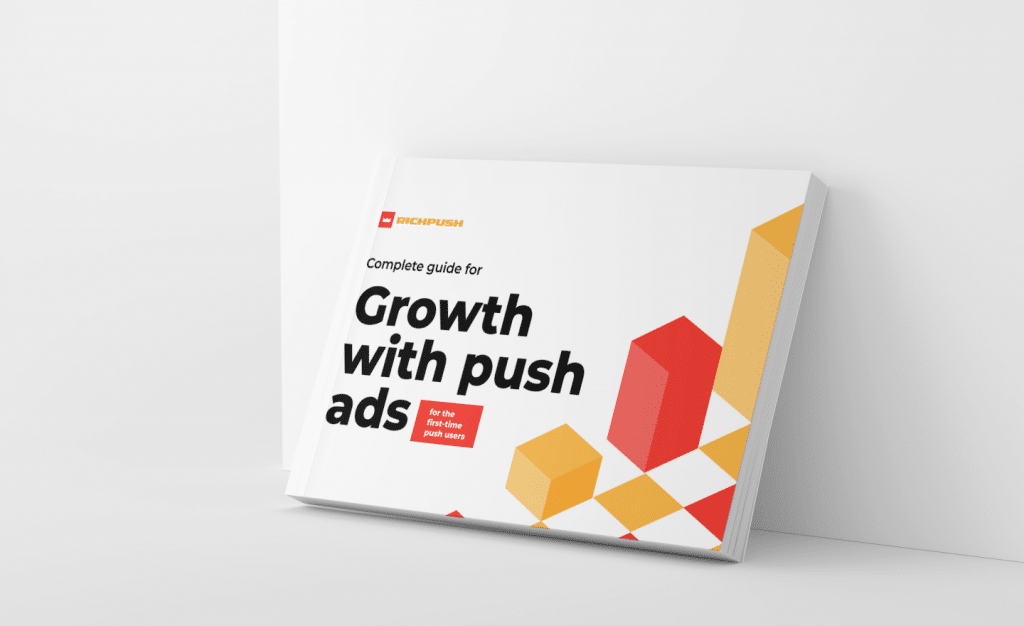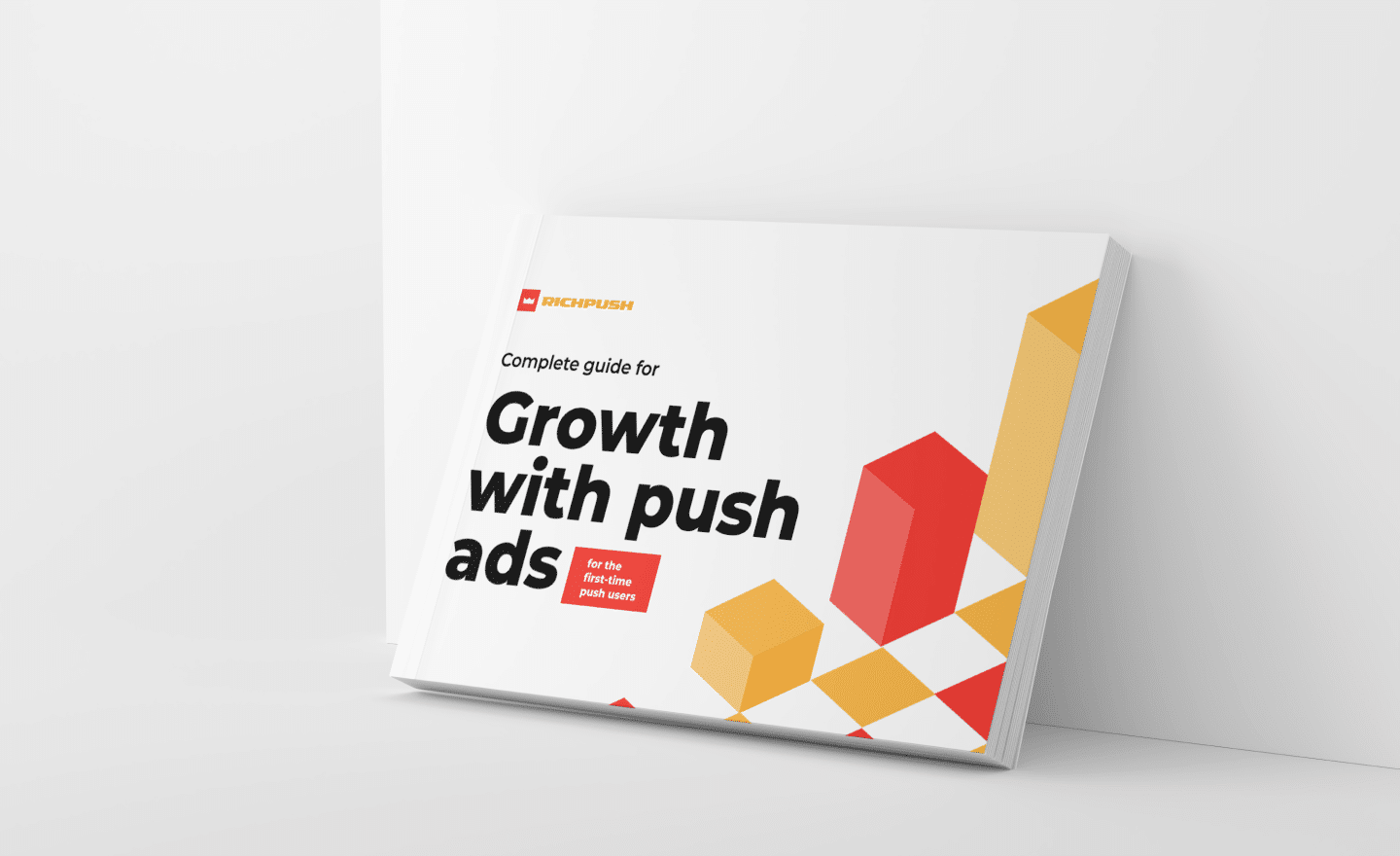 If you don't know anything about push notifications, this book is perfect for understanding the intricacies of working with this format.
What's in the book?
How push traffic is generated and why these are 100% real people.
Which verticals are suitable for running push notifications?
List of available targetings.
A step-by-step guide for creating awesome push ads creatives.
Specifics of setting up, testing, and optimizing a push notifications campaign.


Push ads trends for 2021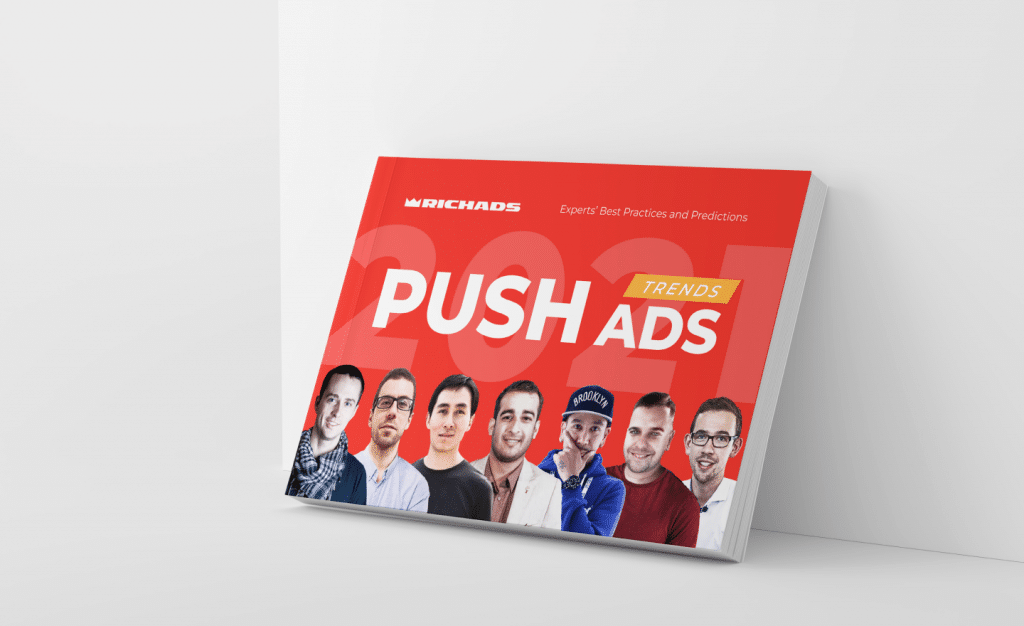 If you've already heard or launched push notifications campaigns, it's time to deepen your knowledge and read how world-renowned experts launch their profitable campaigns.
The book contains the experience of 7 top affiliate marketing experts.
In the book, they answer all the main questions:
What are the top geo and verticals for push notifications?
How to set up a campaign?
What mistakes did they make, and how to fix them?
How to optimize push ads campaigns?
Blacklists or whitelists: which is better for push notifications?
How to scale on push notifications?
Push advertising trends in 2021!
Bonus: The experts shared their examples of creatives for the first time ever!


The best books about affiliate marketing on pop ads
The list of best affiliate marketing books will be incomplete without including a book about one of the oldest ad formats — pop ads or popunders.
Popunders consider the best format for learning affiliate marketing. There are no creatives or banners needed to launch an ad campaign. Prepare a landing page and go. This means that testing offers on pops is easier because there is one less element for tests.
Plus, the price is very lovely. CPM starts at $0.3 in Tier 3 countries. You can test without a hole in your ad budget.
At the same time, it is very important to know and understand the nuances of this traffic. It is not as simple as it seems at first glance.
The way to success with Pop ads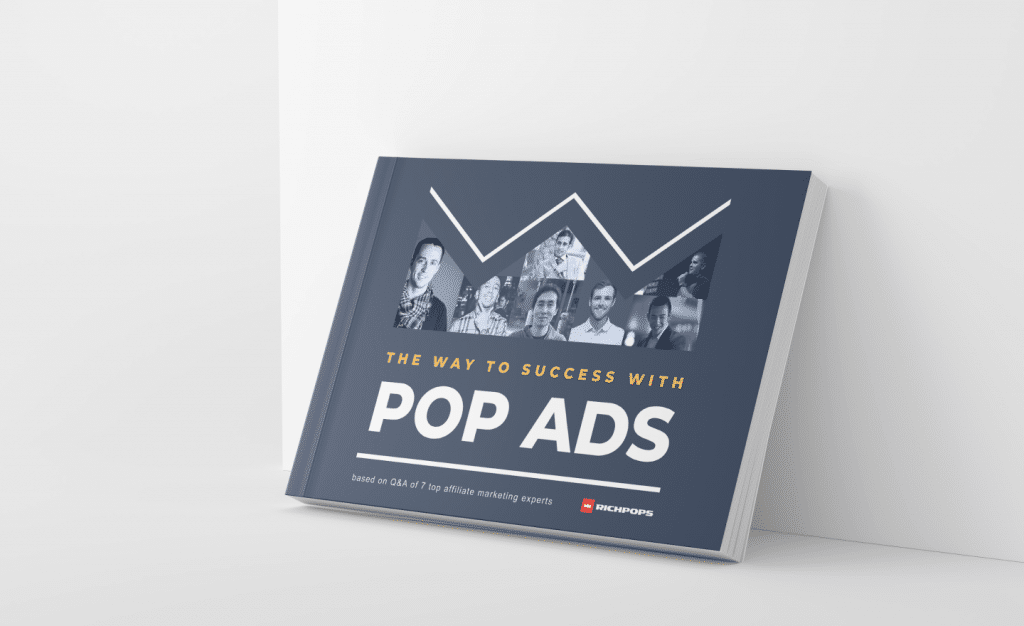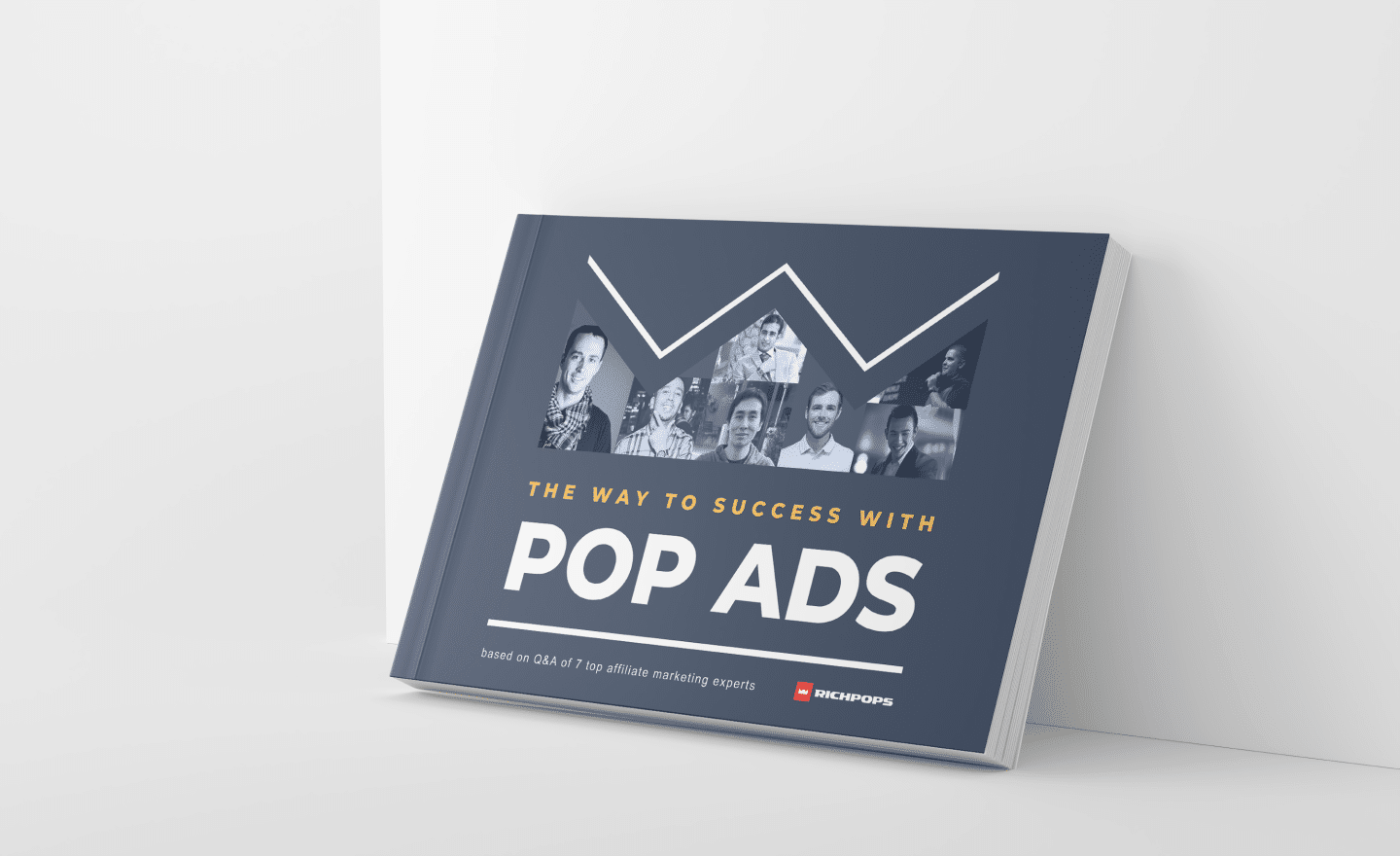 This book is an excellent guide for beginners and experts alike. At the beginning of each chapter, there are basic concepts about the format and tips about working with it. Then 7 experts answer questions about the topic of the chapter and share their experiences and mistakes.
The book has 6 chapters:
Features of the advertising format.
Verticals, geos, offers.
Testing strategies.
How to set up a campaign.
How to optimize it.
Converting landing pages for pops.
After reading all of them, you can understand whether it is worth trying pops for your offers or not.


Conclusion
Here are the best books to understand affiliate marketing. Download and read them, but do not forget that the knowledge must be applied and tested.
We have excellent premium quality push and pop traffic for that.
What is RichAds?
🔝 Push and pop ads,
🔼 CPC starts from $ 0.003,
🔝 CPM from $0,3 in Tier 3, $0,5 in Tier 2, $1 in Tier 1,
⏫ large volumes of available traffic in more than 200 geos.