What is push ads? Push notification advertising is one of the red hot and chilly ad formats. These ads look like notifications from a messenger.
Let's dwell on how to make a profit on push ads.
Push advertising is visible but doesn't look like usual ads that's why it can be positioned as a native ad format. Push ads show high efficiency in affiliate marketing and please with their loyal rules of moderation.
Web push notification technology itself is nothing new. But they have started to be used for advertising purposes very recently. Push marketing skyrocketed at the end of 2018 and continues involving users with its simplicity and great results.
Do you want to know how to use a new ad format? In this guide, we will tell you more about push traffic and how to make money on it.

Varieties of push notifications
Web push ad notification technology is known for a long time. In 2009 Apple first used it to send messages from servers or apps to users. This innovation was immediately noticed and used by Google and Microsoft.
There are the following types of push notifications:
📌 Web push notifications — this technology allows sending notifications via browser subscription with help of the server. It has been used by Apple and other industry giants. They can be used as advertising.
📌 In-app push notifications — technology sends notifications to users of apps. This kind of push may contain, for example, news from social networks and reminders from the apps. Push notifications from apps interact with the existing audience without attracting new users. App push notifications also have started to be used for advertising purposes.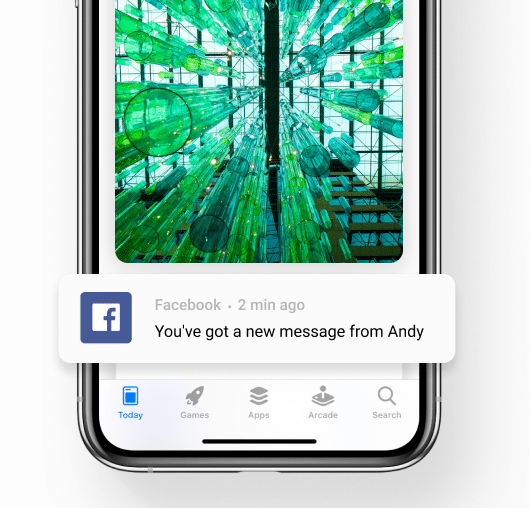 📌 In-page push notifications — this step is the last one in developing push notifications technology. In-page push ad format allows showing ads to iOS users that had no such opportunity before.
Technically, in-page push is similar to pop up but it may look like a push notification ads window or message from messengers. It is the form of push notifications that is used mostly for demonstration new messages in web versions of social networks.
In this guide, we will speak about different types of push ads and how they can be used for advertising purposes.
If you already work with push ads, Affstream CPA network has a lot of profitable offers to test and get highest CR on push traffic.
Part 1. What is push ads?
Advertising web push notifications (or push ads, push advertising, push traffic) is a kind of native ads in affiliate marketing. It looks like a private message or important notification from the website which appears on the screen over the other windows.
Push ad can be sent to any user of mobile phone, usual desktop, laptop, and tablet. In other words, to any device with a browser and Internet connection.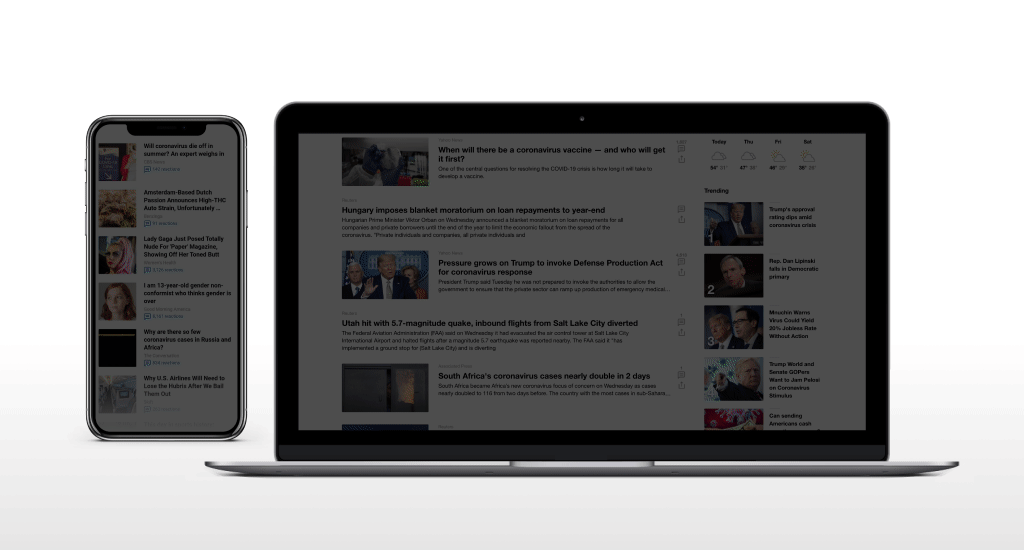 While most users have adapted to the abundance of ads ignoring banners, push ads have a significant advantage. They are hard to miss on any device but, at the same time, they don't look like ads.
A push ad is located on the screen over the other windows. On the laptop, it appears in the right lower corner. It is very much alike to messages from messengers that's why we have to perforce view its content.
The message can be viewed on the screen for a few minutes so the user can read the content and click on it.
Push ad consists of:
the main image which conveys the sense of the offer;
the small icon which explains the main photo;
the headline is the main element to engage users;
the message text shows the main details of the offer.
Usually, push notification ads consist of all the listed elements but on mobile devices, it is sent in the short form without the main image. To see the main image you should expand push.


Push advertising is relevant for the most ambitious or even crazy ideas. Its look is limited only by the template (the size of the main image icon, the number of symbols for the text). As for the rest, your imagination is limited to nothing but the content policy of each ad traffic network.
The mechanism for subscription to push ads
Imagine that the user sees a push ad on the screen. But what happens next? If the user is interested in the content he can click on the push and go to the landing page of the offer. Then there is only one step up to the conversion.
But which users will get push ads? Let's dwell on the technology of subscription and sending out push ads.
Any website can place a part of the code to subscribe users to push ads. For website owners (they are also called publishers) it's one of the ways of monetizing their resources. Find more about publishers here.
When the user appears on such a page he will see the proposal of subscription to notifications. The user can ignore this request.

The process is absolutely anonymous, the user doesn't have to leave his private data. His consent to the subscription is encrypted with the help of the code which can't be copied or got by any third-party resources.
After subscription, the user is being added to the RichAds or any push ads company's base the publisher works with.
When you choose a push ad agency or network you get the audience who has visited publishers' websites from this network and agreed to receive notifications from it.


When an advertiser buys push ads it is automatically sent to the devices of all the users that fall under the conditions of the targeting. Meanwhile, the user doesn't have to stay on the website to receive push ads.

The technology of delivery will send push ads even if the user is offline. He will see the notification as soon as he is online.
Push traffic and its advantages
Comparing push ads to other ad formats, they definitely have a number of advantages.
🎯 One of the advantages is the voluntariness of subscription Unlike other ad formats, users agree to get ad materials by themselves. It means that they will be more loyal to the offers.
🎯 The audience of push ads consists of real people who subscribe to push ads independently, compared to other ad formats.
🎯 Push notifications are delivered to the user's screen. No fails with delivery: only the target audience will see the ads. If the user is offline when notifications are delivered, he will see them as soon as he is online.
🎯 For advertisers push traffic ads are a great possibility to attract a new audience. The 21st-century equivalent of radio or TV is push ads.
🎯 The wide reach of the audience allows promoting a variety of offers. The most important thing is to choose offers reasonably: too narrow audience or B2B work worse than consumer products.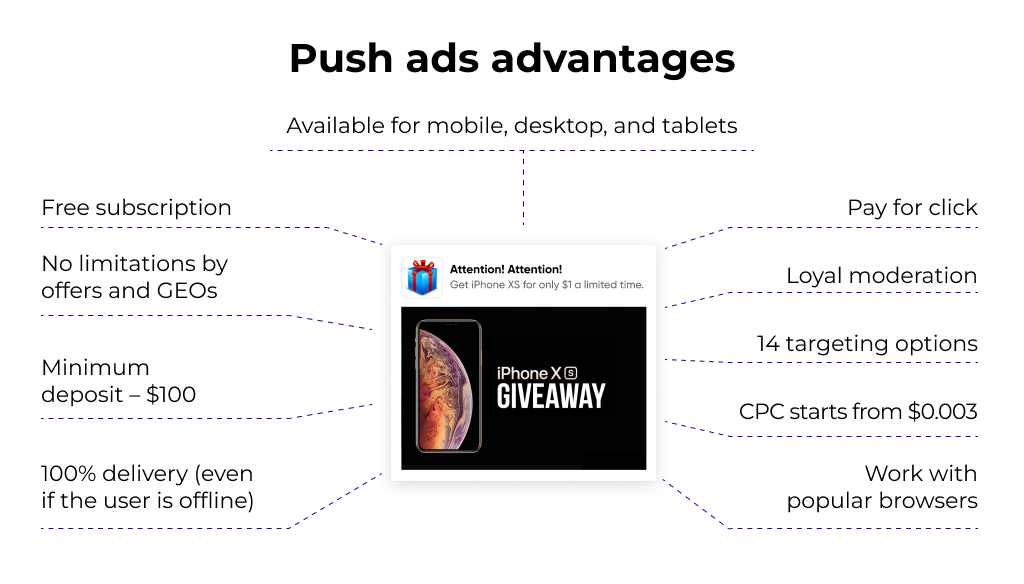 🎯 Large volumes of push traffic and the possibility to get a lot of statistics for optimization in a short time.
🎯 Working with push ads traffic you pay for clicks, not for impressions. RichAds provides quality traffic on the CPC model. The minimum cost per click starts from $0.003 and varies according to GEO.
For example,
in the USA minimum cost per click is $0.031, recommended is $0.5.
In India minimum cost per click is $0.0031, recommended is $0.02.
🎯 You don't need large budgets to work with push ad traffic. Democratic cost per click makes this format affordable for learning by newbies in affiliate marketing and allows everybody to make a profit. The minimum deposit in the RichAds ad network is $100.
🎯 Push advertising stands out by loyal content policy. The push notification ad format is considered to be one of the most attractive for affiliate marketers: unlike Facebook and other channels, it allows advertising a maximum wide pool of offers without using cloaking. Sweepstakes, Gambling, Dating of all kinds – all these verticals are available in push ads. It means a lack of bans and tricks. 
🎯 Push ads allow launching offers in any GEO. RichAds push notification network has an audience in more than 220 countries around the world. You can find an appropriate offer and traffic for it.
---
Make a profit from RichAds traffic.
What is RichAds?
✅ Push and pop ads,
✅ Target CPA optimization,
✅ loyal and fast moderation,
✅ help of a personal manager,
✅ CPC from $ 0.003, CPM from $ 0.3
✅ large volumes of available traffic in more than 200 geos.
Push traffic disadvantages
Like any ad format push traffic has its weaknesses. If you know them you will reduce their influence on the ad campaign's results.
🔨 Push traffic can't reach iOS users
Push ads audience is not limited by GEOs, browsers, or devices.
But for a long time push ads couldn't reach iOS users as the iOS system didn't allow to use subscriptions. It was true unless in-page push was invented. Now iOS users are available for marketers even on push traffic!
Only some ad networks work with this type of push ads. We will tell you how they work a little bit later.
🔨 There is no possibility of advanced audience targeting according to interests or socio-demographic rates.
That's understandable: when subscribing users don't leave their private data. On one hand, it can hamper work but on the other hand, it's the possibility to attract an audience you may not have considered as a target before.
It doesn't mean that there is no targeting on push traffic but they differ from usual social networks targeting options. For example, there are 17 targeting parameters in RichAds.
🔨 Direct links do not always work well with push traffic.
The user doesn't search for your products as in case of SEO or context ads. Having received push he is not ready to respond to the offer, but more likely shows interest. It's better to stimulate him using the pre-landing page. Pre-landers with elements of gamification or storytelling convert great with push ads traffic.
🔨 Push ad campaign claims diversity and rotation of creatives.
The principle "the more creatives you use, the better" works really nice with push traffic. Multiple creatives help to make a/b testing and choose what the audience likes. But even if you've chosen creatives that perform really well, it's necessary to change these variants so that users don't get tired of them.
🔨 The creative should meet the requirements to pass moderation.
Push networks are known for their loyal content policy. But it doesn't mean that there are no taboos here. You can figure out what you can launch in RichAds ad network here.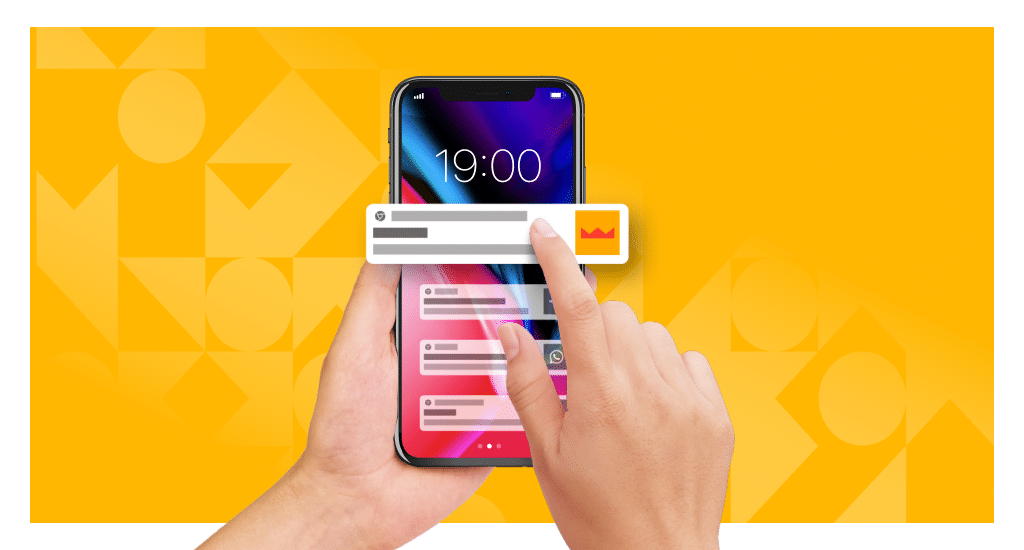 New push ads format: iOS in-page push
Push ads were not available for iOS users until  iOS in-page push format – an absolutely new type of push ads – appeared. Now there are no limits for ads – they can reach all possible groups of users. 
In-page push ads work like usual push ads. Technically in-page push resembles a popup but it can look like a push notification window or message from the messenger.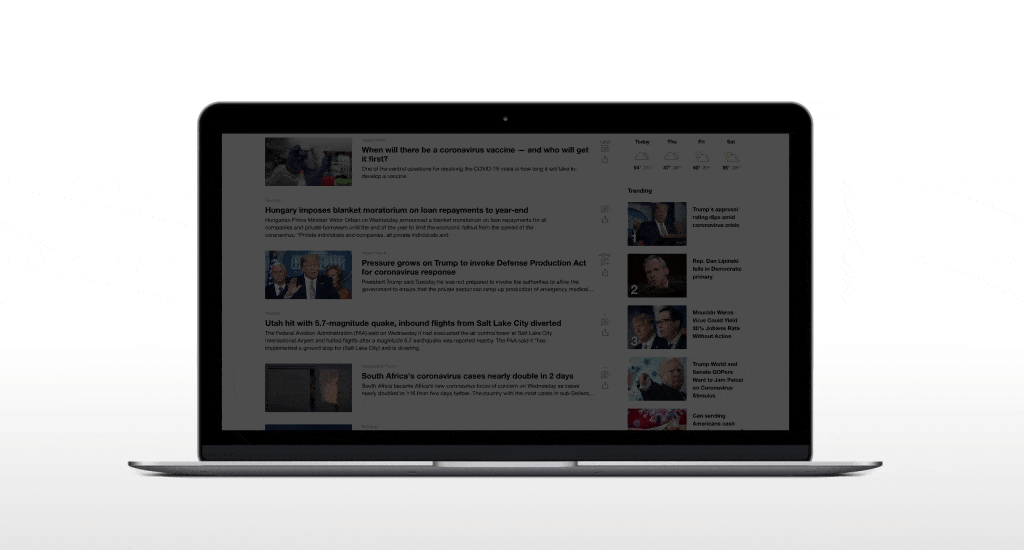 The user sees an ad when he visits any publisher's website. It is still noticeable appearing in the corner of the screen without interfering in surfing the page content. There is no need to subscribe the user that's why there are no limits for iOS users. The ad will be seen by all the users that have visited the website.
An in-page push may show even higher conversion than usual push ads. This is partly because the user is actively surfing the page and push doesn't distract him from the principal activity.
In-page push notification ads have the same advantages as web notifications but they are also available on iOS.
RichAds has separate lists of traffic sources that work with an in-page push format. We've marked them with green circles. Add them before launching the marketing campaign and push ads will reach even iOS users.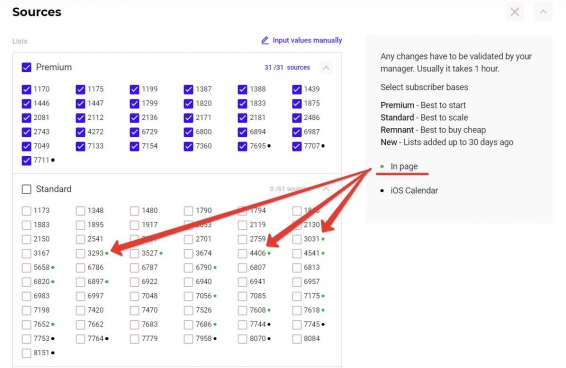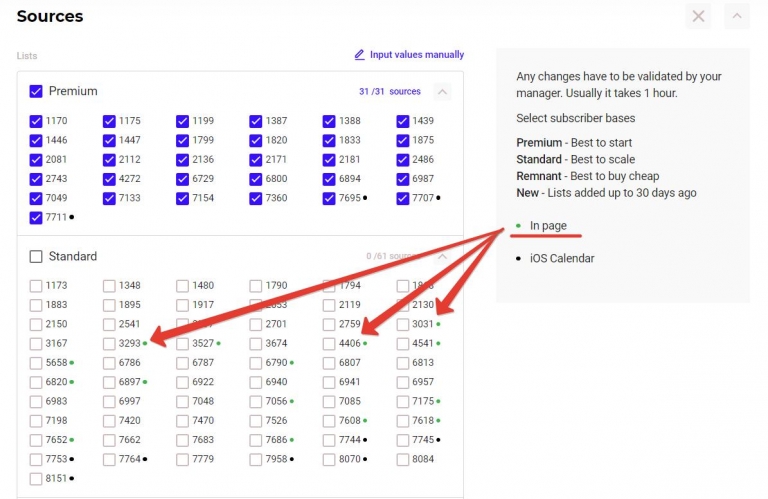 What verticals to choose for push ads?
There is a great variety of niches in affiliate marketing that can be an option for push ads.
Push advertising works with a lot of verticals that are forbidden or limited in social networks. Here you can easily get conversions on Sweepstakes, Gambling, and Dating. The main rule of successful moderation is using not very skimpy creatives and a lack of misleading.
Offers that solve users' problems right now show especially nice results on push ads. It's better to choose offers that are aimed to a wide audience with different needs.

A large number of users have the needs in:
money and status (financial offers, gambling, and betting, sweepstakes and coupons, e-commerce);
health and beauty (weight loss products, self-care, medicine, biologically active substances);
dating;
entertainments (mobile content, gaming, VR, video and streaming services, gambling and betting);
news and education (subscriptions to different services (weather, horoscopes, news, online education);
mobile apps, antiviruses, VPN and cleaners would also work well.
Too specific offers that are interesting for a narrow range of users will hardly be successful on push ads traffic.
Push digital marketing is appropriate for promoting B2B products and services.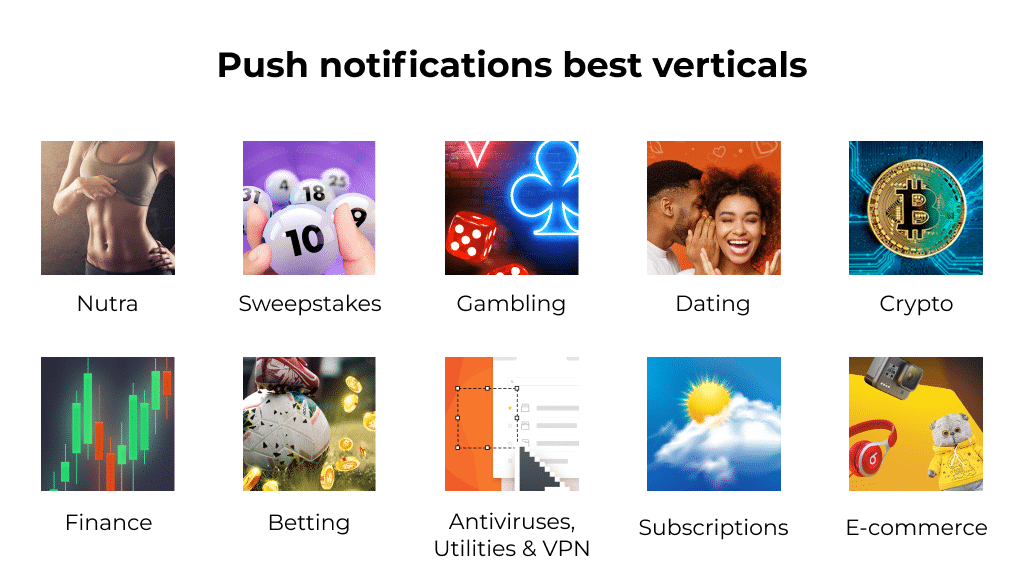 Fraudulent offers, questionnaires where the user should leave his credit card data, tech-support offers, auto-loads, cannabis offers (even for countries where these substances are legalized), and other illegal offers are forbidden.
Which targeting options are available for push ads?
If you didn't work with push ad traffic before, pay attention to available targeting options. They differ from those that are used in other ad formats.
Targeting options can be conditionally divided into 4 categories: technical targeting options, high-quality traffic sources, schedule of the campaign launching, and audience activity.
Technical targetings
Traffic sources
Campaign
launch schedule
Audience
activity
Country
Subscribers
lists groups
(Premium, Standard, Remnant, New)
Time
and Schedule
New
Subscribers
City
Subscribers lists
Region
Publishers
Device
Sites
Device models
Manufacturers
OS
Browser
Browser
language
Connection
type
Carrier
ISP
Why audience activity factor is important for conversions
Working with push traffic a lot depends on how much time has passed after the user's subscription. The user reacts to push ads more actively in the early days after subscription. As time goes by the user's activity starts decreasing.
New Subscribers Only targeting allows showing your ads to users that have subscribed to push ads during the last 7 days.
Thus you will have more potential clients.
What should you know about technical targetings?
Habitual user profile on push ads is hard to describe: we know neither age nor interests. But ad network allows setting up parameters that characterize users differently.
👥 Country
In RichAds, you can launch a push ads campaign for users from one country. If you want to test one campaign for another region you have to create a separate campaign for another GEO.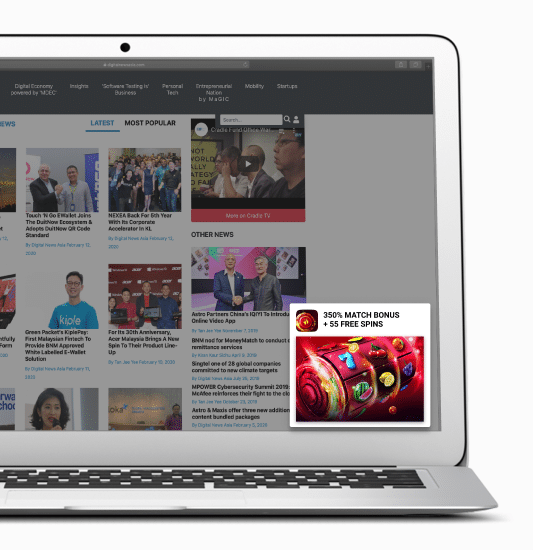 👥 City and region
This parameter allows showing ads to users from certain cities or regions of the country. The function will be useful for promoting offers in a certain city or region: for example, ads of discounts on pizza in Berlin. During optimization, you can note that some regions and cities convert more effectively and it's better to disable non-performing options.
👥 Device type and model
A lot depends on the device type while working with push ads. For example, a bid size. If you want to save money, create two different campaigns, and look at the results. A small detail but shares of a cent for significant campaigns may lead to a pleasant saved sum of money. Besides, you never know which device will show better results on your offer: try both.
👥 Operating system and browser
The operating system may testify to users' solvency if we speak about Android users. The last OS versions tend to show the best results. Chrome is definitely a leader among different available browsers. Anyway, it's better to optimize these parameters according to the first tests' results.
👥 Browser language
Browser language is especially useful for targeting countries with several state languages: this way you will find your target audience and will pay only for these impressions. Don't forget that in this case creatives and landing pages should have the same language.
👥 Connection type and Carrier
These parameters will be useful if you launch click2call and click2sms offers, mVAS, or mobile subscriptions and polls. In other cases, you don't have to use these targeting options.
Timing on push ads: what you should know
People surf the net all day long. That's a great chance to make a profit with affiliate marketing! But each offer has its own relevant time.
For example, Games and entertainment, Dating convert better in the evening and over the weekend. Some Nutra products are sold via call-centers that's why the ad should be set up during their working hours not to lose leads.
Experts recommend launching campaigns 24/7 and making conclusions after testing. For example, one gambling campaign in some Scandinavian countries showed really nice results at 5 a.m. when people were getting ready for work. Without 24/7 testing this audience may be lost.
The schedule is an extremely useful feature if you work with COD Nutra offers or mVAS offers that work with call-centers. Set up ad campaigns for its working hours not to lose potential clients.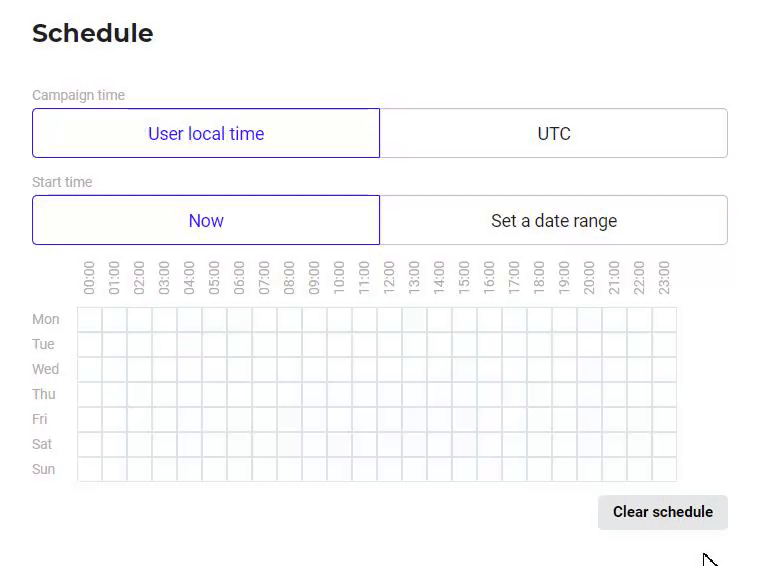 How to target traffic sources on push ads
The first thing any advertiser should take into account is how the traffic source hierarchy works. Subscribers lists (sub-lists) is the largest traffic source. It consists of a few publishers, and they, in turn, are made up of separate websites.


It's better to start with all the available traffic sources and then start optimizing according to campaign results. Besides, personal managers can share lists of the most appropriate sources for your particular offer.
How to choose a push ads network?
Push ads networks are mushrooming and reaffirm that this format is quite popular. But how do you choose the best push ads traffic source for you among this diversity?
🔎 Evaluate the size of subscribers bases
The larger the base the more the possibility to find your target audience among subscribers. RichAds relevant audience for web push ads and mobile push ads now is 500+M users worldwide.
Besides, it's useful to know where the traffic comes from: if the traffic source has its own publishers base or it buys traffic from other networks (DMP). Find more about the terms of corporations for publishers in RichAds here.
🔎 Learn about traffic quality
Although all users subscribe to push ads by themselves, a certain amount of bot traffic may be found among push ads. One of the ways to confirm the lack of bots is traffic verification. All RichAds traffic is verified by Adscore.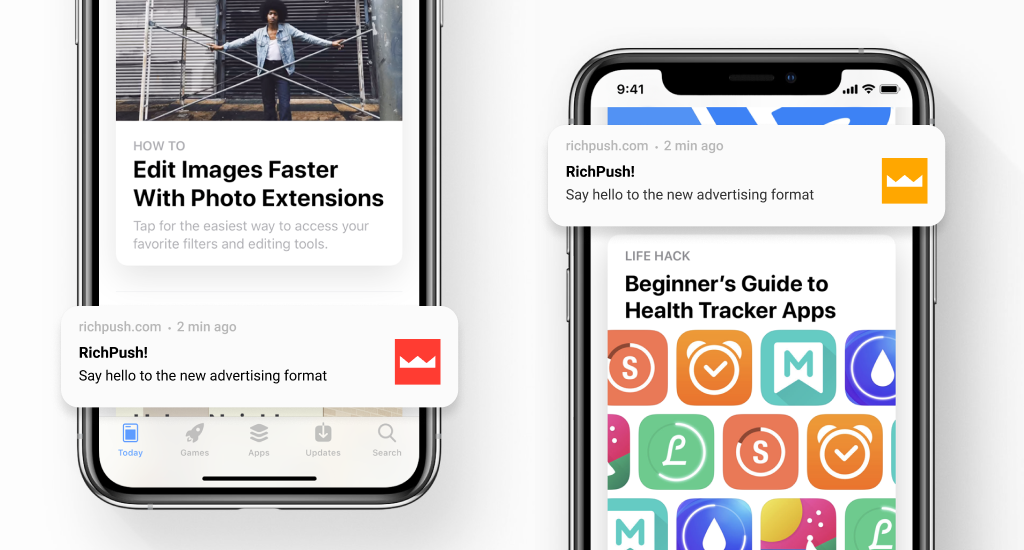 🔎 Compare the number of available targeting options in the different push ads traffic sources
Push targeting is one of the main opportunities for optimization. The more options, the better. Some targeting options are especially useful, for example, the opportunity to divide the audience by time of subscription (new subscribers only function in RichAds).
🔎 Check if there are iOS in-page push ads in certain network 
In-page push ads allow sending out ads to solvent iOS users who furthermore were not familiar with this format. In-page push format is a huge advantage.
🔎 Pay attention to tech support
Push ads don't resemble other ad formats that's why timely expert's help is a great aid. RichAds works according to the ticket system, which means that all the appeals to support are fixed as separate tasks in a special accounting system. Your request will not be forgotten in the messenger's chat as it may be when support answers you straight to the messenger.
Each RichAds user gets a personal manager if they are making at least a $500 deposit. The manager will answer all the questions, and help with profitable bundles and sublists for a certain offer, they can also prepare creatives for your ad campaigns for free.
🔎 Estimate optimization technologies
The main part of work with push ads campaigns accounts for optimization. The more useful features and tools the push ad network has, the easier you will deal with data processing. RichAds has a number of cool features that will make your life much easier:
We have compiled the best push traffic sources in one table to make it easier for you to buy push traffic.
| Push ads network | Active audience | Verticals | In-page push | Targeting options |
| --- | --- | --- | --- | --- |
| RichAds | 500+ | Nutra, Sweepstakes, Gambling, Betting, Finance, Utilities, VPN, Dating | + | Device, Device model, Carrier, Region and city, Ip, Language, Browser, Connection Type, Manufacturers, Models |
| MegaPush | 450 | Dating, Gambling, Nutra, Sweepstakes, Binary Options, News | — | Device |
| PropellerAds | 350 | — | + | Device, Carrier, Region, IP for Premium users, Language, Browser, Connection Type |
| Zeropark | 300 | E-commerce, Finance, Coupons, Mobile apps, News, Entertainment | + | Device, Carrier, Region, Ip, Language, Browser, Connection Type |
| DatsPush | — | Nutra, Dating, Sweepstakes, E-commerce, Gambling, Pin-submits, Finance | + | Device, Carrier, Region, Ip, Language, Browser, Connection Type |
| Pushground | 400 | — | + | Device, Carrier, Region, Ip, Language, Browser, Connection Type |
| MGID | — | Sweepstakes, Dating, Gambling, Finance, Health, Beauty | — | Device, Region, Ip, Browser, Connection Type |
Find a list of more than 30+ push ad networks at AllPushNetworks.
Search for the latest reviews, coupons, user's ratings and useful guides there.
What is RichAds?
✅ Push and pop ads,
✅ Target CPA optimization,
✅ loyal and fast moderation,
✅ help of a personal manager,
✅ CPC from $ 0.003, CPM from $ 0.3
✅ large volumes of available traffic in more than 200 geos.
Part 2. How to set up a push ads campaign
Step 1. What to take into account for a successful start?
Any push campaign consists of 2 crucial parts: hypothesis testing and optimization based on the test's results. Each affiliate marketer has his own approach to the test: someone selects the maximum bid in order to quickly gather statistics and buy maximum clicks from the highest quality sources, someone increases the bid during optimization.
💪 Launch your push advertise campaigns with 5-10 creatives to see which ones work best. After launching, leave the best creatives, and replace them in time. So that creatives do not burn out, they should be changed every 5-7 days, even if they show good results.
💪 Find your unique ideas for creatives. People often use spy tools to search for the most effective creatives. Then they launch a campaign with this particular image and end up with a very low CTR. This happens because many advertisers run the same ad on one platform. Not surprisingly, their ads are clicked little.
The best way is to find a winning creative, understand how it shows high efficiency, and make your own even more effective. Creatives can also be ordered at RichAds.


💪 Test options with direct links and pre-landing pages in traffic ad campaigns. RichAds allows you to add different links to different creatives. Use this feature during testing.
💪 Consult your manager to determine the best bid for your campaign.
💪 At the start, set up conversions tracking. This will help in optimization and give access to the top features of RichAds: Target CPA, Automated rules, Micro Bidding.
💪 Set clicks limits of your ads. Lack of limits on clicks can lead to cost overrun: one user can endlessly click on the push ad and not perform the target action. We recommend limiting it to one or two clicks per user per day.
💪Use different Groups of Subscriber Lists wisely. Start with Premium ones, scale with Standard and New. Note, all of the traffic source groups have different same cost. Premium sources showed the highest performance: conversion rate is 3 times higher than in other categories, no matter what niche you promote. Read more about Groups of Subscriber Lists here.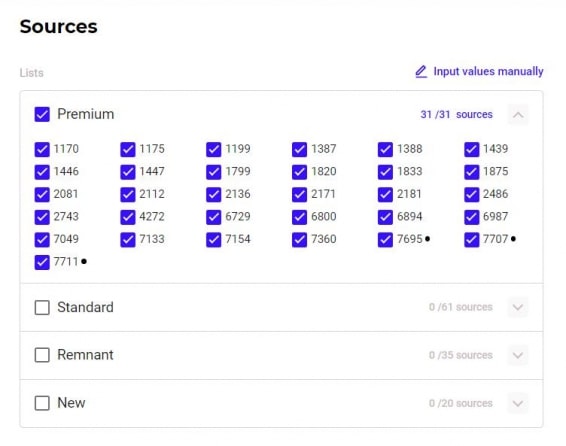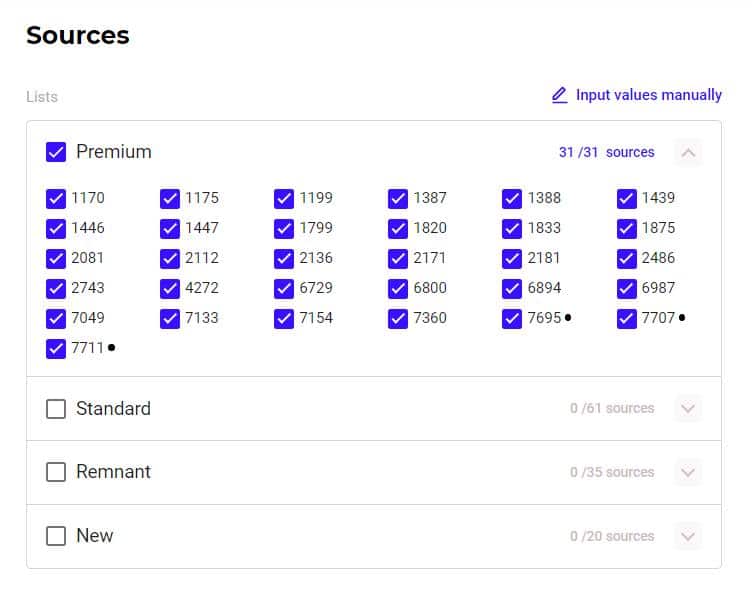 Step 2. RichAds push traffic peculiarities
Each ad network has its own characteristics. As a rule, affiliate marketers recognize them after launching and getting the first results.
Push traffic is difficult to segment by gender, age, and interests because users do not leave their data when subscribing. We can only say about the approximate ratio of men and women. In RichAds, about 60% of the audience are men, and 40% are women.
This information will help you choose an offer and guide you when creating creatives (for the test, you can create several creatives targeted at women and several at men and see the results).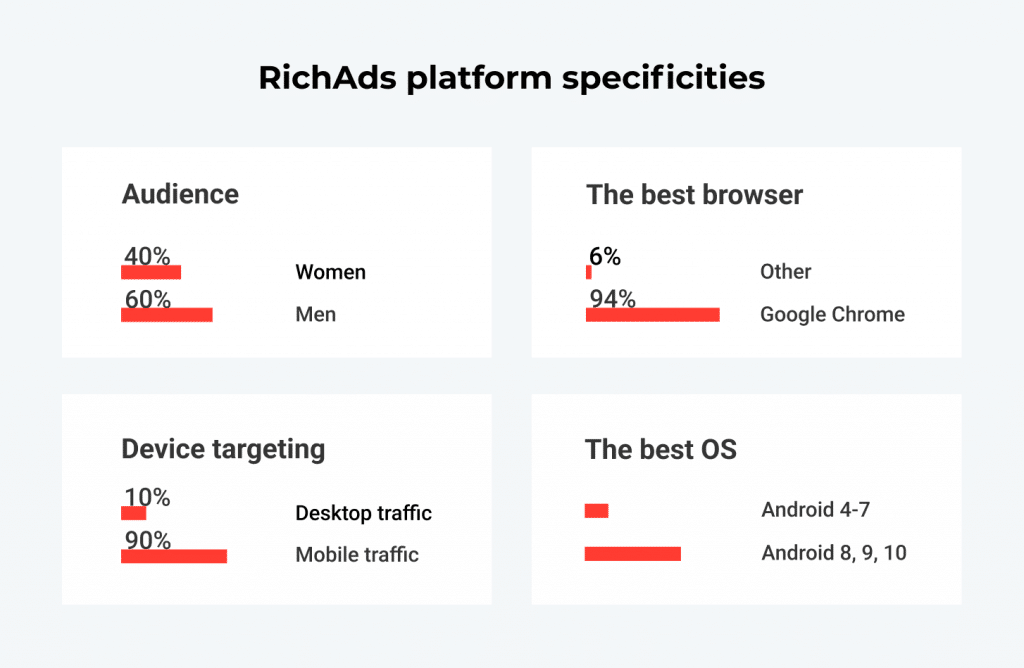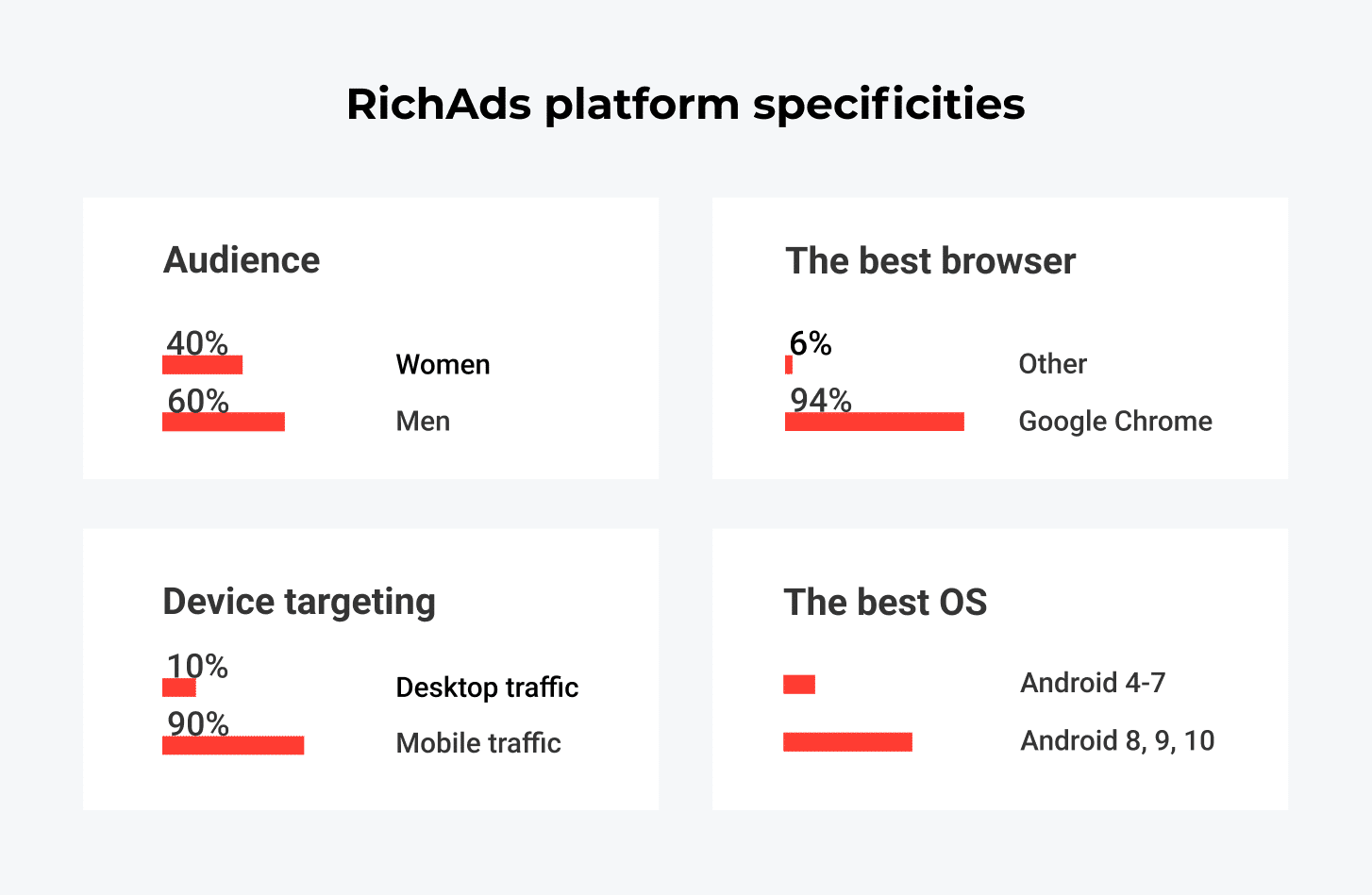 Information about the user often lies in which device and operating system it uses, which browser is more popular. This data will not make a complete user profile, they can more likely be called technical targeting, but they can also be used to test hypotheses.
It's interesting that a small percentage of desktop traffic on the platform (about 10%) does not mean that it converts worse. RichAds experts advise launching campaigns on all devices and see which results the campaign shows on each of them. For some offer-geo combinations, desktop traffic can show better results than mobile. especially when it comes to Antivirus offers.
According to Android, you can assume the solvency of your potential leads and target newer or older versions depending on the offer.
As for browsers, Chrome still holds the palm. Statistics show that it converts best of all.
Even knowing the popular devices, don't stop and perform tests: no one can guarantee which geo will work out better.
Step 3. How to make creatives for a successful push campaign?
The most important element for push traffic is the push itself or, as it is also called, creative. Ad creative is the thing that opens any sales funnel.
The user will have a few seconds to evaluate it and make a decision. It depends on its informativeness whether the user clicks on it or not. Therefore, it is so important to devote time to its competent design.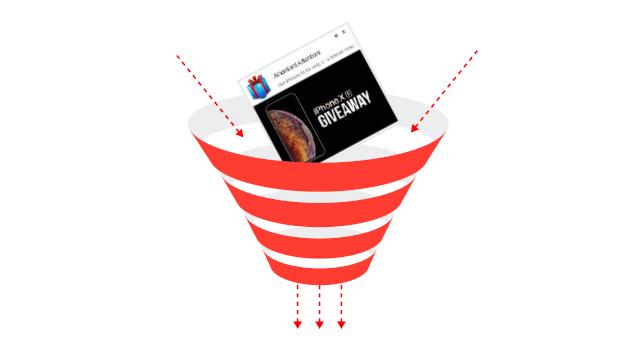 It is important that all elements of the creative complement each other:
the icon suggests the sense of the proposal;
the main image attracts attention;
the title sells;
the message (or description) provides the necessary explanations.
Icon
The icon is perhaps the most important element of the push ad when it comes to mobile traffic. It helps the user to perceive information in ads faster.
If you run a campaign on mobile devices – this is the only image that the user sees on the screen. The better and more attractive the icon, the more clicks the push gets.
One large object with no details or monochrome images is the best option for the icon.

Main image
The first thing the user pays attention to when he gets a push ads on a computer is the main image.
The main requirement for it is large and clear illustrations. The plot with several characters and small details is not suitable for the image of the push notification ad. Lots of details will not be able to convey the sense of the offer, it will distract from the main point. The best practice is to use 1-2 large objects in the picture.
You can place a small text on the main image with the important details of your proposal. Do not use more than 2-3 words.
Ideas for the main images:
Happy people;
Bright colors;
Options before and after;
Result.

The title and the text of the message
Statistically, the user needs 3 seconds to read the headline and understand whether he is interested in the proposal or not. Do not start from afar. Immediately show the benefits or value of your proposal.
In addition, the size of the text is limited to 75 characters: the maximum length of the title is 30 characters, and the description is 45.
If you want to increase conversion, add emojis to the text! They draw attention to push ads and increase conversions up to +10%.
Remember that quality text:
maintains a person's interest in himself and his needs;
reports the latest news, talks about the event;
arouses curiosity;
promises to achieve the goal.
Push ads examples of creatives for top verticals
Push notifications are useful for a wide variety of verticals, as you will recall. As different people subscribe to receive notifications in different ad networks, they can differ from one ad network to another. It means that one vertical and even one offer can succeed in one ad network but fail in another.
Here are a few examples of push ads creatives for different verticals, especially for those who show good results on RichAds.
Let's look at good practices for creating creatives that convert.




Step 4. How to set up a push ad campaign?
There are 2 ways to launch push ad campaigns at RichAds:
You can set up all the information manually and then optimize the data by yourself,
or use the Target CPA option and let RichAds' system do all the work for you.


How does Target CPA work? You must select a country, add creatives, and specify your CPA goal and total budget. After that, the system will automatically add sources to a blacklist or whitelist, narrow targeting options, and set bids. That means you'll get conversions at the target price without taking action.
It's your choice which way to go.
See our video instruction below to learn more about push ads campaigns.
We have prepared a simple and clear video with RuchAds expert Daria Maichuk to facilitate your task. You will know about the most important points for setting up a campaign from it.
Here is a full push ads review for affiliate marketers. We try to look at the type of traffic from different sides. Use this information to get profit from push ads!
As you might have noticed there are two eternal leaders for push ads — Gambling and Betting, they almost never dropped out of the list. Among the best we also have Antivirus and Dating vertical, it has shown magnificent performance in 2023!
Choose promising advertising offers and profit from RichAds traffic.
What is RichAds?
✅ Push and pop ads,
✅ Target CPA optimization,
✅ loyal and fast moderation,
✅ help of a personal manager,
✅ CPC from $ 0.003, CPM from $ 0.3
✅ large volumes of available traffic in more than 200 goes.
Frequently Asked Questions about Web/Browser Push Notifications
What exactly are web push notifications or push ads?
Push notifications ad is a new format that is easily noticed no matter what device your potential customer uses.
A small push notification window pops at the monitor's right corner or appears on a smartphone's screen over other windows. The users tend to see notifications from messengers there, so this part of the screen usually attracts the user's attention. The banner blindness associated with other types of ads can be overcome with this.
Do app and web push notifications look the same?
Well, both notifications look the same way. They have a picture or icon and a small amount of text.
But they are different in the way they deliver the notifications. To get a push from an app, the user should download it. To get web push notifications, a user should opt-in. In other words, they should give an agreement to subscribe to push notifications on some website. Then they get to the subscription base of some push ads network and start to receive push ads via browser.
Can users see the push notification if they have left the website?
Yes, the great thing is that users don't have to stay at the website to get ads. They can leave the website where they subscribed, but they will still see the ads (Push-up ads) provided via their browsers.
Which devices can show push notifications?
Both mobile and desktop show push notifications, the difference is that on the computer the user sees a push notification with a large image. Speaking about a mobile version, only an icon and text appear on the screen: you can see a full image only when you maximize notification.
Which products can be promoted with web push notifications?
Push traffic is a wide-spread channel like TV or radio with all of its advantages and no precise segmentation. It's a possibility to attract an audience that you haven't considered as targeted before.
It means that a wide range of products can be promoted via push ads/push notifications.
What volumes of traffic push ad networks have?
Affiliates should consider the amount of traffic available for the ads. This factor will influence a profit.
Let's have a look at push ads daily volumes from RichAds advertising network.
Push ad impressions statistics for 1 day in the RichAds ad network
| | Device | GEO | Impressions | Device | GEO | Impressions | Device | GEO | Impressions |
| --- | --- | --- | --- | --- | --- | --- | --- | --- | --- |
| 1 | Mobile | IND | 529247434 | Computer | USA | 31037481 | Tablet | RUS | 812410 |
| 2 | Mobile | THA | 78941961 | Computer | JPN | 10371087 | Tablet | FRA | 802285 |
| 3 | Mobile | BRA | 47805000 | Computer | BRA | 7404812 | Tablet | DEU | 767170 |
| 4 | Mobile | IDN | 46871235 | Computer | MEX | 7369488 | Tablet | IND | 603451 |
| 5 | Mobile | RUS | 33688524 | Computer | GBR | 6365387 | Tablet | USA | 483149 |
| 6 | Mobile | MYS | 29565182 | Computer | IND | 4282363 | Tablet | GBR | 441908 |
| 7 | Mobile | USA | 21177300 | Computer | CAN | 4045973 | Tablet | ESP | 437941 |
| 8 | Mobile | EGY | 20417781 | Computer | MYS | 2708893 | Tablet | CAN | 341160 |
What are the top verticals for push campaigns at RichAds?
Top verticals on push notifications change from time to time. The thing is that push ads are sent to the subscribers base. These are real people who agree to receive push notifications. Customers can subscribe to push notifications and later unsubscribe.
As a result, the top niches of one advertising push notifications network can change quite often: the audience changes, their needs change.
The list of the top verticals at RichAds looks like this:
Nutra (Men Health, Slimming): IDN, NPL, BGD, PAK, DZA, PER.
Gambling: UKR, MYS, CHN, POL.
Betting: BGD, IDN, BRA, CIV, KHM.
Antivirus (Norton, McAfee): USA, FRA, CAN, BRA, MEX, DEU

.
*This information is relevant for summer 2023.
Your personal manager can always provide you with a list of current verticals. They are included with every deposit of $500. Your manager's contacts will appear in the upper left corner of the ad account.
I have already had a negative experience with push traffic. How are you different?
RichAds' uniqueness and quality of traffic make it stand out from its competitors. The platform employs the latest anti-bot solutions. Additionally, traffic is checked by an external tool — AdScore.
The AdScore team has been running the push notification ad networks for over 10 years. This experience helped them learn how to effectively monitor various types of fraudulent traffic in real time. Now they provide their fraud detection services.
There are several features available on the platform for the convenience of affiliate marketers.
How can I reach the iOS audience via push notifications?
As you know, it's not possible to reach the iOS audience via classic push notifications, but there is a way to bypass this restriction.
You can do it by using in-page push notifications and iOS calendar push traffic. Both of the formats are very similar to push ads, but have their own peculiarities and allow to target iOS users.
What is the minimum CPC for push traffic?
Minimum CPC for push notifications starts from $0.005 at RichAds ad network. You can see recommended and minimum CPC for each country in the campaign's settings after choosing the GEO.