Going to launch your first campaign with RichPush and try push ads? We've prepared the tutorial. Here you can find useful recommendations concerning how to set up a push campaign. Implement all the points and success with push ads will be within reach.
1. If you have any questions, start your campaign with the consultation of our manager
A personal account manager will help you:
to choose profitable vertical and lander-offer combination;

with details of running your

campaign;

to choose GEO or to make a chain of GEOs to start with.
You will see the contacts of your account manager at the top of the page right after making a deposit. Personal account manager's help available after depositing at least $500.
Top 8 Сases on How to Increase Profit with Ad Expert here.
2. Prepare and upload creatives for your campaign
Use at least 3-5 creatives. A few creos in one campaign allow making a/b testing. Thanks to it you will see which of the creatives works better. It will help you to optimize the campaign and increase CTR.
Different varieties of creatives make your campaign more diverse and attractive for users. In our blog, there are different guides on making creatives for different verticals: finance, gambling, gaming, nutra, sweepstakes.

Remember! During making a mobile creo bet on icon and headline. To see the main image user should maximize push notification before following the link.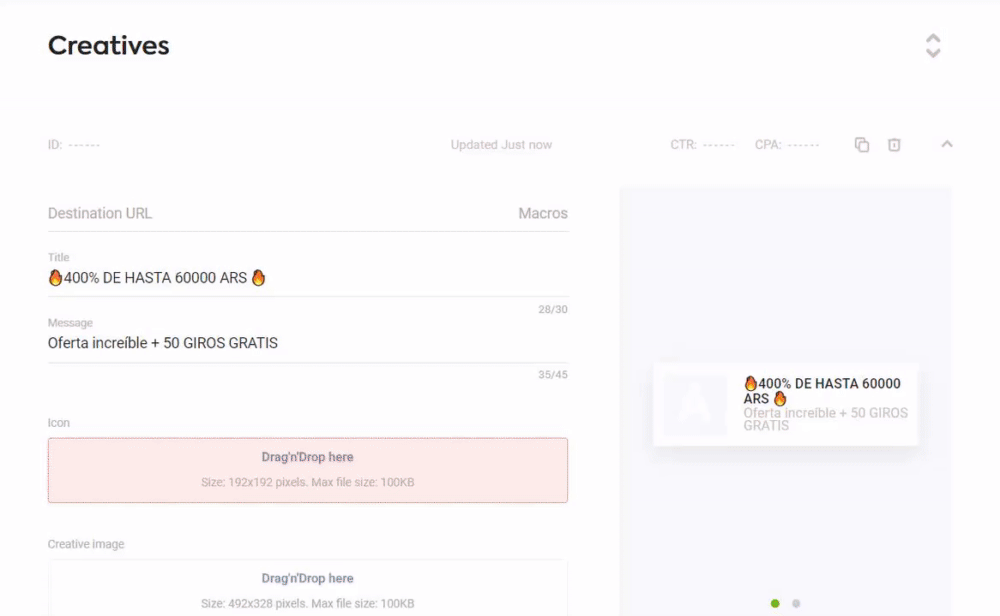 3. Choose and set up an appropriate way of conversion tracking
We recommend all advertisers to use conversions tracking. In this case, you will get access to unique features (such as Target CPA, Automated rules, Micro Bidding). Moreover, we will help you with campaign optimization.
Read more about conversion tracking options for newbies here and experienced affiliates here.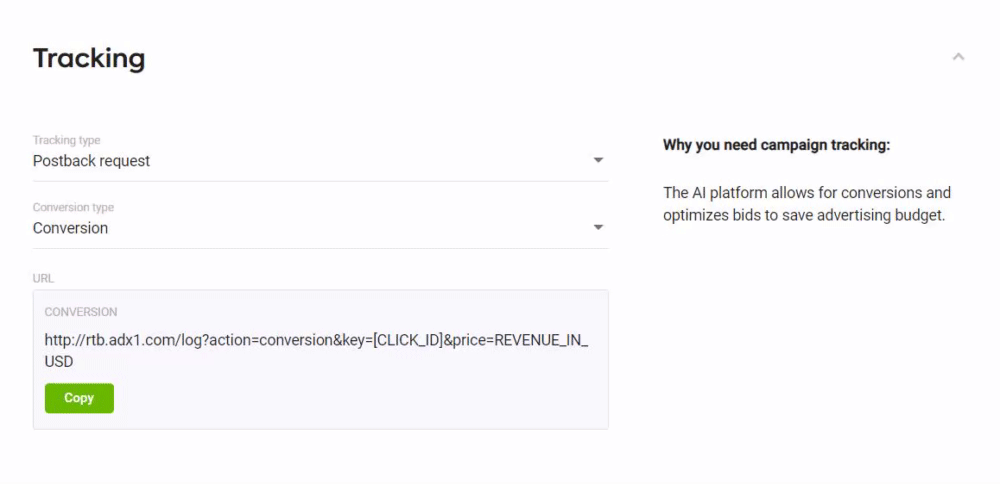 4. Select the country to launch push ads campaign
RichPush provides targeting according to the country, city, or certain district. At the start, it's better to choose the whole country and then optimize separate locations.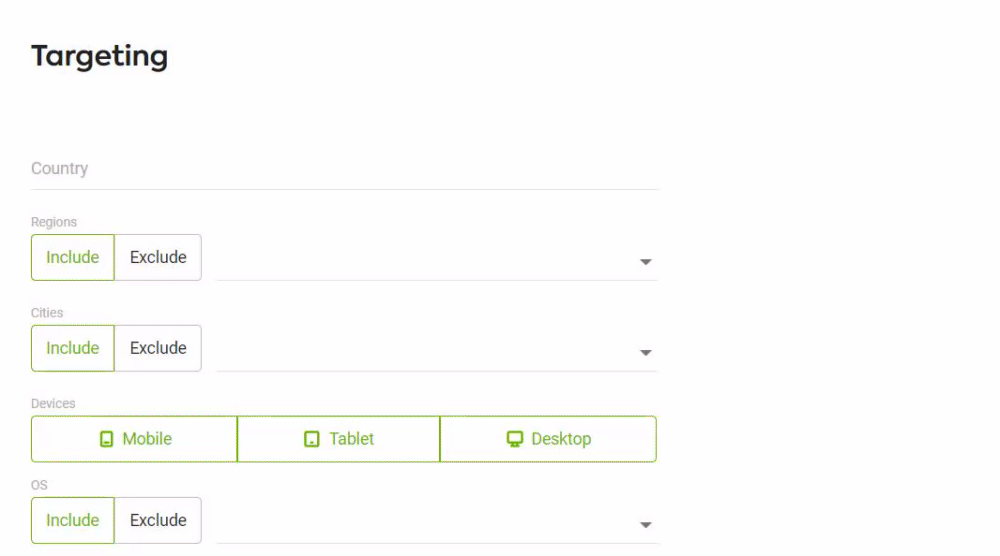 5. Set up targeting options on devices and OS (optionally)
In this block, you can set up main targeting options: devices and OS.
Our platform has about 90% volumes for mobile traffic and about 10% for desktop. The better way to know which one will perform better is to create a separate campaign for the particular device.
We recommend to set up OS parameters in campaign setting during optimization. Every traffic source has its peculiarities. So it's important not to copy settings from other networks, but also test our platform and then optimize the campaign according to the tests' results.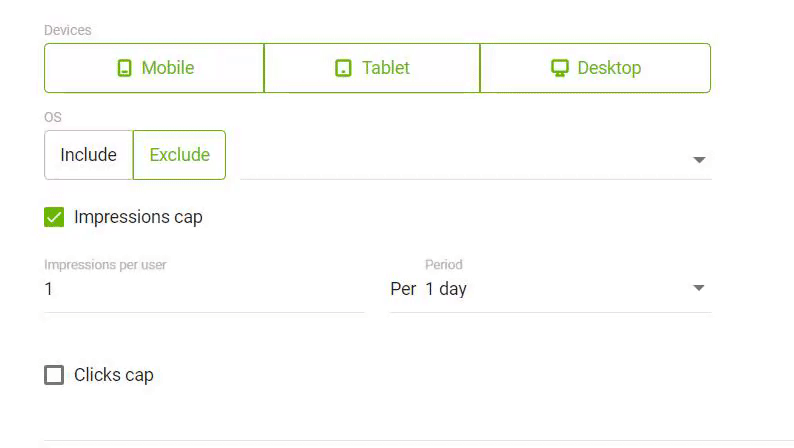 6. Set up clicks limits
If you don't specify clicks limits, the user will click on push notifications endlessly. As you pay for clicks limit this option to save your budget. We recommend to set up 1 click per day for 1 user.

7. Set up advanced targeting options (optionally)
Our network allows targeting users by:
browsers;

browser language;

connection type;

carrier targeting;

IP targeting.
We recommend using these parameters in campaign settings during optimization. Exception: Offers that can be targeted only at certain connection types, mobile operators, or browser language (if you want to reach some specific group of users in the multilingual country).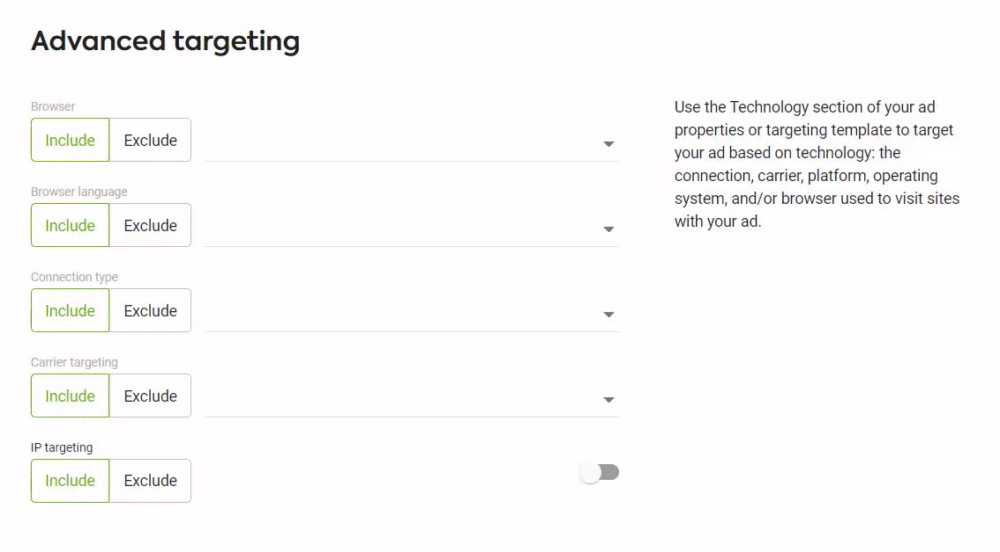 8. Specify cost per click
After setting up the destination country you'll see the average bid for it. You can use it or make it higher or lower.
Not to choose too high or too low bid, ask your account manager for advice, as the prices for the clicks vary in different regions. You can also see it in RichPush insights.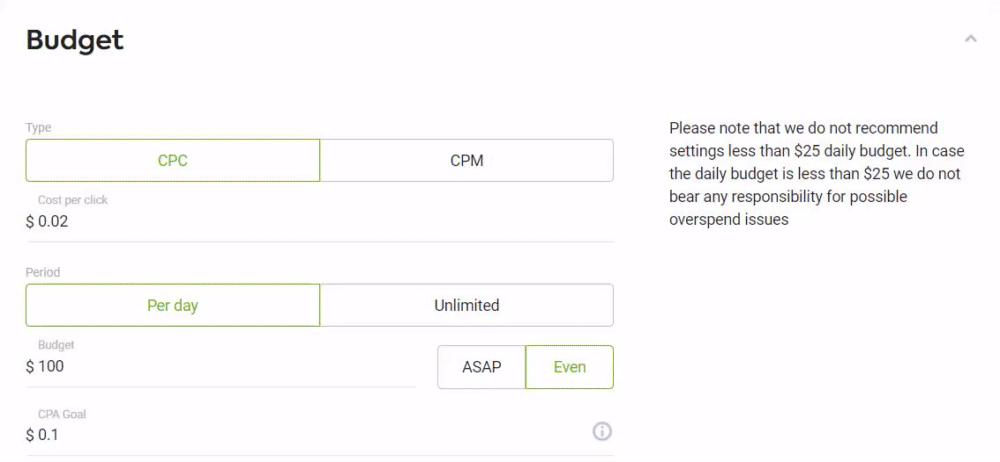 9. Choose your budget and specify "budget type"
For testing working bundles at the start of your campaign, we recommend using budget limits — no less than $25 per day. It will help you to avoid unpredictable spending during the test. You can turn them off when everything is set up and works correctly.
We recommend to choose ASAP (or "as soon as possible"). It allows buying traffic in all possible situations when you have a winning bid.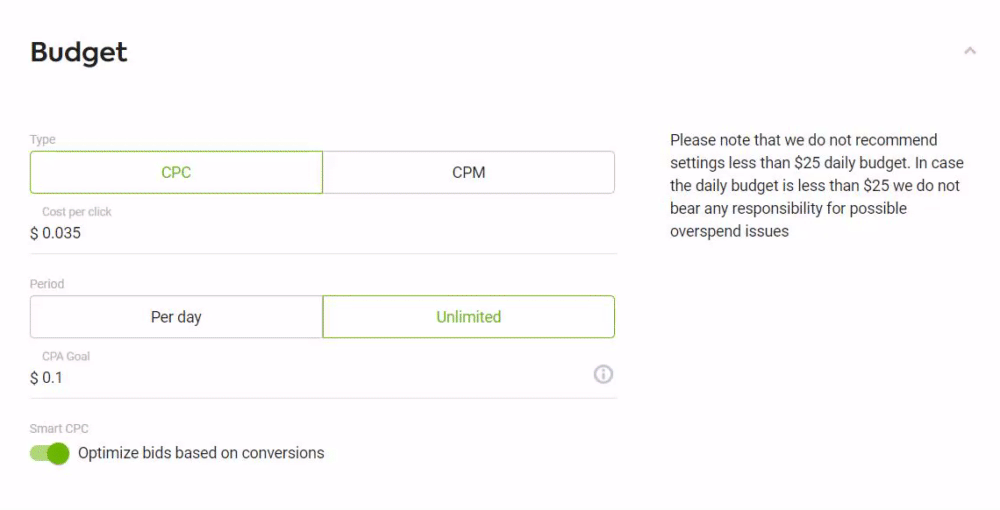 10. Use CPA Goal (optionally)
CPA Goal (or Target CPA) allows specifying maximum possible conversion price. As soon as the campaign reaches 10 conversions, the algorithm will start to send more bids to the sources that have already converted successfully.
This function is available for those who use conversion tracking.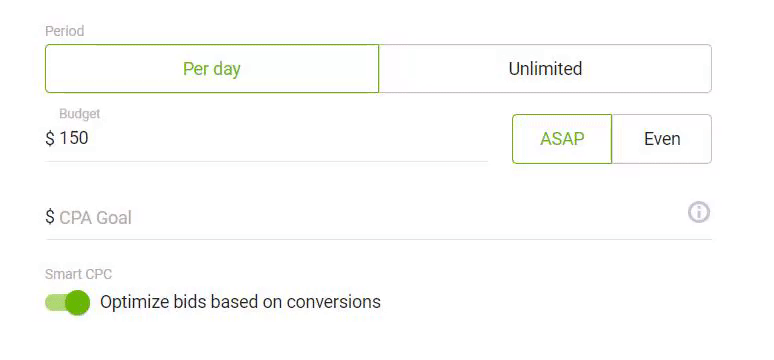 11. Use Smart CPC (optionally)
Smart CPC is a feature that lowers the bid without losing traffic volumes.
We do not recommend to use it having very low CPC.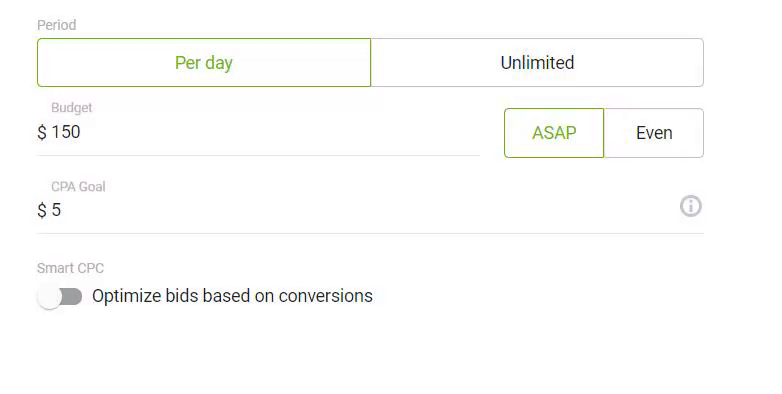 12. Choose Subscriber Lists
We also have different groups of Subscriber Lists. We recommend starting with Premium ones, scale with Standard and New. Note, all of them have the same cost.
Premium sources showed the highest performance: conversion rate is 3 times higher than in other categories, no matter what niche you promote. Read more about Groups of Subscriber Lists here.
It's better to use all sources from the Group of Lists if you haven't launched the same offer with the same GEO. Only in such a case, you know exactly which sub-lists work and which don't.
You can turn off ineffective sources during campaign optimization.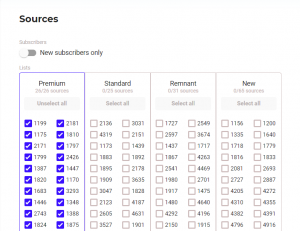 13. Choose the time when your campaign will start and end (optionally)
This function is especially useful for clients with time-limited offers.
Set up local time if you launch a campaign in a different country to be sure that users will receive push notifications in proper time.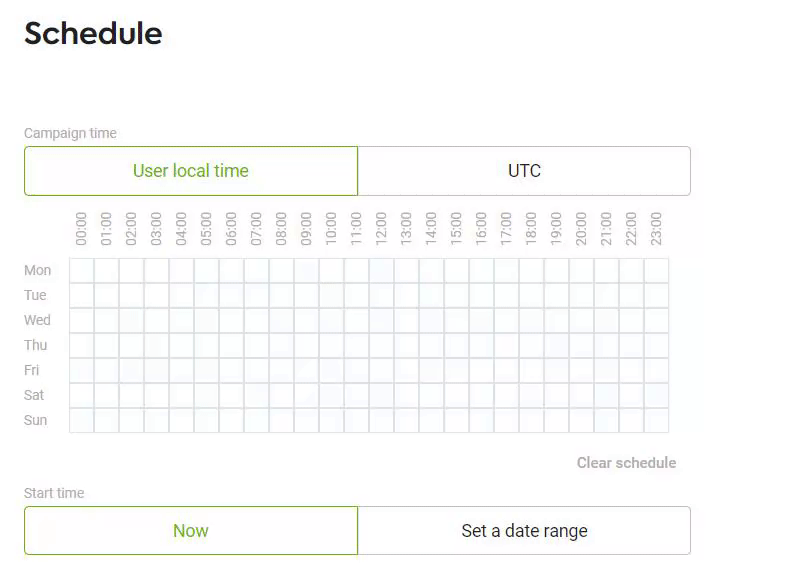 Now you know how to launch a push ads campaign. We hope, these recommendations will help you to run push ads successfully with our network.
You can find more useful information from our experts about which verticals and geos are the top ones at RiсhPush, common mistakes on push, targeting, and optimization tricks here.
Start your successful campaign with RichPush!
Get high-quality traffic here
Was this helpful?
Yeap
Ok
Neutral
Try harder
Nope