Landing pages are one of the most important parts of your marketing strategy. These can be used to capture email addresses, offer a free trial period, or provide a sales page for customers who need more convincing before making their purchase decision.
Landing pages can seem intimidating at first, and it's easy to feel like there is no way you could ever create something as good as those you usually see. That's where the top landing page builders can help you.
In this post, we'll list down the 10 best landing page builder tools so that you can start creating landing pages that will help you get the results that you expect from your affiliate marketing campaigns.
What's the difference between regular website makers and landing page building tools?
In reality, any kind of webpage or website builder can be used to create a landing page. After all, a landing page, sometimes called lander and pre-lander, is just like a typical web page.
However, the difference between regular website makers and landing page building tools is that the latter focuses solely on creating a single page lander that will encourage the viewer to click the CTA button to proceed to the offer page. Any kind of distraction that may take the viewer's attention away from the offer, such as the menu, will not be used.
The main components of a landing page include:
a headline,
enticing content that captures the user's attention,
and a compelling Call to Action.
Landing page builders understand that these elements are required to help the marketer succeed with his promotions; other unnecessary parts are discarded. This also helps improve page load speeds, reducing the instances of users dropping off before they even reach the page.
As such, we will not mention website creators like WordPress or Wix. Instead, we'll focus on standalone landing page builders and those incorporated within marketing applications since these are more directed towards helping the marketer generate more conversions.
Learn how to make converting landing pages for affiliate marketing here.
Best Landing Page Builders
for Any Marketing Strategy
1. Unbounce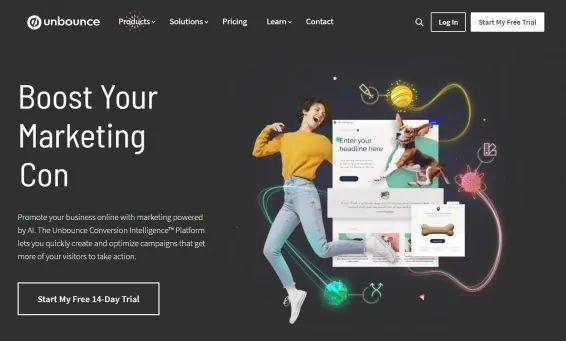 Unbounce is an online landing page builder that lets you create responsive, mobile-optimized landing pages without any design or coding skills. Their innovative A/B testing tools make it easy to optimize your LP for conversions like a pro.
Their other features include unlimited customization, SEO-friendly URLs, mobile optimization, and a drag-and-drop builder.
One of their most recent feature additions is the Smart Copy, allowing even non-copywriters to create sales copy that can easily win customers over. You can even personalize the content based on the target audience and the tone of voice.
Unbounce provides four different plans, with the cheapest starting at $90 and the priciest plan coming in at $225 per month. This app aims to create responsive mobile-optimized landing pages without any design or coding skills, making Unbounce one of the top landing page builders today.
---
2. Instapage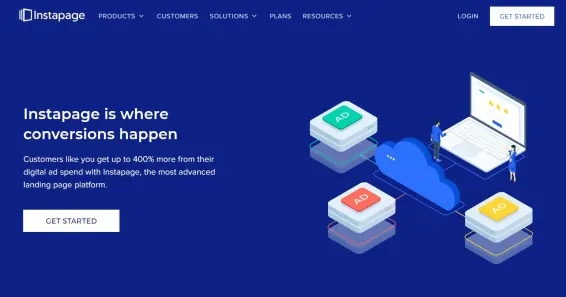 Instapage has all the features expected of a good landing page builder software. The top features of Instapage are its drag-and-drop functionality and its customizable templates. You can easily use Instablock to make edits without a need for an IT person!
This builder also offers a variety of integrations and features for Google, Facebook, and Retargeting ads.
This builder has two primary benefits. Firstly, you can easily create high-converting templates that match your company goals. Secondly, they offer various solutions designed specifically for affiliate marketing, helping their users to get more conversions.
Instapage comes with only one plan of $199 per month. It comes with unlimited conversions, 30 landing pages, and hosting.
---
3. ClickFunnels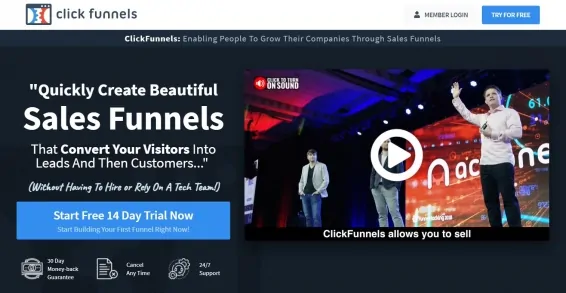 Clickfunnels is not just one of the best landing page builder tools but also an online marketing and funnel application.
As its name implies, Clickfunnels is a program that allows marketers to create and funnel their visitors into sales. Their funnels are quite successful at turning cold viewers to warm customers.
Its features include customizable templates and built-in page analytics, and various elements that are absent from other landing page tools such as membership content, surveys, video pop-ups, and more. It's also very easy to modify the design of the lander with its drag-and-drop tools.
Clickfunnels is not at the top of the list because it's not quite a Landing Page Builder as much as it's a website plus marketing funnel in one — but it does have all your bases covered.
Clickfunnels's cheapest plan is priced at $97 per month, which comes with 20 funnels and 100 landing pages.
4. LeadPages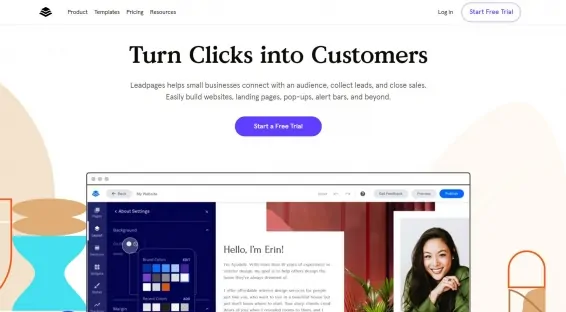 Leadpages is one of the most popular landing page builder apps. With 160 free templates, it is easy to find the right template for your use. The top converting templates are sorted from those with the highest conversion rate to the lowest, so you can find a template that will work well for you. It includes a drag and drop system and has three plans: Starter, Pro, and Advanced.
All plans include free hosting, unlimited landing pages, traffic, and conversions with more features unlocked as you pay more money per month.
Leadpages offers features that are hard to find elsewhere. You can create a landing page in minutes without the hassle of coding yourself. The drag and drop system consists of six layouts: left sidebars, center sidebars, right sidebars, top bars, bottom bars, and full-width pages.
This landing page builder also offers over 160 templates with free templates sorted by conversion rate (highest converting templates to lowest), making finding the right template much simpler. Leadpages also has an A/B testing feature which allows you to see your landing page's results in real-time and make changes accordingly for more conversions.
Other top features include integrations with over 40 platforms to maximize your potential reach, good customer service, and one-month free hosting when paid annually.
They offer three plans: Starter (37$ per month), Pro ($79 per month), and Advanced ($321 per month). The Pro package unlocks A/B testing while the Advanced unlocks integrations. All plans included free hosting, unlimited landing pages, traffic, and conversions, making it easy to get started quickly.
---
5. ShortStack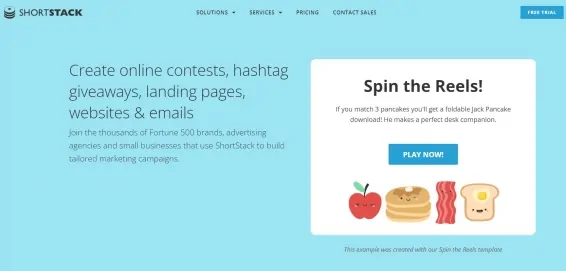 If the conventional style doesn't work for the offer you are trying to promote, then using quizzes, contests, and hashtag giveaways may just be the key to getting more conversions. These are a bit complicated to set up and manage, though, even with landing page creation tools.
In this case, you are better off using a specialized type of pre-lander builder such as ShortStack. It has some cool features like its in-built lead generator and its social and email integration features. You can also create your landing pages from scratch if you want to.
They have over 100+ pre-made templates that you can choose from, so there's no need to start from scratch unless you really want to. And they're constantly adding new ones, too. Plus, every template comes with unlimited design options, so it'll look just how you want it to look when done. Your visitors will love them!
The downside, though, is that their price is not that affordable. Their cheapest plan is worth $99 per month and is limited to 10 thousand entries and 50 thousand viewers. If you need more, then you'll have to upgrade to pricier plans, the highest of which is worth $499 per month.
---
6. Hubspot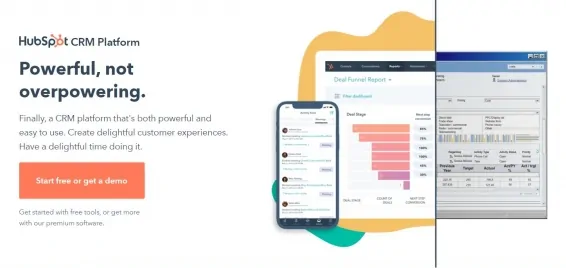 Now, this name is already pretty well-known for being a complete suite of marketing tools. Hubspot is a marketing software company that provides web applications to allow small business owners to effectively manage their online marketing strategies. Since a landing page is a crucial element in marketing, Hubspot has a service for creating a landing page!
It has several interactive components to make your landing pages more engaging. These include animated videos, slide-in pop-ups, countdown timers, contact forms, and signup forms. This landing page builder also offers a drag-and-drop interface that is easy to use and makes it a breeze to create a lead capture page.
Hubspot's landing page builder is initially free to use. However, if you want to use a custom domain and remove the Hubspot branding, you would have to sign up for any of the marketing hub's plans. The lowest plan is the Starter plan that costs $45 per month.
Landing Page Builders For Affiliate Marketing
7. LanderBolt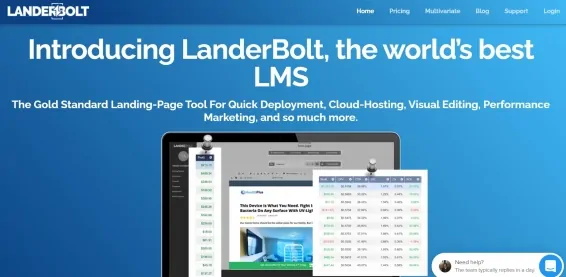 LanderBolt is a landing page builder that offers you a complete package for lead generation, conversion, and optimization. If you have tried using WordPress before, then you won't have any problem using Landerbolt as its editor takes after the look of WordPress.
This visual page builder can create up to one thousand variations for a single landing page. It allows you to test and find the best combination of elements that delivers the optimum results for your campaigns.
For instance, you can create three landing pages that look exactly the same, except for the headline. Or the font. Or the sales copy. Or the background. In short, any element of the page can be changed and tested. It's the first tool of its kind and is very easy to use.
Additional impressive features include lightning-fast page loads (they call this LanderBolt Lightning), universal page importer, unlimited traffic, up to 10 thousand landing pages, and free hosting—all of this for a low price of $47 per month.
---
8. PureLander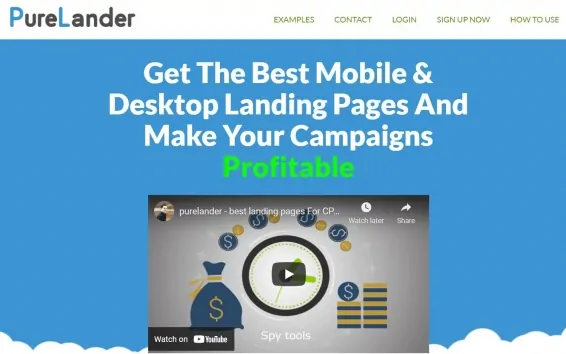 If you're looking for an easy way to create simple landing pages perfect for affiliate marketing campaigns, look no further than Purelander! It may not be as popular as the ones mentioned above, but this certainly does its job well when it comes to creating effective yet simple lead pages for promoting affiliate offers.
One of its most notable features is that it contains hundreds of mobile and desktop templates that are based on top-performing landing pages used by affiliate marketers today. Because these have been proven to work in various niches, the extra cost you incur by split testing landing pages is reduced.
Don't get me wrong; testing is still necessary to get the best outcome for your campaigns. However, the amount of testing you need to do will significantly be reduced (more so if you use spy tools to see what pre-lander styles work best for your offer).
Probably the best part about PureLander is its price. For only $25 for six months, it is the cheapest landing page builder you can find today. It also has a landing page ripper, an import function, and extra elements such as exit pop-ups and count-down timers.
The downside to this tool is that it does not offer hosting, so you would have to purchase that separately. Web hosting is pretty cheap anyway, so even if you have to buy elsewhere, the total will still be one of the lowest on this list.
---
9. LanderApp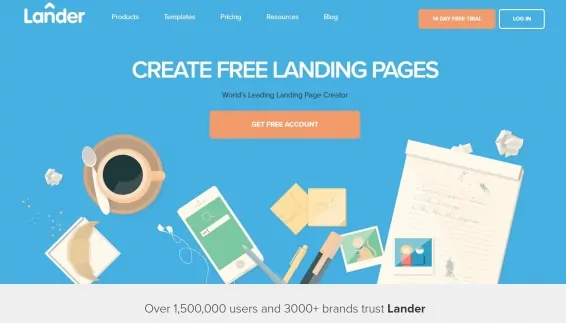 LanderApp (sometimes called Lander) is one of the best tools for landing pages. It provides professional templates, with more than 100 available, all designed for conversion.
These templates fall under the following categories:
product & services,
webinar & events,
eCommerce,
real estate,
eBooks,
lead generation.
If you have coding knowledge, you'll even be able to edit the codes of the included templates, giving you complete control over your page design. Not that you need it, since Lander also uses a drag-and-drop visual editor.
Two subscriptions are available – Basic and Professional. The Basic plan costs $49 if paid monthly or $192 if paid annually. If this plan is paid monthly, it allows up to 3,000 visitors per month; but if it's paid annually, the visitor limit increases to 5,000. This means that by getting a longer subscription, the package will be cheaper and more beneficial.
The Professional plan costs $99 if paid monthly or $996 if paid annually. It allows up to 25,000 visitors per month and ten custom domains.
---
10. Landingi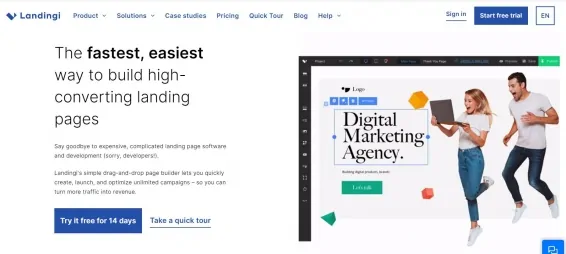 Landingi is a marketing platform that helps you run landing pages with ease. The intuitive design tool comes full of 300+ templates to suit different industries and bring in customers for your affiliate business faster than ever!
This is a great landing page builder for beginners. They have templates that are great for affiliate marketers, especially when it comes to lead generation. Landingi also offers 40 integrations that can help automate everything you need when running an effective campaign.
Their cheapest plan costs $55 per month, which comes with ten custom domains, 50 thousand visitors, and unlimited landing pages. However, this plan doesn't include A/B testing, so if you need that, better upgrade to the next tier, which is worth $79 per month.
BONUS! affLift Page Builder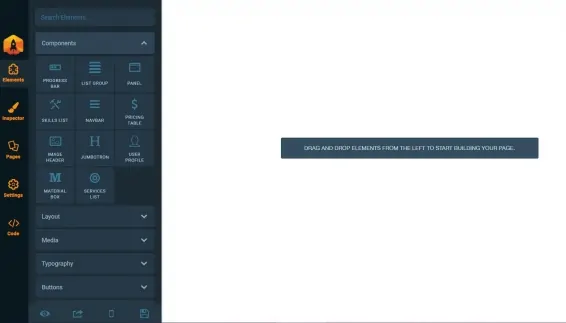 If you have zero budget for builders and platforms, you still have an option. You can use affLift's free landing page software. It has a simple drag and drop interface that you can use to build a simple pre-lander.
Though this builder does not have templates, it does possess dozens of elements that can help you create a complete page in a few minutes. The pages can be adjusted for desktop, tablet, and mobile view, so you know how it looks on different devices. Once done, you can just download the landing page and upload it to your hosting service.
While you can also try Hubspot's free LP maker, you can opt for affLift's Page Builder if you don't want your landing page to contain Hubspot branding.
Find top examples of pre-landing pages for affiliate marketing here.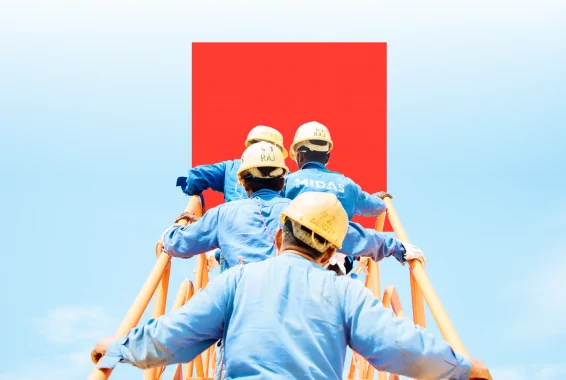 Ready to Start Creating Your Landing Page?
Landing pages are a great way to provide an initial touchpoint for your customers. They can be expensive and time-consuming to create, but with the right landing page builder, you'll find it easier than ever before to make lead capture pages that attract potential buyers while also reducing the cost of testing what works best for your niche.
As long as they can provide an easy-to-use interface and integrate seamlessly into your existing marketing tools, any of these landing page builders are worth considering when trying to create lead capture pages that convert upon launch!
And remember: split testing is still necessary to determine which pre-lander styles work best for your particular audience. The less time you have to spend on this process via A/B testing software, the better! So when looking for the best landing page builders, take this feature into consideration.
---
Test your offers and landing pages with the best traffic from RichAds!
What is RichAds?
🔝 Push and pop ads,
🔼 Domain redirect traffic,
🔝 CPM for domain ads starts from $ 1.5,
⏫ CPC for push ads starts from $ 0.003,
🔼 CPM for pops — from $0.3 in Tier 3, $1 in Tier 1,
⏫ large volumes of available traffic in more than 200 goes.