In-page push notifications (also known as in-page push ads) are a new, improved push notifications format.
We all might have already tried a lot of ad types and formats, and the goal is always to maximize conversions. Still, when it comes to traditional push notifications, we have faced 2 issues:
Google Chrome's updates complicated the subscription of new users.
Push notifications can't reach all types of devices: iOS is restricted.
In-page push notifications, now available on RichAds, empower you to get around push notifications regulations by Chrome and reach the hot audience with iOS devices.
What are in-page push notifications
Superficially, in-page push notification ads look like traditional ones that users see on mobile devices. It means that in-page push notifications don't have large images no matter whether users receive them on mobile or a desktop.
Despite the outside similarity, the formats work in different ways. Let's figure it out.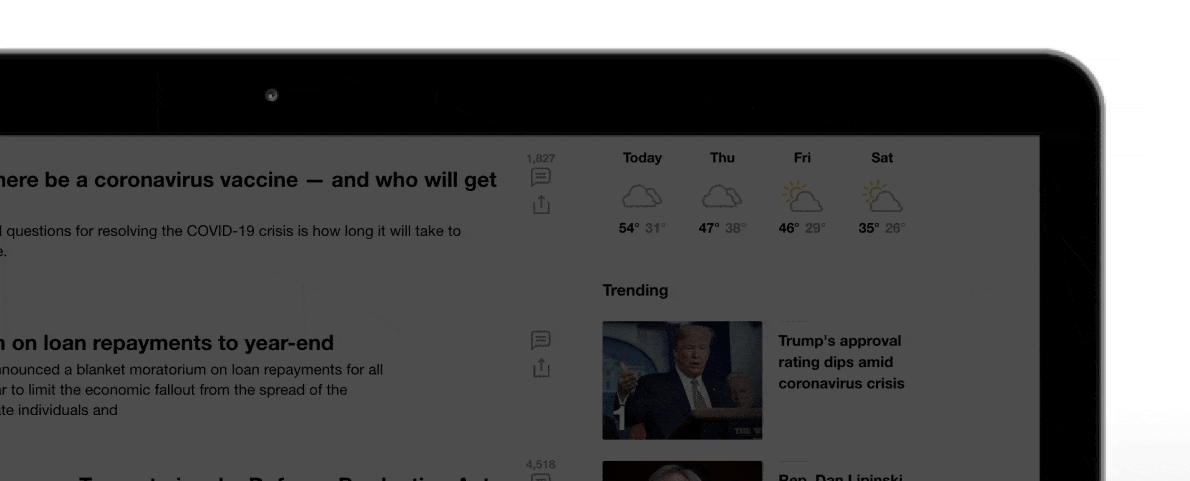 How do web push notifications work?
To receive web push notifications, the user needs to subscribe to them. Then he will get into the database and will receive advertising wherever he is. The website where he signed up has long been closed and forgotten, but notifications are coming.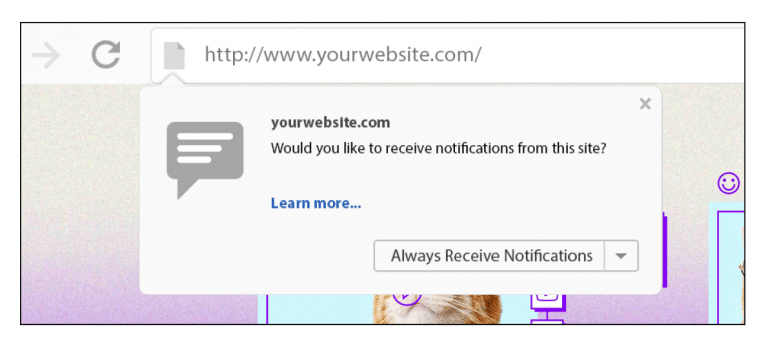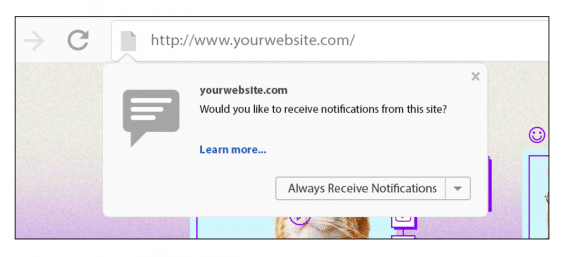 Of course, traditional push notifications have many advantages: they appear in the most visible place of the device screen, have 100% delivery, and a more loyal audience, but due to restrictions, they were not available to users of iOS devices. And this is a huge part of the solvent audience that has never seen in-page push ads before.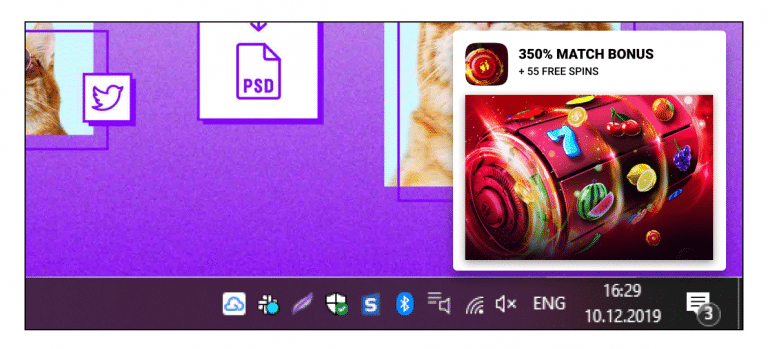 Learn more about web push notifications in our e-book.
How do in-page push ads work?
Unlike regular push notifications, in-page push notifications refer to banner ads. You don't need to subscribe to notifications to see them and generate in-page push traffic.
In this case, users will see a popup push when they visit the publisher's page who posted the ad on their page. For that, a code is installed on the website that demonstrates push notification. There is no link to the mailing list. Both Android and iOS users will see the in-page push banner.
Thanks to simpler technology, in-page push notifications are protected from problems related to browser updates. Affiliate marketers do not have to fear double subscription confirmation as users don't have to subscribe at all.


In-page push traffic advantages
It's a new ad format, which means users are more likely to respond to it. For a media buyer, it means a high CTR and high conversion rates.


In-page push ads are available for iOS audience
Perhaps, this is the main trump card of in-page push advertising. New users will allow you to scale existing push campaigns and find new potential customers.
At the same time, the iOS audience is not yet familiar with the push format, which makes it even more visible and attractive.
And more importantly, this audience is solvent, and in some countries, it's up to half of the users. Leaders in the number of devices are the USA, Japan, and China.
It may seem that iPhones don't dominate the market. But when it comes to the mobile operating systems market, we can see that iOS takes the third part of the worldwide market.
In-page push traffic doesn't depend on browser updates
As you already understood, the upcoming Chrome updates will not affect this format in any way. One less headache.
In-page push notifications are seen by a wide variety of people who visit the websites of the advertising network's publishers. There is a good chance that your push notifications will be the first that this person sees.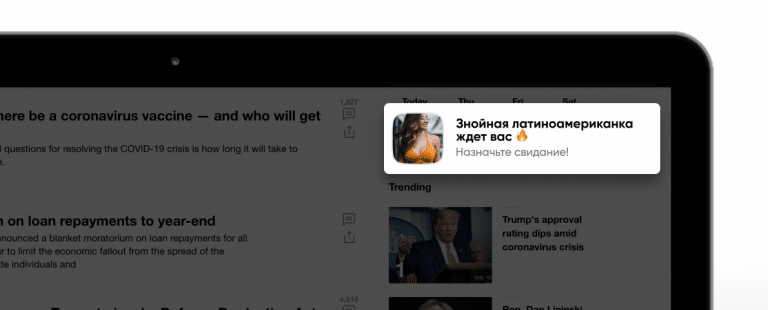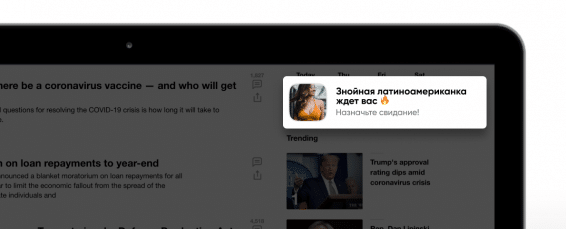 In-page push notifications are noticeable but not obsessive
In-page push notification is displayed more delicately than a web push notification. At the same time, it is also clearly visible, while it does not interfere with the user viewing the page.
They work on CPC, and it is convenient to calculate costs
In-page push ads are sold on a CPC basis, which means you only pay for clicks on your ad.
One of the nice advantages is that there is no click-through rate in this format, as happens with regular push notifications when you stop the campaign in the evening, but the users receive a push in the morning as soon as they are online, and you have to pay for it.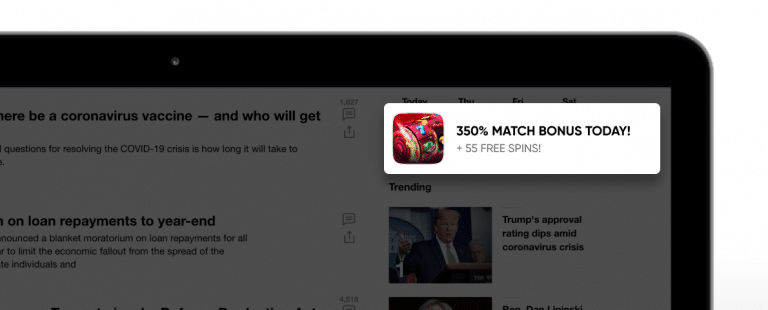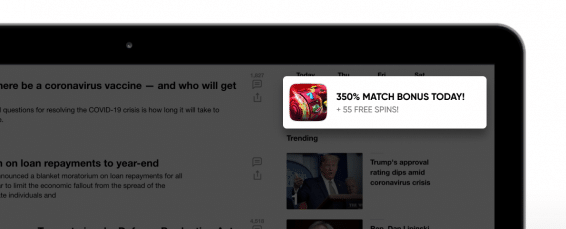 If we talk about the disadvantages, then it is still one: there are not many such traffic sources yet. However, new publishers are constantly adding this feature to their site monetization schemes. But we can expect an increase in volumes soon.
Who can earn on in-page push notifications?
For website owners (publishers), it doesn't take a lot of effort to become an in-page push traffic provider: you just need to add a small piece of code to your website. It won't affect SEO or other metrics.
The second category of people who can successfully make money on the new advertising format is, of course, affiliate marketers who want to get a new audience and actively scale existing push campaigns.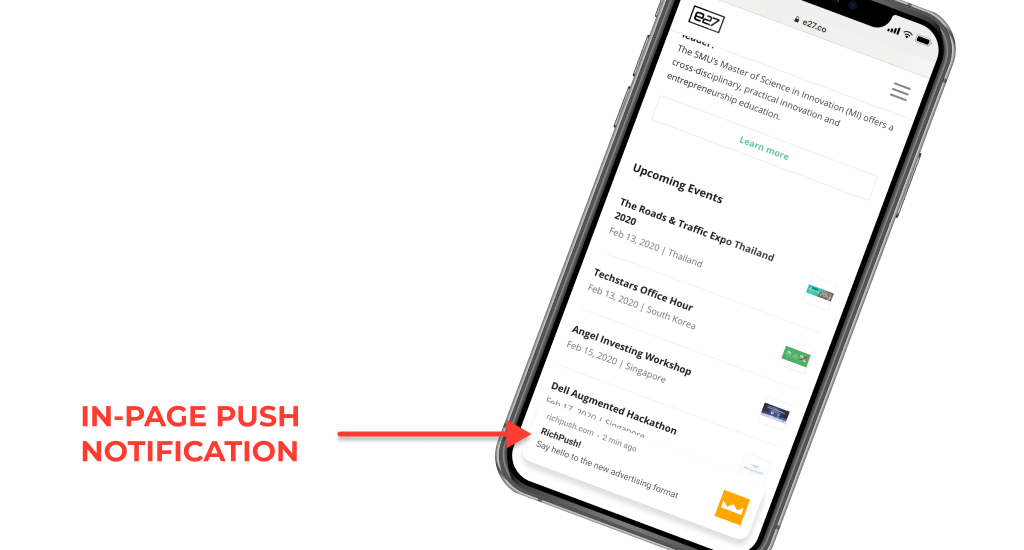 What to promote with in-page push notifications?
The easiest way to make money on in-page push notification ads is to scale an offer that already performed well with push notifications. A separate campaign with the same creatives will help you.
If we speak about new campaigns, in-page push advertising is not much different from push ads, so you can try all the same verticals that convert on push notifications.
Which verticals to launch with in-page push notifications:
Sweepstakes,
Gambling,
Antiviruses,
Products,
Betting,
Dating,
Nutra.
Don't forget about useful products, applications, and extensions, utilities for macOS, Safari. They might be interesting for iOS fans.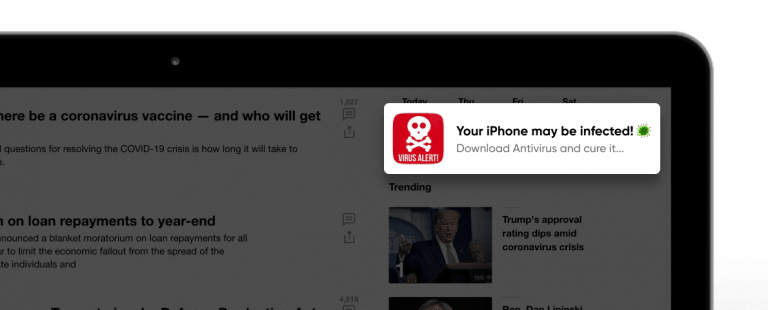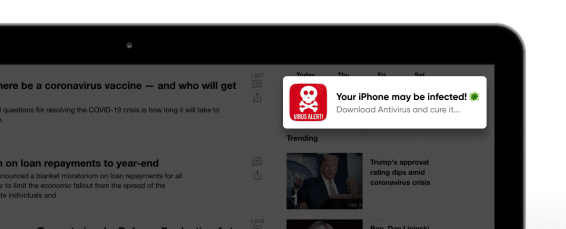 How to set up in-page push ads?
If you already launched a traditional push campaign, you will hardly have any problems with in-page push notifications as well.
To set up in-page push notification ads, register at our platform (if not yet), go to New Campaign settings.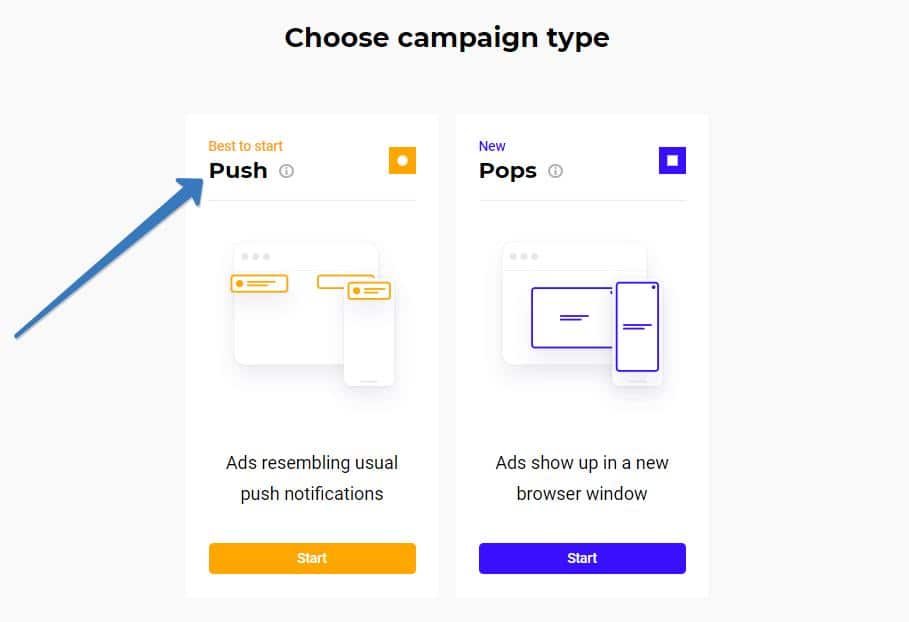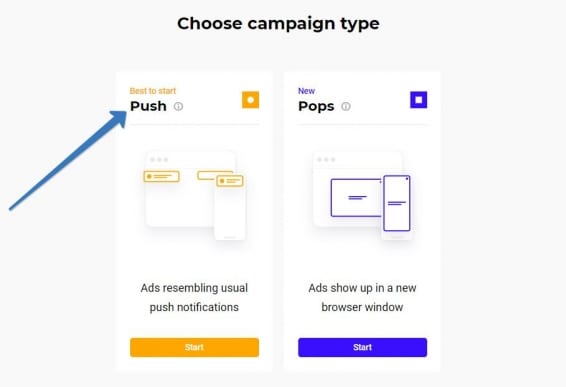 In-page push tricks for setting up
As a rule, to scale an existing advertising campaign, a separate ad for in-page push notifications is created.
1. Reteste all creatives.
It would be best if you retested all creatives.The results may differ from what you get in a regular push campaign. Use as many creatives as possible during the test.
2. Set up the sources correctly.
Not all sources that provide regular push notifications work with in-page push format. The sources you need are marked with a green circle. Choose them.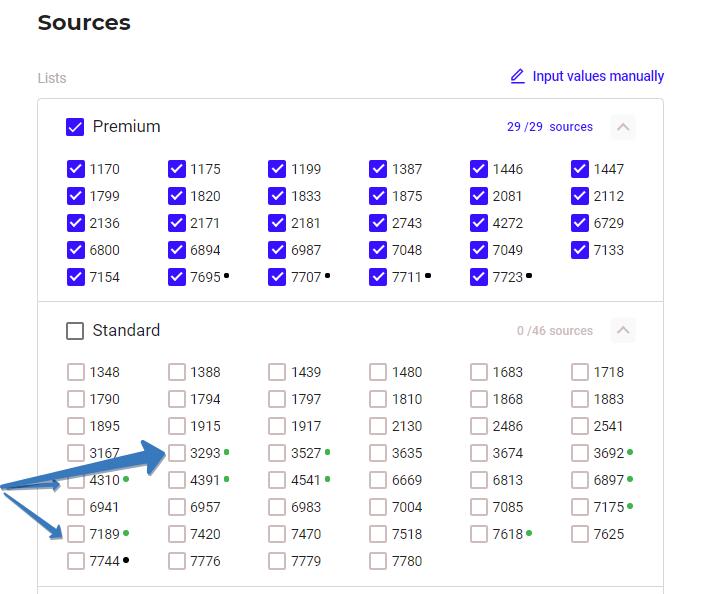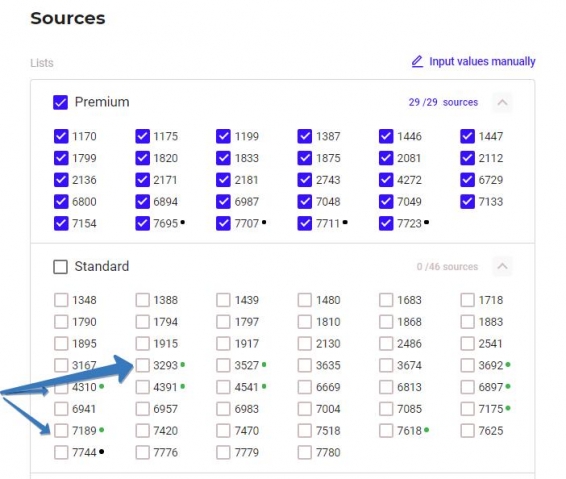 While there are not many sources, start with all groups. When there are more sources, use the algorithm: first, Premium and Standard sources, then add New and Remnant.
3. Give it another chance to blacklisted sources.
If a source is blacklisted in a regular push campaign, give it another chance with in-page push notifications. Perhaps it will show better results.
4. Use Advansed targeting
For campaigns that only promote offers for iOS, choose the proper targeting by OS, manufacturer, and even model to avoid provoking unnecessary clicks from Android users.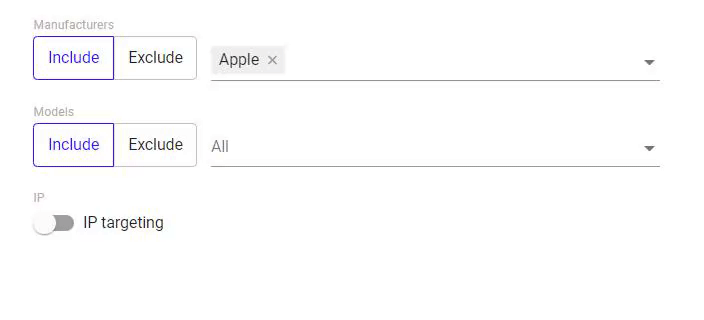 ---
If you want to attract new leads even in higher volumes than before, get traffic here or contact our experts for more details.
We also appreciate your feedback: STM, Afflift, AffiliateFix
What is RichAds?
🔝 Push and pop ads,
🔼 CPC starts from $ 0.003,
🔝 CPM from $0,3 in Tier 3, $0,5 in Tier 2, $1 in Tier 1,
⏫ large volumes of available traffic in more than 200 geos.