Push ads and Gambling offers are a brilliant couple to make a profit. Of course, if you know how to do it right.
Affiliate marketing expert Joey Babineau will show how to advertise online gambling with Push ads. Here you'll find how to set up and optimize Gambling ad campaigns. Also, we'll show creatives, landing page examples, and some useful tricks.
The casino offers work extremely well on push ads. It is a great traffic source for a CPA affiliate marketer as we can start running ads pretty much instantly and getting super chip penny clicks. I chose a lead generation Casino offer for Canada (CPL) with a $4 payout. For 1 day of testing RichAds push traffic, I've spent $22 and got 521 clicks. I've got three conversions on the first day of running.

Joey Babineau


Some tips for launching
🎯 Don't use direct links as you don't know whether someone clicks throw to the next phase or not. Also, you can't predict whether you have quality traffic or people drop off. Joey recommends using landing pages when advertising online gambling.
🎯 Start with at least five creatives to find the best converting one. Below you'll see that only 1 creative from 5 brings all conversions.
🎯 People usually play in the evening and on the weekends. But set up the schedule all day long for tests and then optimize results.
What is RichAds?
🔝 Push and pop ads,
🔼 Domain redirect traffic,
🔝 CPM for domain ads starts from $ 1.5,
⏫ CPC for push ads starts from $ 0.003,
🔼 CPM for pops — from $0.3 in Tier 3, $1 in Tier 1,
⏫ large volumes of available traffic in more than 200 goes.
How to set up Gambling on push ads
Setting up details:
CPC: $0.045
Mobile devices only
Impressions per user: 2 per day
Clicks per user: 2 per day
Creatives: 5
Landing pages: 3
Budget type: Even
Push ads network: RichAds

Setting up an advertising campaign at RichAds is a simple thing. You need to choose an ad format or import a ready-made campaign from the other ad networks.
I am creating a new campaign.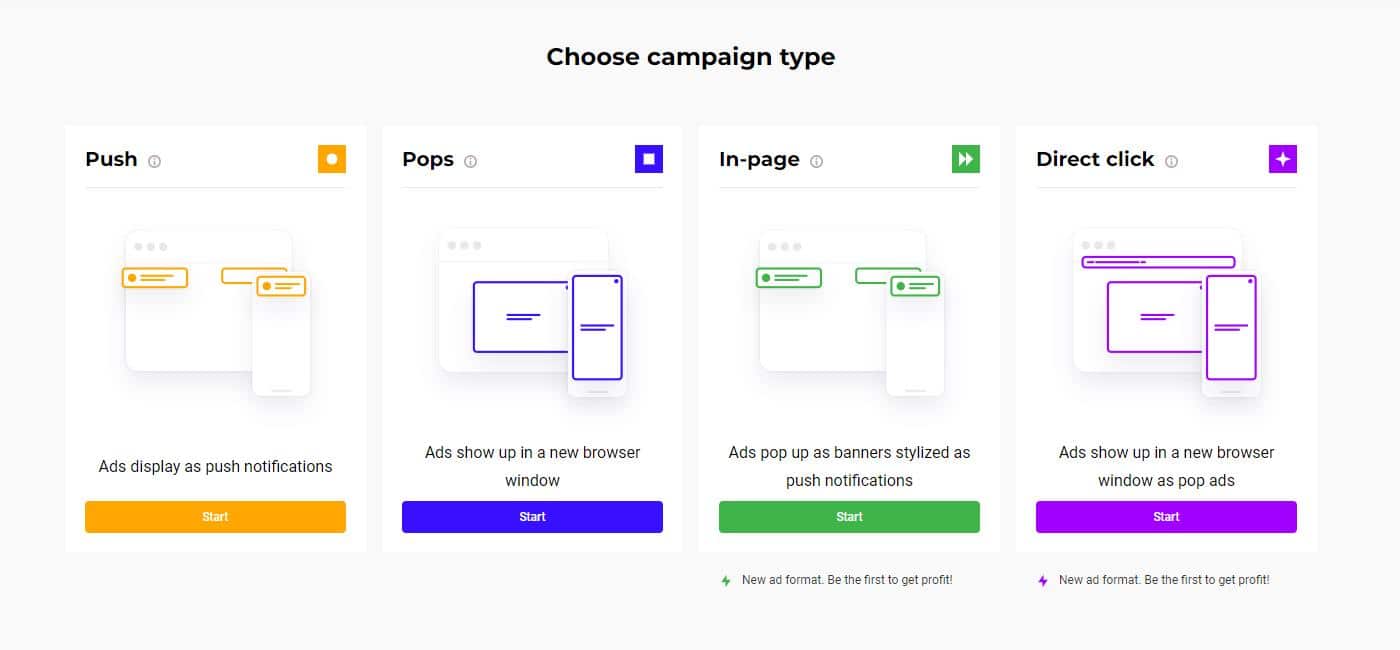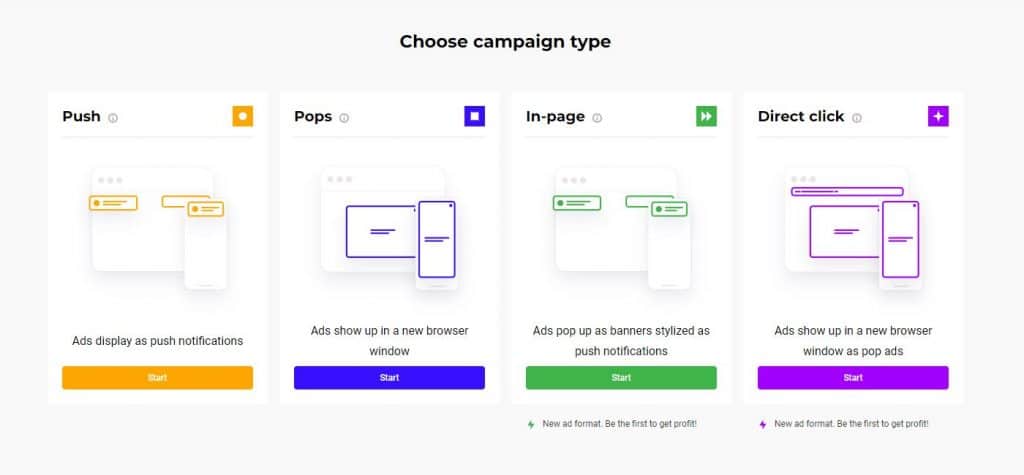 1. Add the creatives for Gambling offer
Setting up a push campaign starts with creatives. I have prepared 5 different options. You can start with 7 or even 10, but I decided to start my test with 5. This is the best option to try.
You can use the spy tool (Adplexity, for example) to see which ads show good results and how they look like. But never steal the creatives — it lowers CTR. Just make them look like the best examples you've seen.
My creatives examples for Gambling offer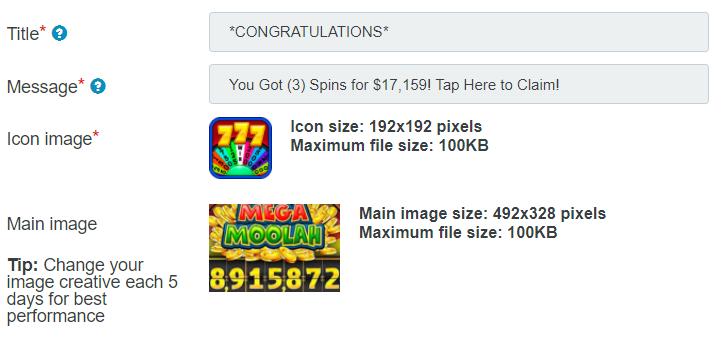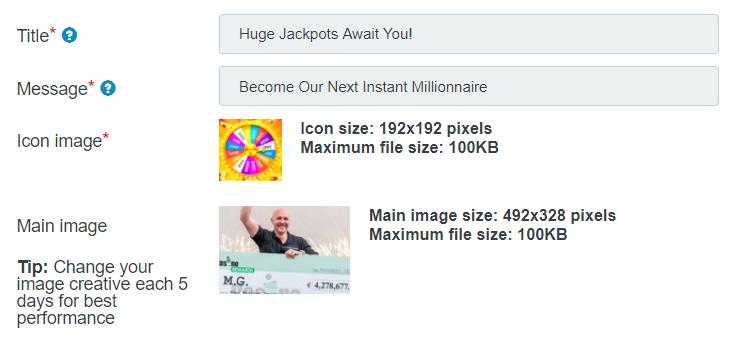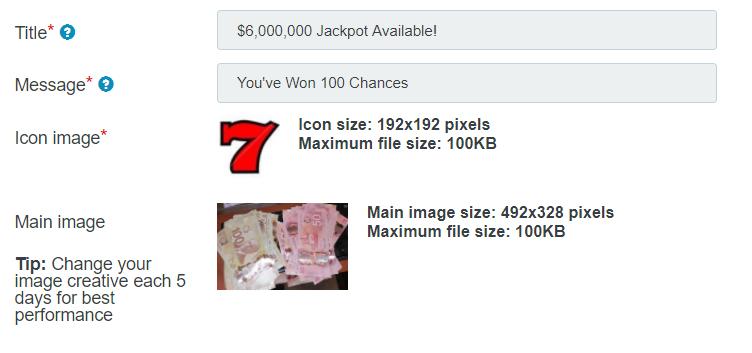 Learn more about different angles for creatives and landing pages in the Gambling niche here.
My landing page example
When you advertise online gambling with push ads for mobile devices, the main trick with a landing page is that you try to engage the user quickly.
Most of the users will scroll through their cell phones. So, it would help if you had something that quickly catches their attention.
It can be a really aggressive headline on push or smth that looks like loading or a game at the landing page where users can quickly click the button and start engaging with your site.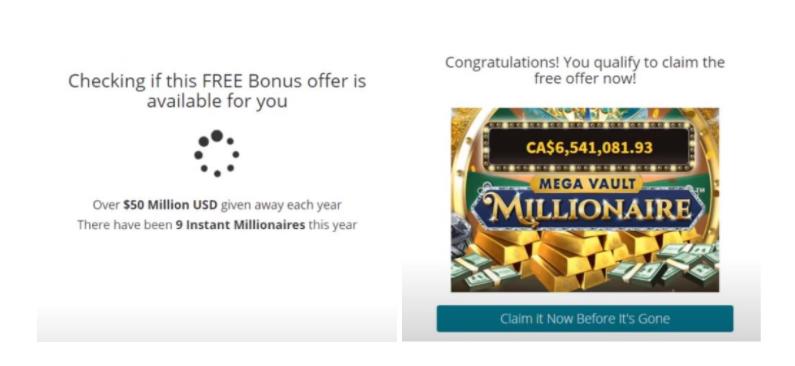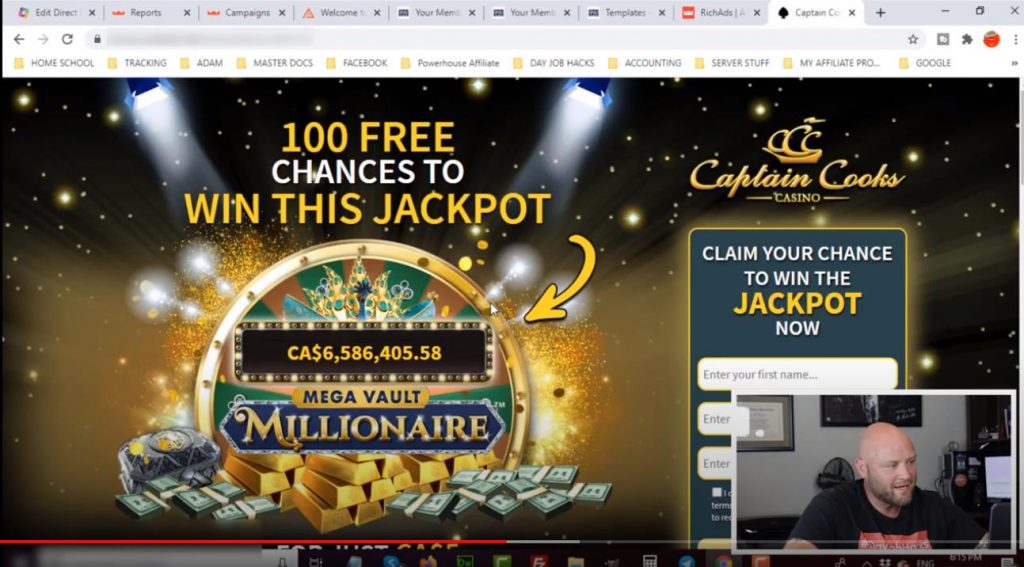 Setting up postback
A campaign without a postback is a waste of money. I set up the whole process in a couple of minutes. RichAds is already added to my tracker as a traffic source, affiliate network, too, so everything goes fast.
It's more convenient for me when all the data is in the tracker, and I don't need to switch between tabs.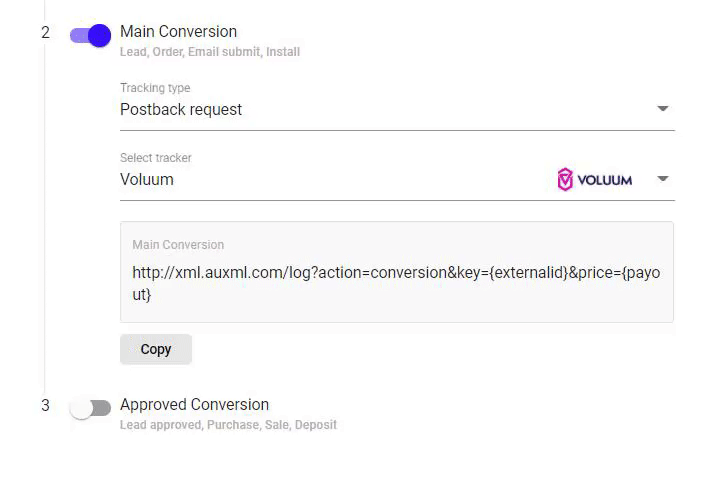 You don't know how to set up a postback? Our step-by-step guide is here.
Setting up the device, clicks, and impressions cap
Everything is simple here. As I have already mentioned, we are launching Gambling in Canada. I decided to focus on mobile traffic.
Please pay attention to my impressions and clicks limits. In both cases, I put 2 a day. As practice shows, one-click for conversion is not enough for many users, so I put 2 to give them a chance.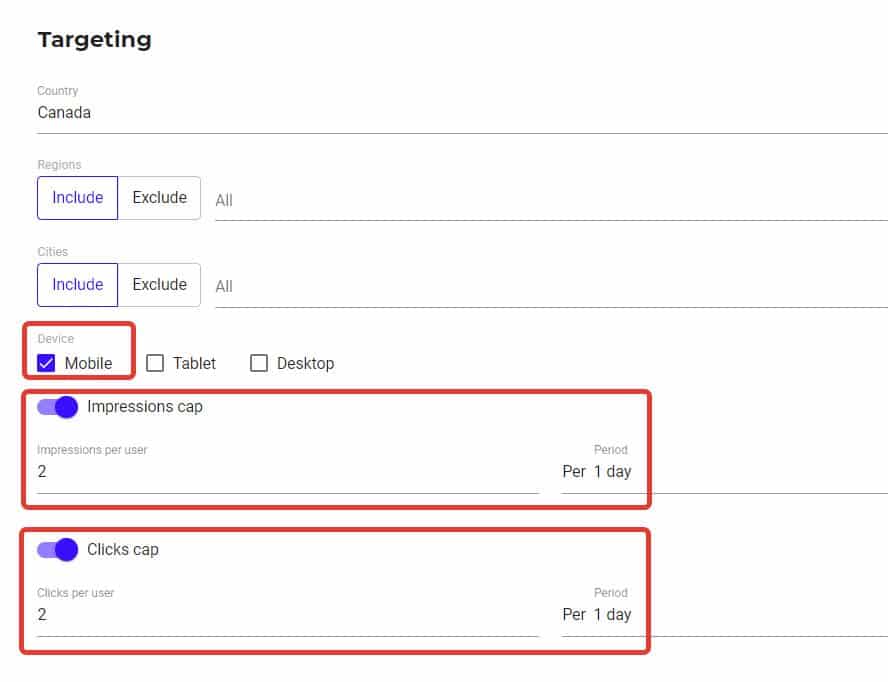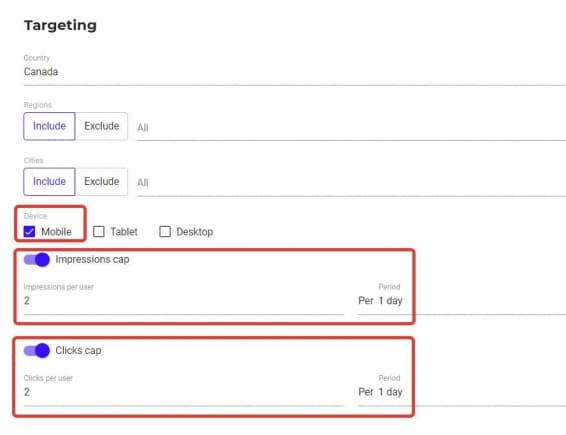 Setting up CPC and daily budget
I set up CPC = $0.045 and daily budget (per day) = $25.
It is essential to mention that the budget should not be spent immediately, so I set up the EVEN option.
These parameters will allow us to show ads to users all day long, and then we can see when they are most active and narrow time targeting options.


Setting up the browser language
Canada has 2 official languages: English and French. Language preferences will vary from province to province. I set my potential customers' browser languages to English because I have creatives and landing pages on it.
Please note that when choosing a language, the system shows how many such users are in the country – 63.45%.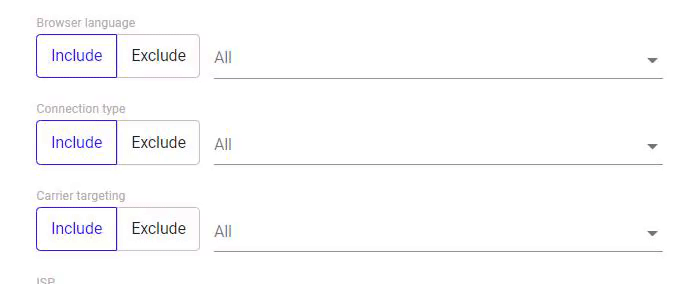 Setting up the traffic sources
The main advice is to contact your manager for the list of successful sub-lists for your vertical and country to start. It's an essential point, especially if your budget is limited.
If you don't have a personal manager start to test from Premium sources: this the best ad network's traffic, and if you won't get results on it, cancel this offer.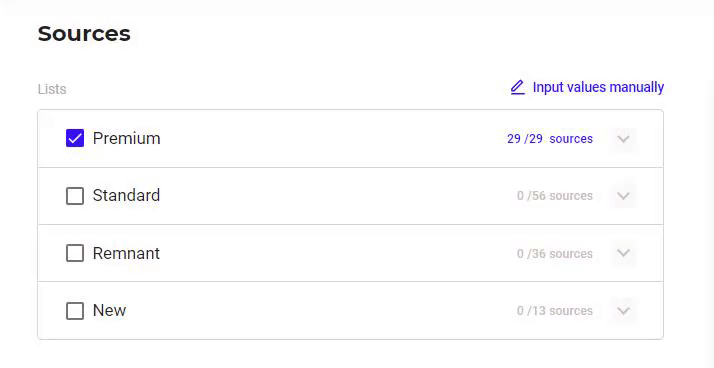 This is all for a start! Save the campaign and wait for the first results.
What is RichAds?
🔝 Push and pop ads,
🔼 Domain redirect traffic,
🔝 CPM for domain ads starts from $ 1.5,
⏫ CPC for push ads starts from $ 0.003,
🔼 CPM for pops — from $0.3 in Tier 3, $1 in Tier 1,
⏫ large volumes of available traffic in more than 200 goes.
The optimization process of Gambling offer on push ads
Joey starts to optimize the gambling campaign after 1 day of running. He got three conversions per 521 clicks and spent $22.
If you see the conversions on day 1, your start is great, and you can optimize anything!
Analyze which creatives work better
The test shows that only one creative from five brings all three conversions!

If you start with one creative and it won't work, you'll never know that the problem is in the bad creative or landing page. Learn more about the five stages of the offers' A/B test here and tips on creatives' A/B test here.
Make new creatives that look similar to the winner
Now we know which creative was the winning one. We switch off the other versions and make some new creatives that look similar to the winner.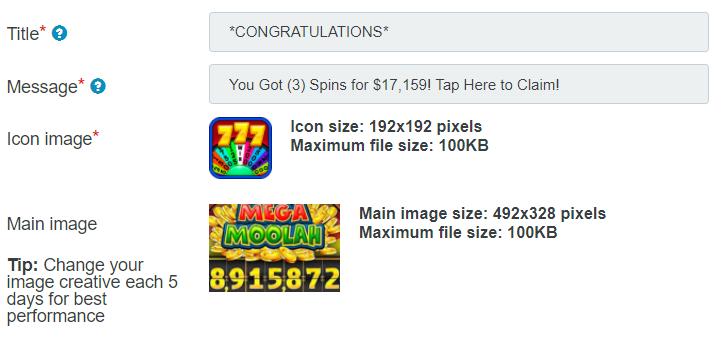 Check which subscribers lists show good results
After the creatives, look at the data about sub-lists in your tracker and turn off non-converting ones.
For example, we have one sub-list with 63 views and no clicks through, so we turn it off.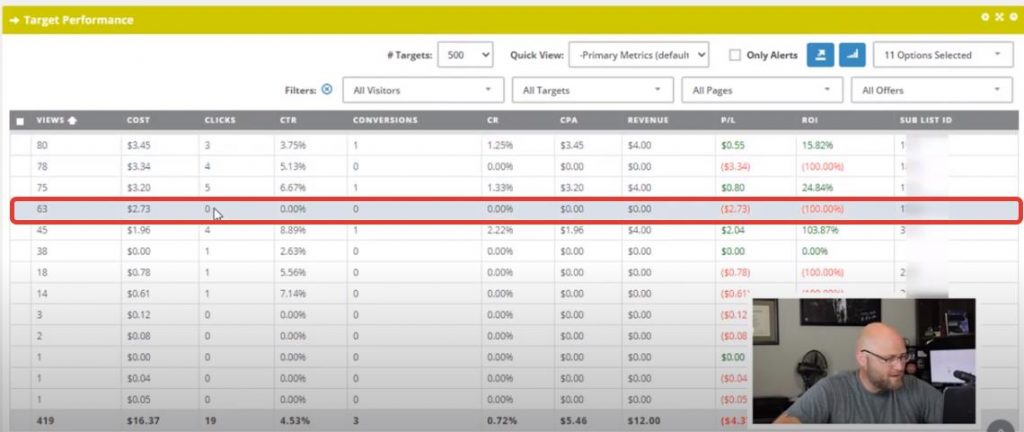 Joey's strategy is the following: if he sees that some of the sub-lists have enough views and no clicks through, he understands that the placement is weak.
After we got some more results, we'll look through more detailed statistics on publisher ID and site ID. But the first day of running is too early for these steps.
Set up Automated rules
RichAds has valuable free tools. Automated rules help to create blacklists automatically. It would be foolish not to use it instead of doing this work manually.
My rule: add to the blacklist all publishers with a CPA of more than $3 and no conversions.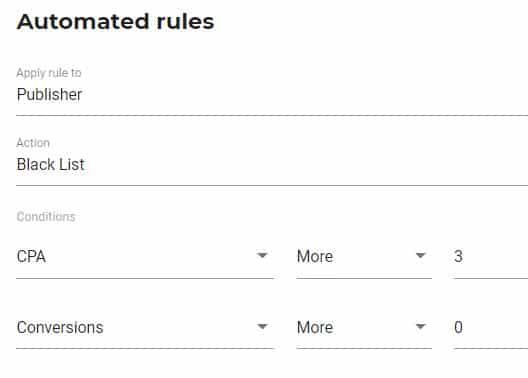 Check which OS and browser work better
Statistics show that Android and Linux bring conversions. Chrome and Samsung rule too.
But it's too early to switch off some of the OS or browser. It's better to get more data before switching it off.

Watch the video with the full optimization process from Joey Babineau here.
Optimization is a never-ending story, but now you know what to look at. Remember that for advertising online gambling on push ads it's very important to change creatives in time to avoid their burnout.
Let your data drive you to success!
Find high-quality push and pops traffic for your gambling offers in RichAds.
What is RichAds?
🔝 Push and pop ads,
🔼 Domain redirect traffic,
🔝 CPM for domain ads starts from $ 1.5,
⏫ CPC for push ads starts from $ 0.003,
🔼 CPM for pops — from $0.3 in Tier 3, $1 in Tier 1,
⏫ large volumes of available traffic in more than 200 goes.
---
Want to learn more about Gambling on Push Ads?
👇 Download the webinar recording + e-book for free 👇