How to spy Ads like a PRO? Tips and tricks from AdPlexity.
How to identify successful ad campaigns
First, you know that there is nothing permanent in affiliate marketing, and if you want to stay ahead of your competitors, you have to keep yourself updated with new everyday trends. And in this hard job, there is nothing better than the right spy tool, which allows you to see what your rivals are doing and how they're doing it.
We are not going to dive in all the tools today, but just want to say that AdPlexity Native, Mobile, Push, and Desktop all share the same interfaces. The difference lies in the traffic sources that they track, and in the available search options and filters. Each tool is designed for specific traffic.
Getting started with AdPlexity is quite easy. First, when you log in, you see the dashboard similar to this one: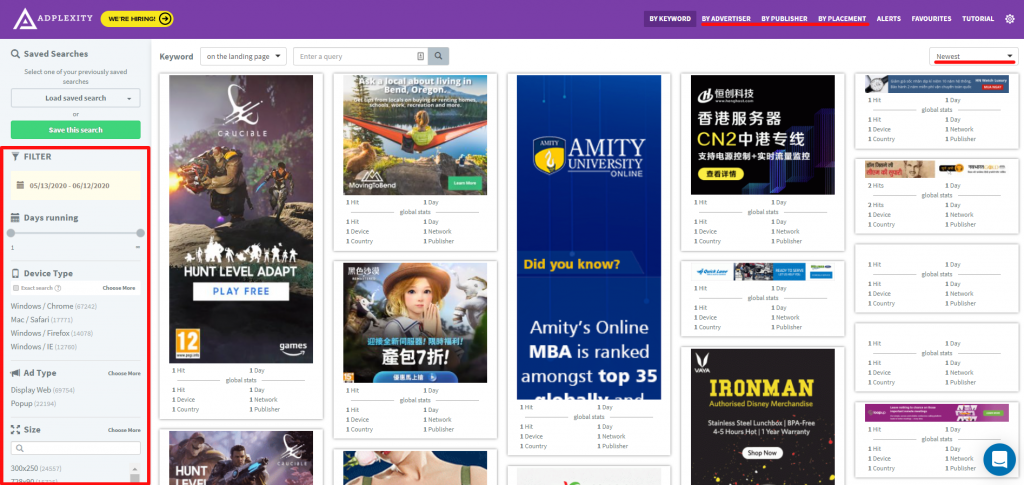 There are a variety of search options by keyword, publisher, advertiser, and placement.
You can sort all campaigns by the newest, longest-running, and most traffic received. To narrow down your search and find exactly what you're looking for you can search by date/period, number of days a campaign has been running, country, language, traffic source, affiliate network, and tracking tool.
When identifying successful campaigns everything depends on your needs, niche, vertical, and experience. But the process is:
Put a time period (from 3 to 21 days) into the filter. This lets you remove from the results any ads that were paused in the first two days after launch and any ads that ran too long and burned out.

Good advice is to seek offers that have been in the rotation for at least a few days (but not older than 10 to 14 days) and sort them by "Received most traffic". These are the options that have performed pretty well and still work.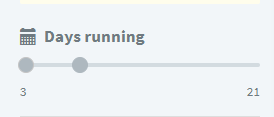 Check the number of hits. It should be at least 50-100, depending on how long the campaign ran.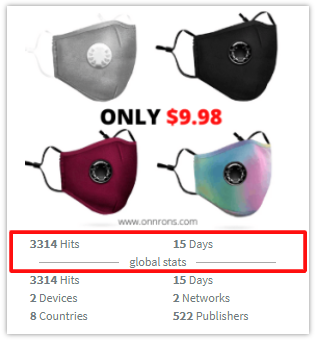 Check the campaign details, and particularly the Ad trend value. If the campaign got a good amount of traffic, it's probably worth analyzing more closely—you might find some valuable strategies and insights.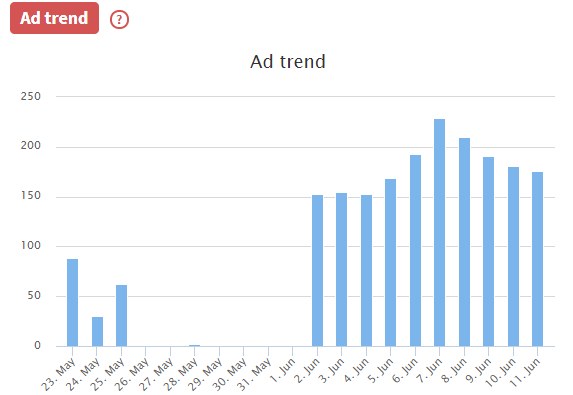 How to Spy On Your Competitors' Facebook Ads for Free here.
And some more tips:
Don't limit yourself from monitoring other GEOs. Who says that it won't work if you take a particular style or design from one country, swap text, and translations, and run it in another country?
Monitor other offers and products in the same vertical or niche. If a banner or landing page works for similar offers, it may also work for yours.
Checking other traffic types might help too. AdPlexity is the only tool that supports pop-ups, mobile, web, and in-app ads under one roof. So you can take an LP running for an in-app ad and try it for pop-ups.
Exclude non-affiliate landing pages from the results to eliminate branding campaigns.
Study up the data in the filters. But remember, there are no exact instructions. The market changes extremely fast, and everybody has their strategy, budget, and niche. Depending on your experience, you can try different methods to discover successful campaigns. Perhaps you can check out GEOs with a lower number of results, meaning the competition is lower there. Or you may decide not to run on a specific traffic source in a big GEO because it's gonna be too competitive.
But most of all, you need to remember that there is no universal way or tactic for using this data. Just copying competitors' ads, you won't achieve great results. AdPlexity provides the ocean of data. All other things are up to you and how you analyze and adapt the data provided to you. Be creative, and you'll get amazing results.
Want to know more about AdPlexity?
AdPlexity is a suite of ad intelligence tools that have long been on the market, and they've proved their reputation, cause it doesn't matter what your niche or vertical is AdPlexity will provide crucial information about it.
AdPlexity can be used for a range of different tasks, including:
Researching new GEOs, ad formats and sources
Ripping banners and landers
Researching how other affiliates promote specific offers
Spying on competitors
AdPlexity covers 4 main traffic types: Mobile, Desktop, Native, Push. It also spans all the bases in eCommerce marketing with its AdPlexity Ecommerce tool. And there is AdPlexity Carriers which helps you see the full conversion flow of offers you are promoting or what an offers landing page really looks like using REAL 3G/LTE proxies from 80+ mobile carriers in 30+ countries.
AdPlexity has tons of great features and filters which let you find every detail about profitable ad campaigns worldwide. Also, it allows you to view, study, and copy your competitors' ads.
Special offer from AdPlexity
AdPlexity has clear and simple pricing. There are no hidden bills or charges.
You can choose a convenient payment method: PayPal, Credit Card, BitCoin, Wire Payment.
And right now we are sharing these unique discounts with you! Get your LIFETIME DISCOUNTS saving up to 32%!
AdPlexity
Push
Carriers

AdPlexity
Native

AdPlexity
Mobile 
Desktop
Ecommerce

ONLY

$129/mo

($149/mo)

ONLY

$169/mo

($249/mo)

ONLY

$149/mo

($199/mo)

PROMO-CODE

richads_pc

richads_n

richads
And there is also AN ANNUAL SUBSCRIPTION, you can get 12 months for the price of 10!
Don't waste your time! Bring success to your campaigns right NOW!
What is RichAds?
🔝 Push and pop ads,
🔼 CPC starts from $ 0.003,
🔝 CPM from $0,3 in Tier 3, $0,5 in Tier 2, $1 in Tier 1,
⏫ large volumes of available traffic in more than 200 geos.