Push traffic faces new challenges in 2023. Expert affiliates talk about new Chrome regulations and a threat of increased competition in the market. But the push format develops. Now affiliates have a chance to test iOS Calendar push traffic, outrun competitors, and boost ROI.
This article teaches what Calendar push is and how to drive the best traffic first.
What Is iOS Calendar Push Traffic?
iOS Calendar push traffic is a new ad format for 2022 and 2023. It is displayed in a Calendar app on iOS and macOS in the form of a scheduled event. Calendar ads have a title, link, and description (optionally).
As well as for an upcoming event, users can see reminders of it from the Calendar app. Sounds pretty cool, right? Though this kind of advertising seems pretty aggressive, it is exactly what usually performs best with push traffic.
According to the RichAds numbers, iOS Calendar Push traffic sources convert similarly to the New sources (with recently added audiences) where the average CR is traditionally high.
Let's see how calendar push ads work in more detail.
How iOS Calendar Push Traffic Works
To see your ads, a user must subscribe to receive notifications themselves and can unsubscribe at any time. It's the same principle as for web push traffic.
After the opt-in, users see your ad as a scheduled event in a calendar. Also, they can receive alerts about it from the Calendar app on their desktop.
How Calendar Push Ads Look Like
The image is the main visual difference between web push and calendar push ads. In both desktop and mobile devices, calendar notification ads have no icon or main image. What do advertisers bet on in this case?
It is the main component to attract attention and the most important part of your campaign. The title is what the user sees first in their calendar and reminders. It needs to be catchy and promising to lure a user. We recommend testing different angles of titles (not less than 5) for maximum conversion.
Don't forget to paste a link to your landing page. It can be found in the description of the calendar push ad. As a landing page is the second important thing to attract customers' attention, use the best practices for landing pages.
A short ad copy is displayed in the Notes of the event. Here you can attract users with some special bonuses or describe more what's your offer is about.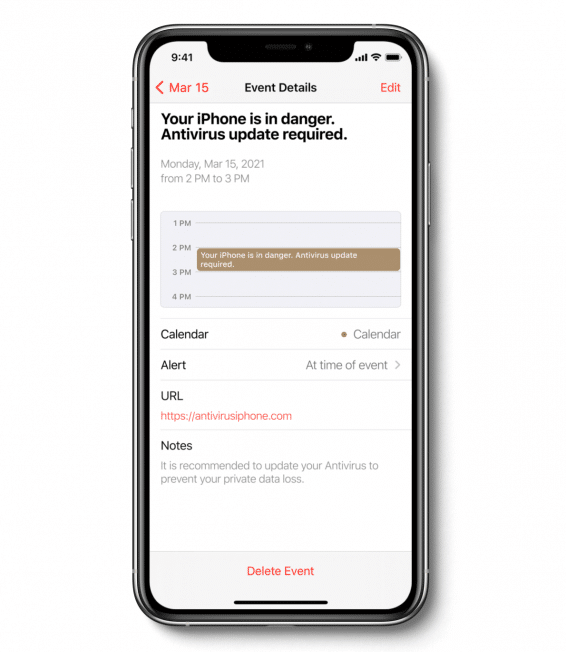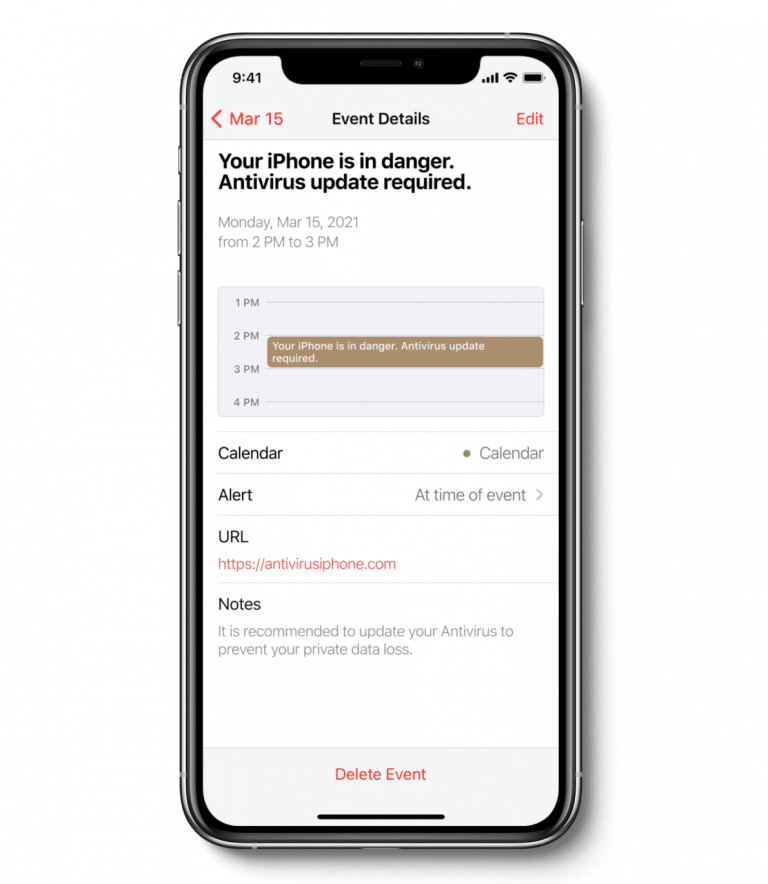 What is RichAds?
🔝 Push and pop ads,
🔼 Domain redirect traffic,
🔝 CPM for domain ads starts from $ 1.5,
⏫ CPC for push ads starts from $ 0.003,
🔼 CPM for pops — from $0.3 in Tier 3, $1 in Tier 1,
⏫ large volumes of available traffic in more than 200 goes.
Benefits of Calendar Push Ads for Advertisers
New ad formats are always promising more profit. It's reasonable: the market is less saturated and constantly growing, the fresh audience, and the advertising more catchy. But what exactly makes iOS Calendar push ads so special?
High-quality push traffic from iOS and macOS devices. On average, this audience is considered to have higher income, making them a gold mine for affiliate marketers.
Ads are delivered on a locked screen (mobile devices). More visibility than ever before.
No images are needed. Elementary launching, testing, and optimization process.
Natural but aggressive and personalized looks. Calendar push ads resemble the event on the standard calendar app, which is something the user trusts.
Higher CR of a more qualified and fresh audience.
Testing with smaller budgets compared to other advertising formats. The CPC model allows paying only when a user clicks on the ad's link.
Great for start, building an email list, or retargeting.
Allows multiple options for targeting audiences on the RichAds ad platform. For maximum campaign performance, don't forget to set the relevant browser language, and choose the latest iOS version and newest devices. Make sure you ask for whitelists from your manager.
iOS Calendar Push Traffic in Affiliate Marketing
Push traffic has been on the market since 2018. Now we can say that push notifications advertising has luckily overcome Chrome 80 updates and even market changes due to Covid. Although it has become more and more popular, new push types appear, like an in-page push in 2020 and a calendar push in 2021. It allows affiliate marketers to cherry-pick from the new advertising format first and drive conversions from the fresh audience.
Which Verticals Perform Best with Calendar Push
Generally, calendar push traffic is as generic and all-purpose as web push, which means that it works with most niches.
Here are the most performing verticals with calendar push traffic:
Gambling
Sweepstakes
VPN, Antivirus
Betting
Dating
iOS app installs unavailable for web push
How to run antiviruses on push ads for iOS and macOS read here.
Best Push Ads Tips in 2023
As you don't have images here, put your efforts into testing different approaches to titles and description texts. If you check out spy tools for ideas, always add your touch to it for any vertical.
Here are some of the best approaches to the titles of calendar push ads in different verticals.
Personalization: add a [CITY] macro and/or some popular name in a particular GEO.
⚠ [city] Jackpot ALERT!!!
?+976-915-5591-2 Missed call from Ava
Connection to current events.
Don't lose the greatest game of the year! Bet $5 get $20
Personal alert imitation.
(1)Pending Package ? Your iPhone 12's held up at the post office
'Check your balance: $321?!'
Your iPhone is in danger. Antivirus update required.
How to Run Calendar iOS Push Campaigns
iOS Calendar push traffic is what is now available for RichAds advertisers. Check the simple instruction on how to launch the new hot ad format with the ad network.
Create an account at RichAds or Log In.
Choose a Push campaign type.
Go through Creatives (add some icon in case you add not only calendar sources later), Tracking, Budget, and other settings. Learn in detail how to set up a push ads campaign in our guide.
In Sources, choose calendar push subscriber lists. They are marked with a black circle.
In your account, the Insights tab will show you Impressions, Avg CPC, and Top CPC by Country in real-time. We also recommend contacting your traffic source manager for a fair idea of what's working and what's not working on the platform. Moreover, RichAds can share a whitelist for your offer on request.
---
Choose promising advertising offers and profit from RichAds traffic.
What is RichAds?
🔝 Push and pop ads,
🔼 Domain redirect traffic,
🔝 CPM for domain ads starts from $ 1.5,
⏫ CPC for push ads starts from $ 0.003,
🔼 CPM for pops — from $0.3 in Tier 3, $1 in Tier 1,
⏫ large volumes of available traffic in more than 200 goes.