In this RichAds.com review, we'll take a closer look at what this platform has to offer advertisers and how it can benefit your business.
Ad networks are essential for delivering ads in an effective and cost-efficient manner. By connecting publishers and advertisers, these networks provide a way for businesses to reach their target audiences more efficiently. One such network worth looking into is RichAds. Let's dive into the RichAds.com review to know more about it.
RichAds is a cost-per-click (CPC) and cost-per-thousand (CPM) ad network that works with both advertisers and publishers. It offers a wide range of features and benefits that make it an attractive option for businesses of all sizes.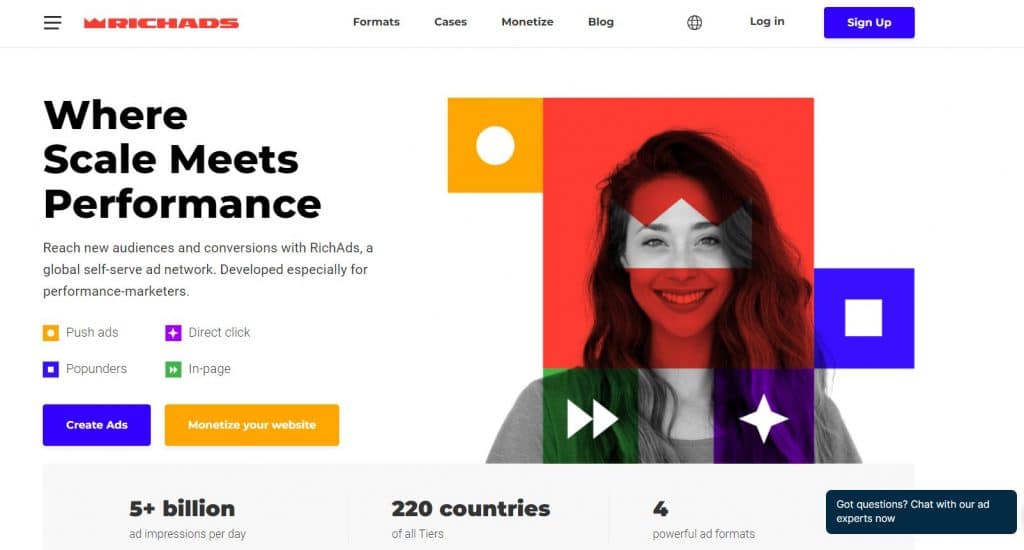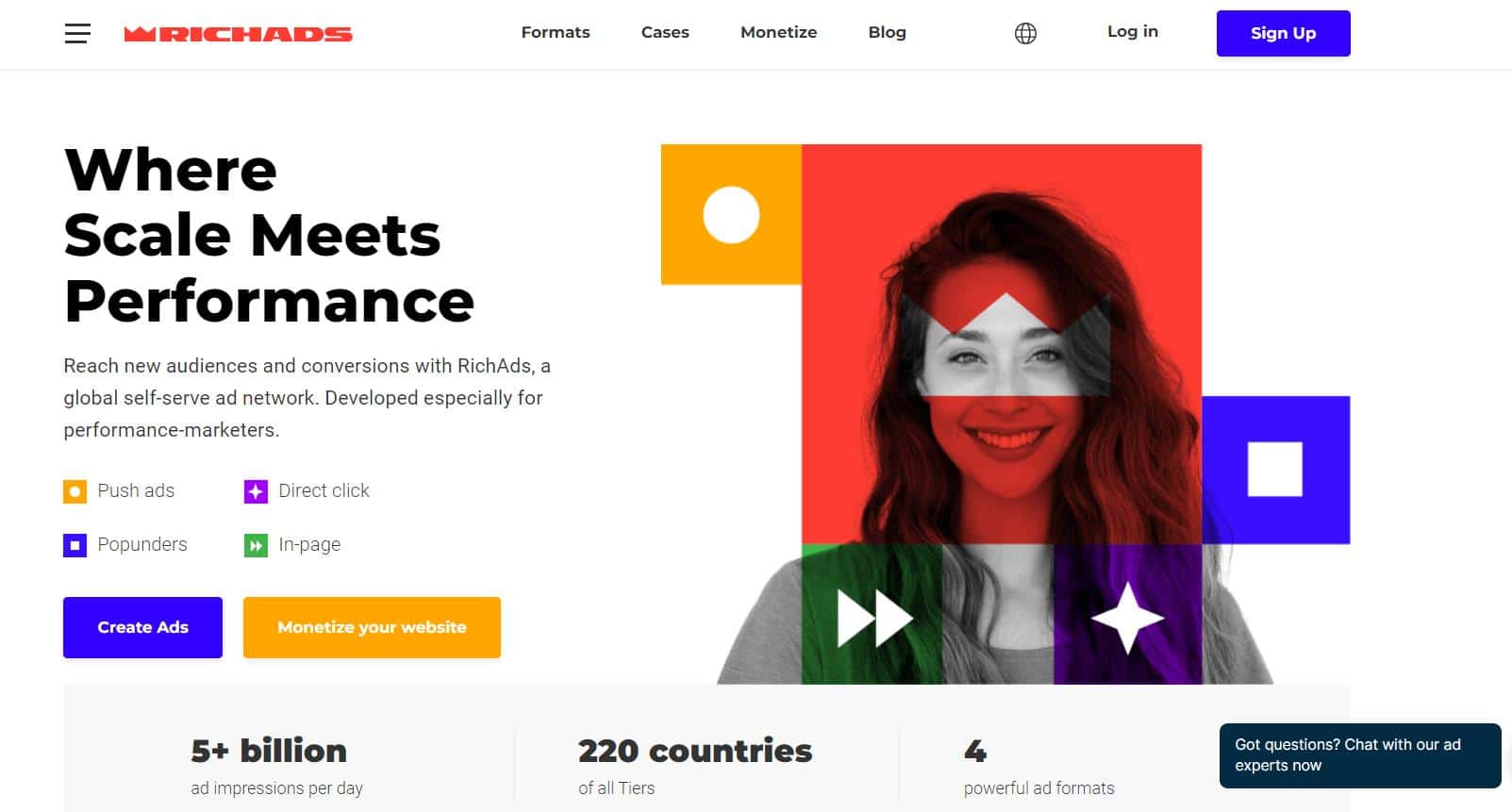 What is RichAds?
RichAds is a CPC ad network that connects advertisers with publishers in order to deliver ads effectively and efficiently. Its features are meant specifically for affiliates who are media buyers, performance marketers, and advertising agencies.
Businesses of any size can use this network to promote their products and services to a wider audience.
It has been around since 2018 and has evolved from being a push notification ads provider (known as RichPush) to an advertising platform that has multiple advertising formats.
What are the Different Ad Formats Available in RichAds?
From just offering push notification ads, RichAds.com now offers five ad formats. These are:
1. Push Notifications Ads
In case you haven't noticed, push notification ads are everywhere nowadays. And there's a good reason for that — they're incredibly effective. Studies have shown that people are far more likely to open a push notification than they are an email or even a text message. That's because we're conditioned to respond quickly to notifications since they usually indicate something important.
RichAds is one of the first platforms that introduced push ads when this ad format was still in its infancy. At that time, the company was still named RichPush.
2. In-Page Push Ads
In-page push ads are a type of ad that has become increasingly popular in recent years. This is because they offer a number of advantages over other forms of marketing, such as pop-ups and banner ads.
One of the main benefits of in-page push ads is that it looks like a regular push notification, which is why the CTR of this type of banner ad (which is what it actually is) is higher than typical display ads.
In-page push ads are less intrusive than traditional pop-ups, as they appear within the content of the page rather than taking over the entire screen.
3. iOS Calendar Push Ads
iOS Calendar Push Notification Ads are a type of ad that imitates the look of classic push notification ads but is delivered using the default calendar app of iOS. This solves the limitation of classic push notification ads not being delivered on iOS devices.
The ad is displayed on the lock screen or in the notification center just like a regular push notification. When tapped, it takes the user to the advertised event or offer's landing page. These are a great way to reach iOS users with timely and relevant information.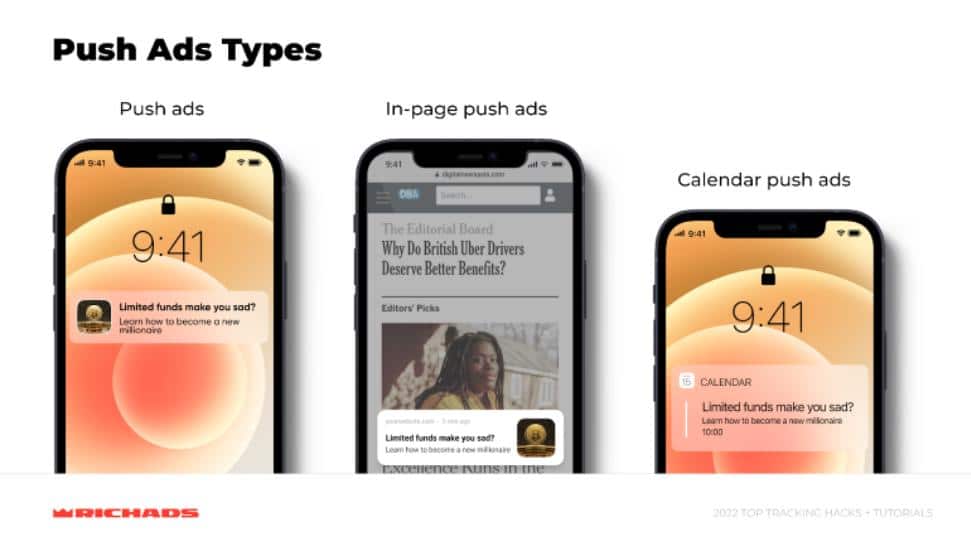 4. Pop Ads
Pop ads are a type of advertising that appears in a new window or tab. They can be used on both desktop and mobile devices, and they're often used to promote special offers or lead capture forms. They appear when the user clicks on any part of the page that they are actively viewing.
Pop ads are one of the most popular types of advertising nowadays, and there are several reasons for this. First of all, they are relatively inexpensive to produce, so even small businesses can afford to use them. Also, pop ads can be very eye-catching and attention-grabbing, which makes them more likely to result in a sale.
5. Domain Redirect Ads or Direct-Click Ads
These are full-page ads that appear in place of parked and expired domains. If a user visits an expired domain, he will be redirected to an advertiser ad. They are also called direct-click ads because there is no need for the user to click on any part of the page in order for the ad to appear, so the user will not notice anything different.
Because domain redirects open in full, the user sees the entire message clearly and without obstruction, making click-thru rates high and chances at conversion even better.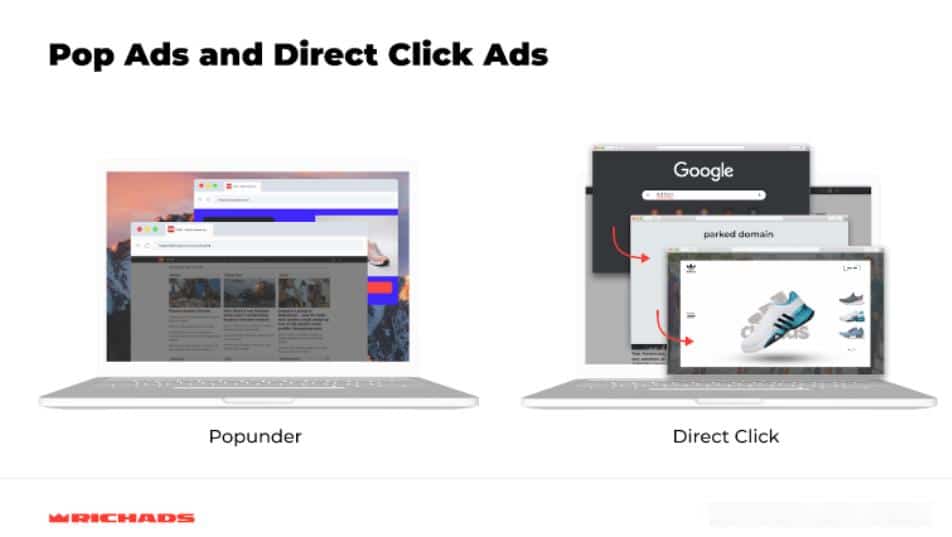 What about money? RichAds pricing
The minimum cost per click (CPC) for push notifications at RichAds starts at $0.003.
After selecting the destination country, each country's recommended and minimum CPC can be seen in the campaign settings.
Prices and volumes of available traffic in RichAds are easier to see and evaluate in tables. Since the main formats are still push ads and pops, tables have been prepared for them.
It seems that the push stats also contain information about in-page pushes and calendar push notifications.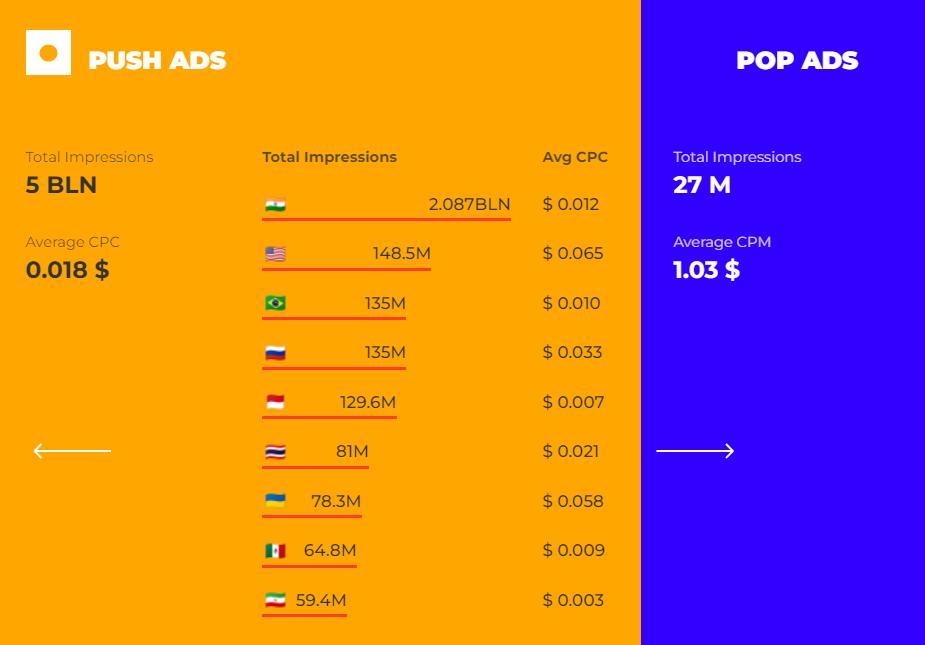 Ad campaigns on pops traffic at RichAds work according to the CPM (Cost per Mille) — payment is made for a thousand impressions.
The minimum price depends on the country and starts from $0.5.
As can be seen, the top countries for push ads and pops are slightly different. However, this can only work in a lux if you start with push ads and scale with pops.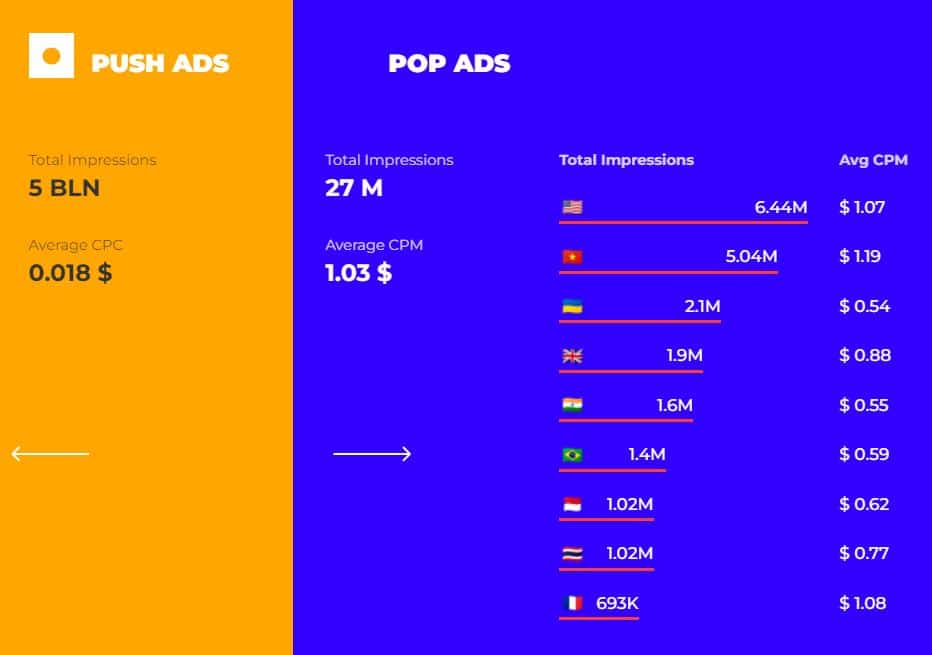 Domain traffic or direct click also works on the CPM model, just like pops. The price for buying such traffic starts from $1.5.
What is the minimal deposit?
RichAds offers a $150 minimal deposit. With this deposit, you can launch an unlimited number of campaigns and utilize all of RichAds' features.
If you deposit $500, you will receive a personal manager who can consult with you on any issues and set up and optimize your campaigns. In addition, managers can provide clients with a whitelist and prepare creatives for free.
If you make the first deposit of $3,000, you can get +5% of the deposit and ultimately put your campaigns in the hands of managers.
You can learn more about the loyalty program here.
How to add funds to deposits at RichAds?
You can make a deposit via Wire transfer, bank card, Сapitalist, or Payoneer.
Best RichAds Features for Advertisers
RichAds has everything you'd expect from an ad network and then some. In this part of our RichAds review, we'll discuss some of its features that we like best.
Conversion Tracking
RichAds offers conversion tracking, so you can see how many sales or leads your ads have generated. This makes optimization within the platform so much easier.
There are three additional benefits to setting up conversion tracking in RichAds, and these are:
Use of Automated Rules
You can utilize Automated rules properly since you can set up criteria based on the number of conversions, ROI, and EPC.
Use of Microbidding
Once you receive calculated metrics based on conversions and profit, you can adjust bids per source and publisher ID instead of pausing it completely.
Use of Auto CPA
You can set up Auto CPA so that RichAds' AI will automatically adjust bids based on the results without any need for you to set up RichAds rules.
Setting up conversion tracking is pretty easy.
You just need to select the third-party tracker you are using, add RichAds as a traffic source in your tracker, then add the tracking domain name you are using.
RichAds will automatically track conversions for all your campaigns running under the same domain name when set up properly.
Split Testing
Another great feature of RichAds is split testing. This allows you to test different versions of your ad to see which one performs better. You can set-up up to 10 different ad creatives in one campaign.
To top it off, you can choose which ad gets higher priority based on click-through rates or conversion rates instead of arbitrarily assigning priority weights.
Detailed Reporting
RichAds also provides detailed reporting that shows you how your ads are performing. You can see how many impressions your ad has received, how many clicks it's gotten, and what the conversion rate is.
This information is valuable because it allows you to optimize your campaigns for better results.
If you have set up conversion tracking, you will also be able to see crucial calculated metrics in one dashboard, so you won't have to go back and forth between RichAds and your tracker.

Categorized Traffic Sources
One of the things I liked best about this ad network is that it has already categorized its sources into four: premium, standard, remnant, and new.
With these categories in mind, you would already know what to expect from the traffic that you buy.
If you buy the premium traffic, you would expect better performance for a higher price. If you buy the remnant traffic, you can expect low-quality traffic, albeit low CPC rates.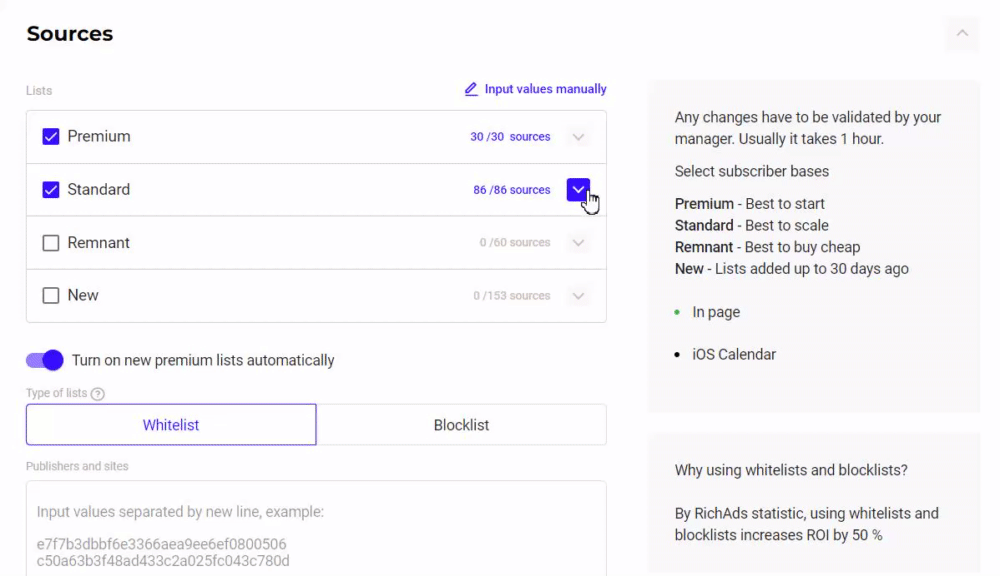 How to Use RichAds?
Now that we've gone over the different types of ads available on RichAds, let's take a look at how to use the platform. Here is a short RichAds.com review on launching its services.
1. Choose your ad format
The first step is to choose the ad format that you want to use. As we mentioned before, there are five different types of ads available on RichAds: push notifications, in-page push, calendar push ads, pop-ups, and domain redirects.
Calendar push ads can be found under the Push section.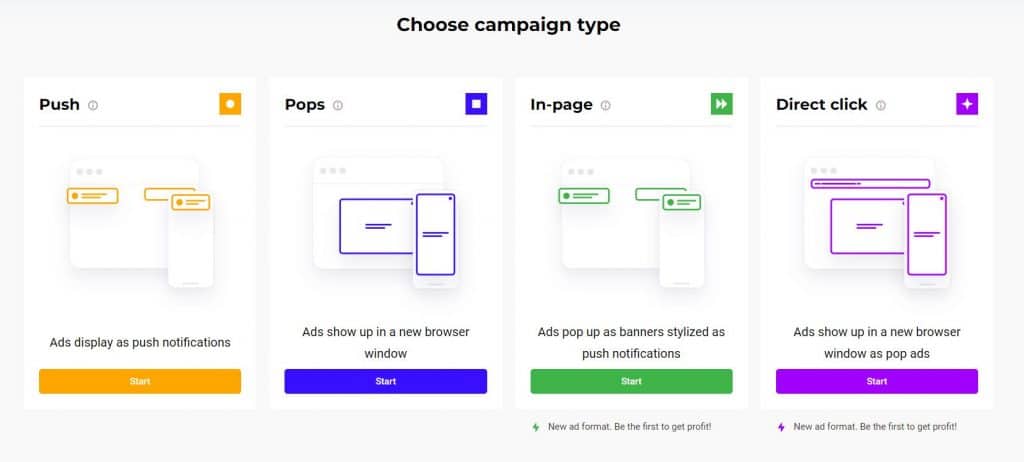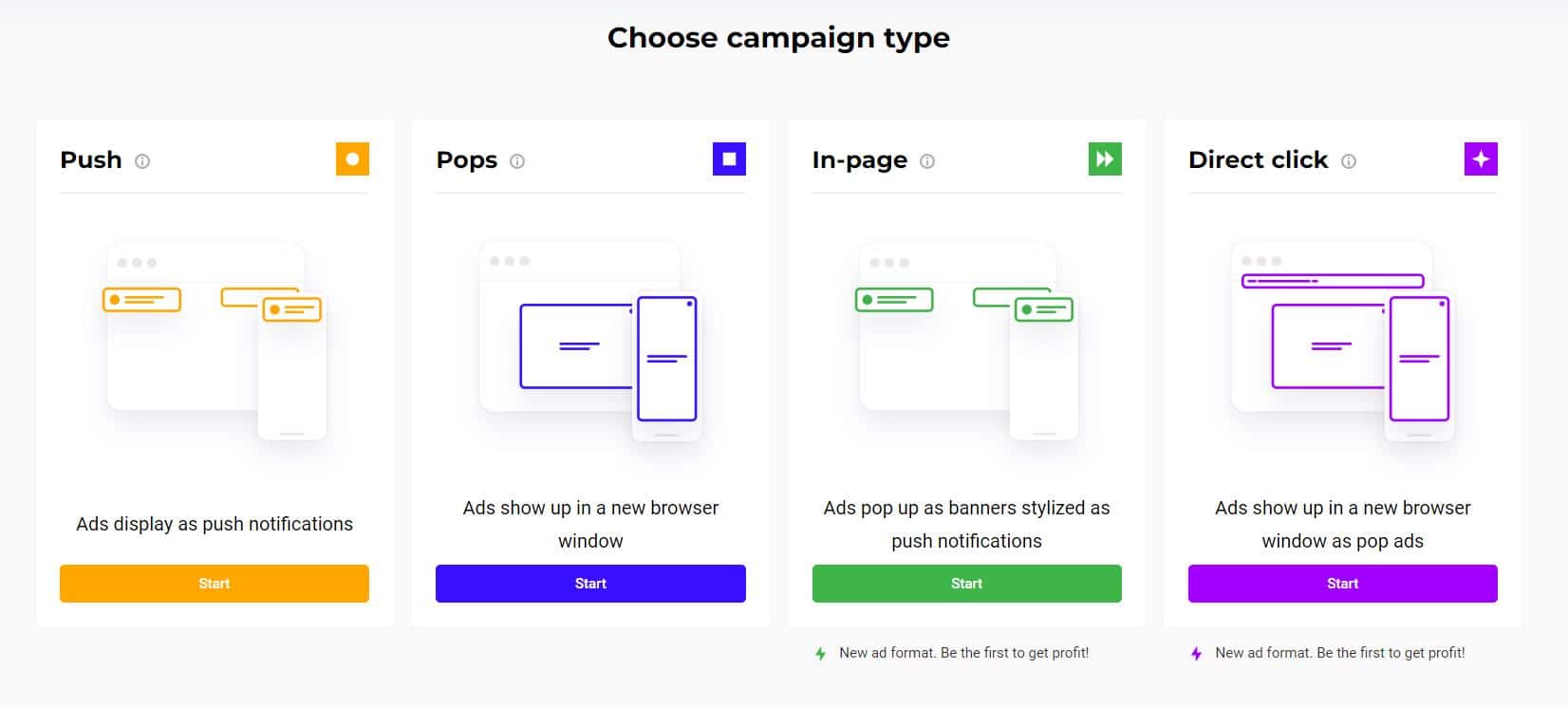 2. Add your ad creatives
Now it's time to create your ad. RichAds offers a simple and easy-to-use interface that makes creating ads quick and easy. You can upload up to 10 ad creatives per campaign.
If you plan on using push ads and in-page push ads, you have the option to let RichAds' team add custom-designed creatives that they think will perform well with your campaign (for free!)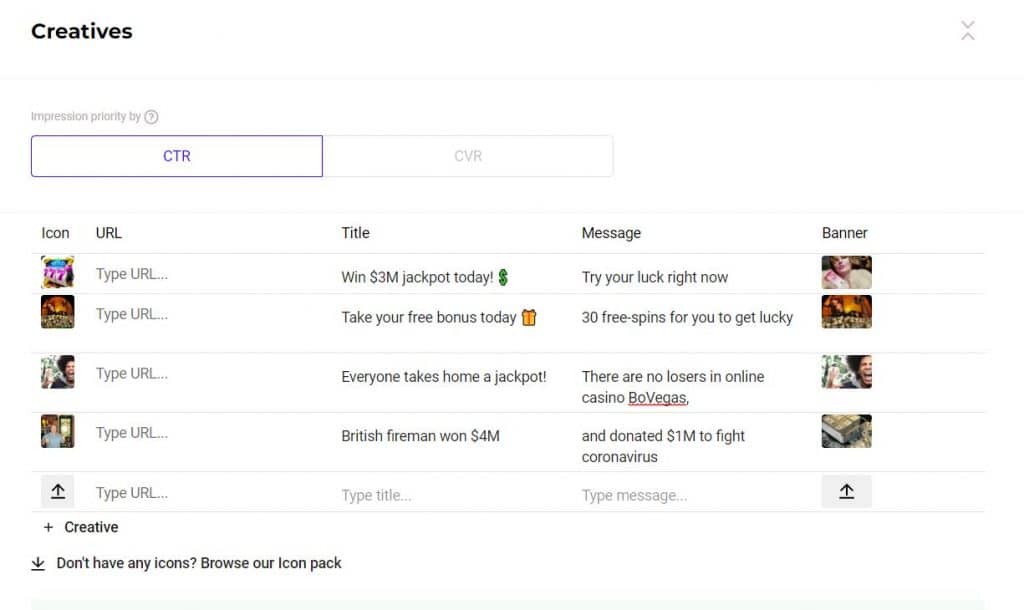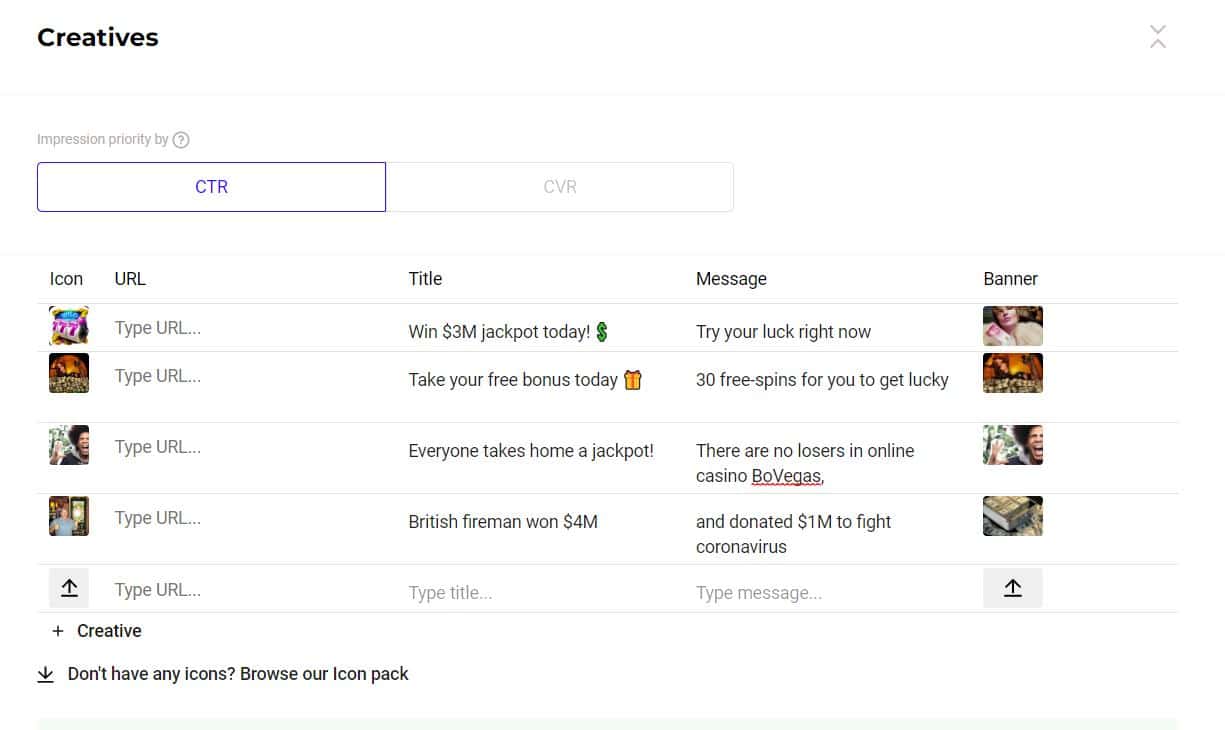 3. Select your targeting options
The next step is to select your targeting options. RichAds offers a number of different targeting options that you can use to make sure that your ads are being seen by the right people.
You can target by location, language, device type, operating system, carrier, and several advanced filters.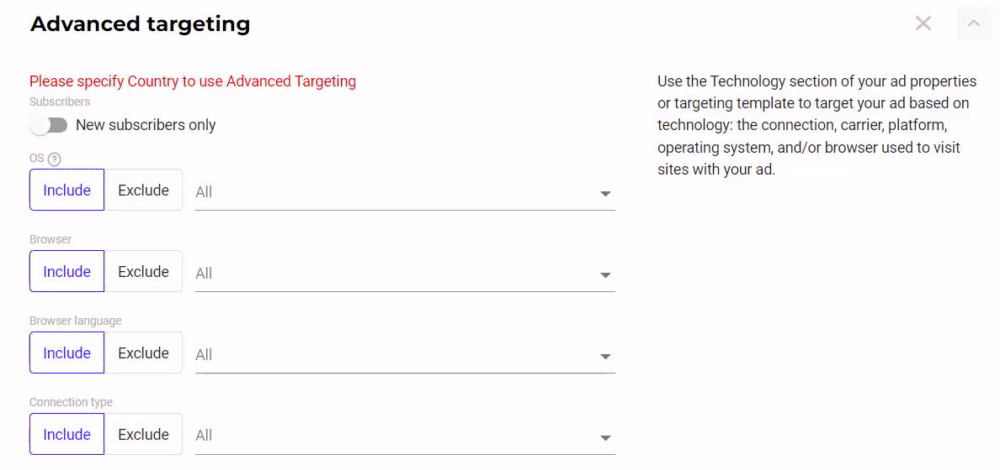 4. Set your budget
The next step is to set your budget. You can have a daily budget or a lifetime one. You can even choose to either spend your whole budget ASAP (if you want to gather data faster) or spend it evenly throughout the day so you'll have well-distributed data.

5. Launch your campaign
Once your ad is created, it's time to launch your campaign. It will first go through approval which takes a few minutes if submitted on a business day.
RichAds will then start serving your ads to the people who match your targeted filters upon approval.
6. Monitor your results
The final step is to monitor your results. This ad network provides detailed reports that show you how your ads are performing in an easy-to-understand interface.
You can see how many people have seen your ad, how many people have clicked on it, and how many conversions you've made. You may also see useful information such as Winrate, CTR, conversion rate, ad rank, and more. These can help you evaluate your bidding strategies.
RichAds Pros and Cons
To properly evaluate RichAds advantages and disadvantages, here are some questions I believe we should answer:
Is RichAds good?
Yes. Based on ads we've run in RichAds, we can say the quality of the traffic is pretty good. It worked specifically well for Dating, Gambling, and App Install verticals.
Is RichAds legit?
After using it for more than a couple of years, I can definitely say it is a legitimate ad network with good quality traffic.
Is RichAds safe?
If you are talking about how safe your personal and financial information is in RichAds, I can say they're fairly safe. None of our private information has ever been leaked.
How easy is it to join?
As an advertiser, creating an account and running ads is quite easy and self-explanatory. To start running ads, though, you need first to fund your account. At the same time, RichAds' minimum deposit amount is $150 for self-service ad management.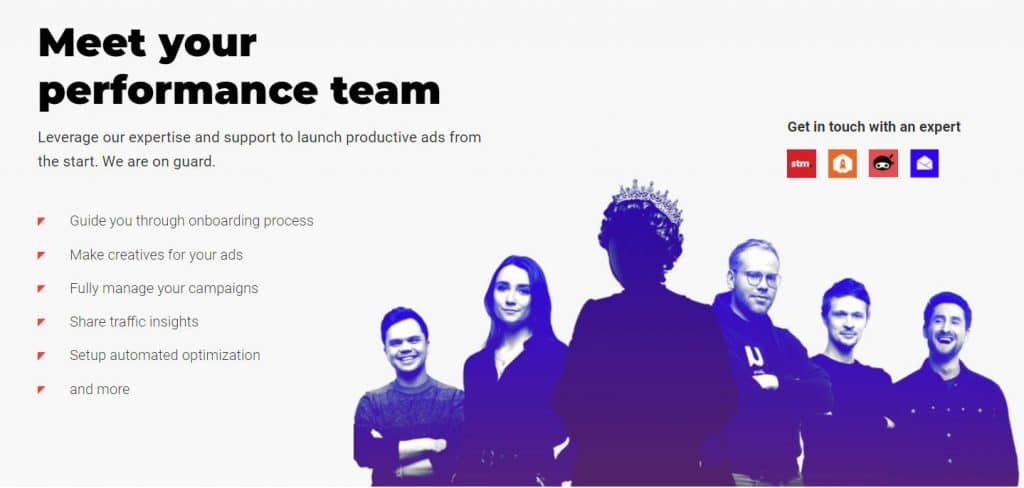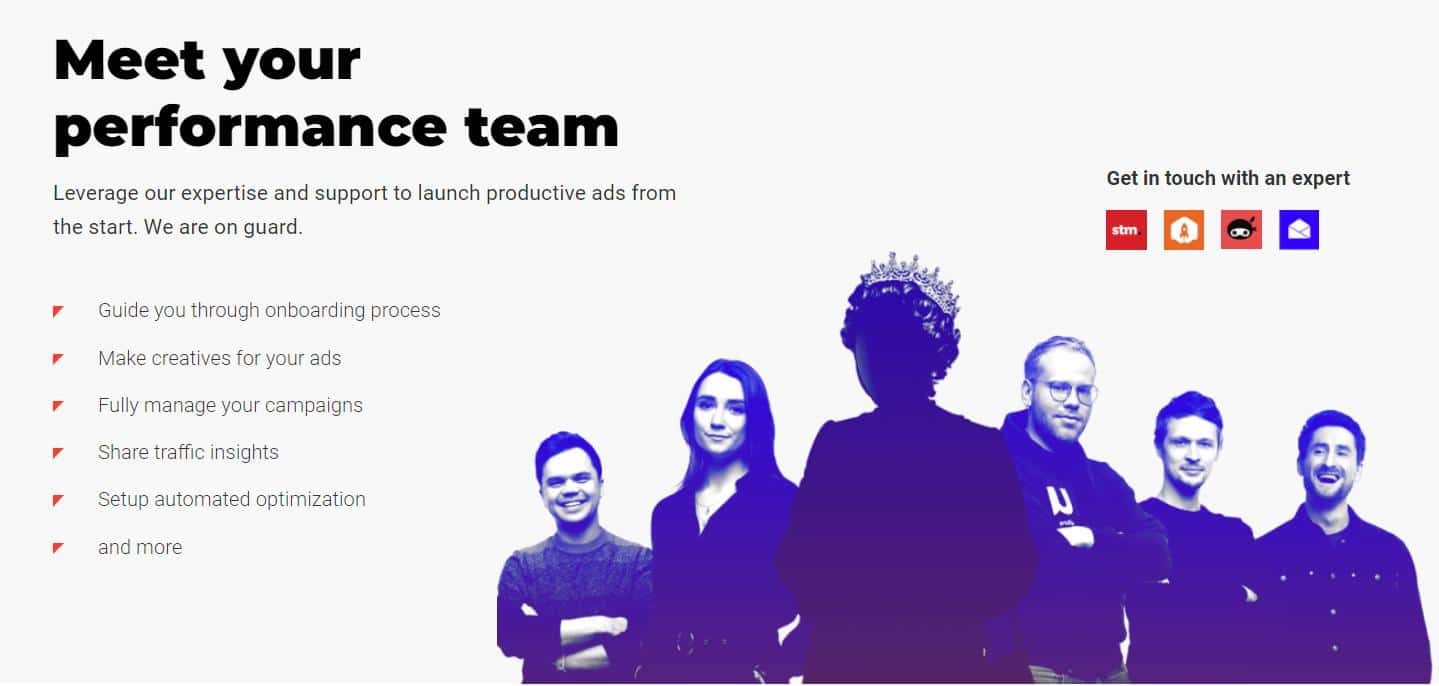 RichAds earning tricks
Earning tricks for a successful launch at RichAds stand on creatives, different devices, and tools for auto-optimization.
Separate campaigns (desktop, mobile, tablet).
When it comes to mobile or desktop, the user's experience is crucial. Smartphone users receive a lot of notifications. Among all of them, some notifications may be lost. If that occurs, conversions will be hampered. Similarly, desktop notifications will be 100% noticeable due to the small number of notifications on computers.
At the same time, different devices have various bid costs. So this is one more idea of how to spend the budget wisely.
Launch your campaigns with at least 3-5 creatives.
The rule is as old as the world: prepare at least 3-5 creatives for your advertising campaigns. First of all, this will give you more opportunities to find the creative that users will like. Here's a case study from RichAds showing how only one in five creatives brought in leads.
Use Target CPA and Automated rules for auto-optimization.
RichAds team recommends to use its tools for auto-optimization. They will savе your time and money.

RichAds case study
Сase studies from RichAds can be found in a separate section.
RichAds Review 2023: The Bottom Line
Well, finally, we have finished with this RichAds.com review. So what can we conclude?
RichAds is a great ad network for publishers and advertisers alike. It has all the features you need to be successful and then some. If you're looking for an ad network that can help you reach your target audience and generate more sales, RichAds is definitely worth considering.
Get traffic from RichAds right now
What is RichAds?
🔝 Push and pop ads,
🔼 Domain redirect traffic,
🔝 CPM for domain ads starts from $ 1.5,
⏫ CPC for push ads starts from $ 0.003,
🔼 CPM for pops — from $0.3 in Tier 3, $1 in Tier 1,
⏫ large volumes of available traffic in more than 200 goes.