In this article, we'll provide you with the reviews on RichAds advertising network from various forums.
We are always open to feedback from marketers and welcome your ideas on RichAds improvement, it really helps us to become better and more efficient!
Reviews from Trustpilot
I decided to test out their push notifications for different offers since I heard it converts the traffic Richads provide well. I'm satisfied with the results.

Tech support works 24/7, their tips made me a nice profit. The mods work quickly.

When setting up targeting I always use the Target CPA feature – it's great at regulating the bid and saves me loads of time. All's good, you can definitely make good money with RichAds.

Yew Chai from Trustpilot
---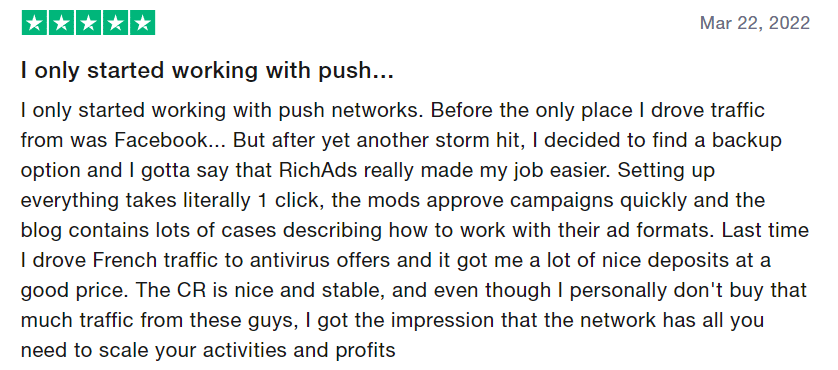 ---
Richads is a great place to scale up campaigns. A couple of months ago I was looking for an ad network with large volumes of good traffic to tier 1 countries and found it in this network.

The conversion rate is good for offers, my bundle brings me $1,000 a month. Of course, it doesn't always work right, but support helps with this and directs you in the right direction.

Lars Nilsson from Trustpilot
---

Jaroslav Novak from Trustpilot
---
I rarely find the need to try anything new, but my previous network was really trying my patience while not bringing the desired results. I looked through a bunch of different options, but ended up choosing RichAds.

After registering and figuring out all the settings, I managed to secure the result I was expecting from the previous network, while not needing to invest anywhere as much.

My CR is 3%. I almost immediatly hit the bullseye and found my TA. Anyone looking for a new network, like I was not long ago, go ahead and try this one.

Marios Eleftheriou from Trustpilot
Reviews from Affbank
I've known these guys for over a year and I promote mobile app offers in Canada, can't complain about the traffic quality. Haven't noticed any shaving either, plus the network has some nice bids. This is definitely a good place to drive traffic to.

Albertson from Affbank
---


---
Richads have long become my go-to when it comes to nutra offers. I found out about them from a colleague of mine and he told me about all the network's advantages.

For me personally, the decisive factor was the availability of lots of quality Tier 2 and 3 traffic. I manage to turn quite a profit with these guys – $500-1000 a month. I feel it's safe to call them the optimal ad network.

Raymond B from Affbank
---
I was scouring the web for places with lots of quality traffic and one affiliate marketing website had a review of Richads. I liked it and decided to test out a couple of my nutra offers here.

Registering didn't take too long, I dropped $500 right off the bat and I was assigned a personal manager, who gave me some tips on how to properly set up my ad campaigns.

The managers here are qualified professionals, which is the reason I keep driving my traffic here.

Vladimiri from Affbank
Reviews from Affpaying
RichAds' killer feature is their human and pro support. In addition of the great support to any advertiser wanting to create and manage their own campaigns, RichaAds team also offers fully managed campaigns for any advertiser investing at least a certain amount per month.

For advertisers wanting to scale but lacking time or human resources, RichAds can be a game changer.

Cid de Andrade from Affpaying
---
We need to use one word – excellent! We cooperate with Richads 2 months now and we definitely recommend.

Collins company from Affpaying
---
I worked with push traffic, worked only with premium source in Richads , and want to say what traffic is good, good convert, good volume, and very good support.

Thank you Veronika for her help in work. Good traffic for dating, finance, Gambling.

Vladislav from Affpaying
---
I work with Richads for more than 6 months and overall the performance is good. Account Manager is nice, supportive and always gives quick reply.

Richads has a good volume of push traffic but it can improve on other formats.

Rebecca from Affpaying
RichAds is always ready to listen to your ideas and suggestions!
You can share the feedback on the platform to your manager directly and we will definitely take it into account.
What is RichAds?
🔝 Push and pop ads,
🔼 Domain redirect traffic,
🔝 CPM for domain ads starts from $ 1.5,
⏫ CPC for push ads starts from $ 0.003,
🔼 CPM for pops — from $0.3 in Tier 3, $1 in Tier 1,
⏫ large volumes of available traffic in more than 200 goes.