Let's have a small but exciting journey into the question: what exactly are in-page push ads?
Bonus: have a look at how in-page push ads grow and change from the moment it has been added to the RichAds ad network till 2023.
Advertisers are always looking for new traffic types and sources to try. This keeps their ads fresh and relevant, and it also helps them reach new audiences.
If right now you find that the old methods are no longer working for you, why not try one of the newest types of traffic today — In-Page Push Ads.
Introduced right after the launch of the classic push notification ads, In-Page Push Ads became an instant hit with advertisers looking to score big!
But what exactly is this ad format, what makes it enticing, and how do you start using it? Let's find out.
What are In-Page Push Notifications?
In-Page Push Ads are a new and improved type of push notification ad that allows you to place your ad directly on the webpage of your choice.
It has the same look and feel of a regular push ad — it looks like a notification that contains an icon or a small square image and a few lines of text. Once you click on it, you will be delivered straight to the advertiser's landing page.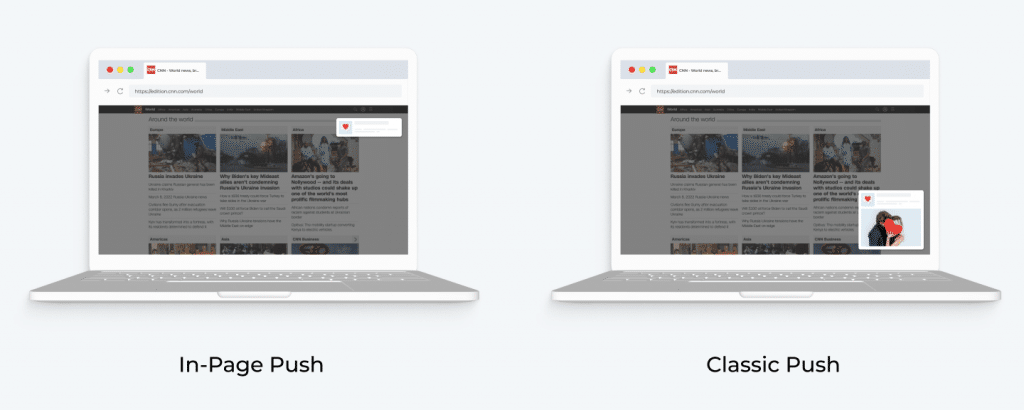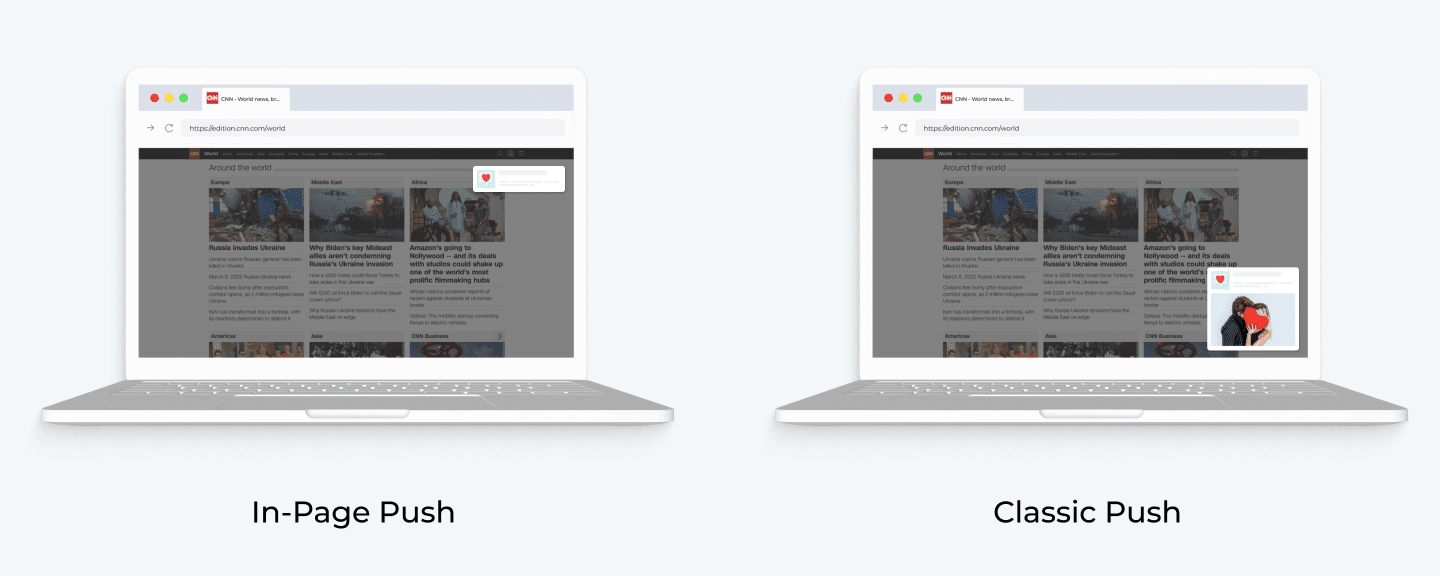 Just like classic push notification ads, In-Page Push Ads are designed to be highly effective and engaging. One of its biggest advantages over regular push ads is its ability to be seen across all kinds of devices, including iPads and iPhones.
If you don't know what classic push notification ads are, please refer to our Complete Push Ads Guide.
How Does In-Page Push Traffic Work?
In reality, in-page push notifications are banner ads made to look like push notifications. And because it is designed to appear like a system message, people tend to trust it more than other types of display ads, allowing your users to overcome banner ad blindness.
The process is simple. Advertisers create their ads using an ad network or a self-serve platform like RichAds. Once the ad is created, they select their target audience and bid for the placement.
After that, the ad network will show the in-page push notification to people who are browsing websites that have signed up to display this ad format.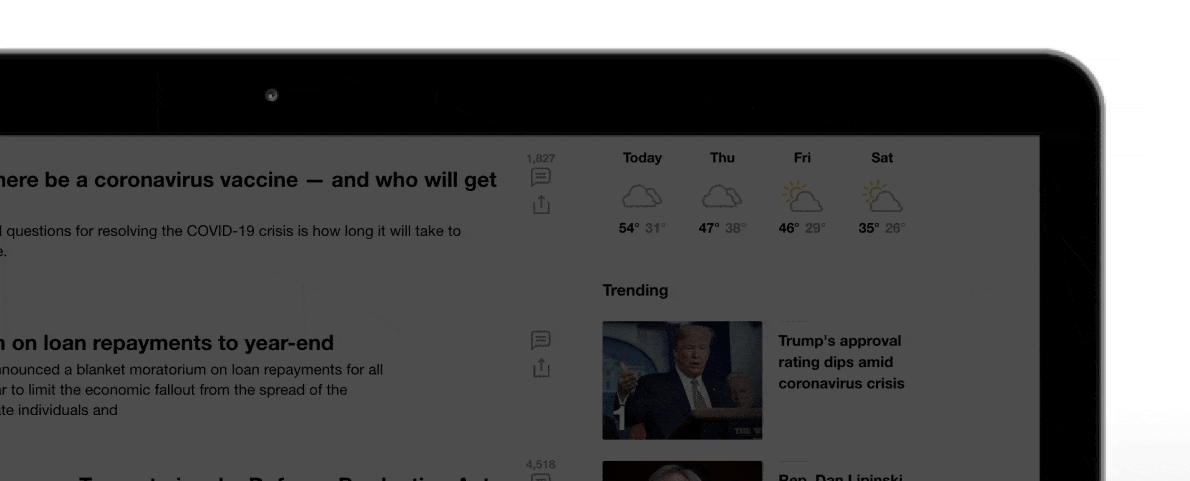 History of In-Page Push Ads Traffic at RichAds
In-page push notifications became available at RichAds almost the same time that classic push ads became available roughly two years ago. It is the answer of ad networks to the problem of regular push ads being unable to reach audiences who use iOS devices.
Since the end of 2021, this ad format has seen an increase in traffic volume of over 70%, with more publishers embracing in-page push ads across all their online platforms. Consequently, the number of ad campaigns increased to 80%.
And that's not all. Based on the results of past and current ad campaigns, in-page push ads are able to deliver an increase in conversion rate by 1.5 times when using premium sources here at RichAds.
RichAds advertising network news in 2022
In-page traffic has increased by 70% since the new year.
The number of connected campaigns increased by 80%.
The CR of top sources increased by 1.5 times.
 *Data was compared with the last 3 months of 2021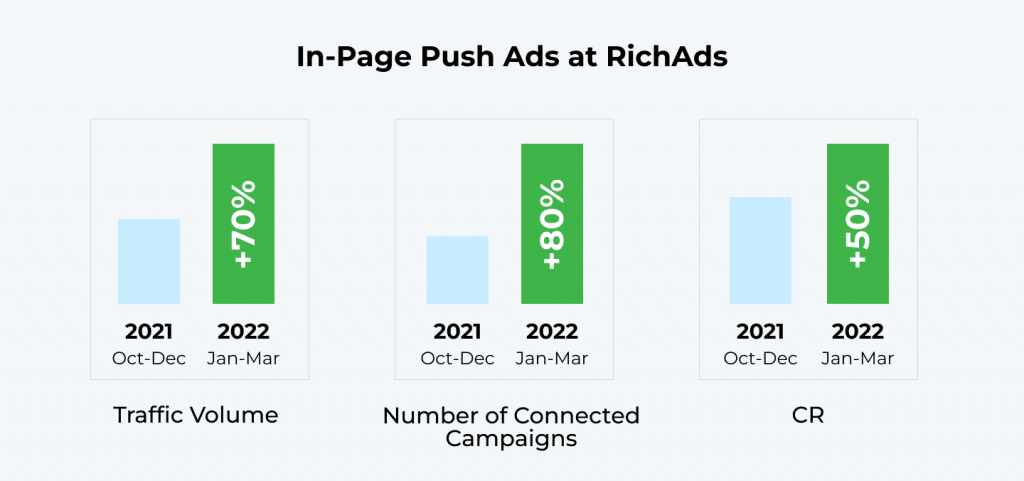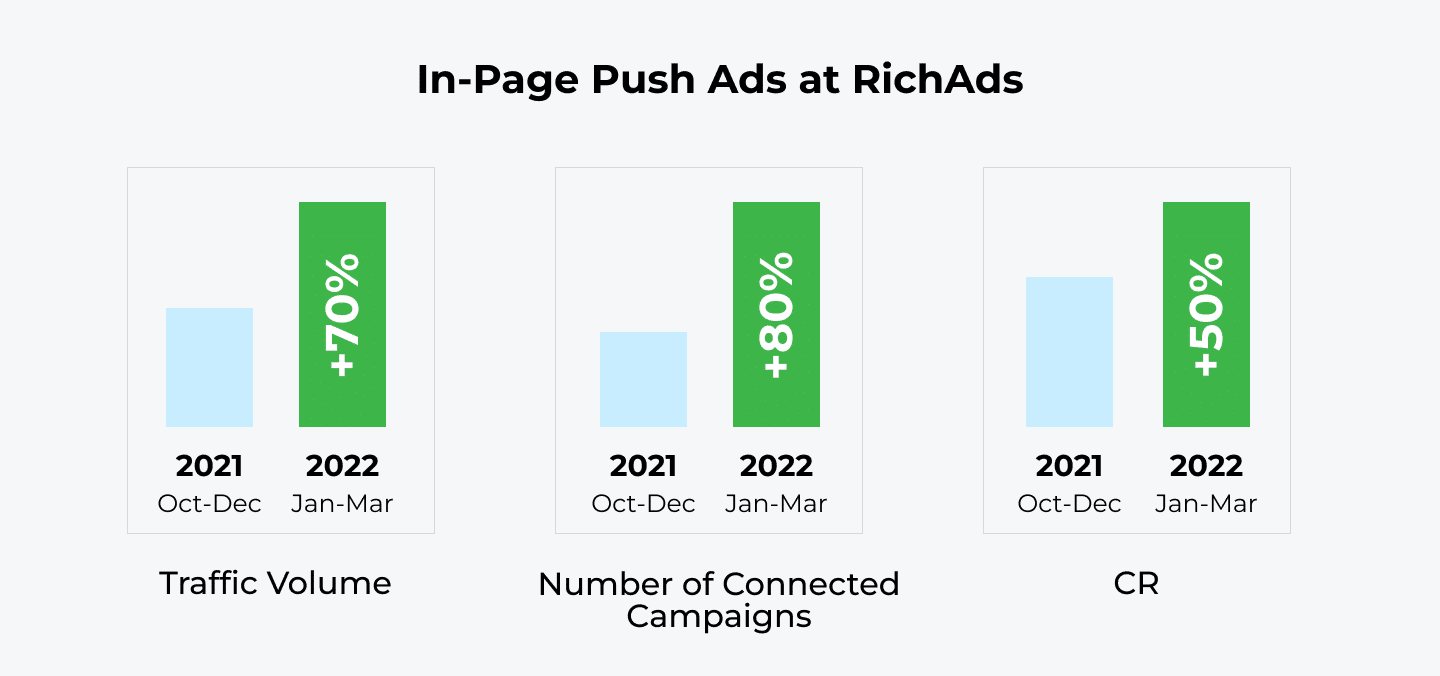 Use RichAds traffic to make a profit in 2023
What is RichAds?
🔝 Push and pop ads,
🔼 Direct click ads (domain redirect),
🔝 CPM for domain ads starts from $1.5,
⏫ CPC for push ads starts from $0.003,
🔼 CPM for pops — from $0.3 in Tier 3, $1 in Tier 1,
⏫ large volumes of available traffic in more than 200 goes.
Best Offers and Verticals for In-Page Push Ads
Just like regular push ads, in-page push ads work best for Sweepstakes and Dating affiliate offers. But the good news is that it's not just limited to those two — in-page push notifications have also proven effective for many other niches and industries.
Here are some of the best performing verticals for in-page push ads:
Utilities – This includes software and apps such as device cleaners and VPN.
Antivirus – In-page push ads have been shown to effectively deliver traffic for antivirus products (free and paid offers).
Finance – This broad vertical covers everything from banking to investing, loans and insurance.
Best Geolocations for In-Page Push Ads
In-page push ads work well in both developed and developing countries. However, they have been shown to be particularly effective in the following geolocations:
USA
Brasil
Mexico
Turkey
Indonesia
Peru
Thailand
Germany
India
China
Every month, RichAds releases a list of the best-performing verticals and geos based on trends.
With these improvements, we can say that if you are not running in-page push ads at the moment, then you are surely missing out.
How to Set Up In-Page Push Campaign at RichAds
Now that you know all there is to know about in-page push ads, it's time to learn how to set up your own ad campaign here at RichAds.
Follow these simple steps, and you'll be on your way to driving high-quality traffic to your website or landing page:
Account approval is instantaneous, so you can add funds immediately. RichAds' self-service platform requires that there are funds inside your account before you can start running ads. The minimum top-up amount is $150.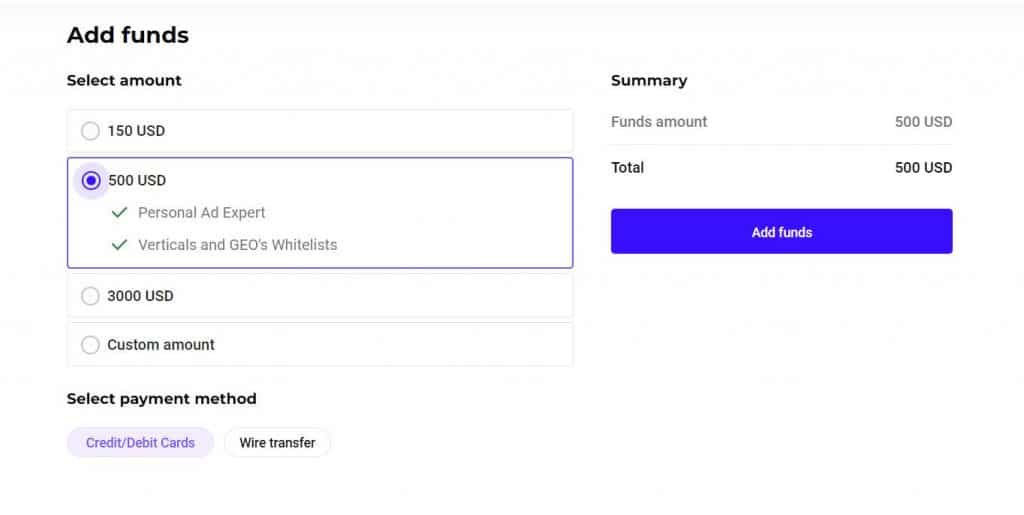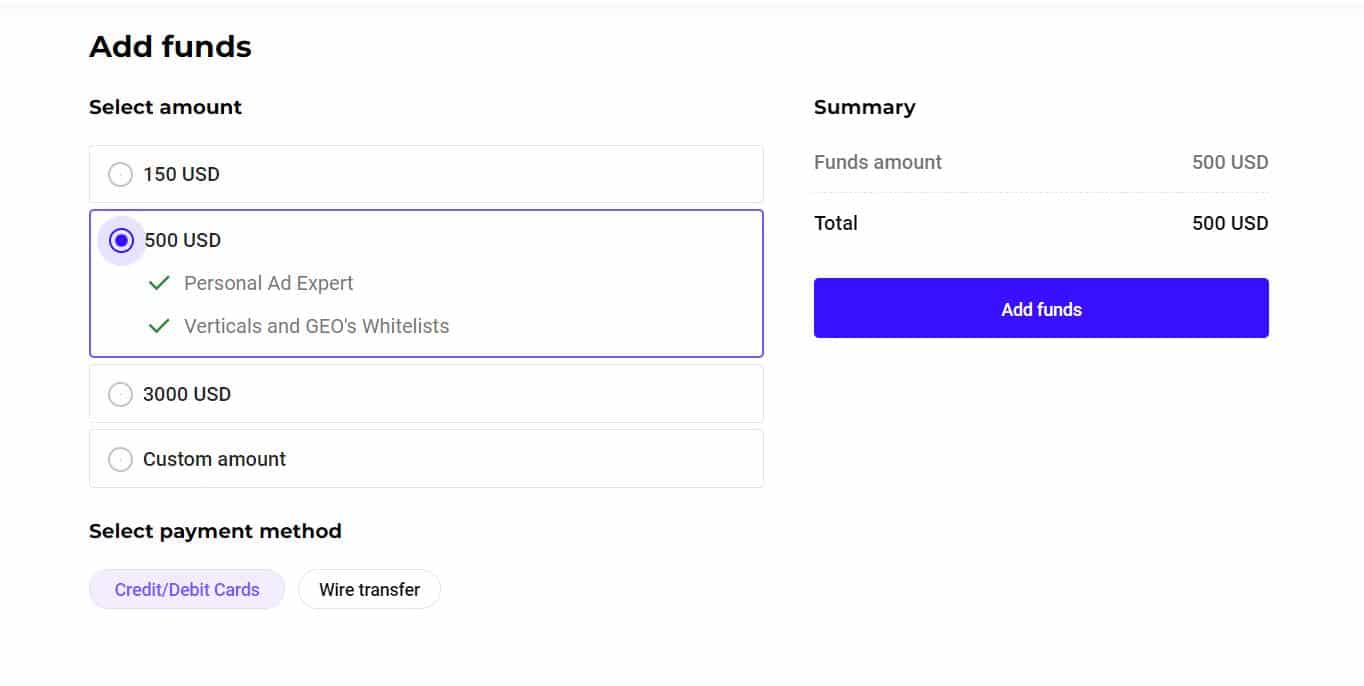 2. Go to the Campaign page and click on the New Campaign button
Choose In-page on the ad formats page. In the past, in-page push campaign ads are included under Push Ads. Seeing the difference in performance, RichAds deliberately separated in-page ads to make it easier for advertisers to create ads under this format alone.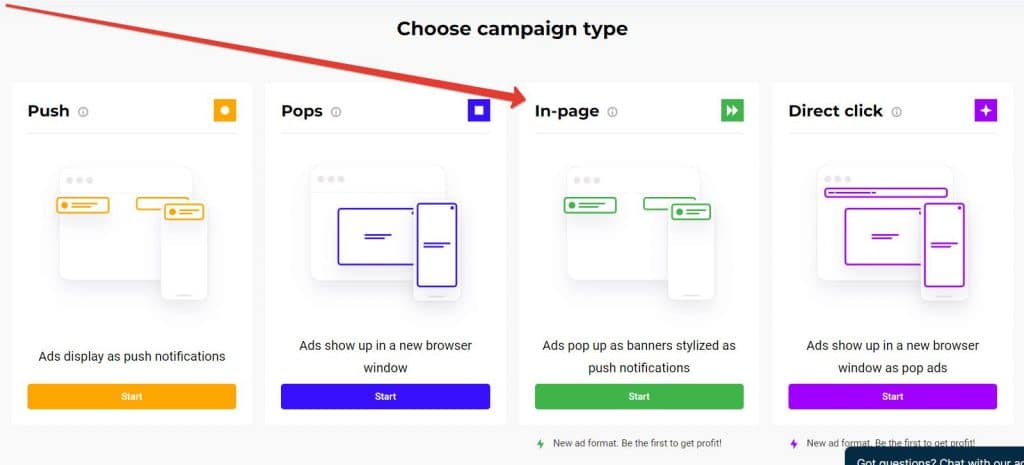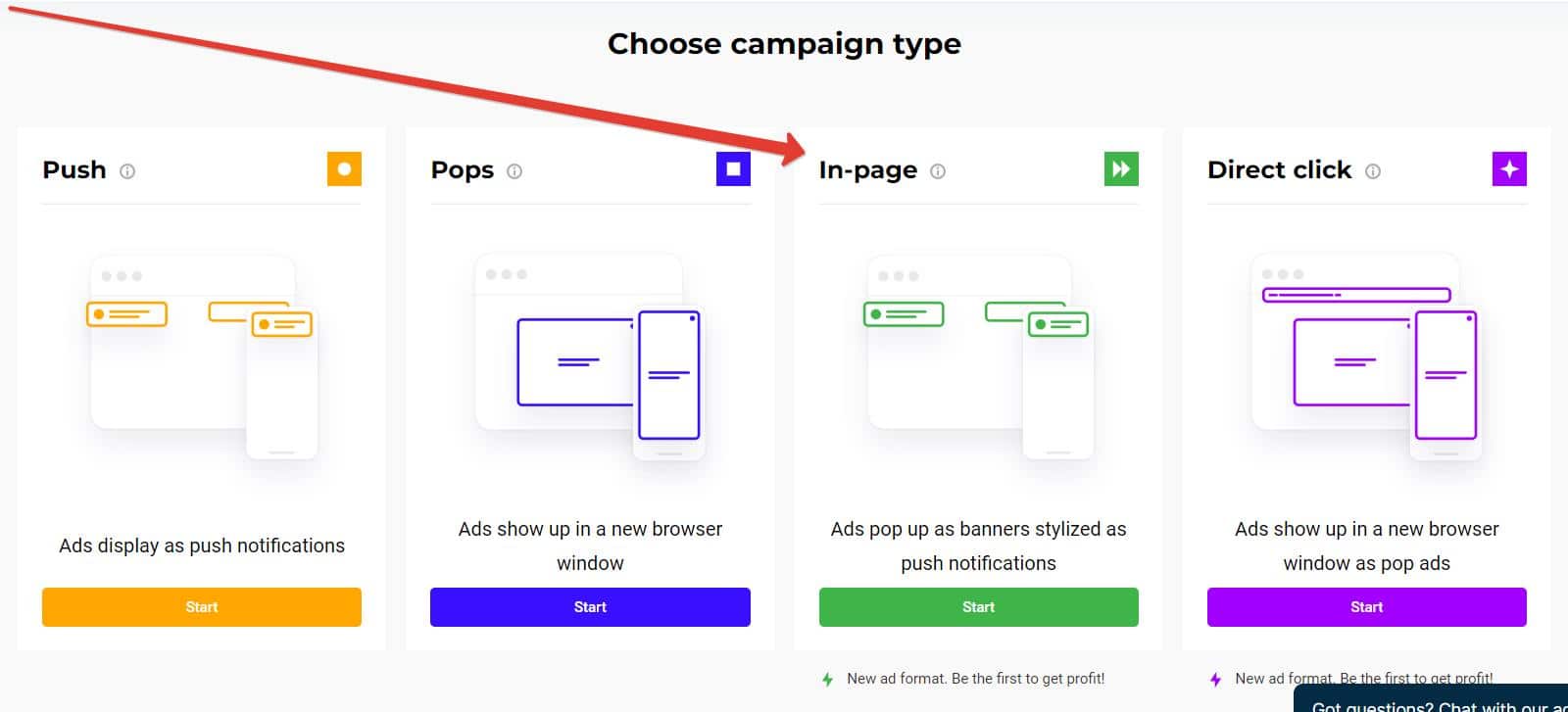 3. Fill out the necessary fields on the campaign creation page
One of the most important aspects of this step is Ad Creative. RichAds recommends uploading at least five variants of your ad creative to help you find styles of ads that convert better.
In-page push ads follow the style of classic push notification ads. An ad creative requires the following:
a square image 192 by 192 pixels in size, with a maximum file size of 100KB
a destination URL (where the user goes when he clicks on the ad)
a title that contains no more than 30 characters
a description or message that contains no more than 45 characters.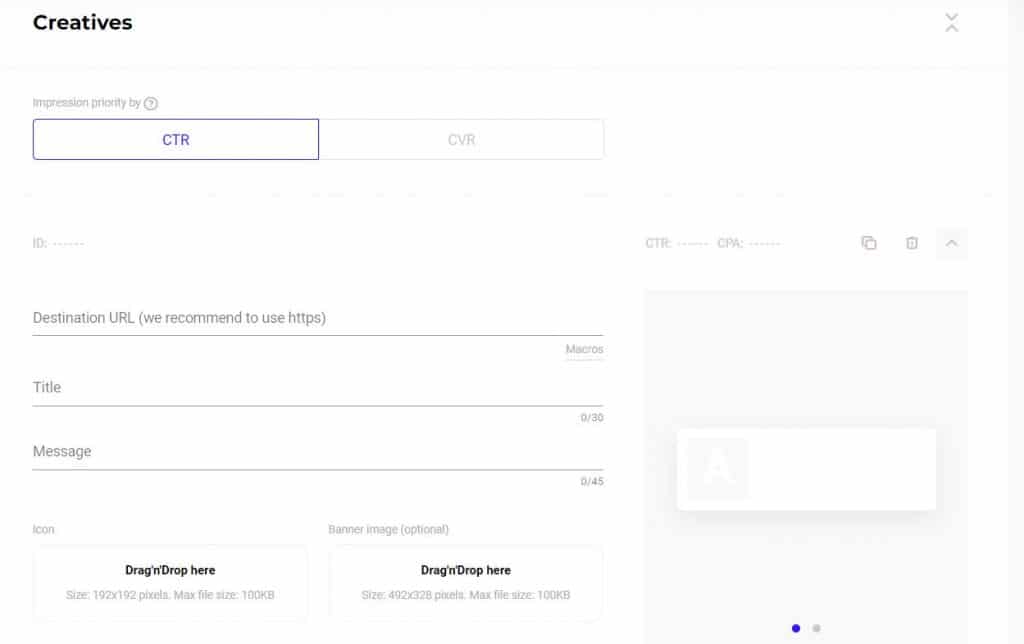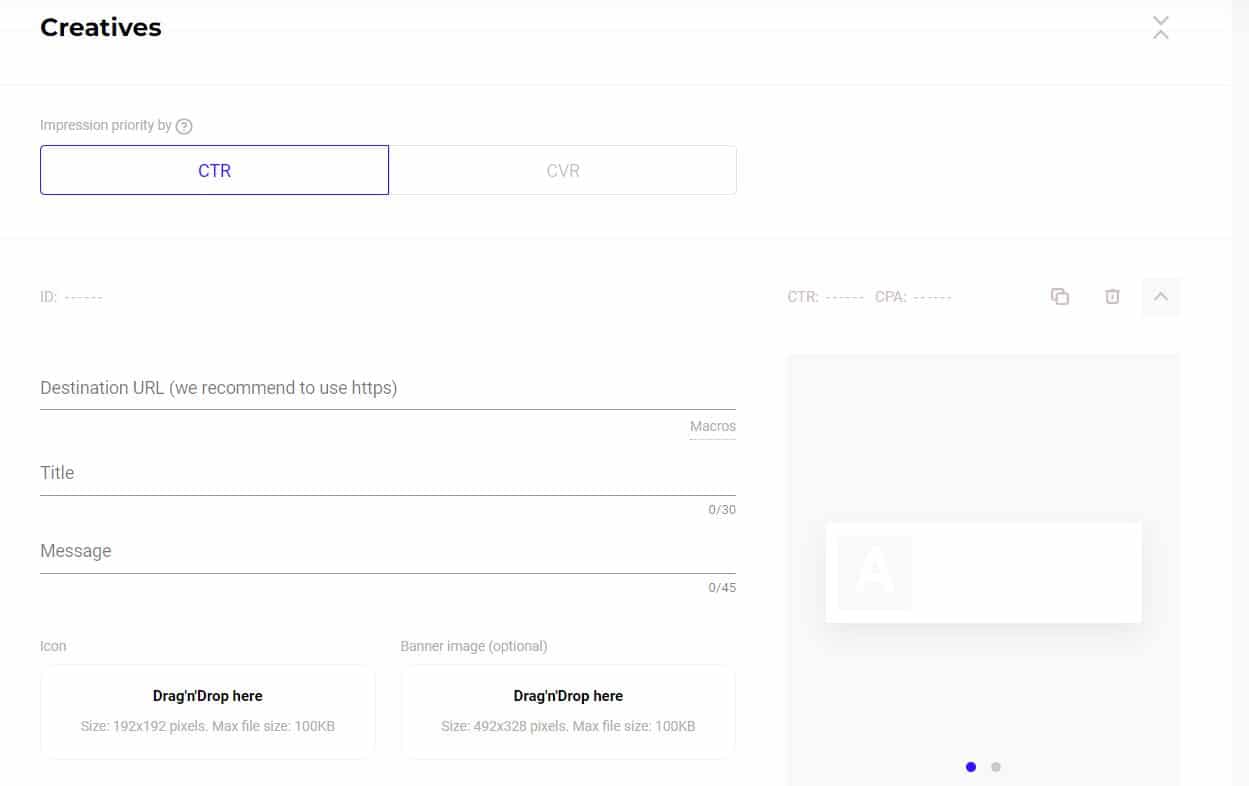 There are two ad delivery options based on priority: based on Click-Thru Rate (CTR) or Conversion Rate (CVR). Based on your choice, RichAds will prioritize the best-performing ads once each creative receives enough impressions for analysis.
4. Set your budget and goal
The minimum daily budget for an in-page push campaign is $25 per day. You also have the option to set a total budget for your entire campaign duration.
You can opt to spend your budget ASAP and show ads to the most number of users at the campaign launch or at the start of the day. On the other hand, you can select Even distribution, wherein your budget is spent evenly throughout the day.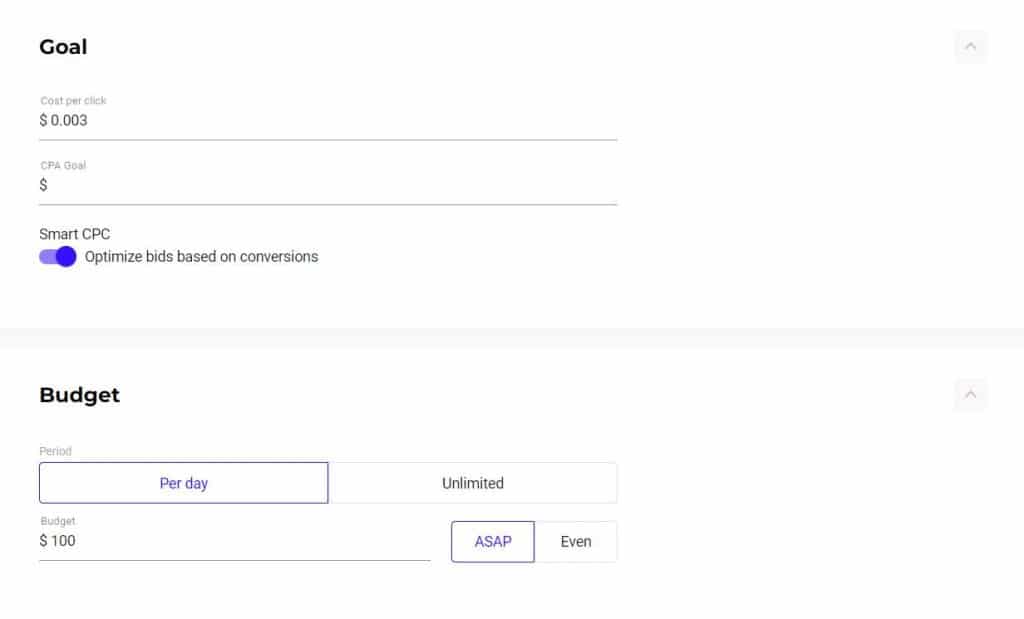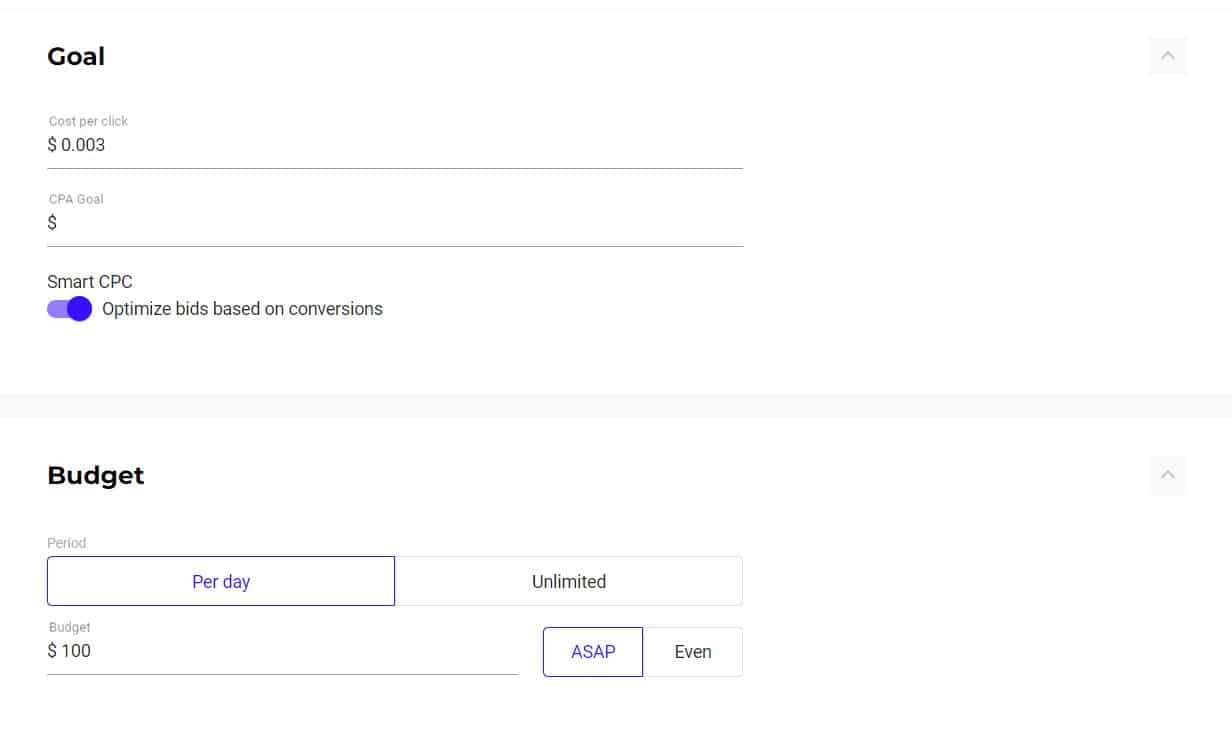 5. Choose your targeting options
You can target in-page push ads by geolocation (country, region, or city) and device (mobile, tablet, and desktop).
You can also set these two:
frequency cap — the maximum number of impressions per user per time period.
click cap — same as the frequency cap, except this one is based on the number of clicks.
After setting this up, you can save and publish your campaign already.
However, if you want to target audiences better, you can utilize the advanced targeting section.
Under the Advanced Targeting options are the following filters:
operating system,
browser type and language,
connection type,
carrier targeting,
ISP.
You also have the option to target specific IPs, allow Webview, and choose only Mainstream traffic.
6. Select specific Sources
RichAds separates sources into four categories: Premium, Standard, Remnant, and New. You can get traffic from all available sources or select specific ones.
By default, only the Premium sources are enabled.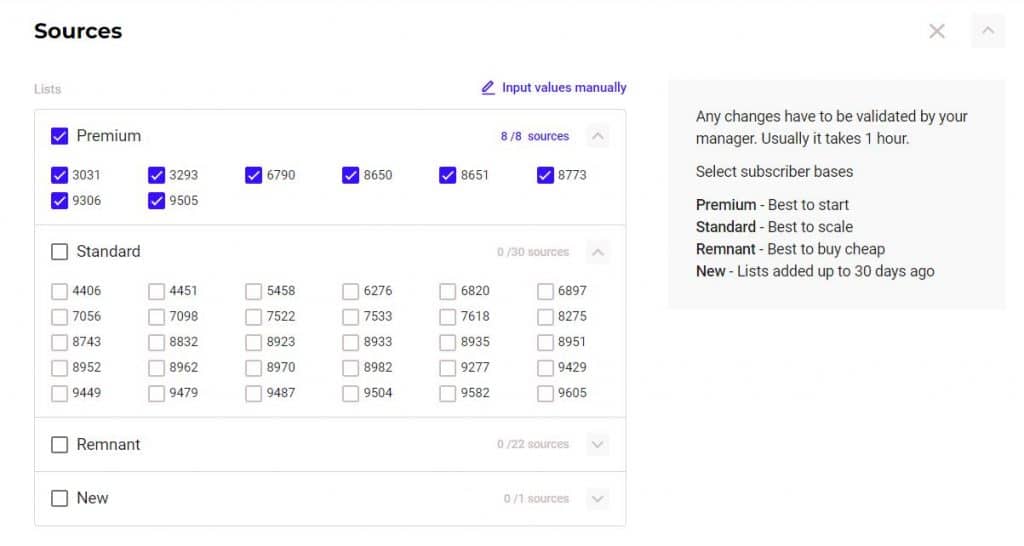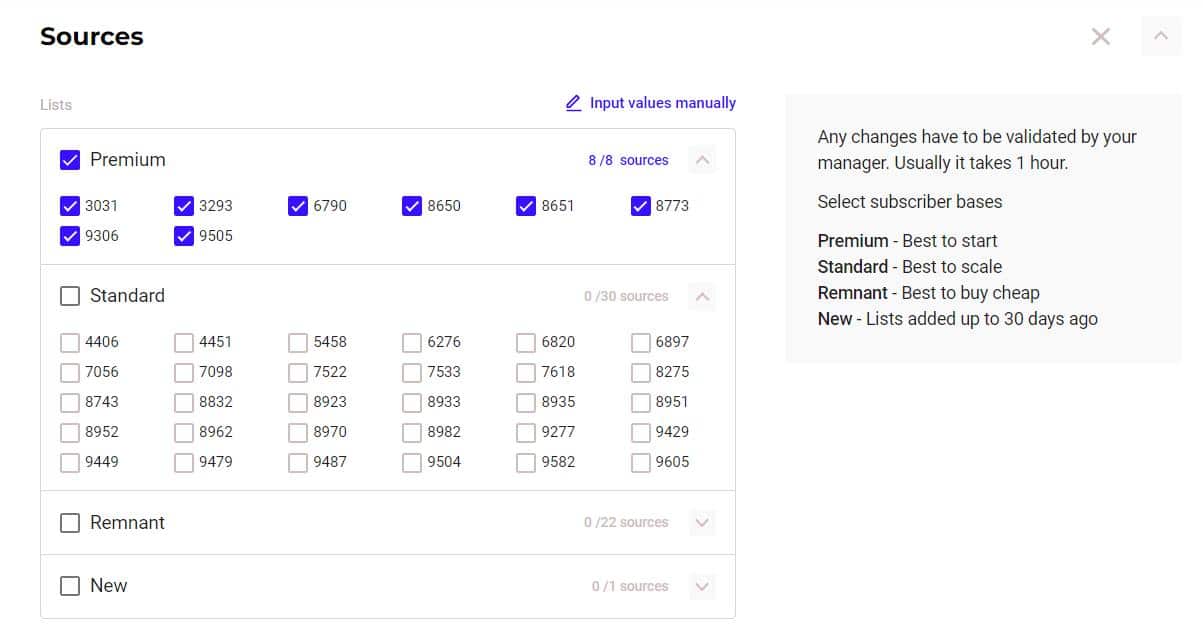 7. Rules and Schedule
The Schedule section is where you can set the times of day and days of the week when your ad will run. The schedule is based on the user's local or UTC time. You also have the option to set a start and end date for your campaign.
The Automated Rules section allows you to set optimization rules that automatically apply once the criteria are fulfilled. This reduces the need to manually optimize the campaign, especially for tasks that follow measurable standards (such as pausing sources/creatives and increasing bids).
8. Review your campaign settings and click Create.
Once your campaign is live, RichAds will begin showing ads to audiences according to the schedule, budget, and targeting options that you set.
You can check the performance of your campaign by going to the Reporting tab. Here, you'll find detailed information about your ad's impressions, clicks, CTR, CVR, spending, and more.
Use RichAds traffic to make a profit in 2023
What is RichAds?
🔝 Push and pop ads,
🔼 Direct click ads (domain redirect),
🔝 CPM for domain ads starts from $ 1.5,
⏫ CPC for push ads starts from $ 0.003,
🔼 CPM for pops — from $0.3 in Tier 3, $1 in Tier 1,
⏫ large volumes of available traffic in more than 200 goes.
Tips for Running In-Page Push Ads Campaigns in 2023
Running in-page push traffic ads seems simple enough!
But to make your ads deliver the results you expect (or even better), here are some tips that can help:
Run traffic from all sources and then narrow it down later. It may be tempting to choose specific sources, but only do so when you have enough data.
Take advantage of RichAds' automated rules to optimize your campaign with minimal effort. You can set a rule to automatically pause sources or creatives that don't meet certain performance criteria. You can even set a rule to automatically increase bids for sources and creatives delivering the desired results. This takes the guesswork out of optimization and helps ensure that your campaign is running as efficiently as possible.
Separate in-page push and classic push ad campaigns. While you can include in-page push within the classic push ad campaign, we don't recommend lumping them together as these two ad formats perform differently. This way, you can get a more accurate sense of how they perform and make tweaks accordingly.
In-page push traffic ads are a powerful tool that can help you boost traffic on your website and improve conversions of your affiliate offers. By following the steps in this guide, you can create an effective campaign that reaches your target audience and achieves your desired results.
Use RichAds traffic to make a profit in 2023
What is RichAds?
🔝 Push and pop ads,
🔼 Direct click ads (domain redirect),
🔝 CPM for domain ads starts from $ 1.5,
⏫ CPC for push ads starts from $ 0.003,
🔼 CPM for pops — from $0.3 in Tier 3, $1 in Tier 1,
⏫ large volumes of available traffic in more than 200 goes.