What will be on top at Sweepstakes in 2022? We discussed the main Sweepstakes trends with Francisco Guerreiro, an affiliate manager from Mobidea.
This post focused on sweepstakes trends: traffic sources, best offers, and GEOs. But these are not all the points you can find here. Bonus: pro-tips and opinions of other affiliate networks are included!
Sweepstakes trends in 2022
Hot news: iPhones are going out of fashion. Many users in Tier 1 countries have already seen this kind of ad "You have won an iPhone!" and no one believes now that it's true.
Now we are seeing diversification from iPhones to other kinds of products. Xboxes, gym memberships, PlayStations, and cash prizes are becoming more popular now. For example, we have very good results running Sweepstakes for baby goods in Australia during COVID-19. So, try something different to have a profit!
Of course, it doesn't mean that iPhones have disappeared at all. We do still see good offers with iPhones, especially when Apple releases a new version of its devices. But in Tier 1 countries, nobody believes that it's possible to win an iPhone. 

What do the other affiliate networks think about trends in Sweepstakes offers?
Sweepstakes trends from the LetsCPA side
Cell phone offers are the most mass-scale as they are always trending. Other products (air pods, sneakers, or gift cards) cannot compete in popularity with them.
For some GEOs, gift cards perform great, but these are just exceptions of lucky advertisers that understand which brands will convert locally. The disadvantage of such campaigns is that they are difficult to scale, and not all affiliate marketers are ready to work with them.
What about cell phones? There has been a confrontation between iPhone and Samsung for the last 2 years. But last year, 83,85% of traffic accounted for Samsung sweepstakes. This year the situation mirrored. The most popular products are iPhone 11 Pro, iPhone 11 Pro AMZ (Amazon-style), and Samsung Galaxy S20.
---
Sweepstakes trends from the Adcombo side
Generally speaking, there are no changes in popular tendencies for now: offers with Apple and Samsung products are the most converting as they always have been.
When the pandemic got started, we decided to promote hypermarket certificates for the Tier 1 countries. The performances of those campaigns were quite lower than the one of the classic iPhone/Samsung campaigns.
By the way, I'd like to debunk the myth that iPhone-sweepstakes offers are popular only with the American audience. We usually get the largest traffic volumes from Asia, particularly Indonesia.
Traffic sources for Sweepstakes in 2022: Facebook, Push ads vs. Pops
Right now we receive mostly pop or push traffic. I would say that right now, push traffic is very much more in terms of actual profitability and quality than pops. 
To be honest, a push has been delivering more quality and user engagement because it's a new traffic source type. Most users still don't receive any push notifications (unlike pop ads), and the attraction is much higher. How to run a push ads campaign in sweepstakes? If you make a good landing page for push ads, the user is much more likely to interact with your ads, and in the end, after he answers a couple of questions, he puts his personal details.  
Push ads on mobile have much more potential, especially if you run Mobedia's offers.
The main advantage of pops is that they are super cheap. You can get thousands of clicks for a small amount of money. But the interaction of the users is not so big as in push.
Pro-tip: I would recommend checking if there are any discounts or promo codes for the different traffic sources. Because many networks, such as our academy, have a deposit of information, you can get free promotional codes for deposits in traffic sources or discounts for tools.

What do the other affiliate networks think about the best traffic sources for Sweepstakes?
Best traffic sources for Sweepstakes from the LetsCPA side
FB/email/SMS/pop/push is run everywhere. Now the highest volumes come from FB/email/SMS. That's why these sources are the most suitable ones. But it's quite subjective. Use the one which you've already mastered. 
In April-May, we witnessed a growth in traffic volumes. This is because many "white" advertisers and affiliate marketers from other verticals have paused their campaigns. Competition for the traffic decreased organically, and it became more affordable.
At the end of March and at the beginning of April, Facebook (one of the main sources for sweepstakes) began to ban accounts more aggressively, and many affiliate marketers faced new difficulties. 
Over time the situation has worsened, and by midsummer, the volumes of this source have significantly decreased. Fortunately, affiliate marketers say that the situation is improving, and volumes are returning. But still, they had to change their approaches.
---
Best traffic sources for Sweepstakes from the Adcombo side
In AdCombo, banners have the highest CR. Push traffic is almost always inappropriate for sweepstakes offers since most advertisers collect user data on their pages, and, what's more, there is very little chance to disable this option.
---
Best traffic sources for Sweepstakes from the Natifico side
Well, to be honest, it is not the format but the approach and pre-lander that matter. At the moment push traffic, Google and Facebook are working very well. If there is a friendly design on the "article" or a new "Wheel of Fortune", the output will be enormous, regardless of the format used.
What is RichAds?
🔝 Push and pop ads,
🔼 Domain redirect traffic,
🔝 CPM for domain ads starts from $ 1.5,
⏫ CPC for push ads starts from $ 0.003,
🔼 CPM for pops — from $0.3 in Tier 3, $1 in Tier 1,
⏫ large volumes of available traffic in more than 200 goes.
Best GEOs for running Sweepstakes
The thing is that some countries are easier to get money from users. CC submit offers work really well in Tier 1 countries, especially nice performance show countries with good billing rates such as Nordics, France, and Baltic countries.
Billing rates essentially mean that it's easier to actually charge the credit card of the end-user so the advertiser gets paid. This is crucial because an advertiser without any revenue will eventually block you from the offer or even not pay you.
Lead generation, DOI and SOI does really well in other Tier 1 countries (Latin countries), such as Spain, Italy, Portugal, or English speaking countries like the USA and the UK. Because in these countries the billing rates are not so good. So the advertiser is not paid by credit cards, he is paid per potential client or lead that you send him. And then he will try to make money in some other way. CPLs work better there.
We also see that Tier 3 countries, some African countries have mobile carrier billing.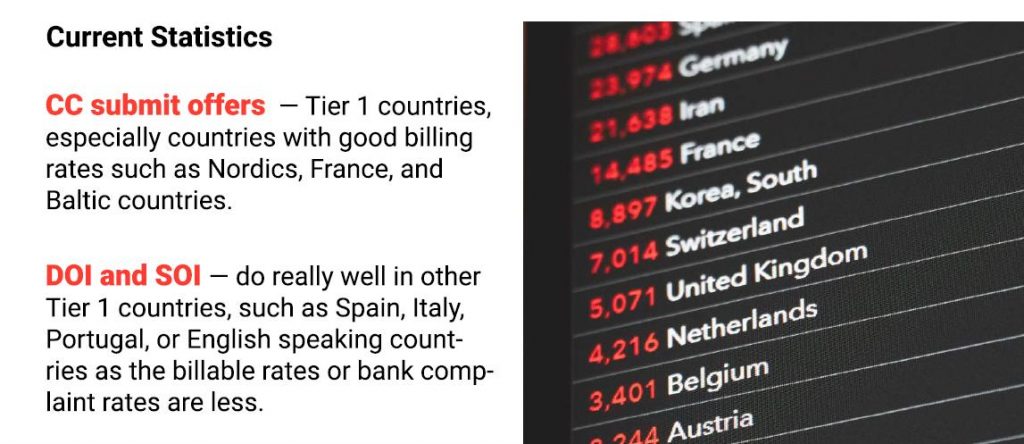 What do the other affiliate networks think about best GEOs for Sweepstakes?
Best GEOs from the LetsCPA side
Our top 10 countries for sweepstakes in the first half of 2021 looked like this:
France
Italy
Canada
Australia
Great Britain
New Zealand
Switzerland
Spain
Malaysia
Belgium
The first two countries (France and Italy) brought a third of all the money earned in the top 10. In 2019, our top looked much the same. It's quite remarkable as CC Submit offers market is considered to be the most stable.
For example, in 2019, Italy brought 45% of the total profit, and a third of the traffic was generated by push notifications. But in 2021 their input to the overall picture decreased.
---
Best GEOs from the Adcombo side
Leadgen offers have definite success in the USA, Thailand, and Indonesia.
Eastern Europe is the best GEO for mobile offers.
I advise newbies to start with subscription sweepstakes offers whose advertisers do not set any limits on mobile operators and pay for all users, even for not wealthy ones. This facilitates testing various tactics to find out the most efficient one to hit the audience and then scale up your campaign. 
---
Best GEOs from the Natifico side
We believe that the US should be the number one geo to start with. Almost all verticals are perfectly suitable for the US. Population, and traffic is huge. And if it doesn't convert, more likely it's something wrong with the formula, and it's better to check everything in it before restarting the campaign.
Also, Europe + some Asian countries are good options to try.
An example of successful Sweepstakes offer from Mobidea in 2020
The first example
South Africa is a big country for Mobidea. Here is the offer for it where the user subscribes to win some cash. You can see that this offer is two clicks. Sometimes, especially in African and Asian countries, offers are not CPL but they are actually quick flow. It means that the user just needs a quick acceptance of the terms and he is already subscribed.
For this offer, you can test direct links but I would suggest a split test: with pre-lander and without and see which one works better.

South Africa, like some other GEOs in Africa, has lots of strict rules concerning banners and landers that are used. Usually, you can't place on the banner that the user won something because there should be a chance to win. Talk to your manager about what kind of banners or creatives can be used there.
The second example
Some Asian countries work especially nice with mobile traffic. These countries have fewer regulations in terms of what you can do on the landing page. In this offer, you can be much more relaxed about what you can place on the creative.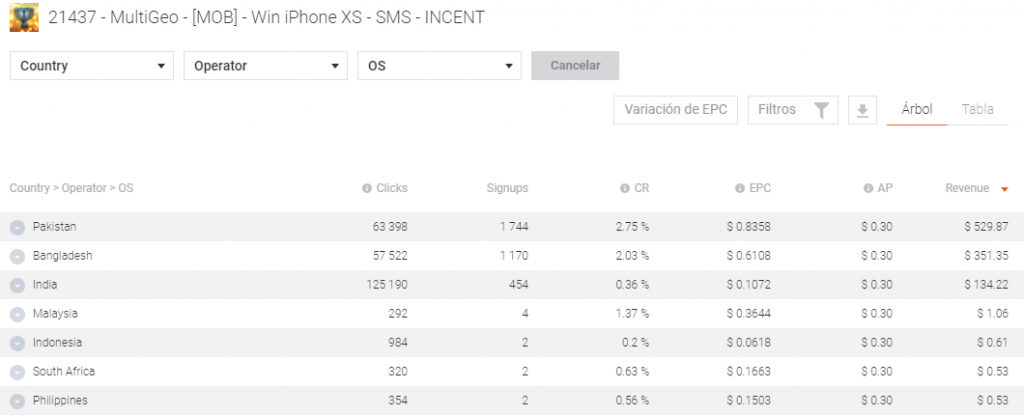 Mobile for us is doing much higher ratios of Sweeps, particularly because mobile focuses on the "short" attention span of users and a professional-looking landing will convert. So, for us, mobile is the majority of the revenue.
This is all for today about traffic sources, best offers, and GEOs for Sweepstakes. But these are not all the points we were talking about with Francisco. In the next part, we'll focus on how to choose the best offer and what mistakes prevent you from getting profit on push ads. Read it here.
What is RichAds?
🔝 Push and pop ads,
🔼 Domain redirect traffic,
🔝 CPM for domain ads starts from $ 1.5,
⏫ CPC for push ads starts from $ 0.003,
🔼 CPM for pops — from $0.3 in Tier 3, $1 in Tier 1,
⏫ large volumes of available traffic in more than 200 goes.
---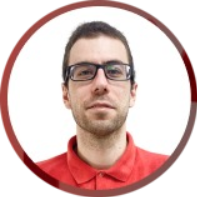 We want to thank Francisco Guerreiro, the affiliate manager from Mobidea for these great tips about how to run a push ads campaign in sweepstakes.
Also, we thank Dennis, Business Developer from LetsCPA,
Helen, Sr. Business Developer from Adcombo,
and guys from Natifico.
Watch the video tutorial about the best prizes and top goes for Sweepstakes in 2022
This video tutorial shows how to set up a push ads campaign for Sweepstakes at RichAds. This is the best option for newbies to start in affiliate marketing.
Bonus: find some tips and tricks for launching sweeps!
Subscribe to our YouTube channel and click the bell icon not to miss new videos. We plan to add at least 8 videos about Sweepstakes in affiliate marketing this month.