What has changed during the pandemic, and how to promote sweepstakes in 2023? Read in the article.
Experts from RichAds and Mobidea discussed how to promote sweepstakes in 2023 in the RichAds webinar. You can watch the webinar or read the main points in this summary post.
The webinar covered the following topics:
sweepstakes advertising trends,
traffic sources,
creatives and landings for sweeps,
top features that will help make launches more efficient.
Who are the experts?
Francisco Guerreiro, an expert from the Mobidea CPA network. For 10 years, this CPA network has been specializing in sweepstakes offers.
Daria Maichuk, RichAds traffic expert. Daria helps RichAds clients to improve campaign results.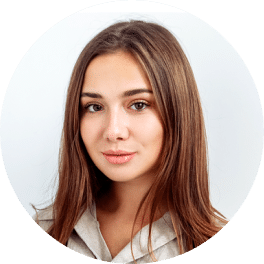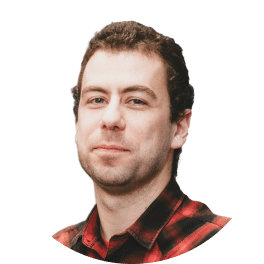 Sweepstakes advertising trends
Affiliate marketers used the "win an iPhone" approach from year to year, but like any good solution, it fizzled out at some point. Lotteries for iPhones have lost their appeal to users. They've seen them millions of times already.
It is not surprising that gift trends have changed in 2023. It's time to switch to other prizes if you stop making money from sweepstakes.
Let's have a look at Sweepstakes advertising trends in 2023:
Money
As a result of the recent crisis, the market is very mediocre, so users are actively participating in cash sweepstakes.
Different fitness programs, games, and gaming tools (game consoles and so on).
People in developed countries have been trying to pick up new hobbies or recover from the stay-at-home "fatness." They work well for Tier 1 countries.
Various prizes, such as sneakers, Dyson hair dryers, game consoles, and wireless headphones, perform very well.
Gift cards
People still react well to sweepstakes with gift cards to well-known stores.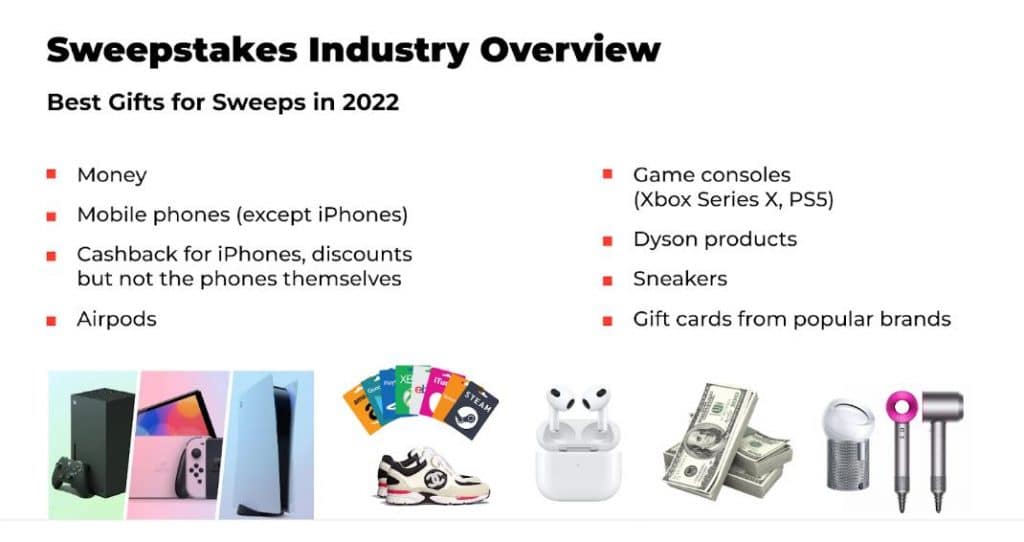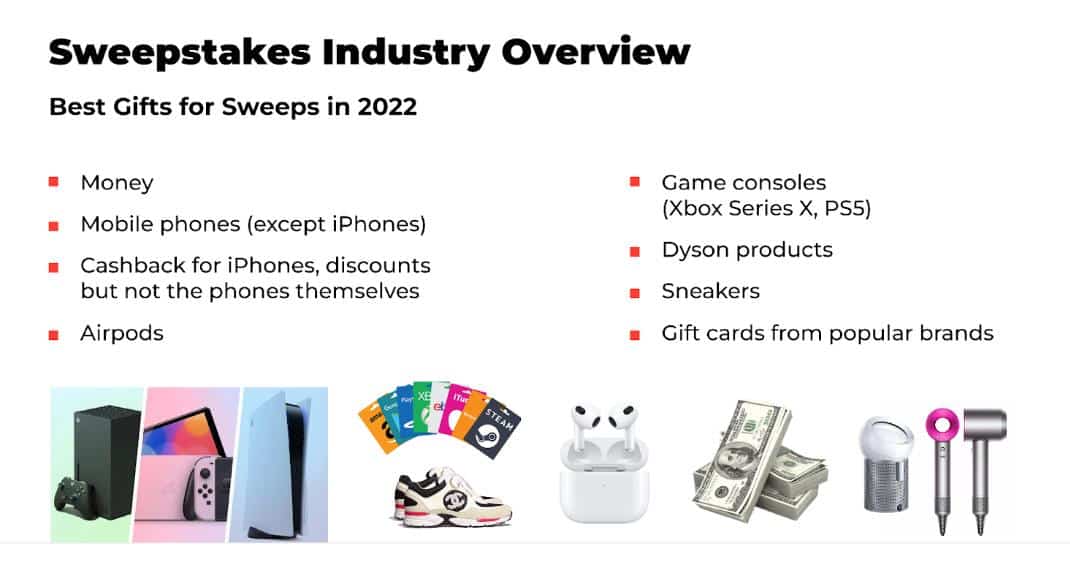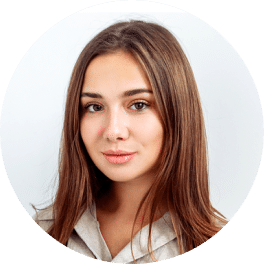 Tips from Daria Maichuk, RichAds traffic expert.
We confirm that offers with iPhones become very saturated. When it comes to iPhones, advertisers  here, at RichAds, offer discounts for the purchase of iPhones or cashback options if they promote sweepstakes with iPhones. They stop running offers with a chance to win the iPhones.
Such offers with discounts and cashback work well for Latin American countries.
Online sweepstakes with gift cards are another popular option at RichAds. Many of our sweeps offers fall into this category.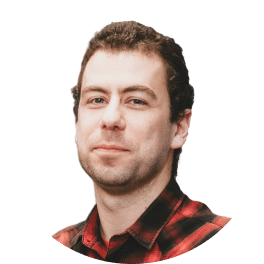 Francisco Guerreiro, an expert from the Mobidea CPA network.
Right now money prizes, due to the recent crisis, are doing much better. While mobile is majority of the market.
Diversification of prizes advertised is key. The same traffic can convert very differently based on the prize. Split test different prizes. And ask advertiser if he has occasion specific prizes (Valentines for example).
Online sweepstakes: what kind of offers are available
The main aim of Sweepstakes offers or giveaways is not to give prizes but to collect the user's personal information. In other words, advertisers are interested in contacts that can be used to promote different products or services.
That is why the users are asked to leave some more details in the questionnaire (age, internet provider, or smth else). All these details are crucial for future promotions or for the resale of the user's base to another company.
Generally, online sweepstake offers fall into three categories: SOIs, DOIs, and CC-Submits:
SOI is the easiest and cheapest way to make money with online sweepstakes.
The user leaves his personal information (email, phone number, or messenger), and the marketer gets a conversion. There is no need to confirm the accuracy of this data, so it is very easy to get such leads.
DOI is a slightly more complicated option.
It requires the users to take a second step. In this case, they must verify the data, for example, by opening the email and clicking on the button in the letter.
CC-Submit is the most challenging option.
Here, the user will have to uncover the wallet and get a credit card to enter its data and pay a small amount for participating in the sweepstake. Payouts, in this case, will be the highest, but converting such sweep offers is not the easiest thing.
At first glance, SOI offers for sweeps appear to be the easiest to work with. However, do not lose vigilance. In this case, always check the size of the questionnaire the user needs to fill out and all the sweepstakes conditions.
For example, Lavazza in Poland recently held a sweepstake with the main prize — a trip to Paris. Participants were asked to leave their contacts. It looks like an SOI offer, but not everything is so simple.
To participate, the user had to buy two products from the brand and attach a check. Can such an offer be converted easily? We are not sure. Take a look at the offer's conditions and go through the user's path yourself to see where they may stumble.
Several sweepstake offers can be found in our article, with the top offers from top CPA networks.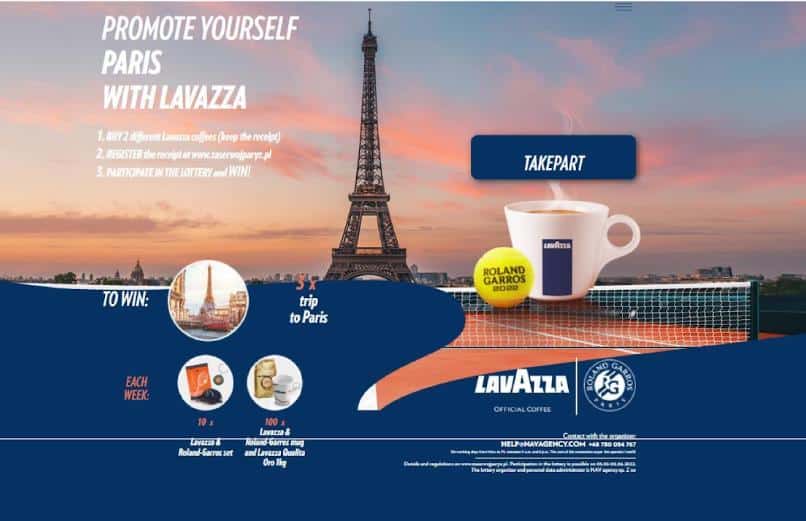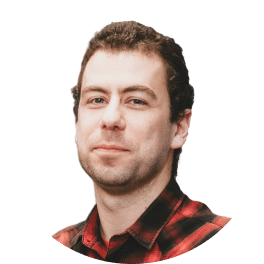 Francisco Guerreiro, an expert from the Mobidea CPA network.
Double-opt ins have been working better. But CC submits have been gaining traction in Tier 1.

Offers and the best geos for promoting sweepstakes
Here are some recommendations from Mobidea experts for promoting in certain geographies.
The situation with sweeps promotion can vary considerably from country to country.
Tier 1 countries
There is a lot of interest right now in gym memberships, game consoles, and money in Tier 1 countries.
Tier 2 countries
Travel prizes, especially trip to Europe, are good for Tier 2.
Tier 3 countries
Consider offers with mobile billing (automatic payment from your mobile account after clicking "agree to participate") when launching in Tier 3 countries. For Tier 3, such offers work better than the regular sweeps described above.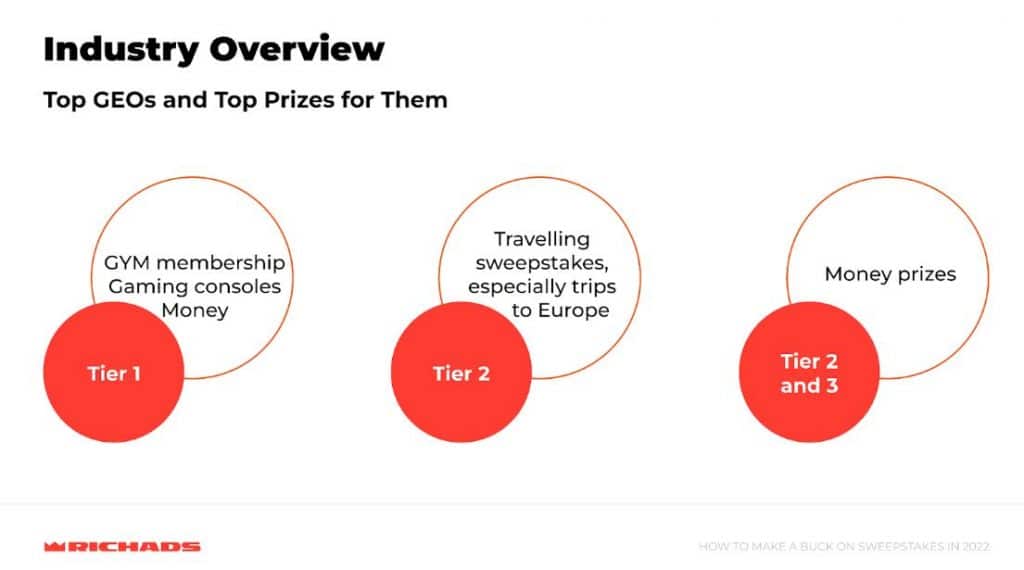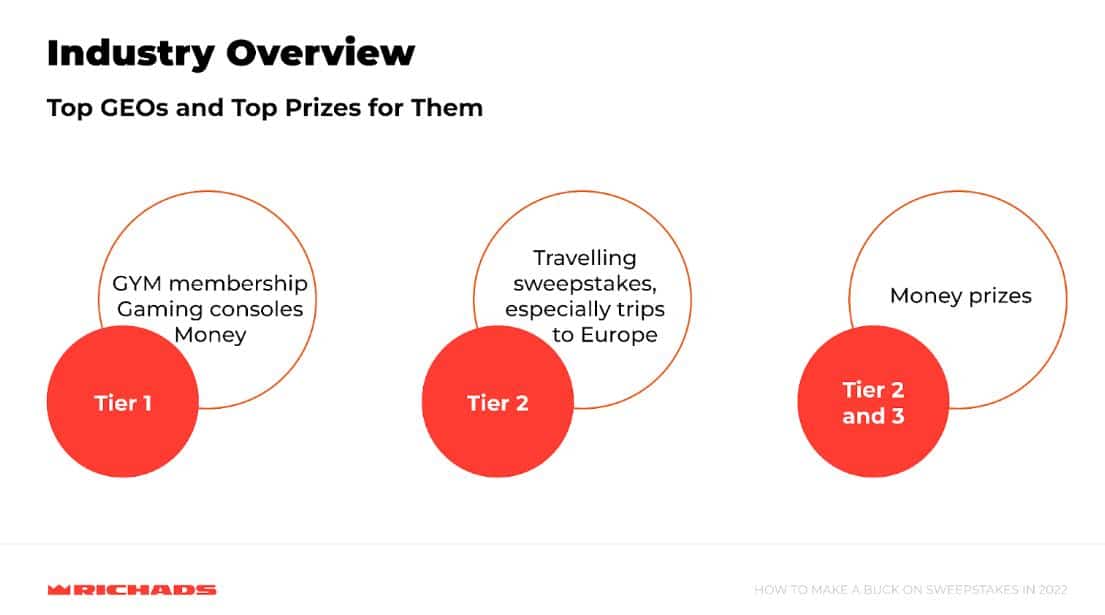 In 2023, money is a major trend in the sweepstakes. What are the best countries to launch such offers?
It is better to choose Indonesia, Sri Lanka, and Malaysia in Asia.
Take a closer look at the countries of the Middle East and other Arabic-speaking countries.
Western Europe, the UK, and the US also performed well.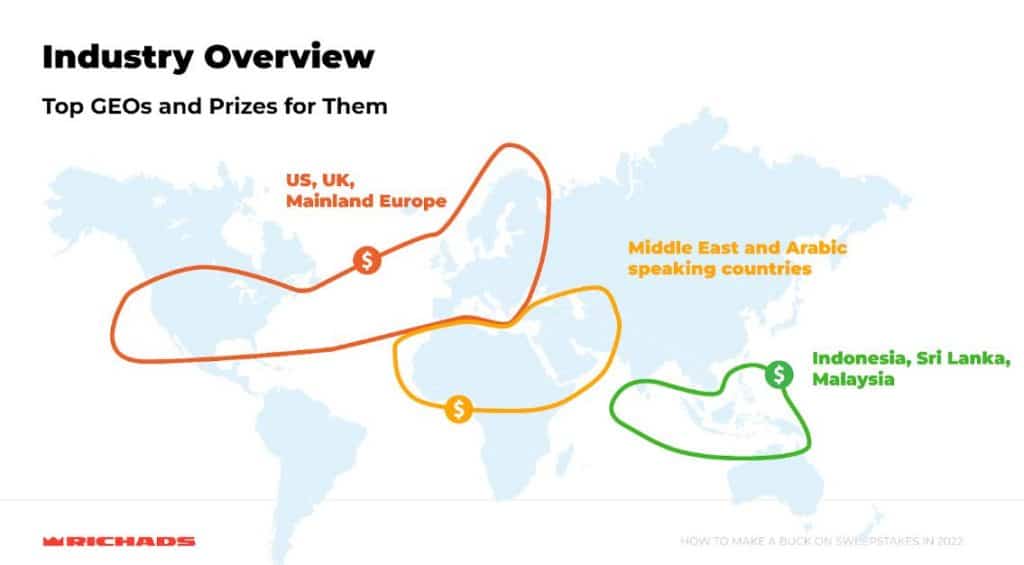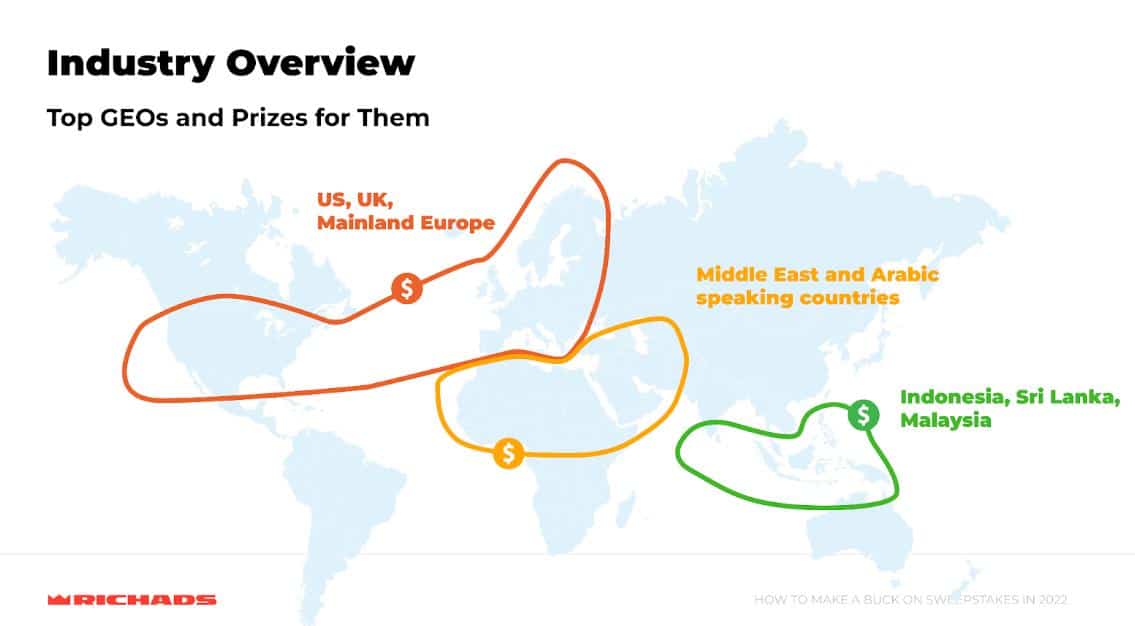 What is RichAds?
🔝 Push and pop ads,
🔼 Domain redirect traffic,
🔝 CPM for domain ads starts from $ 1.5,
⏫ CPC for push ads starts from $ 0.003,
🔼 CPM for pops — from $0.3 in Tier 3, $1 in Tier 1,
⏫ large volumes of available traffic in more than 200 goes.
The best traffic sources for sweeps promotion
Sweepstakes promotion is a delicate matter. There's no secret that sweepstakes payouts aren't huge, so don't even consider Facebook or Google, especially if you have no experience with sweepstakes traffic there.
There is no doubt that traffic from social networks is of higher quality, but here it is important to compromise between what you want and what is achievable. The more popular a traffic channel is, the more competition you'll face.
What kind of traffic is better to choose for sweeps promotion? Choose cheaper traffic, such as push ads, popups, or in-page and calendar push ads. Lastly, calendar push ads are the most expensive, but since they are so rare and delivered so exotically (inside iOS users' calendars), users tend to pay attention to them when appropriately packaged.
Francisco explains that from more democratic traffic, it is best to choose push notifications. According to Mobidea, push ads work better for sweeps than pop ads.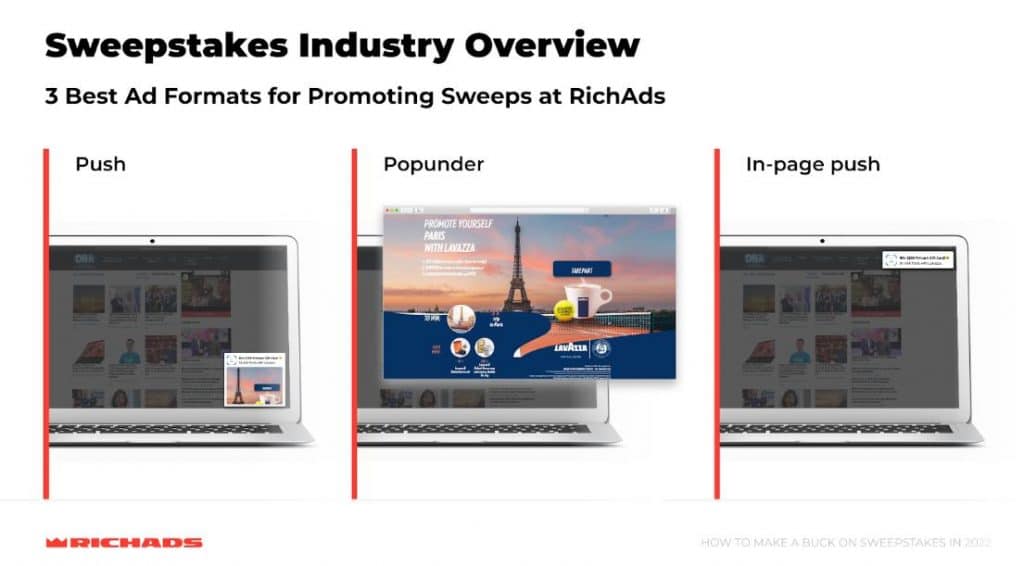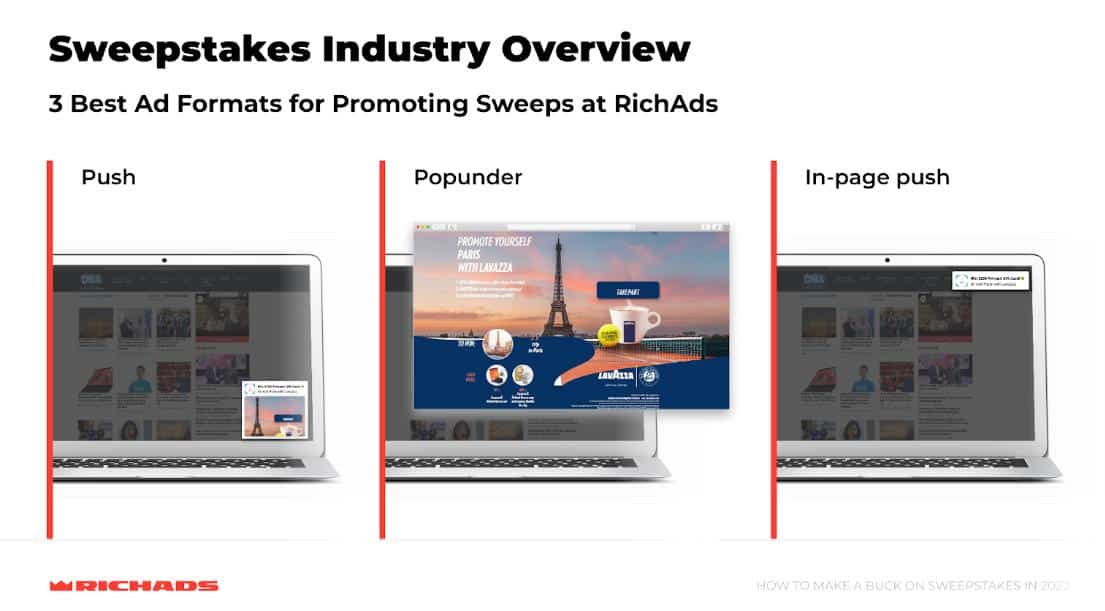 The best geos and ad formats bundles at RichAds
The following four advertising formats are suitable for promoting sweepstakes using RichAds traffic:
Push ads,
in-page push,
calendar push and
pops.
And here is the best ad format-geo bundles for sweepstakes:
The best geos to launch on push ads:
USA
UAE
Saudi Arabia
Philippines
Germany
The best geos to launch on in-page push ads:
Philippines
Senegal
Indonesia
Brazil
Libya
Algeria
Mexico
Egypt
South Africa
Nigeria
The best geos to launch on pops:
Brazil
Thailand
Indonesia
Nigeria
Philippines
In affiliate marketing, and even more so, nothing lasts forever, so consult RichAds managers on the best geos and follow the latest updates across the entire advertising network in monthly traffic reports.
What is RichAds?
🔝 Push and pop ads,
🔼 Domain redirect traffic,
🔝 CPM for domain ads starts from $ 1.5,
⏫ CPC for push ads starts from $ 0.003,
🔼 CPM for pops — from $0.3 in Tier 3, $1 in Tier 1,
⏫ large volumes of available traffic in more than 200 goes.
Creatives for sweepstakes
What can be shown on sweepstakes creatives to attract users? Here are some ideas for push notifications that work well.
The message can say:
About the sweepstake in general,
about the possibility of winning,
show the winner and say that the user may be next,
Indicate that the sweepstake will end soon, and the user needs to hurry up with participation,
It can be reported that there are a limited number of prizes left.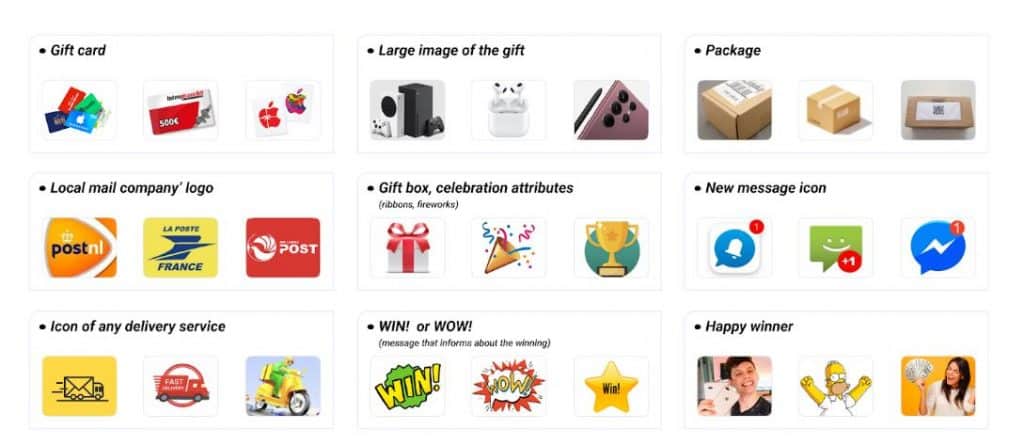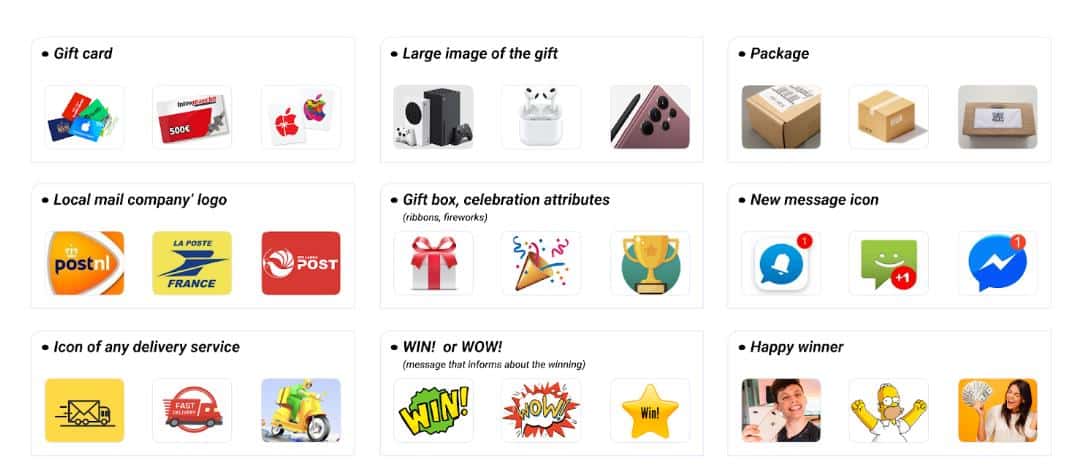 What kind of image can be used as a creative for sweepstakes:
Show the prize or several prizes at the same time.
Post a picture of the lucky winners with their winnings.
Show a gift card and a photo of the store for brand recognition.
There is an old but still effective technique of showing the parcel. Now it is better to use it for countries from Tier 3.
Tell the user what to do on the creative. On the main image, write: erase and win — and users will understand. This method can say more without using the already short title text. You can also add information about discounts or gifts they can win to the pictures.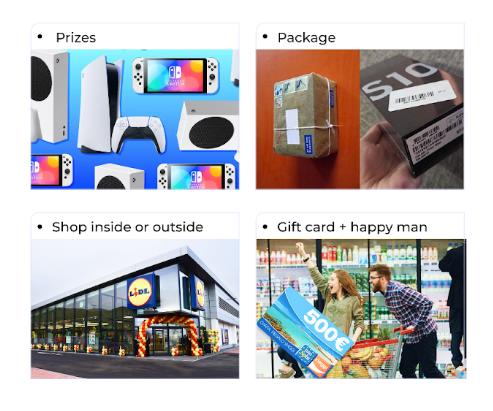 Landing pages for sweepstakes
One of the biggest mistakes, when launching sweepstake offers, is using direct links. This is a road to nowhere in this vertical.
Here we need pre-landing pages with various elements of gamification. They help the user join the game and feel the excitement — it will be much more difficult to close the page. So you increase the chances of the user to reach the moment of filling out the form with personal data in the right mood to act.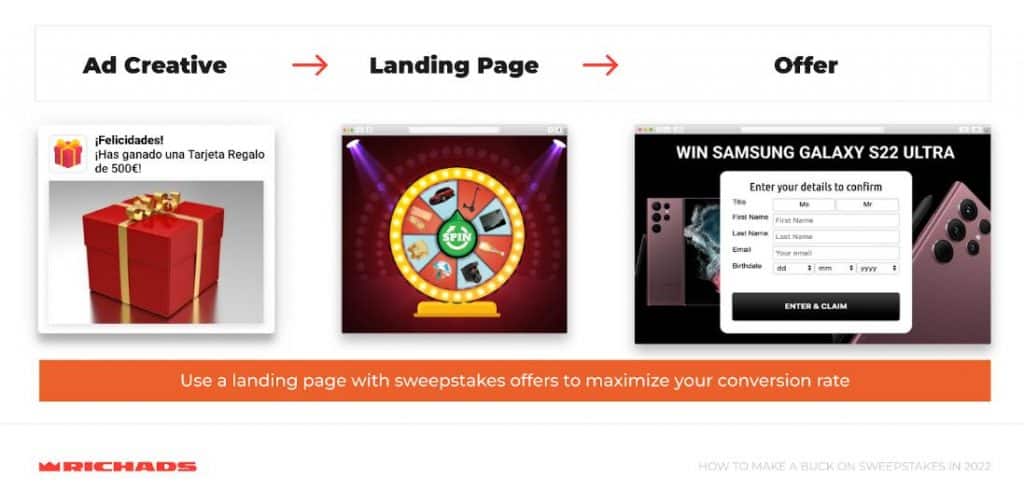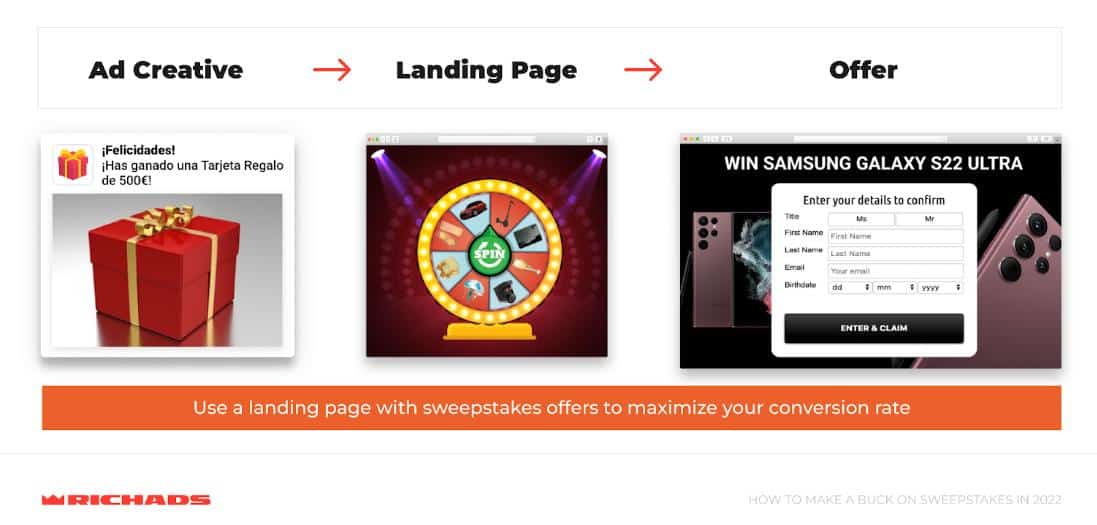 What elements of gamification can be used?
Spin win or wheel of fortune. This is a proven method that inspires the desire to win in most users.
Display different prizes. 
Indicate that some prizes have already ended with stirring up interest and show the popularity of the sweepstake.
A questionnaire with simple questions.
Asking about what is popular in the country is ideal. For India, a questionnaire about cricket and its best players works well.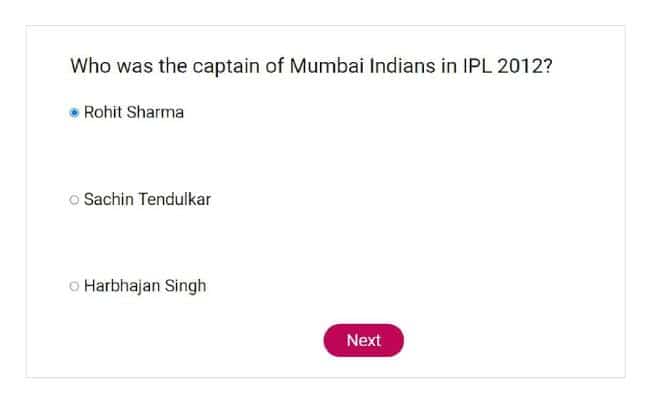 Lootboxes (envelopes or gift boxes, one of which contains a prize).


Scratch and win is a new way of gamification, where the user swipes the cursor over the filled picture and finds a prize under the paint 2 or 3 times.

How to advertise sweepstakes: practical tips
Tips from the CPA network
Pareto principle: 80% of the results will come from 20% of the campaigns. But you will still need to check 100%.
---
Always use pre-landings which will engage the user and make him susceptible to writing in his personal data.


---
Usually, you can save around 10% of ad spend right away, just with the proper initial setup. Cut small languages, small browsers, desktops, and devices. Double-check useless parameters. Think of it like this: The savings isn't much, but it allows you to test an extra offer every 10 tests.
RichAds: On our platform, you can see the popularity of browsers, devices, and browser languages after you select a country to launch.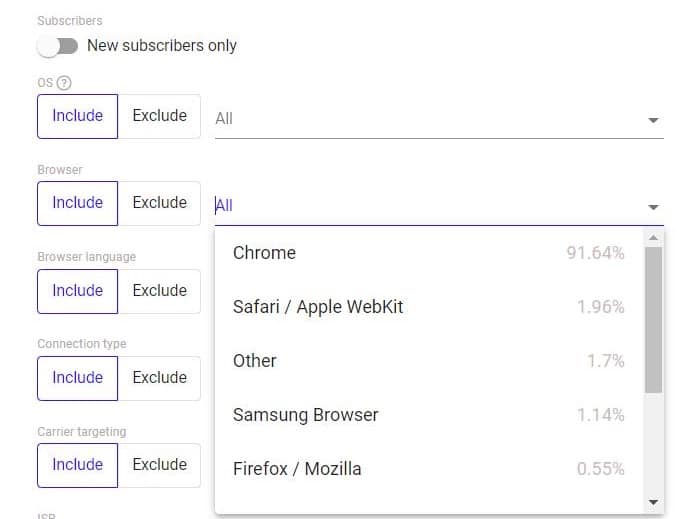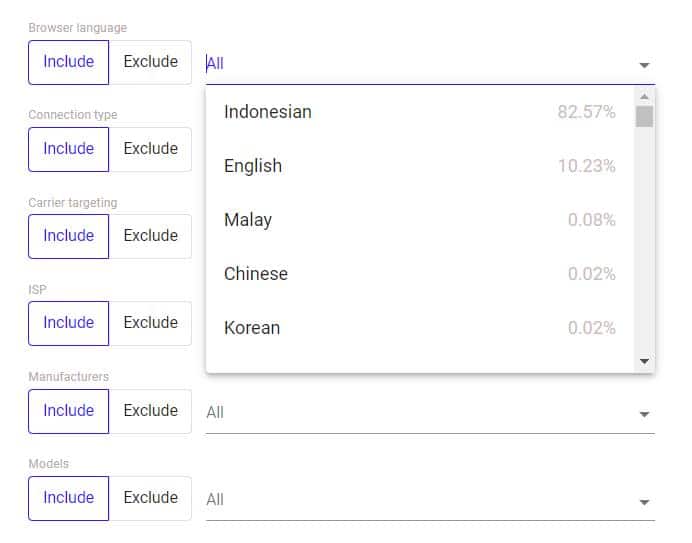 ---
Test the same offer across different networks. Yes, even if the payout is less, do a split test.
It seems networks have been shaving leads so that they can present a better payout. Split testing a campaign will give you the real deal. eCPM is king! What delivers more revenue per click on average is better. 10 sales of 20 cents is better than 5 sales of 30 cents.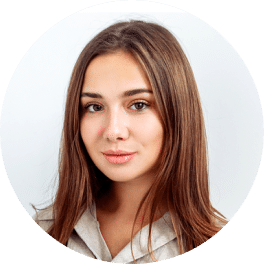 Tips from Daria Maichuk, RichAds traffic expert.
Ask our managers to prepare a pack of creatives for your sweeps offers. They will do it for free. Any marketer also can ask for a free whitelist to start immediately from proven sources and save money on tests.
---
You can start without whitelists. The RichAds team has already selected traffic sources that show high CR. We mean sources from the Premium group. It is best to start from them and use other groups of sources for scaling.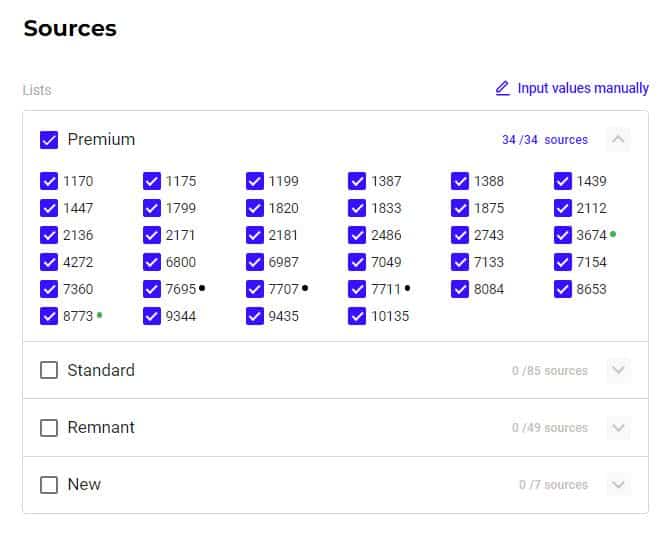 ---
Do you want to increase your chances of making a profit on push notifications? Make a separate campaign for new users. This option is called "New subscribers only" and shows ads to those who subscribed to push notifications for up to 7 days and most likely have not yet seen sweepstake offers on push notifications. Novelty can work to your advantage.

---
For sweep offers, mobile traffic works better than desktop traffic, but this does not mean you should abandon desktop traffic altogether. Try both options and see which works best for you. Create two identical campaigns and check the bid price with the manager. For desktops and mobile devices, it will be different. Here's another way to save some money.
Accurate, to get a personal manager, you need to deposit $500 at RichAds. The manager will be useful for more than just getting bids or whitelists. He can also prepare free creatives, set up a campaign for you, and help with optimization.
---
Choose Android versions from 7 to 11 and Chrome browser for a start.
What is RichAds?
🔝 Push and pop ads,
🔼 Domain redirect traffic,
🔝 CPM for domain ads starts from $ 1.5,
⏫ CPC for push ads starts from $ 0.003,
🔼 CPM for pops — from $0.3 in Tier 3, $1 in Tier 1,
⏫ large volumes of available traffic in more than 200 goes.
Watch the video tutorial about How to make money with Sweepstakes
Sweepstakes CPA offers are one of the best options to start in affiliate marketing. In this video, you will learn what sweepstakes offers are, what kind of traffic is best to promote them with and how to make money with them.
Subscribe to our YouTube channel and click the bell icon not to miss new videos. We plan to add at least 8 videos about Sweepstakes in affiliate marketing this month.