« Back to Glossary Index
CC-submit meaning
CC-submit (Credit card submit) – the type of offers where conversion is counted when the user types his credit card information in the form on the landing page and a small sum of money is written off from the card.
CC-submit user flow is used in different kinds of Sweepstakes offers.
Sweepstakes are lotteries and raffles where users may win the prize by chance. The user should make a certain action: leave left the contacts, pay a small sum of money, etc. As a result, they get the possibility to win the desirable prize, and an advertiser gets the user base to work with.
Credit Card Submit Offers (СС Submit offers) provide a lottery of mobile phones for $1 or subscriptions to the services for films watching with a small price for the trial period.
The conversion is considered to be completed when a small sum of money is written off from the user's card. As a rule, the user agrees to pay a few dollars to take part in the lottery or subscribe to the service.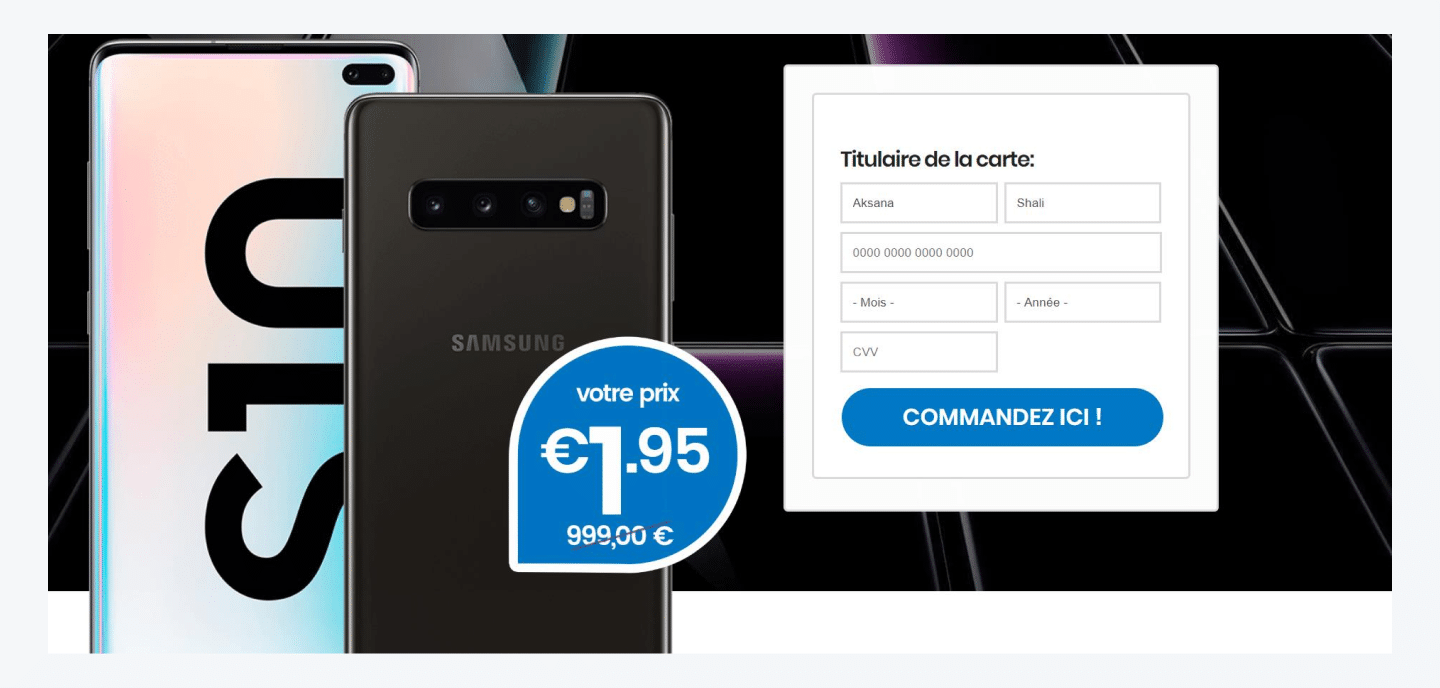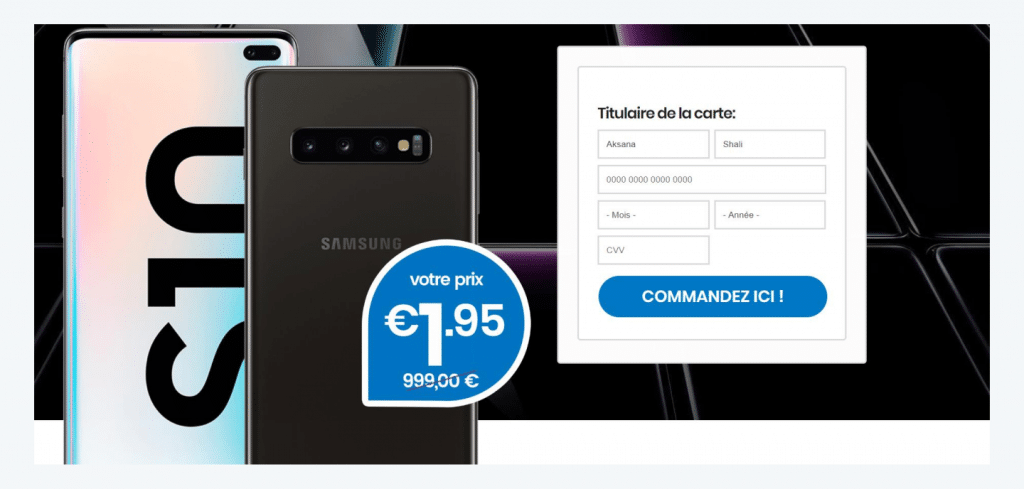 How to run CC-submit offers properly?
The main thing for this user flow: the user should be prepared to share their credit card information. We recommend not to offer it on the first page and lead to it gradually.
Use pre-landing pages to explain why it is profitable to pay a small amount compared to the cost of the phone itself, for example. One of the most widely used pre-landing pages for CC-submit offers is a questionnaire or fortune wheel or even both of them.
Explain what the person has to do on the landing page, so they convert. Try different angles that relate to the offer; and try different images that relate to different types of customers: male/female, older/younger demographic. Weird angles of the products always help,and bizarre/strange-looking things (like a room full of iPhone boxes).

RichAds advertiser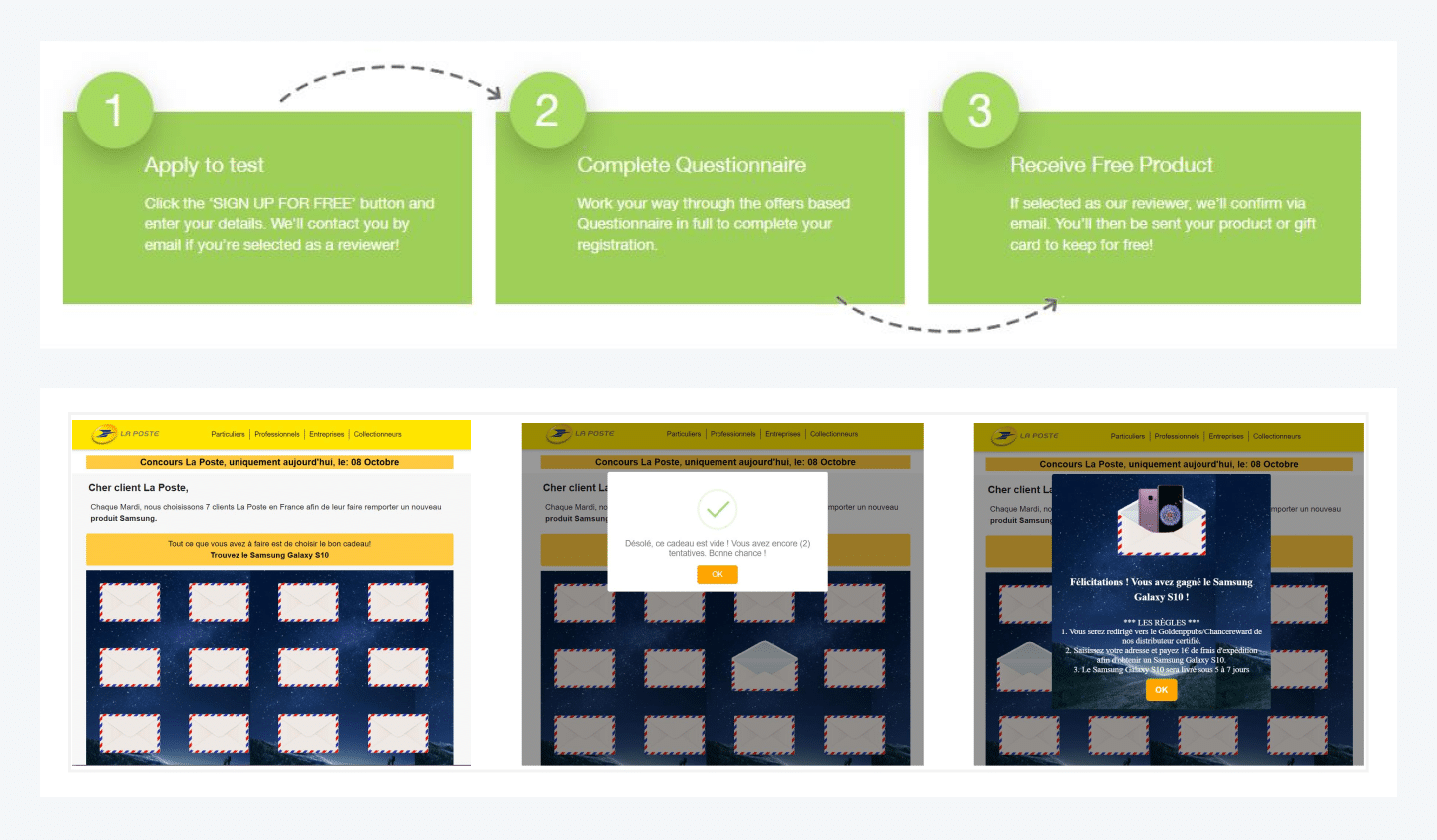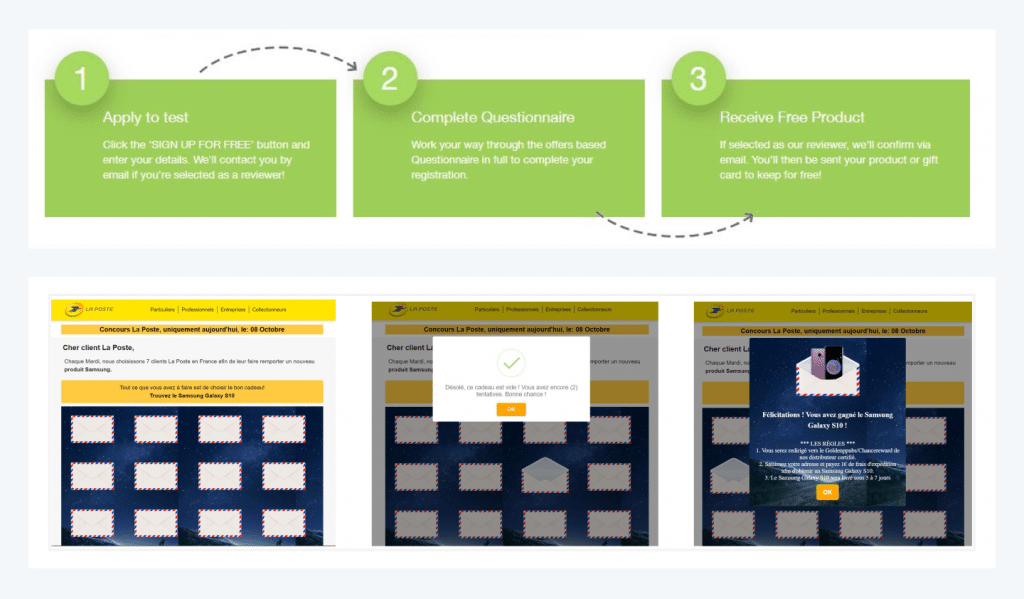 The best Geos for CC-submit offers
CC Submit offers are quite difficult to get conversions. Your main task is to build the perfect funnel at the time of card details entry. No wonder the payout for such offers may be up to $40, especially in Tier 1.
On the one hand, Tier 1 countries are the best place for CC Submit offers, because of the huge variety of online payment methods. On the other hand, the population of these countries is difficult to attract with advertising.
In Tier 2 and 3 countries, CC Submit has appeared not so long ago. The audience from these countries is glad to be involved in some sweepstakes. The main difficulty in these countries is that it's necessary to check the possibility of paying by card.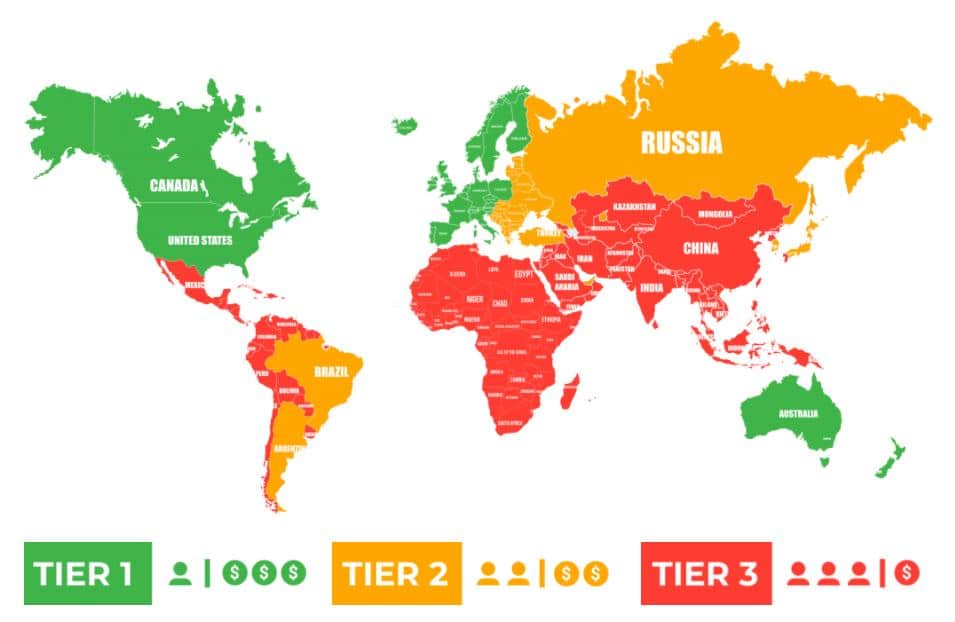 How to Choose a CC-Submit Offer
Affiliates should be careful when promoting a Sweepstakes offer because not all of them are created equally. Here are some tips to choosing a cc-submit offer:
1. Check the landing page
Does it go straight to the page that requires the credit card submission, or does it show a bridge page or pre-lander that helps warm the customers up to the offer?
If it's the former, then the offer is flexible, and you can create your own bridge page that you believe will work best for your audience.
If it's the latter, then you won't need to go the extra mile and prepare a pre-lander yourself, allowing you to focus on creating the ad campaigns immediately.
For beginners, we recommend choosing an offer that has a pre-lander, allowing you to focus on optimizing the traffic.
2. Prioritize past performance over payout amount
While many would choose to promote offers with bigger payouts, selecting one with a history of performing well is more important.
You can always negotiate with your affiliate manager for a higher payout if the offer is converting well for you.
On the other hand, if you choose an offer with a high payout but little to no conversion history, it would be more challenging to get that increased payout.
3. Choose an offer that is optimized for mobile
It has been proven time and again that Sweepstakes convert best on mobile, so it would be beneficial to choose an offer that is optimized for these devices.
This way, you are already giving your ad campaign an edge, and you can ensure that it is reaching its full potential.
4. Choose In-House CC-submit offers
Working with an in-house offer means you have lesser competition over the same offer. This also means fewer marketers will promote the same offer, so the promotion will not be overused too quickly.
Exclusive by Mobidea has in-house cc submit offers that pass all the requirements mentioned above when choosing cc-submit offers. It has a list of in-house and exclusive sweepstakes, VOD, and free trial offers, all with a credit card submit conversion flow and optimized for mobile.
Some examples of in-house Sweepstakes offers in Mobidea Exclusive are as follows:
Win an iPhone 13
Win a Samsung Galaxy S22
Win an iPad Pro
Dyson Vacuum Cleaners
Smeg Kettles
The network also has cc-submit conversion flow for eCommerce offers, such as:
Another popular cc-submit offer niche is VOD (video on demand), and some of the best ones under Exclusive by Mobidea are:
Keep in mind that these offers are subject to change. New versions are released regularly to ensure that all offers within the platform are of the best quality and performance. The conversion flow and the product versions can update based on the advertiser's needs.
How to choose the traffic source for Sweepstakes offers
Sweepstakes are successfully run on different traffic sources. Some sources are becoming less popular over time, new sources and possibilities are appearing. Let's dwell on the peculiarities of working with different traffic sources for Sweepstakes.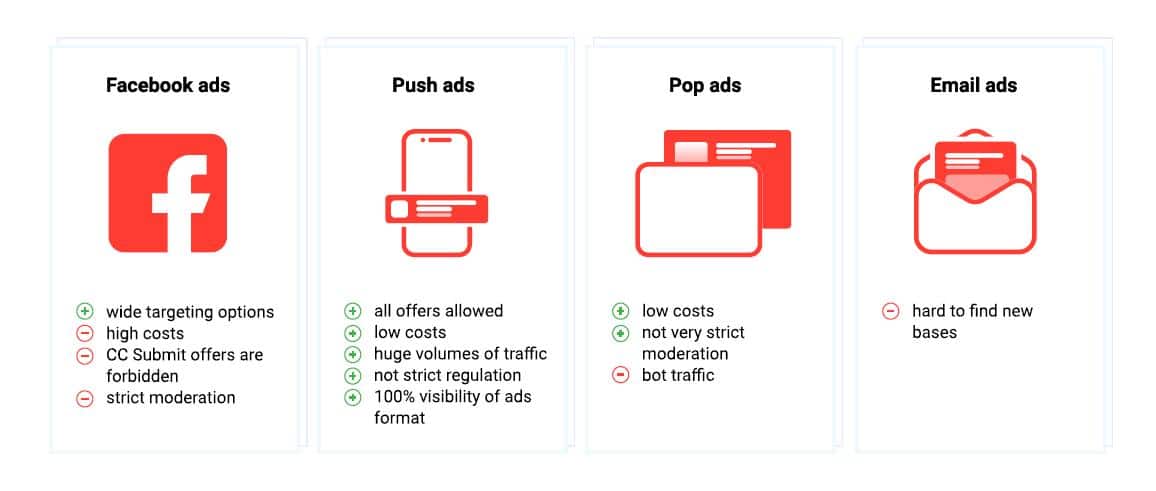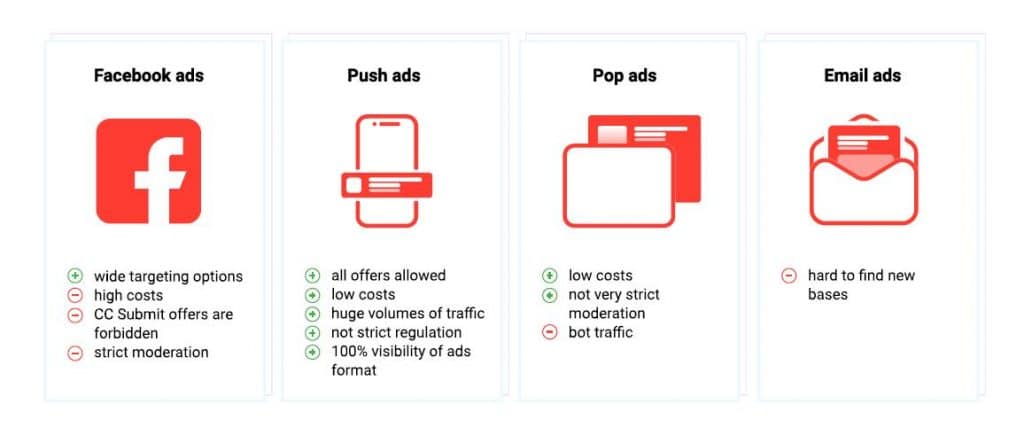 Let's have a closer look at the push ads. Push traffic has appeared very recently but it is one of the most popular traffic sources for Sweepstakes now.
What is the reason for it? All types of offers are available on push ads, the main thing is to pass the network's moderation. As a rule, ad networks prohibit well-established approaches to conversion: using celebrities, brands' logos, or misleading. But affiliate marketers manage to overcome even these obstacles. Sometimes saying "You can win an iPhone" instead of "You won an iPhone" is enough to pass moderation.
Both standard Samsung/iPhone offers and shopping vouchers will be appropriate for working with push notifications. But little-known shops' gift cards work badly as targeting options in push notifications are severely limited and people have to work with a wider audience.
One of the main advantages of push notifications is the cost of the ads. CPC starts from $0.03 at RichAds.
What is RichAds?
🔝 Push and pop ads,
🔼 Domain redirect traffic,
🔝 CPM for domain ads starts from $ 1.5,
⏫ CPC for push ads starts from $ 0.003,
🔼 CPM for pops — from $0.3 in Tier 3, $1 in Tier 1,
⏫ large volumes of available traffic in more than 200 goes.
---
Do you want to know more about Sweepstakes?
You can learn more about how to succeed from Sweepstakes in our ebook. 4 main types of Sweepstakes offers are covered there in all details (and CC-Submit too). In the ebook, you'll find insights from 5 top affiliate marketing experts.

---
Related articles: