« Back to Glossary Index
What is Tiers in affiliate marketing
All countries in the world are conventionally divided into 3 groups (Tiers). Tier 1 includes the most attractive countries for an advertiser. Tier 3 combines developing countries.
Tier 2 countries traffic meaning
Tier 2 countries are still one of the most desired GEOs for advertising. Tier 2 includes countries where there is less competition and the cost of customers is lower. At the same time, not the poorest people live here. It helps to make much profit.
By the way, there is no single approved list of countries that are included in Tier 1, 2, or 3. Everyone decides this issue in his way. Levels are often based on the affiliate marketer's experience. Moreover, countries can migrate from one group to another.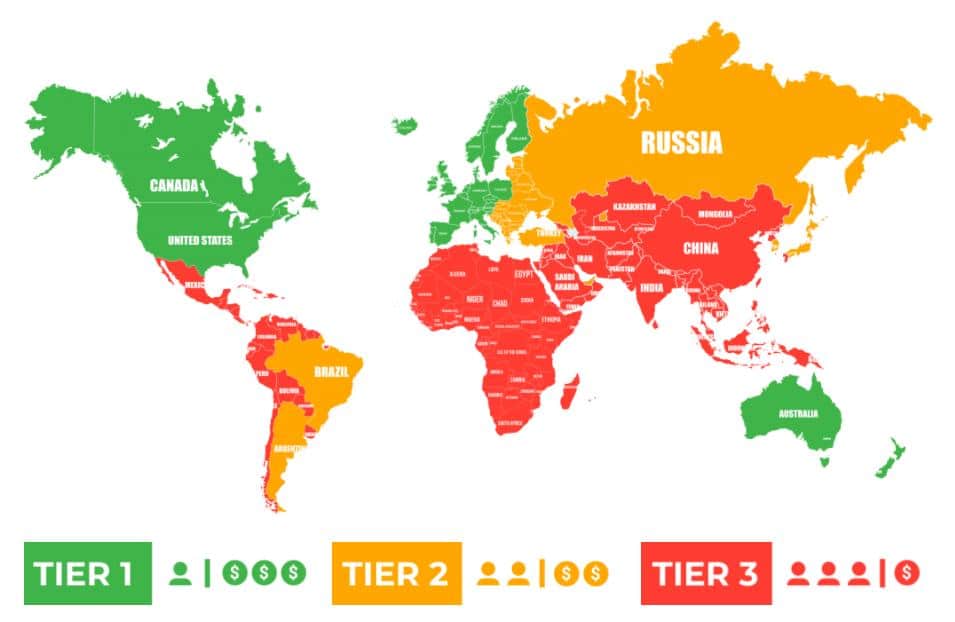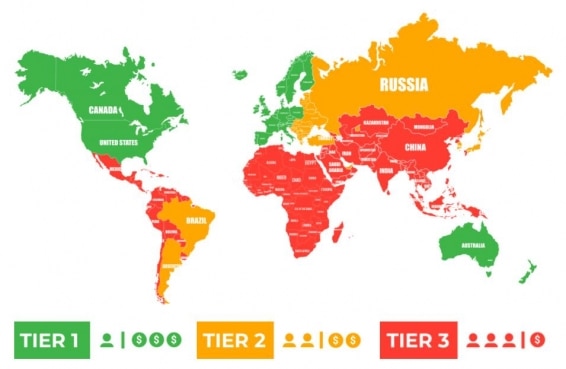 Tier 2 traffic: How to work with it?
Tier 2 traffic consists of a wide variety of countries on different continents. They are already quite developed. And you most often will not face problems with online payments.
The main feature of such regions is that the audience here is quite rich. But not yet so overwhelmed with advertising as people from more developed regions. This is where you can find the ideal user who can pay and at the same time be interested in a simple offer.
Advertising prices here are much lower than in Tier 1. To launch on these geos, you need a medium budget. Of course, if we are not talking about super-competitive gambling or betting.
In these GEOs, both subscription information products and dating work well (it's important to localize the funnel wisely!). Sweepstake payouts here will be average, but there will be more people who want to get the latest сell phone model. Antiviruses, dating, well-chosen Nutra products will work in this market.
Key Tier 2 traffic characteristics
Advantages
Difficulties
The audience can pay if interested;
Average payouts;
Average CPC or CPM;
Almost no restrictions on ads launch (it depends on GEO);
Moderate competition;
Great traffic volumes.
Localization of creatives and landing pages are required;
Less popular products and brands may convert worse;
Market research is required;
It's necessary to check payment methods.
Use RichAds traffic from Tier 2 to make a profit in 2021
What is RichAds?
✅  Push and pop ads,
✅ Auto CPA optimization,
✅ loyal and fast moderation,
✅ help of a personal manager,
✅ CPC from $ 0.003, CPM from $ 0.3
✅ large volumes of available traffic in more than 200 goes.
---
Related articles: