The first and most important tool an affiliate marketer needs is a tracker. Without it, running any advertising campaign will be like stumbling around in the dark, looking for a treasure.
Of course, you can calculate your profit in Excel. But why waste time on this if the tracker can do all the work for you? Keeping everything under control and managing campaigns effectively can be done for little or no cost.
Inside is an overview of 14 trackers, a table with prices and trials, and a list of trackers integrated with RichAds. Currently, 16 trackers are integrated with RichAds advertising network.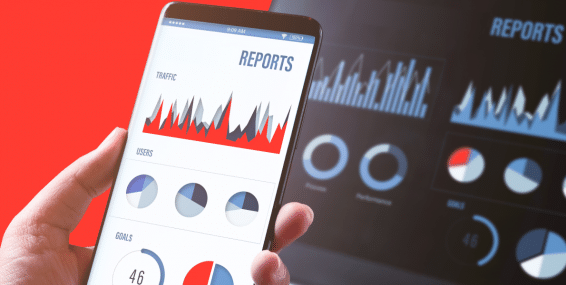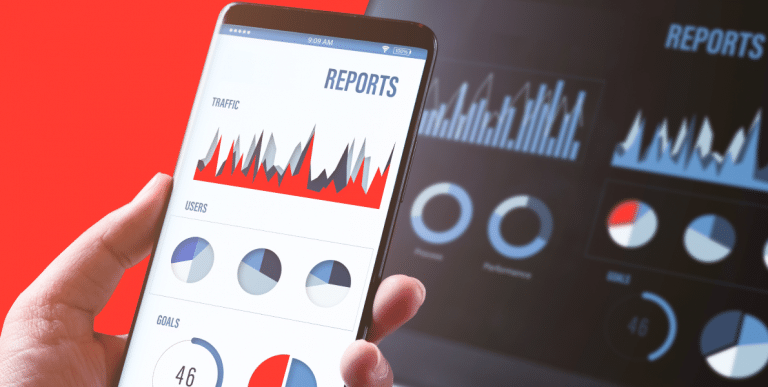 What is RichAds?
🔝 Push and pop ads,
🔼 Domain redirect traffic,
🔝 CPM for domain ads starts from $ 1.5,
⏫ CPC for push ads starts from $ 0.003,
🔼 CPM for pops — from $0.3 in Tier 3, $1 in Tier 1,
⏫ large volumes of available traffic in more than 200 goes.
What is a tracker, and whether an affiliate marketer needs it?
A tracker is a tool that captures information from the advertising network and information about approved conversions from the affiliate network in one place. The tracker can monitor many advertising campaigns at once, and you get a tool that contains all the statistics necessary for testing and optimization.
The first thing you need a tracker for is to control all advertising campaigns' parameters and analyze traffic: what device and source the user came from, what browser and OS they use, what kind of creative people like more. In the tracker, you can see all the data on how users react to your ads.
The tracker's second function is to combine all media buying processes in one place. So you won't have to switch between different sources. It allows you not to miss anything during the analysis.
Of course, you can find anti-fraud tools and other useful features in trackers, but this is more of a perk. The main thing is data.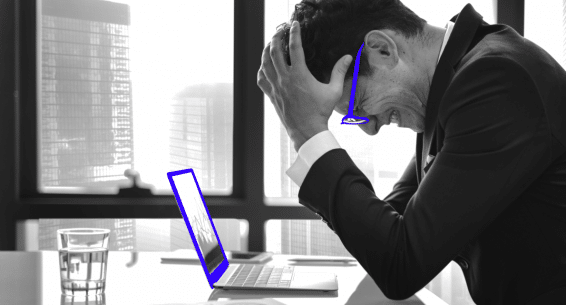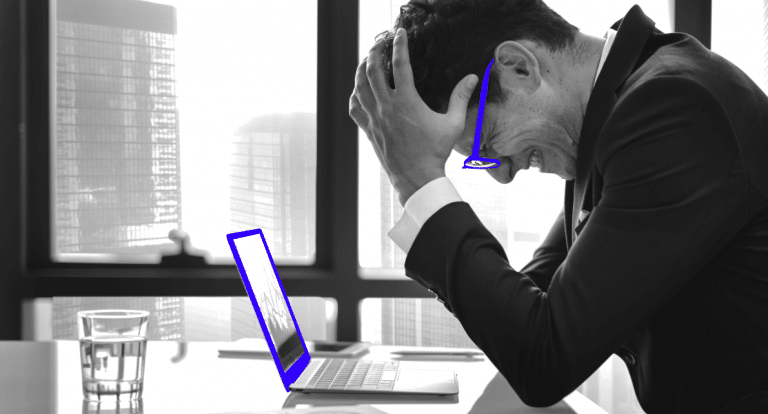 How to choose a tracker?
Choosing a tracker, you need to understand your needs. First, with which countries you will work: nearby or around the world. What kind of workload will your tracker have: how many events do you plan to process per month? This information will help you choose the right option among trackers and their various pricing plans.
The most important thing at the start is to decide which tracker (self-hosted or cloud-based solutions) you need. There is no definite answer to which one is better. Let's find out what these affiliate tracking software terms mean.


What is a cloud-based tracker?
Cloud-based trackers are faster than self-hosted ones. You can work with all parts of the world at once and get information as quickly as possible. It's an excellent choice for campaigns in different GEOs, especially long-range ones. The speed of processing and data transfer will be as fast as for neighboring countries.
But there is one thing: you will have to immediately calculate how many events you need to process with the tracker and select the appropriate plan. You will have to pay extra for additional events if you exceed the limit. As a rule, this limit is up to 100.000 events in free versions and up to 1.000.000 events per month in the cheapest plan.
What is a self-hosted tracker?
If you choose a self-hosted tracker, you will have to spend money initially. You will need the budget for the purchase and installation of the server, but then you won't have to pay more.
But in this case, there are some nuances you should keep in mind: the server tracker is an excellent choice for advertising campaigns in neighboring countries with the country where the server is installed. The further the server is from the country, the more traffic you will lose. Therefore, you will have to install additional servers to work with remote countries. In fact, you do not need to pay for events or the volume of traffic that will go through the tracker.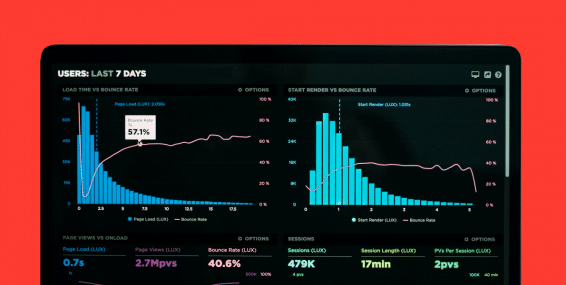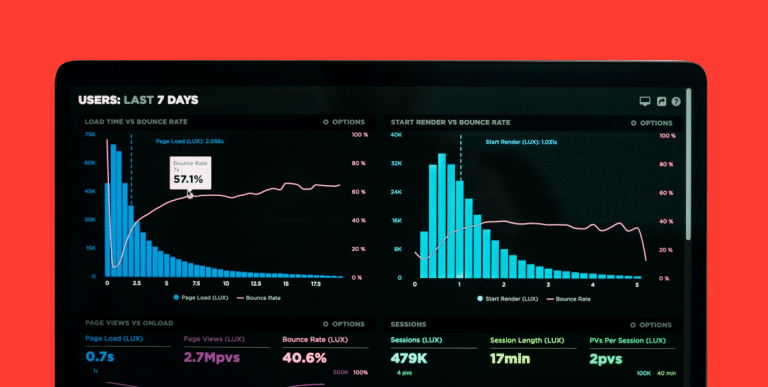 What is RichAds?
🔝 Push and pop ads,
🔼 Domain redirect traffic,
🔝 CPM for domain ads starts from $ 1.5,
⏫ CPC for push ads starts from $ 0.003,
🔼 CPM for pops — from $0.3 in Tier 3, $1 in Tier 1,
⏫ large volumes of available traffic in more than 200 goes.
An overview of the best affiliate tracking software solutions
1. BeMob (recommended)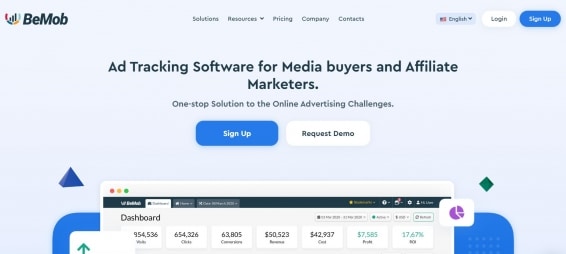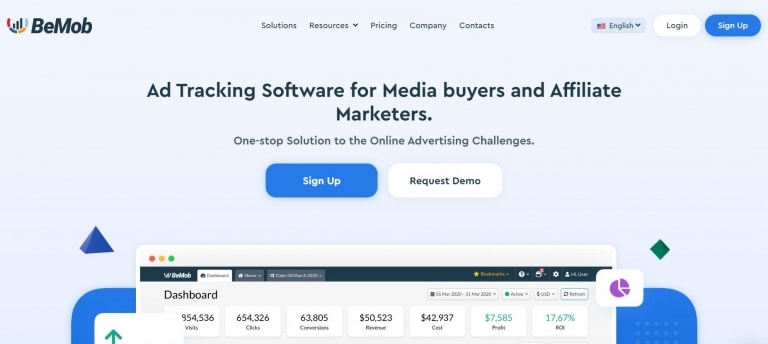 BeMob can quickly test landing pages, track and distribute traffic flows with maximum ROI. You can create your own presets for campaigns and tracking. All campaign data is stored in the cloud.
The tracker has several features:
BeMob tracks conversion statuses;
takes into account the percentage of traffic loss from each source;
redirects traffic when limiting conversions for an offer.
This tracker provides a free trial that ends when you exceed 100.000 events per month. Then you have to pay $ 0.06 for every 1000 events.
The plan's number of events is the following: up to 1.000.000, up to 10.000.000, up to 30.000.000. Overspends on the basic plan will cost you $0.06 per 1000 events.
Bemob offers BONUSES for RichAds clients
Free plan:
100k free events monthly after registration
1M bonus events on top
one onboarding session
Paid plans:
25% discount for 3 months
one onboarding session
one campaign setup
lifetime premium support
access to private training materials


This is not just an affiliate tracking software, but two in one. Developers added to this tracker a mobile analytics system.
Kochava helps you segment your users as well as optimize your campaigns across all connected devices. You can find standard reports on gender, age, devices, events, DAU / MAU / WAU, Retention, Revenue and create your own reports on the necessary parameters in the tracker.
In addition, the tracker has the following nice features:
Latest generation anti-fraud system.
The possibility of creating Deep Linking
The tool calculates user LTV, media cost, and ROI for each of 12 important metrics.
The service is integrated with more than 2800 partner networks.
Kochava knows how to correlate install attribution with TV ads.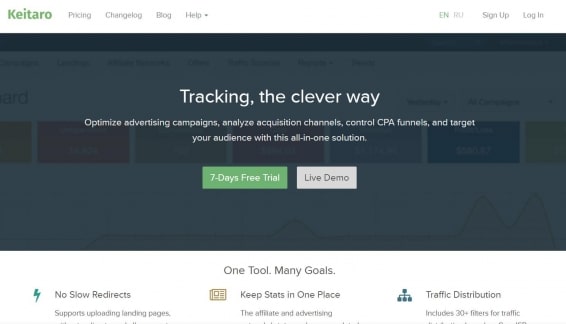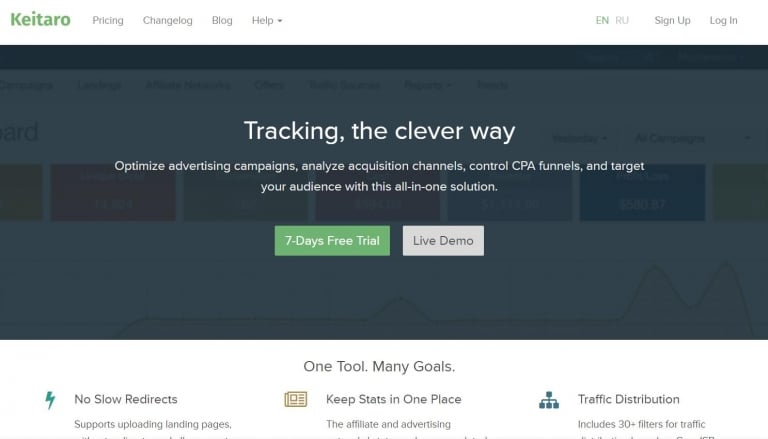 Keitaro is a flexible and functional server-type tracker.
What is available?
More than 30 metrics for building reports;
Filters by geo, device, provider, and more;
Grouping by specific parameters;
The number of events is not limited at the basic rate;
The average redirect speed is 10 ms, landing page display is 15 ms.
Fine-tuning of access rights allows you to give the client access to reporting, and give colleagues access to campaigns. The tracker is installed on the server.
Keitaro tests landing pages and offers any combination and target landing pages.
It allows you to protect landing pages from bots. The built-in database of bots contains more than 500.000 IP addresses and is updated monthly. Additionally, Keitaro allows you to set up cloaking and pass moderation in ad networks.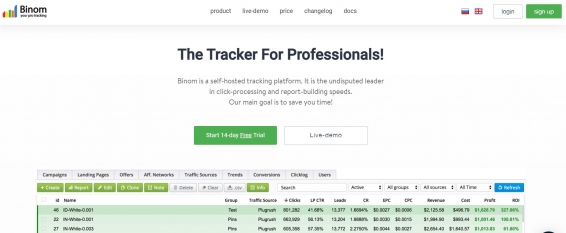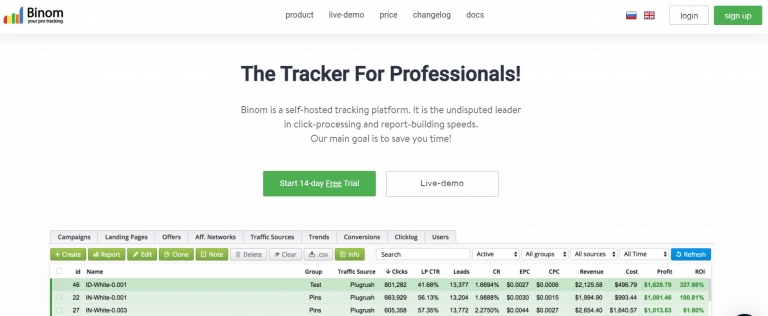 Binom is a high-speed tracker for dealing with high traffic volumes. And these are not empty words. Binom is a leader in the speed of processing clicks: a click is processed in 7 ms.
A simple interface coupled with unrealistic reporting speeds makes Binom one of the best tracking solutions.
What else can the Binom tracker do:
Save time on scaling.
Distribute traffic to blacklists and whitelists according to specified filters.
Track 100% of clicks and conversions across all channels.
Direct users to unique landing pages and offers they haven't seen yet.
The starting price is slightly higher than that of competitors – $99, but there are no volume restrictions and you can work as a whole team in one account.
You can get a free first month trial period + a 40% discount for the second month of using Binom
with a promo code from RichAds.
Get promotional codes for spy tools, trackers, forums, etc. in the bonus section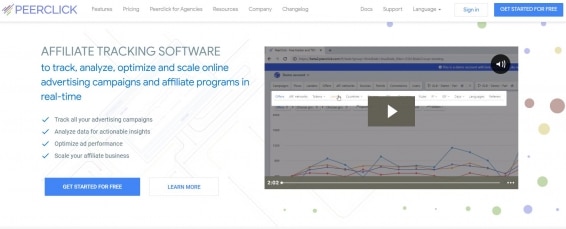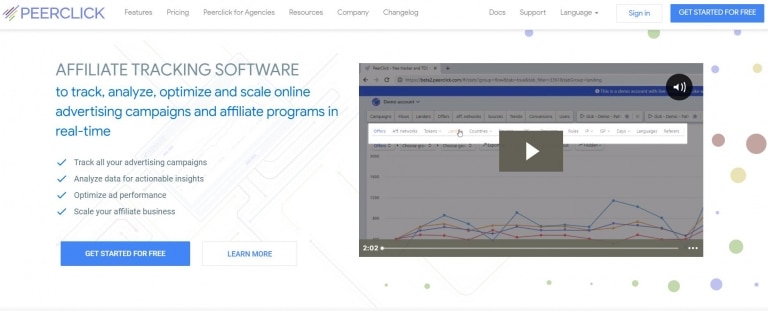 PeerClick is called Binom's little brother. The interface is also minimalistic. The tracker is cloud and quite fast.
This tracker works with really huge traffic volumes: it processes more than 1 billion clicks per day on any account. Cloud technology allows you to analyze campaign data instantly. You can track expenses, income, and conversions in real-time.
Moreover, unlike Binom, free access to basic functionality is available here, which is especially nice. The tracker limits the number of events, depending on the plan: up to 100.000 (free option), up to 3.000.000, up to 10.000.000, up to 30.000.000. You will have to pay for the overspend. In the free plan – $0.1/1.000 events, in the basic – $0.03/1.000 events.
AI optimization saves time on campaign optimization. You can create your own customized plan: to do this, you need to contact the tracker's technical support.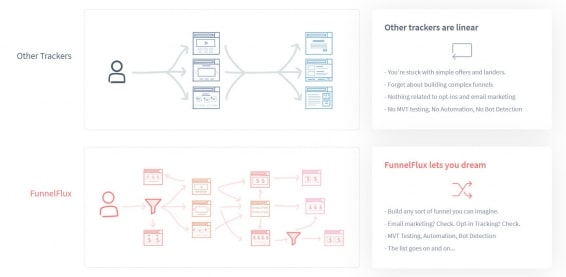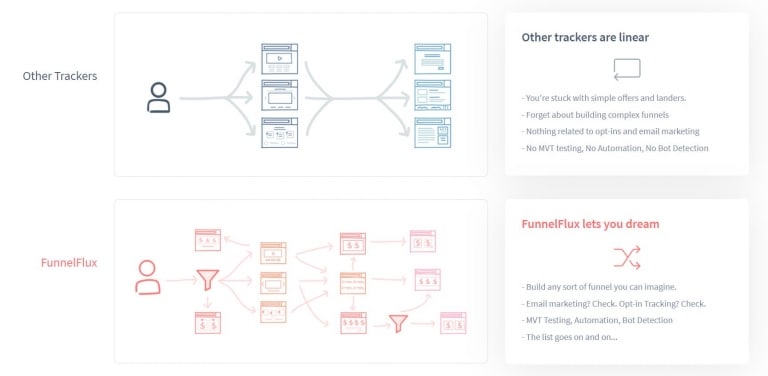 This unique affiliate marketing software visualizes conversion funnels. It is clearly shown at what stage of the sales funnel a user comes and goes. Traffic is routed based on performance. The tracker helps you choose the shortest and most convenient way to transfer information.
The tracker is suitable for:
Email marketing;
Opt-in Tracking;
MVT Testing;
automation;
bot Detection;
multivariate tests and many other types of advertising and processes.
FunnelFlux has an open API. Besides, instant campaign testing is available. The data analytics system is clear and simple.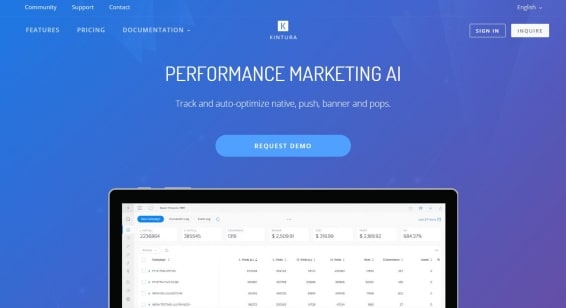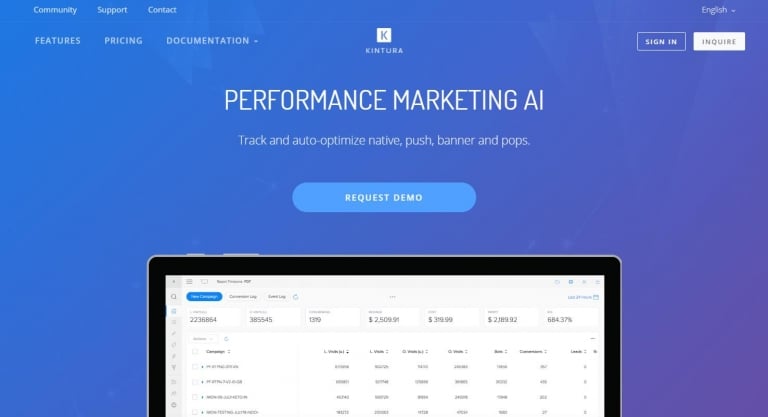 Kintura is a tracker tailored for native, push, pop, and banner advertising campaigns.
The artificial intelligence of the tracker smartly processes data on campaigns, but also it evaluates every user action in the funnel in real time to predict the most likely conversion scenario and act accordingly. It makes life easier!
The tracker has instant reporting: there is no need to wait for data detailing, everything is available in real time. A flexible set of presets will suit any vertical. The technical support of the Kintura tracker is always in touch, so requests are processed quickly.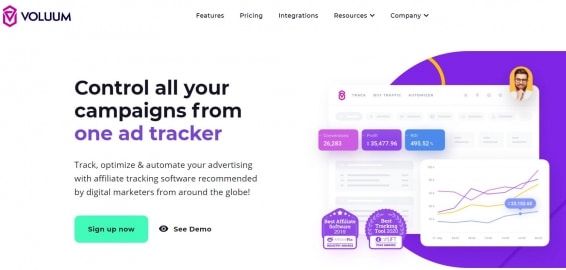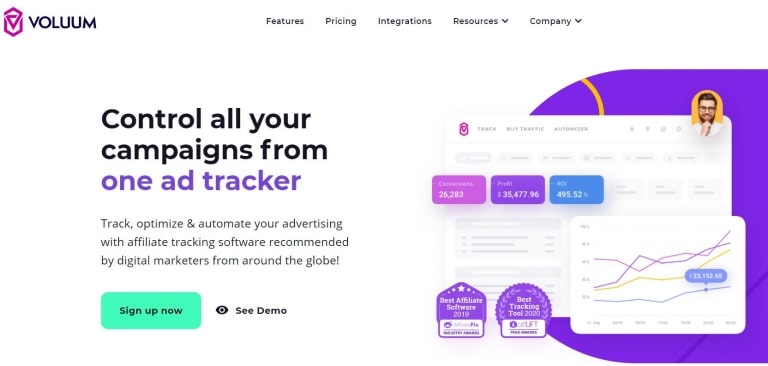 Voluum is one of the top affiliate marketing tracking software platforms. The service was created in 2013 and is almost a veteran among tracking solutions.
This cloud-based tracker tracks data in real-time. The service runs smoothly at high speed.
You can:
work with large volumes of traffic;
prepare detailed reports;
sort traffic by country, network, device type, OS, and browser.
Voluum analyzes non-converting and fraudulent sites, campaign performance, bot traffic.
One of the main advantages of Voluum is the speed of work, which is higher than that of most competitors. And in affiliate marketing, speed is known to be an important competitive advantage.
To use the tracker, you just need to register and start working through the web interface.
Probably the only drawback of the tracker is that it does not provide a trial period. If you want to try it, pay at least $69.
Read how to use your tracker to get max profit from RichAds here.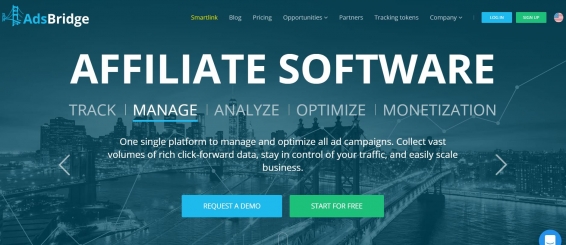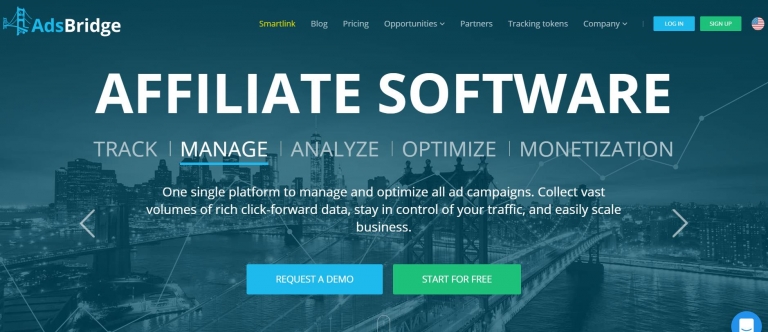 AdsBridge is a cloud tracker and TDS for affiliate marketing. The tool has been on the market for more than 7 years, it has 7 data centers and covers more than 160 countries.
AdsBridge is suitable for easy campaign scaling. Fast reporting is available in real time. Redirecting clicks is super fast, so losses are minimal.
What is available?
split and A/B testing;
landing page builder;
filtering bot traffic;
rotation of URLs;
link tracker;
PPC tracking.
The tracker has a trial period, during which all features and capabilities are available. Then you can choose a plan according to the volume of traffic you need. Visits limits are 100.000, 1.000.000, 4.000.000, 10.000.000. Prices start at $29 per month.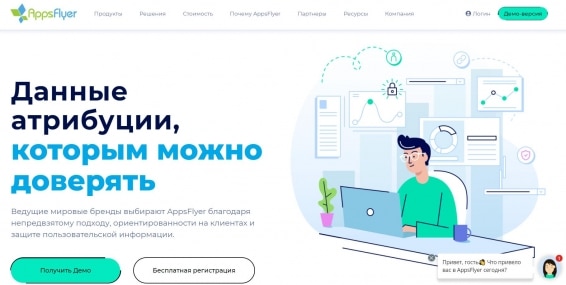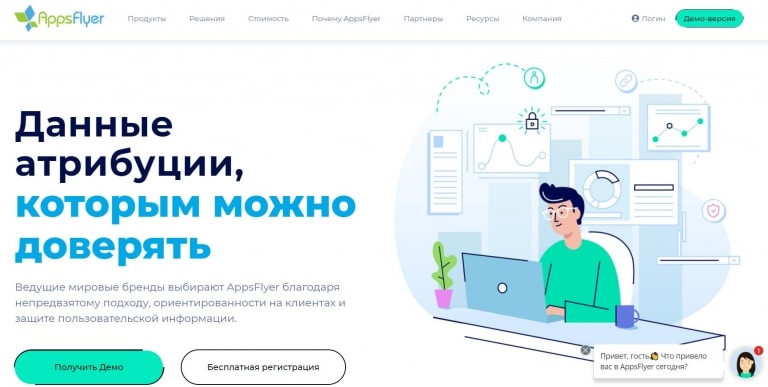 The tracker has its own protection against fraud. Accurate analysis of statistics with in-depth analytics is presented in one report. Appsflyer makes working with paid traffic sources much easier and provides transparent analytics. Increases ROI of campaigns through competent retargeting.
What is available?
Convenient cohort reports;
Real-time performance analysis;
Multifunctional, customizable dashboards;
Microsegmentation of audiences.
There is a free trial for an unlimited period and special pricing plans for startups as the business grows.
The tracker has a Russian interface only.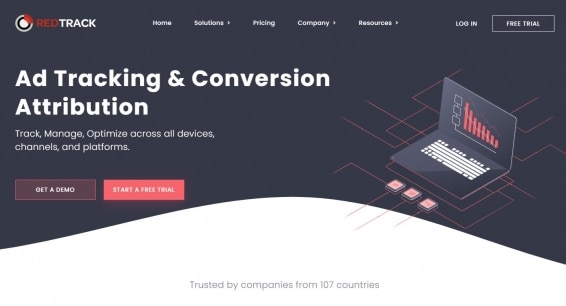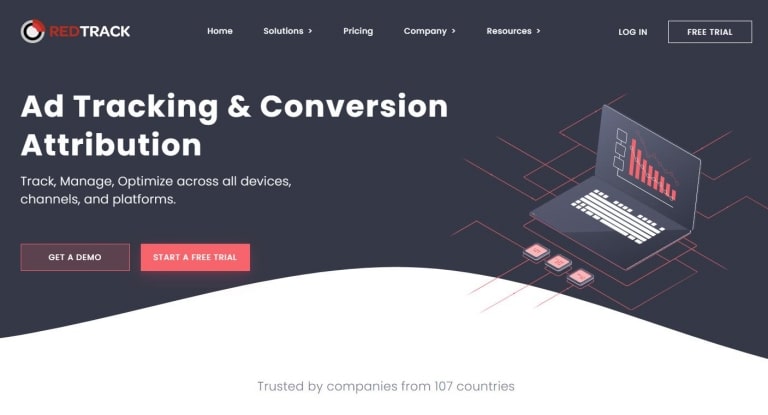 RedTrack is a high-speed clicks' transmission and detailed statistics. As you understand, this tracker belongs to the cloud type.
As a cloud-based tracker, RedTrack offers numerous benefits to its users. First and foremost, being cloud-based means that there is no need for users to set up and maintain their own tracking infrastructure. Instead, RedTrack handles all the technical aspects, such as server maintenance, data storage, and security, allowing marketers to focus on their core tasks without the hassle of managing a self-hosted solution. This also means that users can access their tracking data from anywhere, at any time, as long as they have an internet connection.
In terms of functionality, RedTrack is as good as its more expensive counterparts: speed, utility, and functionality are at the level. Many put it next to Voluum in terms of capabilities.
RedTrack features:
Campaign data is stored in the cloud.
The number of custom domains is unlimited.
Traffic within one campaign is distributed across 20 metrics, which increases optimization.
There is filtering through a bot and a proxy filter. You can set up a redirect for unique visits.
The number of events in plans: up to 1 million, up to 3 million, up to 20 million + personal solutions. The overspend is paid at $0.06 per 1000 events.
English, Russian, Chinese, and Spanish interface languages ​​are available.
Multi-user access.
Good news for those who work with traffic sources that block redirects (Facebook, Google AdWords, etc.). RedTrack provides improved tracking without redirects. And many, many other useful features.
In summary, RedTrack is a cloud-based tracking solution that provides marketers with a comprehensive set of tools and features to track, analyze, and optimize their advertising campaigns. Its user-friendly interface, advanced reporting capabilities, conversion tracking features, and integrations make it a valuable asset for marketers seeking to maximize their ROI and make data-driven decisions.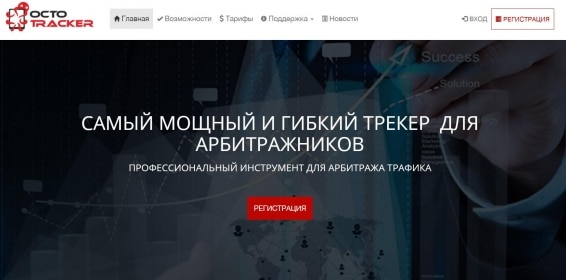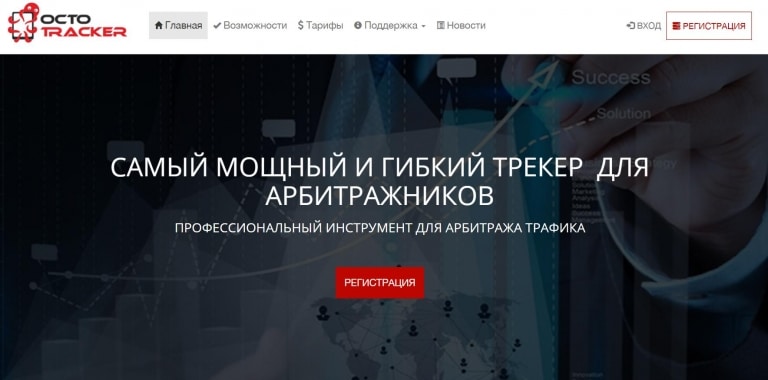 It's a powerful and flexible tool for affiliates and the only tracker in which both cloud and server technologies are available.
What the tracker offers:
The most powerful analytics – reports are grouped by 20+ sections and up to three grouping parameters simultaneously.
The most flexible TDS. The distribution of traffic from a source by pre-landers and after pre-lander by 25+ parameters.
It's the only tracker with full support for lead statuses.
High speed – the processing of a click is separated from reports made without the use of a database.
Data export to CSV and API.
3 types of redirects.
Traffic can be grouped by selected sections and filtered by blacklists. There are 16 skills to identify bots, so the traffic quality analysis is thorough. The tracker calculates low-quality sources automatically and distributes high-quality traffic to pre-landers and offers.
Unfortunately, the tracker only supports Russian.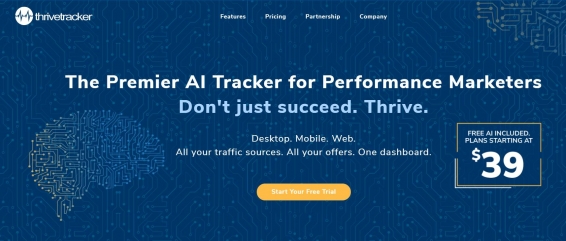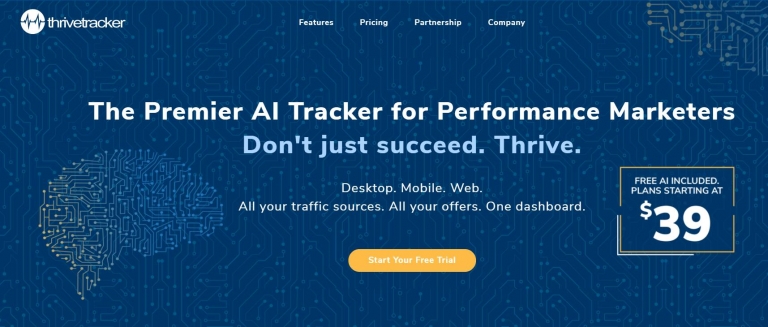 ThriveTracker is a cloud-based tracker that provides the ultimate mobile and web campaign management solution for affiliates.
Thrivetracker is a self-hosted private tracker. It means that your data belongs to you in your database.
This tracker has a user-friendly interface that is a good option for those who make the first steps in tracking affiliate marketing metrics. Also, it has a great list of useful features.
Features of ThriveTracker:
artificial Intelligence Auto Optimization;
geo-redirect/bot filter;
fastest redirect;
auto-scaling;
self-managed server;
LP Pixel.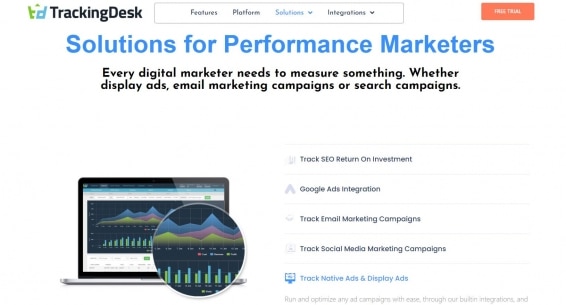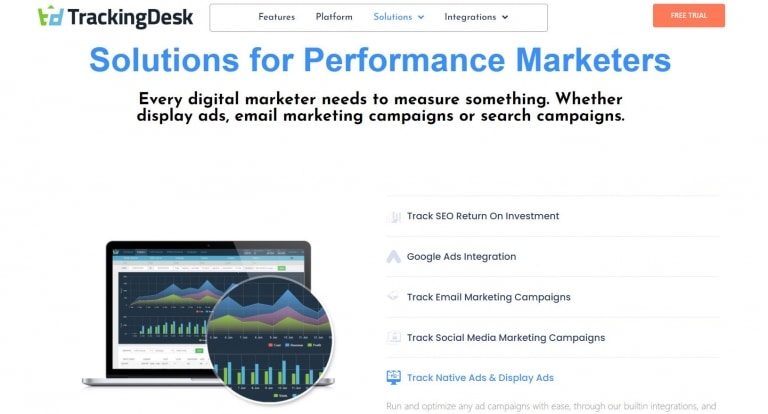 TrackingDesk is a conversion tracking and ad attribution platform. Marketers use it to manage, measure and optimize paid and organic traffic.
The platform is integrated with dozens of advertising, affiliate networks, and e-commerce platforms.
The tracker allows you to track statistics on:
Seo campaigns;
Google Ads;
email campaigns;
advertising on social networks;
native and display advertisements.
Features of the TrackingDesk platform:
Very easy setup. Setting up a campaign with parameters transfer and updating token parameters is a complicated process. But TrackingDesk makes it a million times easier: a couple of clicks, and you're done.
The tracker allows you to redirect your campaign to those geos that are more relevant to your ad offer.
+50 integrated traffic sources, +5000 partner networks, 9 integrated affiliate technologies, and 8 targeting rules.
Comparing prices for trackers (table)
All trackers are paid tools. As much as you would like to save money, it's hardly possible with a tracker. Still, it does a great job of collecting data, and such complicated tools cannot be free.
A nice bonus is that many trackers have a trial period during which you can figure out whether the tool is suitable. As a rule, it is 14 days.
4 generous trackers give you access to basic features for free.
List of free trackers for affiliates:
PeerClick
BeMob
Appsflyer
TrackingDesk
! Free access is available only to the basic functions of the tracker. If you want more, you will have to pay.
To make it easier for you to choose the best affiliate marketing software, we compiled the main parameters in one table: the type of tracker (self-served or cloud-based), the trial duration, and the prices for different packages.
Name
Type of the tracker
Trial period
Cost per month
BeMob
cloud-based

+ no time limit for basic functionality
up to 100 000 events

$49-449
Kochava
cloud-based
30 days
$100
Keitaro
self-hosted
7 days
$25-70
PeerClick
cloud-based

+ no time limit for basic functionality

$70-445
Binom
self-hosted
14 days
$99
FunnelFlux
self-hosted

no trial, but 1st month is for $1

$99
Kintura
cloud-based
14 days
$199-449
Voluum
cloud-based

—

$69-449
AdsBridge
cloud-based
14 days
$29-199
Appsflyer
—-

+ no time limit for basic functionality

—
RedTrack
cloud-based
14 days
$49-199
OctoTracker

self-hosted
/cloud-based

—
2600-8500 Р
Thrivetracker
cloud-based
14 days
$39-79

TrackingDesk

self-hosted
+ no time limit for basic functionality
$50-200
List of trackers integrated with RichAds
To make it easier for you to choose a tracker, we reviewed them and compiled a list of best tracking software for affiliate marketing that are integrated with the RichAds advertising platform (RichPush and RichPops).
You will not have any difficulties with them while setting up a postback between our ad network and the tracker. All macros are already supplied and will automatically appear when you add our ad network to the tracker.
What problems does an affiliate marketer have when using a non-integrated tracker?
Long tracker setup;
inaccurate number of impressions, CTR, conversions, leads;
inability to track non-converting sources;
false statistics on bot traffic;
the inability to track how the user moves on the landing and the moment when he quits.
Let's consider which affiliate tracker softwares are integrated with the RichAds advertising network and are suitable for working with large traffic volumes.
If your tracker is not on the list, it doesn't matter. Just contact your account manager for help. He will assist in solving this issue.
Find out what else the RichAds account manager can do here.
---
Now you have a list of the best affiliate marketing trackers in 2023. When choosing an affiliate tracker, focus on the price and whether it is integrated with the ad network.
Track statistics correctly, increase the profit of advertising campaigns and drive quality traffic with RichAds.
What is RichAds?
🔝 Push and pop ads,
🔼 Domain redirect traffic,
🔝 CPM for domain ads starts from $ 1.5,
⏫ CPC for push ads starts from $ 0.003,
🔼 CPM for pops — from $0.3 in Tier 3, $1 in Tier 1,
⏫ large volumes of available traffic in more than 200 goes.