Some things are not available to artificial intelligence: one of them is creativity. Only a person can develop working creatives, notice what is missing in the sales funnel, and offer it to the client.
Working with an account manager significantly increases the profit from launching campaigns with RichAds. An account manager is an invisible but powerful fighter who will do everything possible to keep you from losing money.
If you combine a personal expert's efforts and automated optimization on the platform, you will be protected by our solutions 24/7.
Platform users do not always understand what questions you can contact the manager for. We have chosen 8 of the most popular cases in which a personal manager is irreplaceable.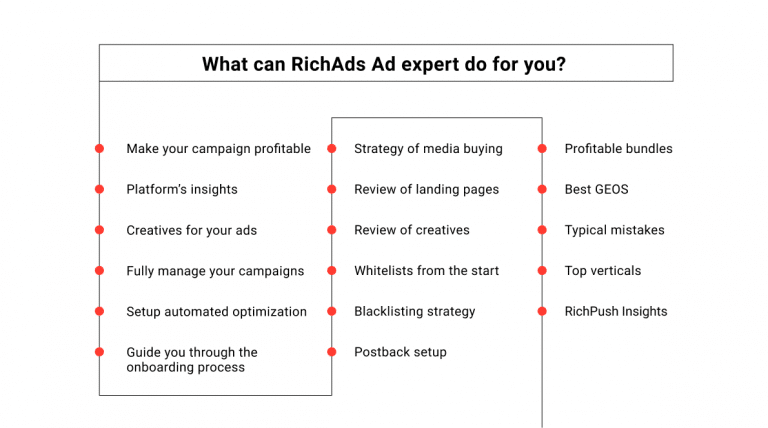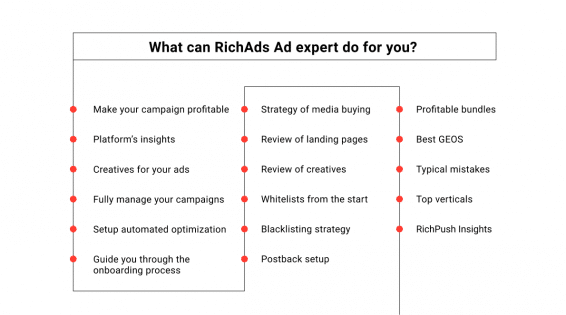 How can an ad expert help a newbie?
For a beginner, an account manager is the essential support in working with the platform. This person will help you build the entire buying strategy.
Case 1. Dealing with the platform
An account manager will help you understand the platform with all its features. This is useful for newbies of affiliate marketing and users who have some experience but use the platform for the first time.
The effectiveness of tests depends on the correct setup of the campaign at the start. If you are working with the platform for the first time, ask the manager to check if you have set up everything correctly. This will allow:
set up the correct bid;

launch a test for the best sources (from Premium Group);

avoid budget overspend during tests;

limit the number of impressions so that the CTR does not drop;

set up the schedule correctly.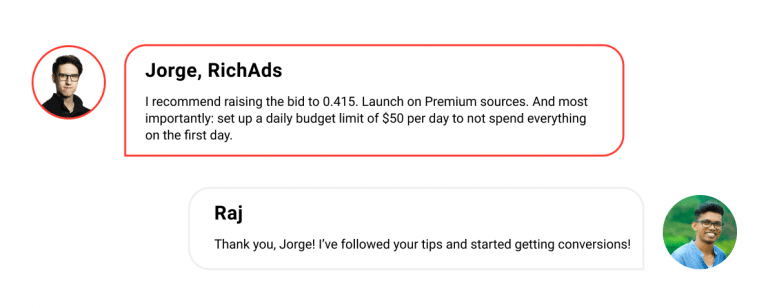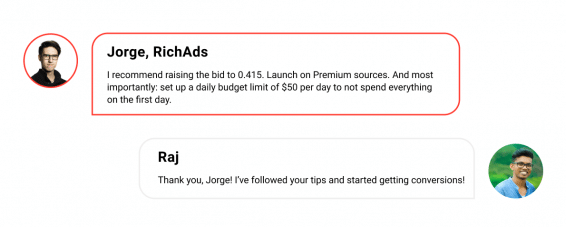 RichAds hosts monthly webinars on how to work with the platform. Follow the announcements in the blog and mail, or contact your personal manager for help.
Case 2. Exclude common mistakes
Not all advertisers have worked with the new advertising push ads format. As a rule, there are some difficulties with it, since the format is different from others.
What mistakes can the ad expert point out?
If you launch with one creative, you become a candidate for losing money.

If you haven't set up a postback, the manager will not be able to help with optimization.

If you launch a campaign with a small daily budget on all available sources at once, you will spoil your test.

If you are a newbie and try to run your first campaign in Tier 1, luck may be not on your side.

If you work with push notifications without a pre-landing page or with creatives from a spy tool, you have no chance to get successful results.
There are many mistakes that influence profit. One wrong decision and the campaign goes negative. It's easier to ask questions to the manager and keep your budgets.
Want to learn more about the peculiarities of working with available RichAds formats? Check out detailed guides on push, pop, and native ad formats. But feedback from your account manager will always be helpful.


Case 3. We prepare creatives for you and analyze landing pages
Our managers are ready to give tips on how to improve creatives and make them upon your request for free.
It's an excellent opportunity for newbies: experts know how to make catchy creatives and what converts well in the network. The chance of success is increasing.
Upon request, the manager can analyze your landing pages and advise you to add a pre-landing page.


Case 4. We will help with setting up flagship features
Optimization by an experienced ad expert is always more effective than figuring out your own settings, especially if these are your first campaigns.
Leave the setup of useful platform tools to a manager while you are learning.


How can an ad expert help a specialist?
A personal manager can give a lot to a specialist. First of all, it's proprietary information about popular GEOs, verticals, and the network's inner workings. A manager can also make complicated optimization settings.
Case 5. Let's share whitelists from the start
RichAds is a huge source. It takes a significant budget and time to test all sources at once.
Our managers will be happy to share whitelists for the chosen geo and vertical. With this info, it will be easier for you to test the traffic source and then scale.


Case 6. Let's share some useful statistics
Not all statistics that may be of interest to the affiliate marketer are freely available — some of the super-useful remain with the managers. Ask them which offers are performing better now, which countries rule for specific verticals, and which bid to set up to buy the best sources.


Case 7. Set up Automated rules
We have developed a tool that every 20 minutes checks the campaign for the settings you've chosen. But setting them up correctly the first time is not always within the power of an experienced specialist.
It's okay if you ask your account manager for help. They will explain the basics to you.
As a result, properly configured automatic optimization rules will replace hours of manual work.
What can you do with Automated rules?
Disable ineffective creative if its CTR is less than 2.

Automatically add sources to blacklists that convert poorly on various indicators.

Eliminate anomalous source activity on pops, etc.


Case 8. Helps to set up Micro Bidding
Instead of blacklisting the entire traffic source, you can only set up a lower bid for a specific device type or any of the 13 options available. You will still receive conversions, but the rate will differ.
Ask your manager to customize Micro Bidding that is relevant to your campaign and save your campaign budget.


What do our clients say?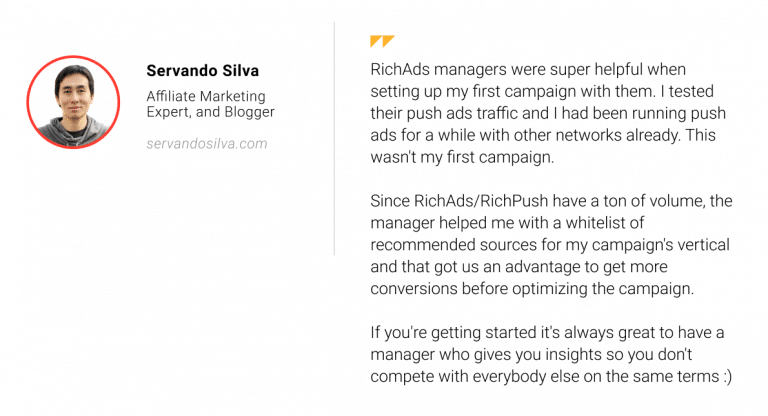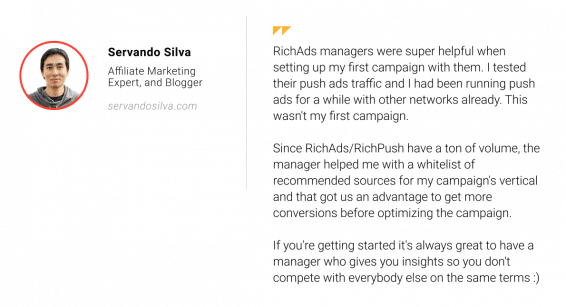 What do you need to do to get a personal ad expert?
Each RichAds client who made a $500 deposit gets a personal manager. The payment data goes through the system, and a personal manager is assigned to you. They will contact you themselves or will be introduced to you by the support team.
We do our best so that you can earn with the minimum effort. Get help from managers, set up automated rules, and benefit from RichAds.
Let's make your campaign two times more profitable together with the RichAds experts.
What is RichAds?
🔝 Push and pop ads,
🔼 CPC starts from $ 0.003,
🔝 CPM from $0,3 in Tier 3, $0,5 in Tier 2, $1 in Tier 1,
⏫ large volumes of available traffic in more than 200 geos.