To solve the problem you can sort out traffic sources. Traffic sorting saves the marketer's budget and reduces conversion costs by 2 times.
Black and white lists allow:
to block not converting or expensive sources;
to buy traffic at the desired price only from platforms that have the highest CR and your target audience.
The detailed guide on working with this format at RichAds network will help you to understand the lists operation algorithm and to set up campaign optimization. This way you'll get more targeted traffic.
Traffic sources at RichAds
Traffic sources can be divided into three groups:
subscriber lists,
publishers,
and sites.
Basicallу, Sublists are the largest group of sources. They consist of different Publishers, which in their turn consist of Websites.
How do they look on the platform?
Subscriber lists (also known as "sublists") can be found in the "Sources" field. They consist of 4 numbers.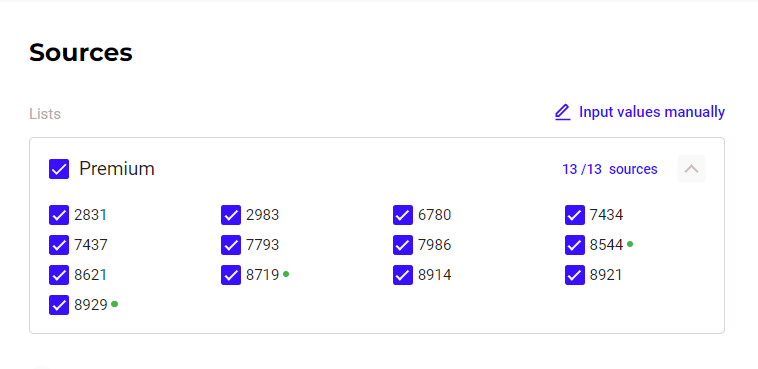 Publishers and sites IDs can be found in your tracker, or you can ask manager to send them to you as a white/black list. They consist of 32 letters and numbers and look identical: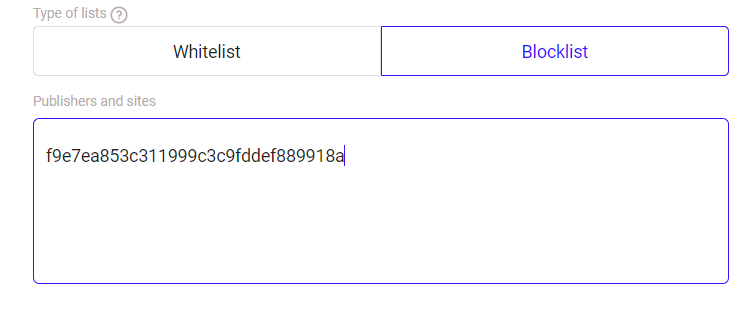 Setting up black and white lists
Before we get down to the instruction on working with black and white lists, let's define the notions and understand how they differ.
Blacklists (also known as "blocklists" at RichAds) allow removing sources that do not convert.
White lists show your offers only to publishers and sites you've chosen.
Important: When you use white lists for push ads, you get users only from a certain publisher or specific website. Our subscriber base is updated by 10-14% each week and by 50% each month. This restriction means that you will miss a lot of new users. When it comes to blacklists, there are no cons in the usage at all.
This pecularity doesn't apply to other formats (direct click, pops, and in-page push), only to push ads.
Guide on whitelists for subscriber lists
1. To add a white list on sublists, you just need to select the desired groups in the "sources" field, without adding them to the white/black list fields: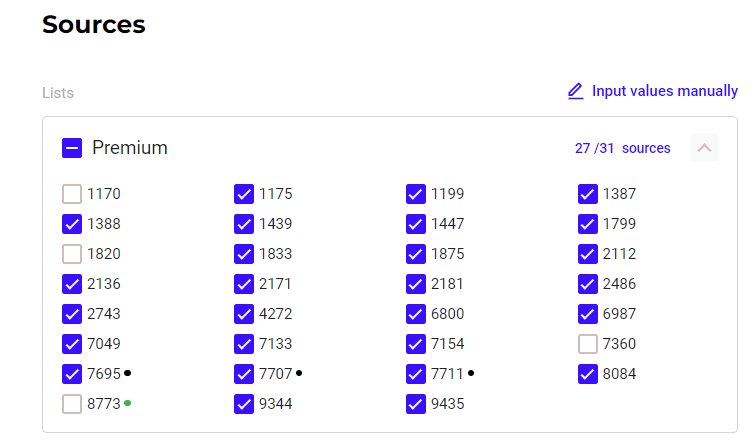 It is better to start with Premium traffic sources, they guarantee to bring you good results and conversions.
Learn more about groups of subscribers' lists here.
It's crucial to know that you can't add a sublist to blacklist, you can just turn it off if you don't want to get traffic from it.
Obviously, you can make blacklist on smaller entities such as publishers and sites, let's find out how to do it below!
Guide on white/black lists for publishers and sites
1. Choose the desired sublists for creating a white/black list for publishers and sites. It's vital to choose the desired sublists as they're the largest groups of sources that include smaller entities, so it's impossible to create black and whitelists for publishers or sites without them.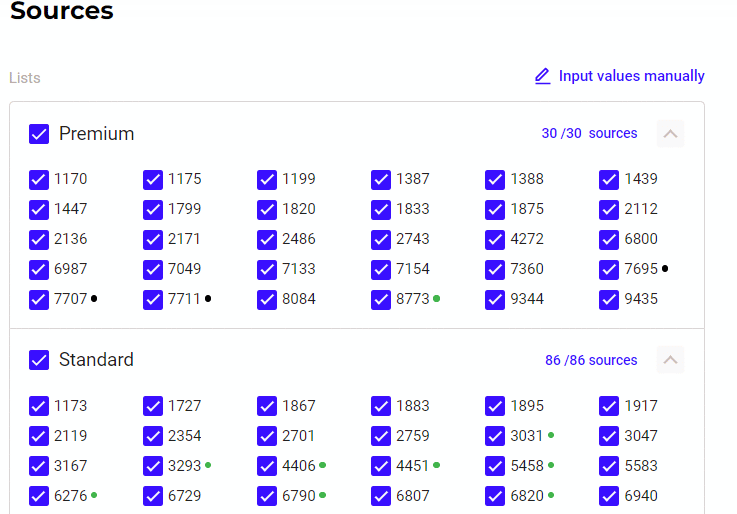 2. Choose the type of traffic sorting you'd like to use.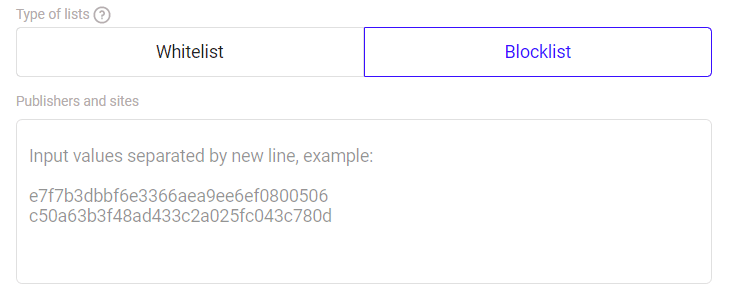 3. Create black and white lists for your campaign.
You just need to add the source ID (32-digit code) in the format 1 line – 1 source, without additional characters and spaces.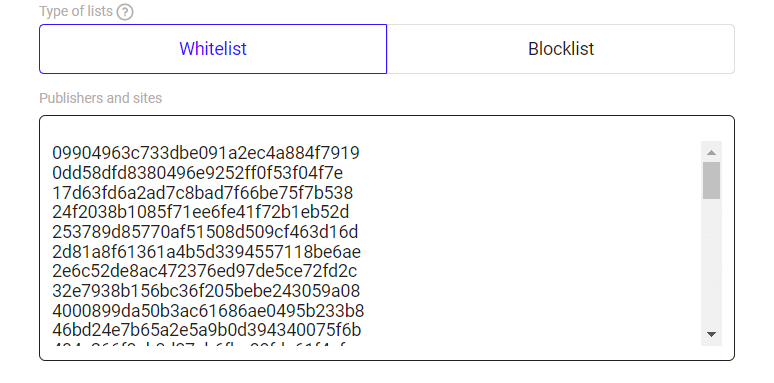 You can create black and white lists yourself or ask your manager at RichAds to provide white and black lists for your offer and GEO.
What is RichAds?
🔝 Push and pop ads,
🔼 Domain redirect traffic,
🔝 CPM for domain ads starts from $ 1.5,
⏫ CPC for push ads starts from $ 0.003,
🔼 CPM for pops — from $0.3 in Tier 3, $1 in Tier 1,
⏫ large volumes of available traffic in more than 200 goes.
More ways to optimize your campaigns
In addition to white and blacklists, there are various tools for campaign optimization at RichAds. We'll have a closer look at each feature that can help you save time and money below.
Target CPA
If you've ever dreamt about automatic campaign optimization without any actions from your side, it's possible to say that your dream has just come true! Target CPA allows you to minimize efforts on optimization and just enjoy the process.
To make the algorithm work, you only need to specify the desired CPA, add your creatives, and set up the necessary targeting. All the rest will be done by the system — it will select the best bid, add irrelevant sources to the blacklist, and also set up micro bidding for you.
Automated rules
This feature also simplifies campaign management and saves you time. Automated rules allow you to create automatic settings for black or whitelists by 7 parameters:
publisher,
website,
OS,
creatives,
browsers,
devices,
campaigns.
The rules can be set if you have set up the postback and conversion tracking. Basically, this function is used to automatically add publishers or sites to the blacklist if the conversion price is higher than the desired one, or there are no conversions at all (provided that the source spent more than one conversion price).
Micro bidding
Micro bidding allows to set different bids for several parameters within the same campaign.
There are now 13 parameters available in RichAds that can be combined with each other.
It is better to set up micro bidding for sources, operating systems and creatives.
Important: We highly recommend raising and lowering bids for certain sources or parameters gradually and monitore the results. You can read more about this feature here.
Conclusion
Optimization is the key to a successfully converting campaign. If you use the same lists of sources without reviewing them regularly, the statistics and the results will only worsen.
We recommend checking the effectiveness of traffic sources and updating black and whitelists timely as it will improve the CR and main parameters of your campaigns.
Optimize your campaigns and get profit with RichAds!
What is RichAds?
🔝 Push and pop ads,
🔼 Domain redirect traffic,
🔝 CPM for domain ads starts from $ 1.5,
⏫ CPC for push ads starts from $ 0.003,
🔼 CPM for pops — from $0.3 in Tier 3, $1 in Tier 1,
⏫ large volumes of available traffic in more than 200 goes.