Push ads campaign optimization — what does it mean?
Push ad campaign optimization is a process of changing a campaign's settings to mazimize profit.
You might have already done optimization of your campaigns and are acquainted with targeting on various platforms and ad networks, so let's have a closer look at the settings offered by RichAds. Here you can find targeting on OS, browser versions and language, carriers, subscribers age, and so on. We don't collect personal data of our user base, only technical parameters that's why our subscribers are quite loyal to the advertisements.
During optimization, you can:
analyze data received in the process of running a campaign;
replace creatives timely ;
narrow targeting parameters;
change significant parameters (CPC, OS, browser versions, clicks cap, etc.);
turn off the parameters that don't bring conversions.
RichAds platform flexibility allows changing almost all settings except the GEO. The variety of optimization options for push advertising is wide.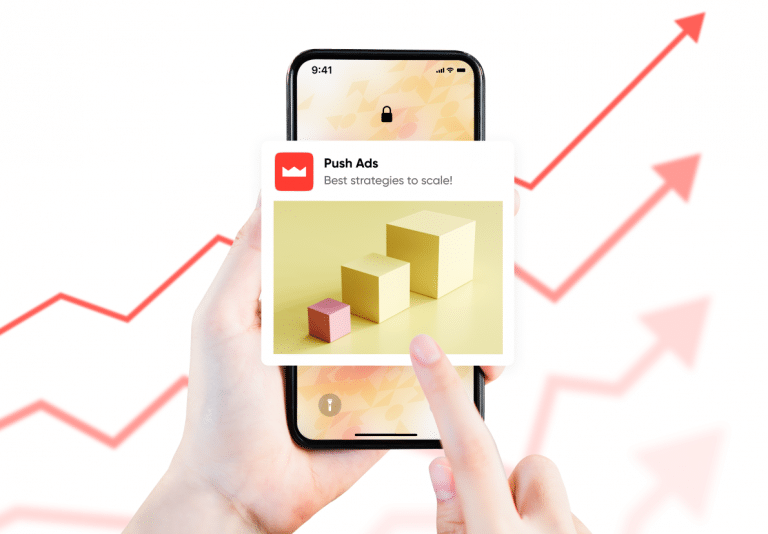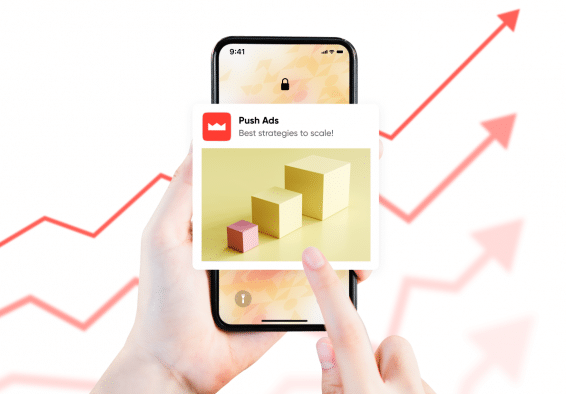 When is it time to optimize a push notification campaign?
If the campaign doesn't get any conversions in at least 2-3 days, there is nothing to optimize here. Sometimes, the problem may be in the ad network that doesn't convert this offer or in the creatives or landing pages that don't entice the user. Furthermore, your targeting may be too narrow or you turned on only a limited amount of sources.
It's time to start push campaign optimization process when you have at least 3-5 conversions. It may happen on the first day of running but not necessarily. Sometimes, it takes time to test enough traffic sources in huge ad networks and find the right source that will convert well.
If you got 1 conversion, it is a good start but not enough data for decision-making! It just means that the offer has potential. Wait a little longer for the next conversions.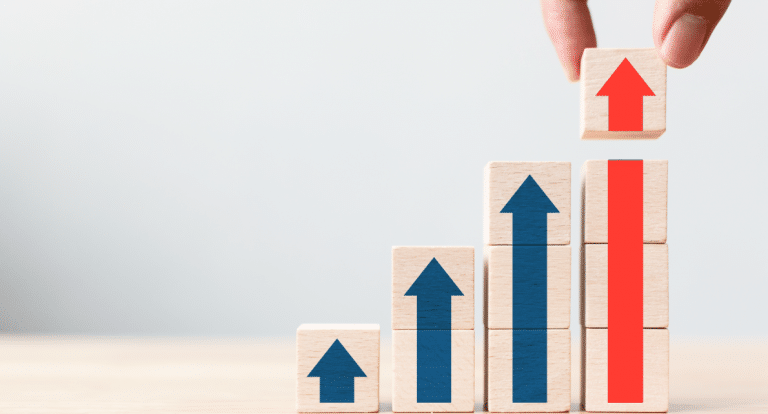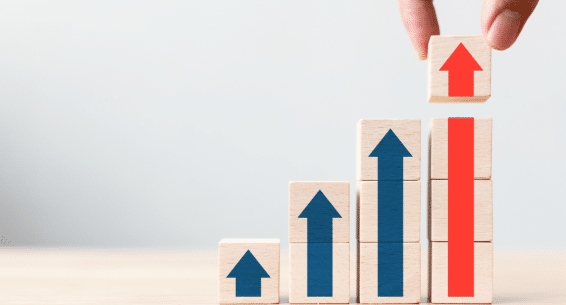 Main steps to optimize your push campaign
You can optimize a push campaign focusing on creatives and landing pages, targeting options (device, OS, timing, and so on), or traffic sources.


One of the main steps during optimization is to disable non-converting sources. Why should you do this? If a website doesn't bring conversions, it likely doesn't involve your target audience. As you pay for clicks, using such sources may lead to huge budget spending: you will pay for clicks from sources that don't give conversions.
Besides, you can analyze the profiles that have a great conversion rate. You will notice that most of the customers use certain OS, device, or browser. We recommend to disable parameters that don't give results, too.
Push notification campaign optimization is done in a very similar fashion as you'd do with any other banners. You need to make sure you're spending at least 5-10x your offer payout initially and don't block any site unless it has spent 2x your payout.

Consider that the more creatives you're testing, including landing pages and offers, the more you'll need to spend on tests, but it's worth it because you'll get data faster.

I'd recommend to start the optimization with sites first, followed by publishers, then groups of sites in case the network offers this. After that, we focus on landers, creatives, and offers. Finally, we check browser versions, OS, and other factors, such as the age of subscription, activity, etc.

Servando Silva, Affiliate Marketing Expert


How to optimize a push ad campaign?
1. Check Ad Rank rate
One of the first steps to optimizing your push campaign at RichAds is to check Ad Rank rate.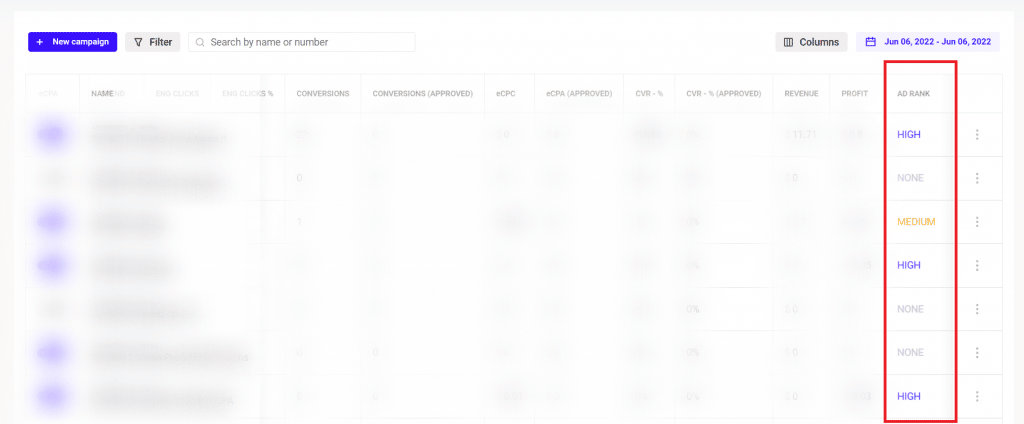 Ad Rank determines whether your ad will be shown to users or not. It can be measured in an hour after launching your campaign.
There are 3 Ad Rank indicators:
high Ad Rank
medium Ad Rank
low Ad Rank
The lower the value, the less traffic your campaign gets. Medium Ad Rank says that your campaign is short of traffic. When your Ad Rank is low, the system kicks the campaign out of the bidding.
Everything can be fixed if you notice low rates in time.
Change your creatives or add more, raise CPC or both. Don't forget to keep Ad Rank rate high.

RichAds team
2. Check Win Rate


Win Rate is the second significant indicator that can be analyzed right after the campaign starts. It points to the place of your campaign in the bidding.
Impressions mean won bids. If you have a low Win Rate, we recommend increasing CPC. Ask your account manager about appropriate CPC for your campaign.

RichAds team
3. Analyze the performance of your creatives after launching the campaign
A/B testing of the creatives is an important part of optimization.
While ab testing, analyze the results of your creatives to select the best converting variants.
With RichAds, you can measure the effectiveness of both push notification and landing page.
To assess push notification, pay attention to CTR. The higher the index is, the better it is for the campaign.
See CTR values below: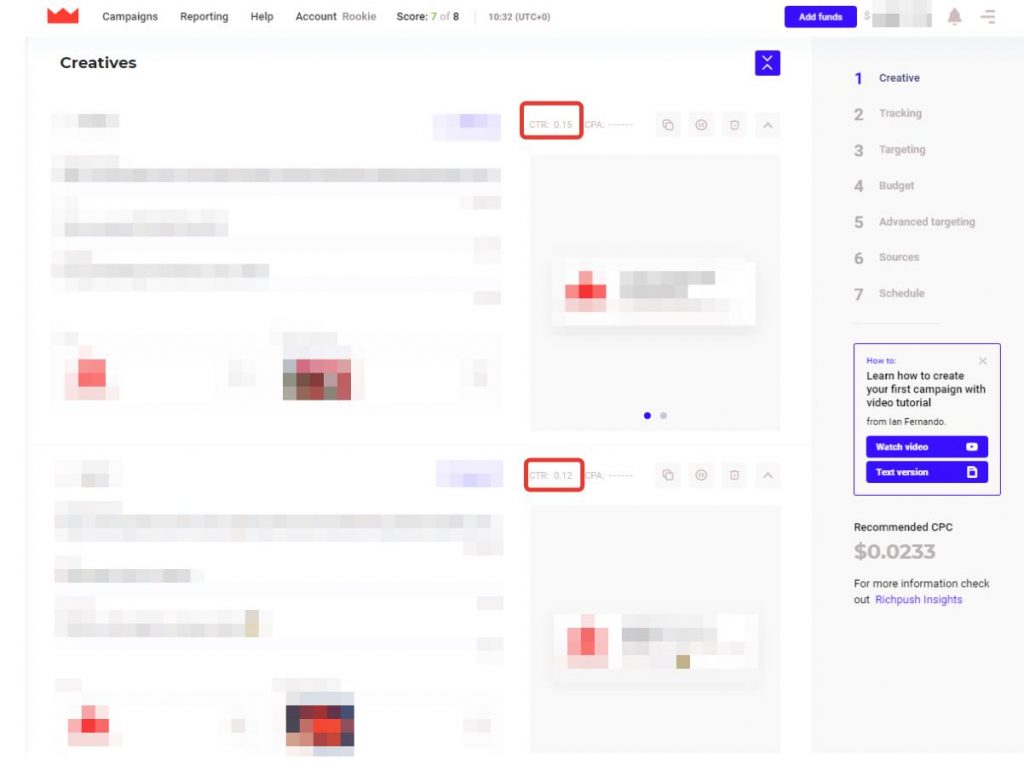 The conversion rate will show the effectiveness of your landing page performance. It's quite simple to understand: the higher the index is, the better the results are.
At this stage, it's important to determine the push notification/landing page that converts better. They will help to conduct experiments. By the way, at RichAds you can use links to different landing pages in one campaign.
Sometimes just 1 day of A/B testing is enough to make a data-driven decision. But we suggest not to make time limits. Sometimes a few hours of A/B testing is enough, but in some cases, it can take a few days. Focus on the data relevant to your analysis. We recommend checking one lander-offer combination using the budget of 3 conversion prices if one conversion costs more than $10.
---
Find the conversion rate parameter in your conversions tracker. If you set up conversions on our side, they will be shown in RichAds reports. Our specialist may consult you on using this data.

RichAds team
What is RichAds?
🔝 Push and pop ads,
🔼 Domain redirect traffic,
🔝 CPM for domain ads starts from $ 1.5,
⏫ CPC for push ads starts from $ 0.003,
🔼 CPM for pops — from $0.3 in Tier 3, $1 in Tier 1,
⏫ large volumes of available traffic in more than 200 goes.
3.1. Remove non-converting bundles
A/B testing goal is not to choose one creative that converts better and to remove all the others. Even a successful creative will burn out in a couple of days and your results will worsen.
It's important to find the approaches to users that will make them click on notifications.
That's why we recommend launching a campaign with different variants of creatives.
If your campaign has only one creative it may impede optimization. You need to have the results to compare.
You can use previously failed creatives for further testing combining them with the elements of successful ones. Anything may work.

RichAds team
3.2. Prepare new creatives based on successful variants
Identify creatives with high CTR and try to understand which element works (text, image, or icon). Make new creatives based on the successful ones and monitor which variant converts better.
A simple rule works here: change just one element of a successful push notification. If there are a few variables it may not be clear what has worked out, so you won't be able to conduct a successful analysis and increase your income.
During one of your testing use the combination "working creative – successful landing page". It's quite an effective approach.

RichAds team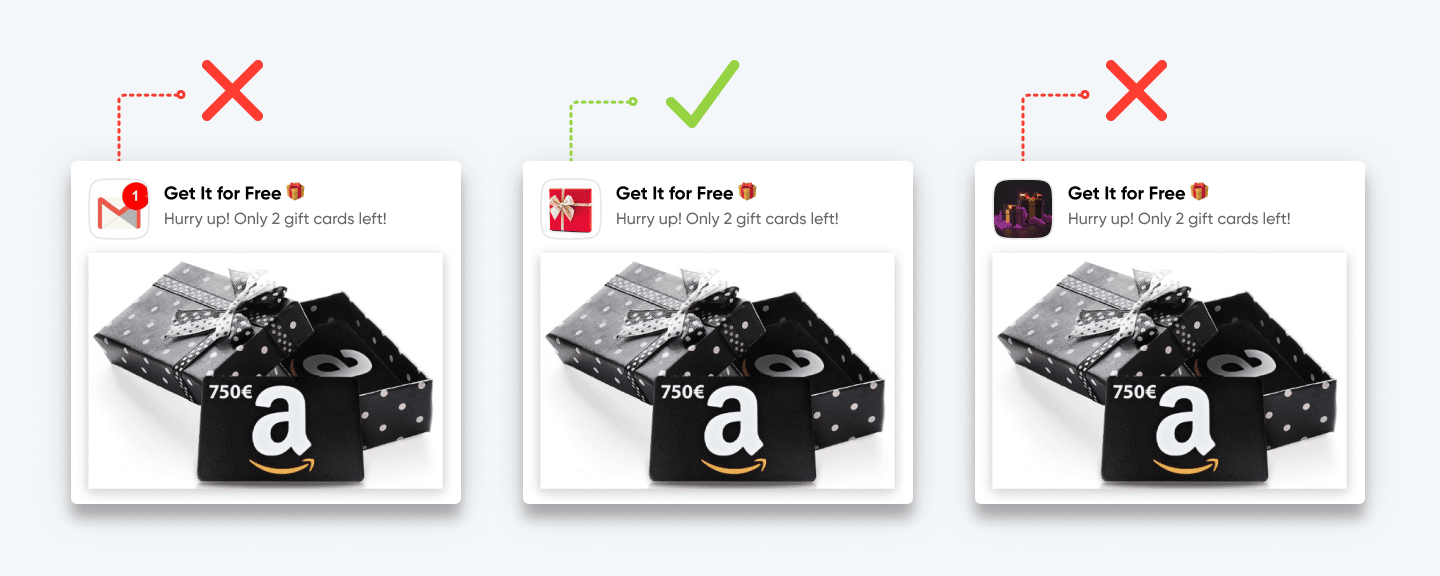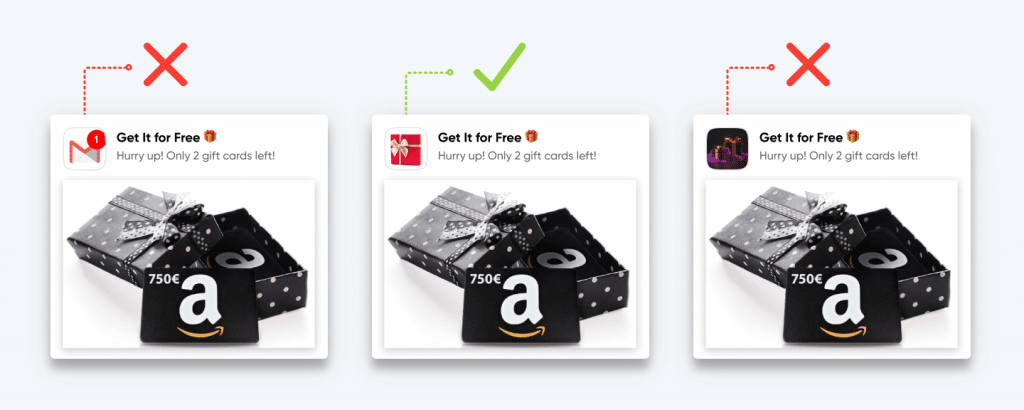 3.3. From time to time update your creatives and continue to track the results
Of course, you want to do the job once, figure out which of the creatives works better, and not to come back to this issue anymore. But working on the campaign analysis and optimization never stops. Push notifications tend to burn out. The same images bother the audience, eyes glaze over, and it all ends with what we call "banner blindness".
All you can do is refresh creatives in time.
If you are tired of coming up with "hot" creatives turn to your account manager, and they will prepare new creatives for free.

RichAds team
4. Optimize targeting with targeting parameters
At the stage of launching your campaign, we recommended using all available parameters. In a while, you will notice which of them work worse — we recommend excluding them from targeting settings.
4.1. Check targeting by devices
First, check whether desktop and mobile have the same results. Desktop traffic is only 1,21% of total clicks. At this stage, you can decide to deactivate some of the devices.
The results may show that the landing page is not adapted for mobile if desktops convert better or vice versa. Check adaptability on different devices.

4.2. Check targeting by OS
Check the conversion of outdated OS (like Windows 7). They can be less effective.
4.3. Check targeting by browsers
Exclude all the browsers except Google Chrome. Our data says that this browser is primary on different devices. There may be separate clicks in Internet Explorer or Mozilla, but usually, they do not influence statistics regardless of country or vertical.
5. Set up targeting in advanced settings (optionally)
Advanced settings allow targeting by 5 categories: mobile operator (it should be set up at the start of the campaign for an offer and certain mobile network), connection type, IP, and browser language.
Targeting by browser language may be especially relevant for multi-national countries or countries with several state languages.
During the campaign running, you can notice that some language works better and set up browser language targeting.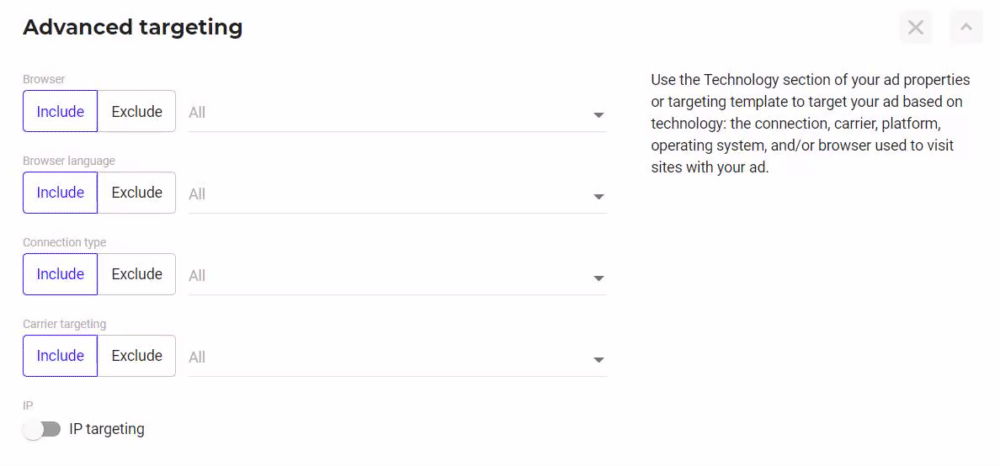 If you narrow targeting by browser language, don't forget to check the language of your creatives and landing pages. They should coincide.

RichAds team
6. Evaluate the need for a fresh audience (optionally)
New Subscribers Only function allows us to control campaign performance and to target only those users who subscribed to push notifications no more than 7 days ago. These are people who saw just a few push notifications and reacted actively to new messages. So, the possibility of successful conversions will be higher.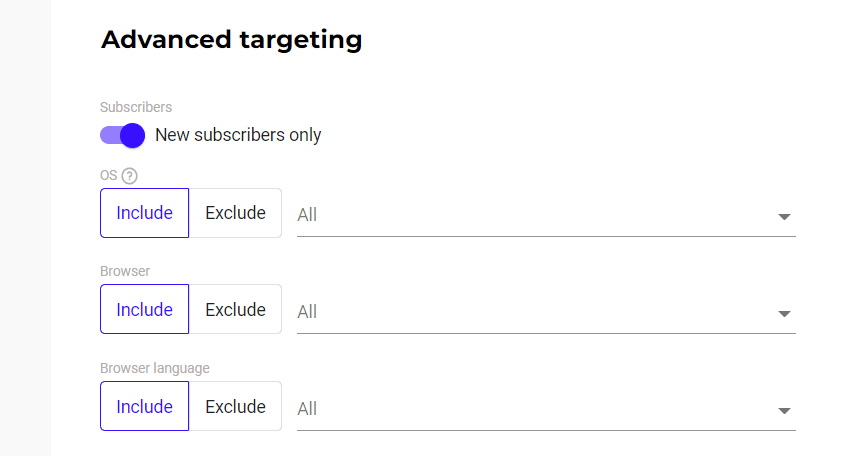 The cost of the bid for this audience is a bit higher than for the usual subscribers base, but it's totally worth it, as the CR is higher and users are unique.
To assess the profit of this function, don't use it in current campaigns.
6.1. Create a new campaign for New Subscribers Only parameter
Duplicate the campaign, turn on "New Subscribers Only" and you will be able to evaluate results without including conversions to the used audience. If you need to check out the most up-to-date bids, you can consult your account manager.
7. Turn off irrelevant traffic sources
We recommend tracking the performance of separate traffic sources and turning off non-converting or too expensive ones.
You can optimize traffic on three levels:
Subscribers lists,
Publishers IDs,
Websites IDs.
The cost of conversions may become twice as low if you turn off sources in time.


How does it look like on the platform?
Subscribers lists (sublists) can be found in "Sources" section:

Publishers and sites IDs can be found in your tracker, or you can ask your manager to send them to you as a white/black list. They consist of 32 letters and numbers and look identical: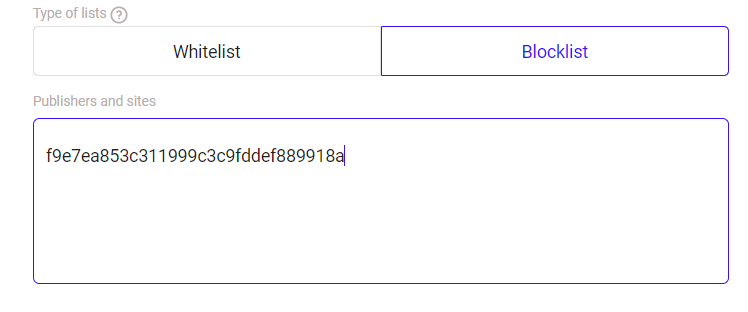 7.1. Turn off non-converting Subscribers lists
The system allows us to turn off sources at the sub-lists level in Subscribers list ID settings.
Besides, when you set up your ad campaign you can choose certain Groups of Subscriber Lists as sources for your ads. We recommend starting with Premium and scale with Standart.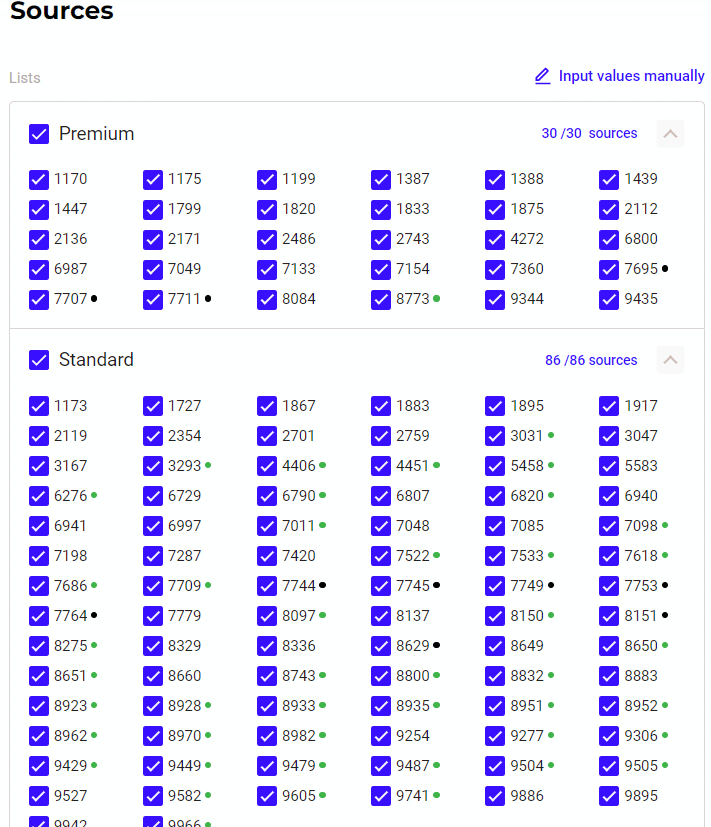 Right after the start, include all possible sub-lists from the group, try all of them as soon as possible, and figure out which results they will produce. It's better to consult with your manager to assess each source's potential for your offer.
The system allows us to turn off sources at the sub-lists level in Subscribers list ID settings. Besides, when you set up your ad campaign you can choose certain Groups of Subscriber Lists as sources for your ads. We recommend starting with Premium and scale with Standart.

RichAds team
7.2. Use blacklists or whitelists for publishers and sites
Blacklists allow removing sources that do not convert.
Whitelists show your offers only to publishers and sites you've chosen.
You can create black and white lists for push ads. Add the Source ID (32-digit code) in the format 1 line – 1 source, without additional characters and spaces.
We recommend blacklisting (known as "block list" at RichAds). If you want to create whitelist you need to collect a lot of data to be sure that it won't be over burnt and you will still get results from it.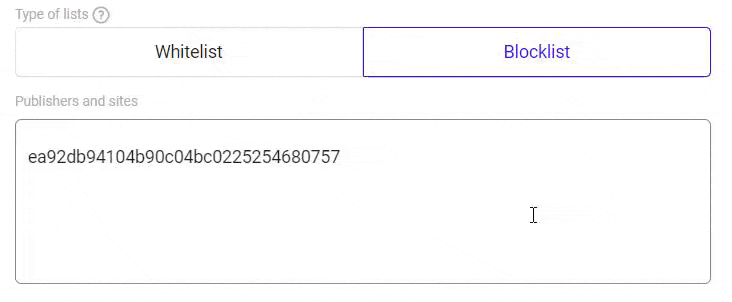 Using white lists means that you get users only from a certain publisher or specific website. Our subscribers base is updated by 10-14% each week and by 50% each month. This restriction means that you will miss a lot of new users. At the same time, blacklists have no minuses in the use at all.
Our manager can help you in making black and white lists to reach targets ASAP. For that, you should set up conversions tracking.

RichAds team
IMPORTANT: We'd highly recommend using white lists on subscribers lists combining them with black lists because WLs on publishers and sites have a tendency to burn out quickly. To make use of white lists on SSP, you need to just choose the desired lists on "sources" section. There's no need to add them to "white list" field.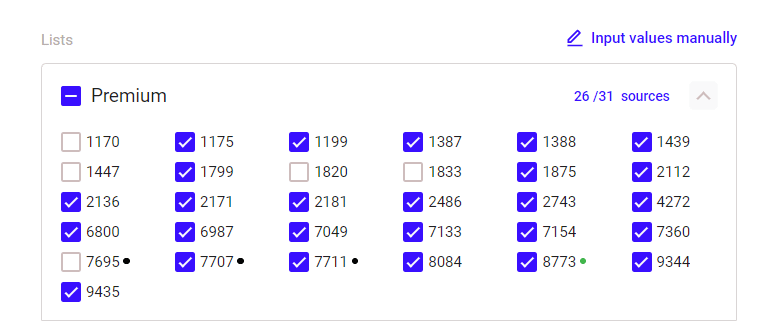 8. Set up Clicks cap values
Clicks cap allows control performance. Make experiments to set up this parameter successfully: set the value and follow conversions.
Our basic recommendation is to set 1 click per day. If you need more traffic for the campaigns that short in time try 2 clicks per day.
9. Set up Automated Rules
This function significantly simplifies the campaign running. Automated rules allow to create automatic settings for black and white lists according to 7 parameters:
publisher IDs,
site IDs,
OS,
creatives,
browsers,
devices,
campaigns.
It's available for users who have set up conversion tracking on our side. Usually automated rules allow to black list sites and publishers if the price of a conversion is higher than the desired one or there are no conversions at all.
For example, on the screenshot below you can see an automatic rule that will check statistics for you every hour and blacklist publishers who spent the price of one conversion ($3.5) and did not bring conversions at all or spent more ($4.5) and brought conversions more expensive than the desired price.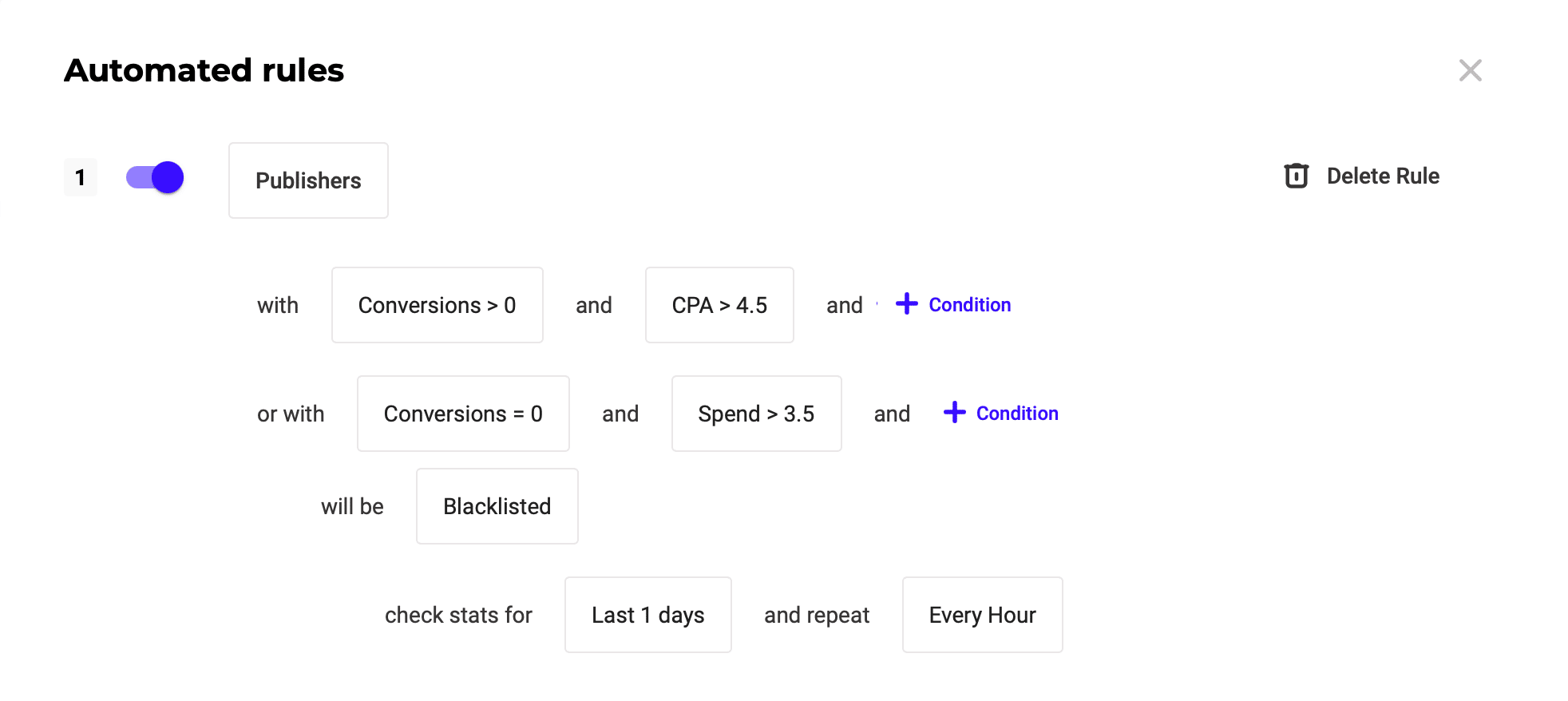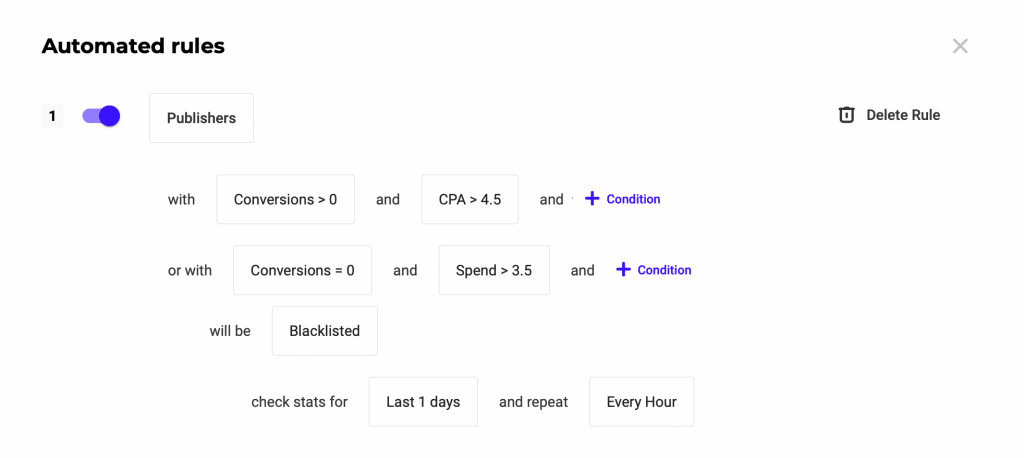 9.1 Case on using Automated Rules
Let's also have a look at a specific optimization case using automated rules. The campaign worked for 77 days without any optimization, the desired CPA is $10, then we set a rule for sites — if a site brings the desired conversion price, it is sent to the white list: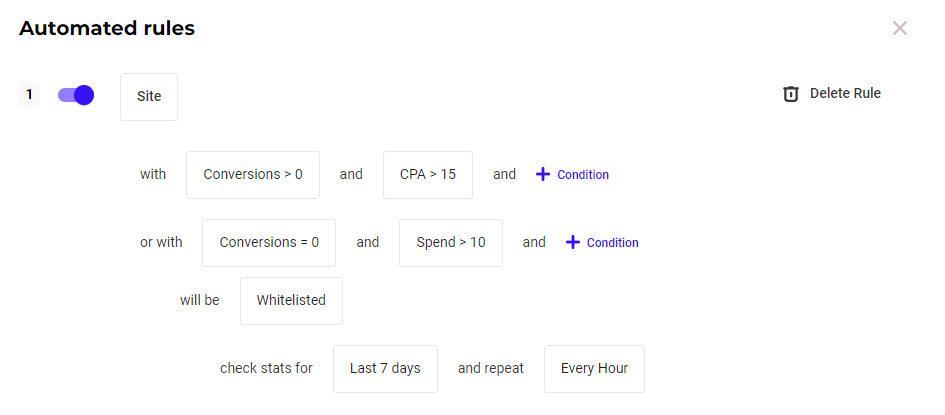 The rule was set on the 15th of April, you can see how the conversion cost has changed below:
Don't start straight from optimization rules. To get high-quality automatic optimization rules, you need to optimize the campaign with them the same way you would do it manually.

To know more follow this link or ask your account manager.

RichAds team
10. Optimize push campaign with Micro bidding
Micro bidding allows us to set up different bids for different parameters within one campaign.
13 parameters are available now, and you can combine them.
The most effective way is to set up Micro bidding settings for sources, OS, and creatives.
How to raise and decrease rates productively with the help of micro bidding?
We highly recommend raising and lowering bids for certain sources or parameters gradually and monitor the results. For example, if you want to raise or lower the bid for a particular source, you can do it as follows using multiplication:

A coefficient less than 1 indicates a reduction in the rate, and more than 1 indicates an increase.
Thus, in the example in the first line, you smoothly raise the bid by 10%. And in the bottom line, you lower it by 10%.
This way you can track the results without unnecessary risk and excessive spending!
To know more about Micro bidding settings, follow this link or ask your personal account manager.

RichAds team
11. Use Target CPA
Last but not least, we're moving to the easiest and less time-consuming way of optimization – Target CPA.
How does it actually work?
Its name gives you a hint on its functions – the algorithm does all the optimization automatically according to your desired CPA. It creates white and black lists as well as micro bidding to help you to reach the highest possible results without manual work from your side.
The main advantage of Target CPA is that it saves you time and effort spent on creating manual optimization. The minimum daily budget for such a campaign is $50, and the maximum conversion cost is $10.
To set up Target CPA, you need to add creatives, select the desired targeting, set the CPA goal and the daily budget, all the rest will be done by the algorithm!
Tip: Before testing Target CPA, we recommend conducting an A/B test of creatives in order to run the algorithm with successful creative
11. Test the Optimizer
In fact, Optimizer is a feature that will help you speed up the optimization process, it allows you to immediately check statistics on targeting and traffic sources.
How can I simplify work with campaigns using the Optimizer?
The thing is that with this function you will be able to manage your targeting directly from the statistics page, thus optimizing your campaign as quickly as possible.
You can quickly check statistics on targeting settings and quickly disable ineffective elements, as well as add them to a blacklist or whitelist.
This feature offers sorting by five targeting — subscribers lists, publishers, sites, OS and devices.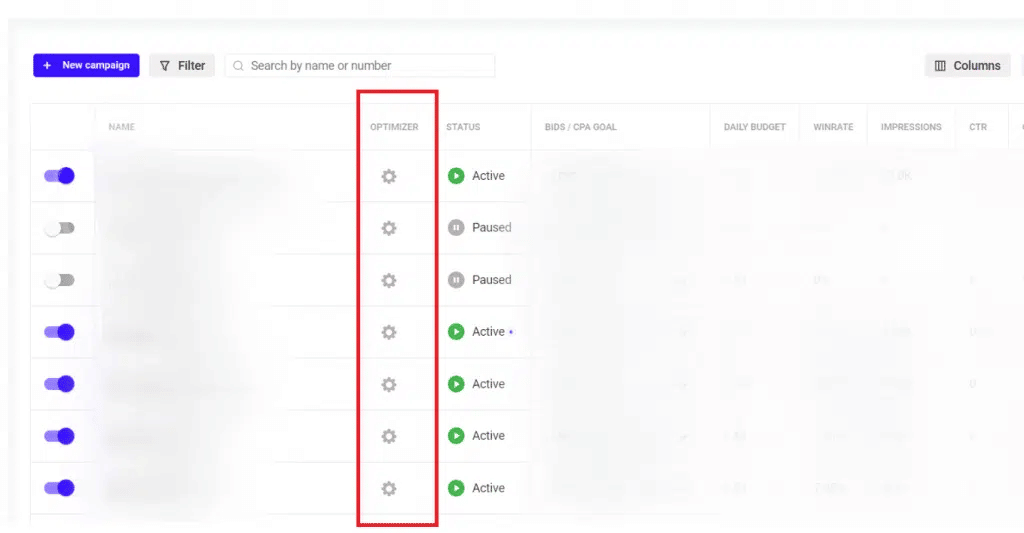 12. Apply Performance Mode
The simplest and most effective way of automated optimization is the Performance Mode feature. No efforts are required from you!
Every day the feature will update the black and whitelists depending on the targeting of your campaign and help to save money.

What will you get due to this feature?
The freshest traffic. To put it simple, the newest sources with high quality will be automatically connected to your campaign every day, immediately after being tested.

Permanent sources update. You just need to set up a regular CPC campaign, the rest will be done by Performance Mode — it will choose the best white and blacklists, according to your settings, and will continue to update them.
Important: the tracker is not required! But if you have a postback set up, you can also specify the desired conversion price, the algorithm will adjust to it.
Watch the video tutorial about push ads
Check out our latest tutorial by Daria Maichuk, a Head of Customer Success at RichAds, she'll show how to optimize and set up a successful push campaign and get highest ROI.
Conclusion
Now you know how to optimize a push campaign.
Remember, that testing and optimization don't finish after the first changes. It's permanent work with data, replacement of creatives to avoid their burnout, and analysis again and again.
We hope our recommendations will help you to run push ads and get much profit with RichAds.
Get high-quality traffic here
What is RichAds?
🔝 Push and pop ads,
🔼 Domain redirect traffic,
🔝 CPM for domain ads starts from $ 1.5,
⏫ CPC for push ads starts from $ 0.003,
🔼 CPM for pops — from $0.3 in Tier 3, $1 in Tier 1,
⏫ large volumes of available traffic in more than 200 goes.
---