Recently, RichAds launched a new feature called Performance mode. It's high time to check first results.
It is really possible to reduce CPA by 79% and boost conversion rate by 253%?
In this article we'll share a dramatic statistic for Performance mode at RichAds. Are you ready to see it?
Here you'll see 2 battles:
1. The first will be between Manual CPC and Performance Mode ad camapigns.
2. The second between desired CPA and Performance Mode CPA.
What should you know about Performance mode before start?
Performance mode is a feature that analyses your campaign results and then automatically adds traffic sources to block- and whitelists on a daily basis. Even if you deposited 100$, you'd have access to Performance mode.
This feature is a kind of invisible personal assistant that brings profit to your campaigns. Why invisible? The space for white- and blocklists won't show any new sources. The process is hidden from your eyes, but it still works!
What is more, a marketer can continue optimizing the campaign manually and get even better results! RichAds team highly recommends using this strategy: make optimization on your own and operate the help of the Performance mode feature.
At the moment, Performance mode can be set up for push ads. There is no such option in RichAds UI for pop ads and direct click, but the function works for them too! If you want to try Performance mode for pops, please get in touch with your manager. They will help.

Battle number 1: Manual CPC vs Performance Mode campaigns
Does Performance mode feature really work and increase conversions? The answer is certainly yes!
First, let's compare which campaigns achieve the best results: those optimized by users (manual CPC campaign) or with our optimization tool, Performance mode. Our focus will be on whether the CR has been boosted and the CPA has decreased.
The table below shows examples of advertising campaigns launched for the same offer in the same region by different RichAds advertisers. The only difference is whether Performance mode was used or not.
Spoiler: CR became higher, while CPA decreased dramatically!


Here is a screenshot from our report to prove the numbers for Campaign No1.


It's crucial to notice that campaigns on different GEOs and verticals were taken as an example and analyzed. This means you can test the feature on any offer and probably won't be mistaken.
Battle number 2: the desired CPA and Performance Mode CPA
Let's look into how Performance mode helps lower the desired CPA without any of your actions.
RichAds clients launched ad campaigns and compared the numbers of the desired CPA and real CPA they got with Performance mode.
As you can see on the screen, the CPA in the Performance mode ad campaigns was from 8% to 41% lower than the CPA goal. It is important to keep in mind that the data also represents Tier 1, Tier 2 and Tier 3 countries. This feature works for all geos.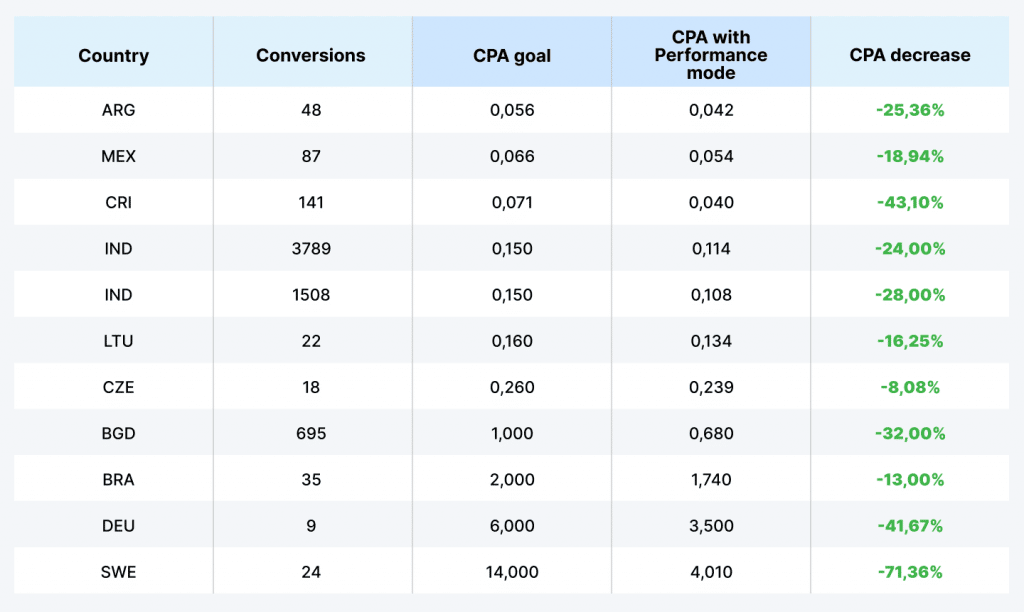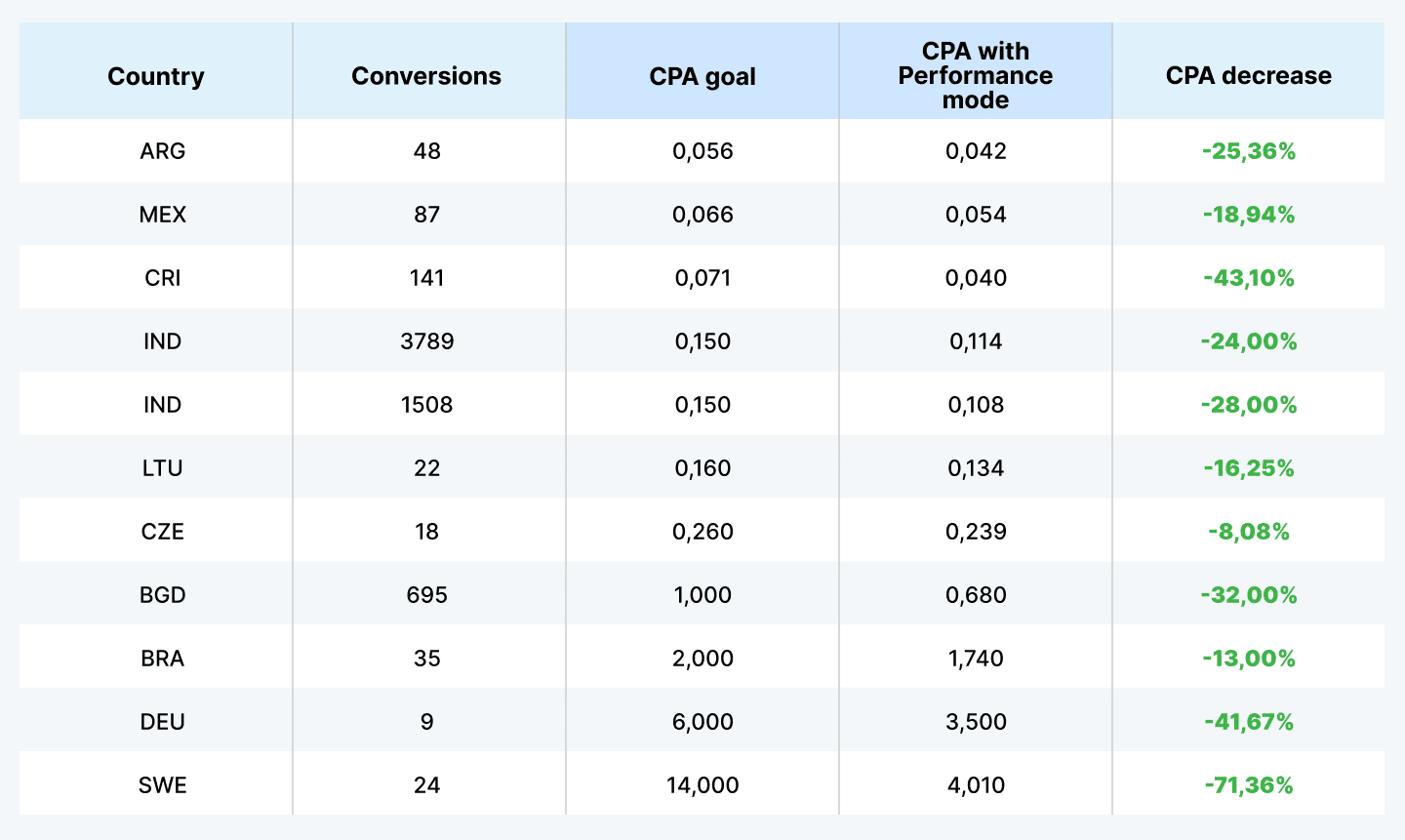 Conclusion
Optimizing campaigns takes time, and smart marketers choose RichAds' Performance mode optimization strategy. In fact, it reduces CPA by 79% and boosts conversion rate by 253%.
In Performance mode block- and whitelists for your campaign targetings appear almost daily without any of your actions. This feature helps improve your campaigns' results in a wide variety of geos and verticals.
The feature would be available even if you deposit only $100. Let's make your results better without any effort on your part.
What is RichAds?
🔝 Push and pop ads,
🔼 Direct click traffic,
🔝 CPM for direct click ads starts from $ 1.5,
⏫ CPC for push ads starts from $ 0.003,
🔼 CPM for pops — from $0.5 in Tier 3, $1 in Tier 1,
⏫ large volumes of available traffic in more than 200 geos.