How to increase conversion? This is the most popular question among all affiliates. If somebody finds an easy way, there will be a really high demand for it.
To be honest, there is a solution, but it's not so easy as it seems 😆.
This is testing of creatives and bundles, even the most experienced advertisers may waist all his money ignoring it. It's quite a complicated scheme and requires time but it's worth it. If you work hard and find an appropriate strategy, your efforts will be deservedly rewarded: conversions will increase and CTR will be high as well.
In this article, we will explain how to optimize creatives for push traffic.
What is A/B testing of creatives?
A/B test (or split-test) is an experiment, during which the user is shown different variants of ad materials (for example, push notifications) and then, according to their reactions, the conditions under which the success is higher are estimated.
A/B tests aim to identify the most appropriate variant for conversion, then scale it and get profit. It can be applied to find profitable lander-offer combination at the start and for its optimization during campaign running. It's necessary to avoid burning out of successful creatives.
So, you've made up a creative: have chosen an icon and the main image, have written headline and description. Here is the variant A from A/B term. If you change just one element in this creative, for example, the main image, you will get variant B.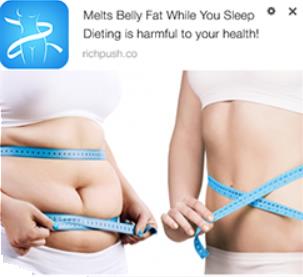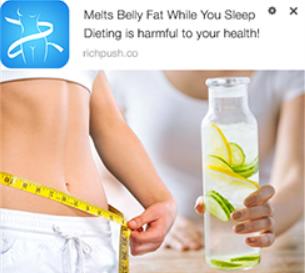 Note! During testing change only one element:
icon,

image,

push notification's text,

pre-landing page,

landing page.
If you have several variables, you will understand what exactly has worked. Yeah, to test the effectiveness of different elements, you will have to make not one test but a number of them.
Important requirement: they should be tested simultaneously, with the same GEO, targeting and in one ad network.
Which instruments will you need for split-test of creatives?
At RichPush you can run creatives' split test within usual campaign launching. You won't need any additional instruments. Add to your campaign creatives and lander-offer combinations you want to compare. You can test simultaneously up to 10 creatives.
All creatives are displayed on the campaign page: you can see the full version of their image, icon, and text in one place. The most important indicator of push notification's success – CTR or click-through rate – will be shown here too. Pay attention to the creatives with the highest CTR. They will become your favorites.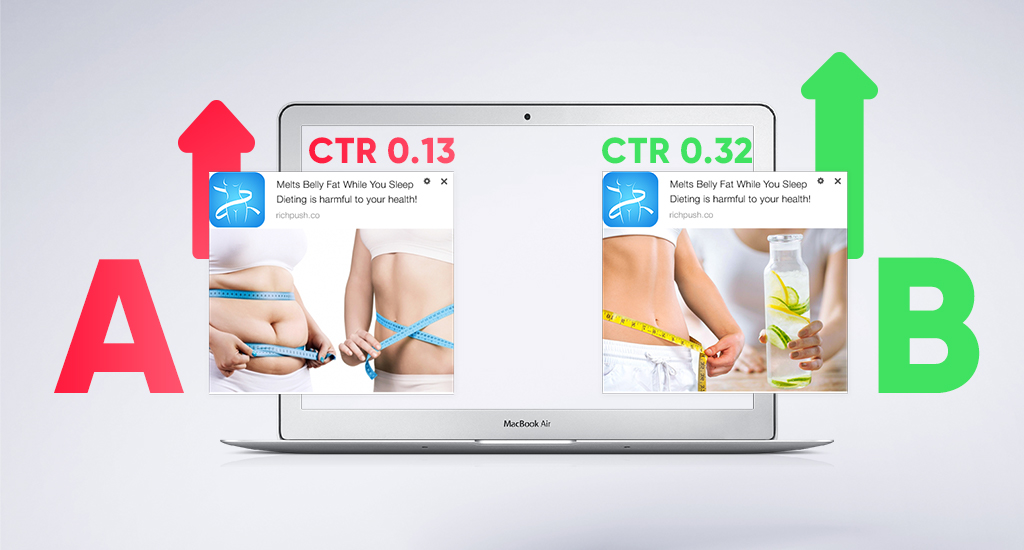 Except for creatives, at RichPush campaigns, you can test different landing and pre-landing pages. You can change their IDs and follow the performance in each creative.
Conversion rate (CR) will show how successful landing page meets its challenge.
These values you can find in CPA-tracker. They will also be available in reports if you set up conversion tracking on our side.
Summary: follow two main parameters: CTR for creatives and CR for landing pages. The higher the rates, the better.
What to pay attention to during split-testing of creatives?
Our brain processes information quite an interesting way. For example, when you see a person for the first time, it evaluates his appearance and during the first five seconds concludes whether we like this person or not. We've not listened to the person yet, but the first impression has been already made.
Visual message influences a person stronger than verbal signals or texts.
The same rule works with creatives: first people notice and evaluate images and icons and then goes text. We will start from it running the A/B test.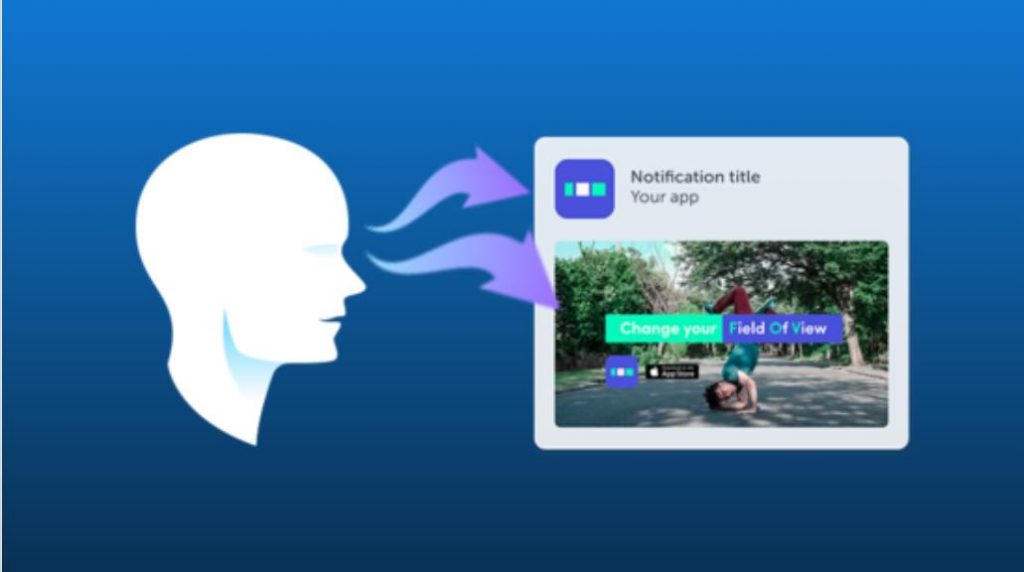 How to test AD creatives: preparatory stage
First, it's necessary to create one fly-away creative. It's going to be our reference variant "A" for the first A/B test. We will make changes to it one by one and test, which of them improves conversion.
For making changes, prepare 3-5 alternative variants for main push notification's elements (main image, icon, headline, description).
Of you have time and desire, nothing prevents you from making up to 10 different variants and test all of them. Such a test will be more extensive and you will likely to identify winners. We will refer to 3-5 variants of each element – this is the best figure to choose 2-3 successful creatives for scaling.
Ready, steady, test!
Step 1. Test an icon
Why an icon but not the main image? The answer is simple: the main image draws more attention, but not all users will see it.
The world trend is the following: mobile traffic prevails over desktop. Our platform is not an exception – 89% of traffic relates to mobile. It means that most users will see only icon and text.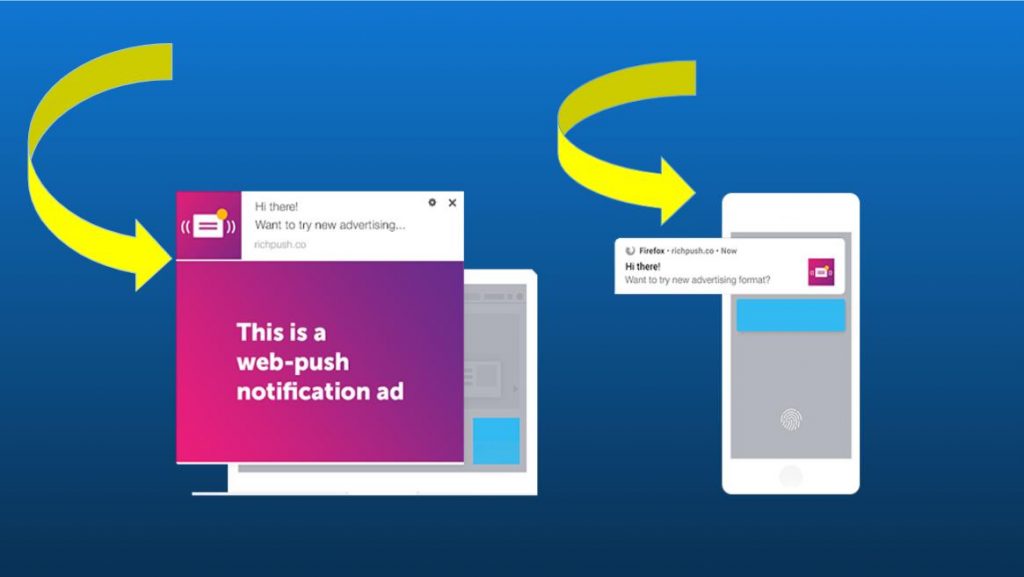 The significance of an icon can't be underestimated – it helps to understand the topic of an offer for just one second. Try to make it large and clear, avoid small and distracting elements. You can try different colors, it can also influence the users' behavior.
So, take the creative's reference and make copies with different variants of icons. Remain unchanged all other elements. Remember about one rule: 1 test – 1 change. Now you can launch testing!
Building on the test's results, identify 2-3 successful variants of icons with the highest CTR and continue to work with them.

Step 2. Test main image or "banner"
Although the share of desktop traffic on the platform is smaller than mobile, don't forget about this source. Desktops convert as well as mobiles and sometimes even better!
The image is the most important part of a desktop's push notification. The user will see it first. Let's continue testing: next goes the main images.
Well, you have a few converting icons. Use them as a basis for new variants of creatives with different main images. If there will be too many variants, you can split the test into 2 stages.
Anyway, you will get 2-3 leading variants again. But in this case, you have already known that both an icon and image work great.

Step 3. Test headlines
and
Step 4. Test descriptions
The final part is tests of headlines and texts. Images are processed by our brain primarily, but it doesn't mean that you should ignore texts and descriptions. These are the keys to solving your clients' problems. If you can define the "pain" of your client, he will more likely to click on push notification.
This stage of the test is run just like the previous ones. The main thing: don't run test of headline and text simultaneously. In this case, the results will be difficult to interpret: which element converts: headline, description or both.
Ultimately, after all test's stages, we will get 2-3 profitable variants, which you can use with the full budget.
How much data is enough to learn lessons?
Is it possible to make a time limit for the test? It would be so useful: to know that in a few hours you will get relevant results. Sometimes a few hours is enough, but sometimes you need a few days.
It's better to measure each test not by time but by data obtained.
To measure success, check one lander-offer combination using budget equal to 3 conversion's prices if one conversion costs more than $10. The sum of money you spend on the test of each variant of the creative should be no less than the cost of 1 conversion.
One more variant is to rely on the sums you are ready to spend. For the test prepare 10-20% of the budget you are going to spend on your campaign, split it into a few parts for each step and start testing.
Split-testing is a quite time-consuming activity which can last not one day. You will have to be creative, and patient as well as be ready to spend the budget, but it's worth it.
That's the only way to identify creatives that really work.
Don't give up split-tests and get profitable lander-offer combinations with RichPush.
[starbox id="Aksana Shakal"]
Was this helpful?
Yeap
Ok
Neutral
Try harder
Nope