Weight loss offers convert well on push traffic all year round. Seasonality does not affect their popularity — in summer people want to lose weight to look pretty in a swimsuit, in winter they dream to lose weight for the holidays. We have collected the best weight loss ad copy examples for different target audiences taking into account their needs and problems.
Learn About Weight Loss Advertising for Medical Clinics here
Determine Weight Loss Target Audience
It's no secret that the audience of weight loss offers is very wide. The thing is that everyone wants to look good at any age. Despite the heterogeneity of the audience, there are several main groups that are worth focusing on.
Women after pregnancy.
They tend to be interested in advertising weight loss products as it is important for them to lose weight quickly, preferably at home.
Men and women after 40.
When people turn 30, the metabolism slows down significantly. Obviously, it becomes more difficult to lose weight for them, so pay special attention to this group.
Elderly people.
This audience is interested in losing weight to improve health and overall well-being. We advise you to focus on these factors when developing creatives.
Young people.
They are often interested in losing weight for a certain event, for example, graduation or swimming season.
Now that you know which audience to target, let's analyze detailed examples of weight loss ad creatives and various approaches to their creation.
Top 10 Examples of Weight Loss Creatives
If you were in doubt which approach to choose in order to get exactly into the problem of your target audience, this part of the article is for you. We have collected 10 examples of weight loss advertising ideas, relying on the expectations and desires of potential buyers.
Women over 40. For this population group, it's crucial to show examples of women who have struggled with the same problem and managed to overcome it. Here you can use storytelling in the headlines of weight loss ads to gain trust. The second converting approach is the celebrity weight loss story they want to look up to.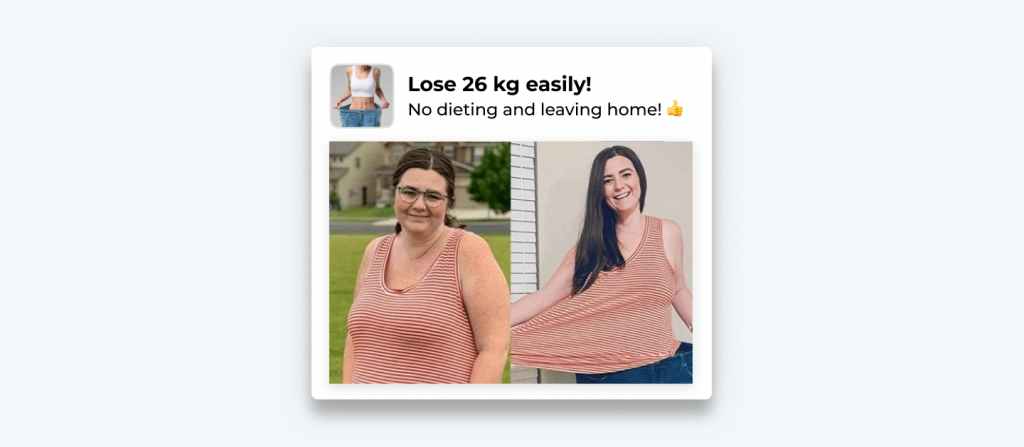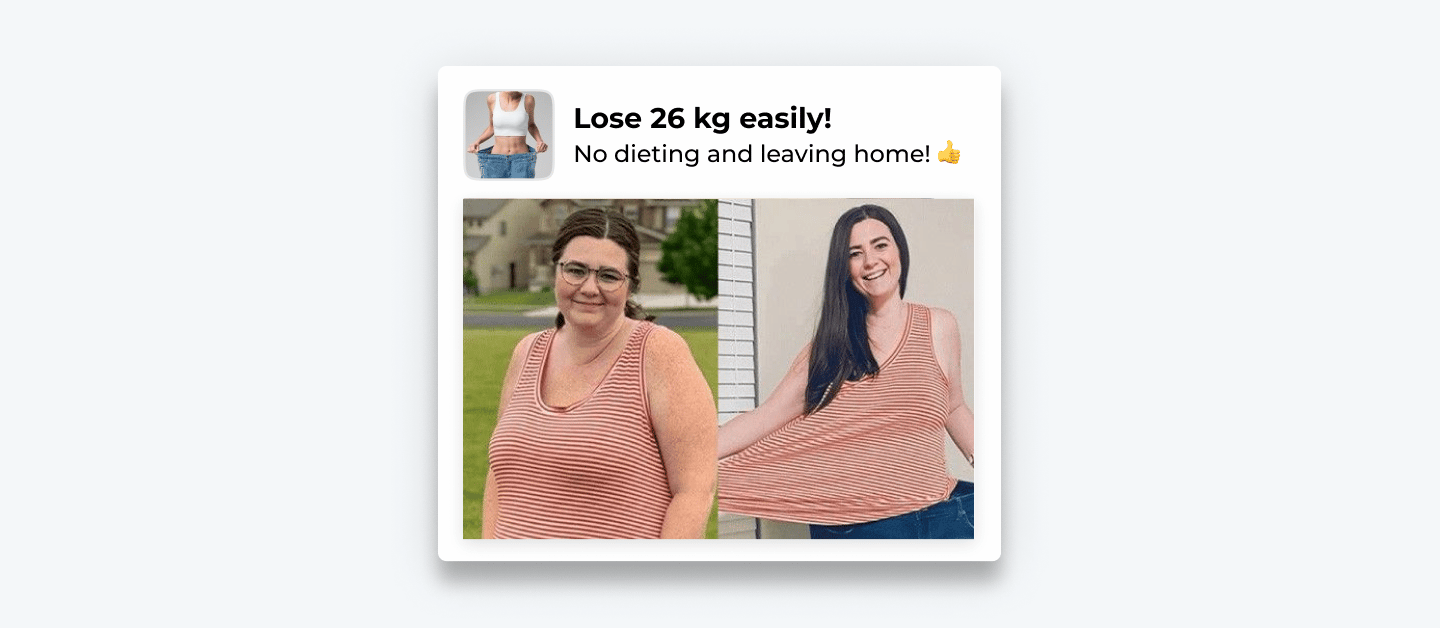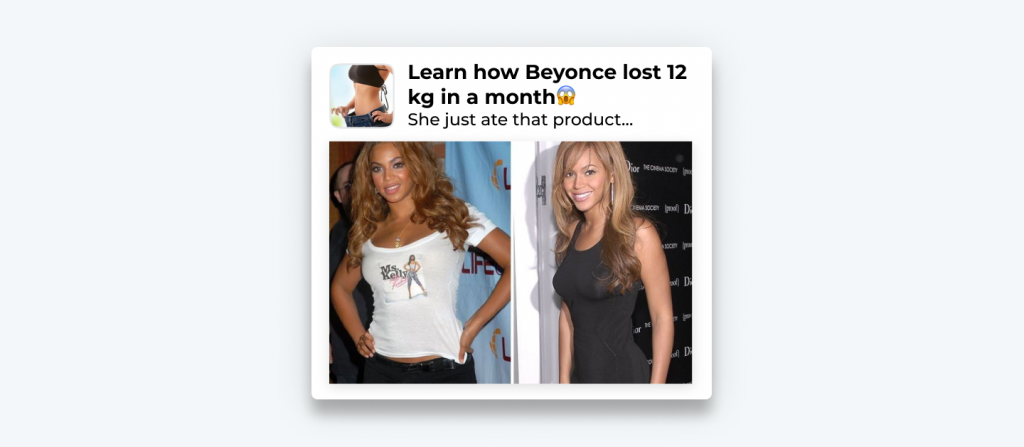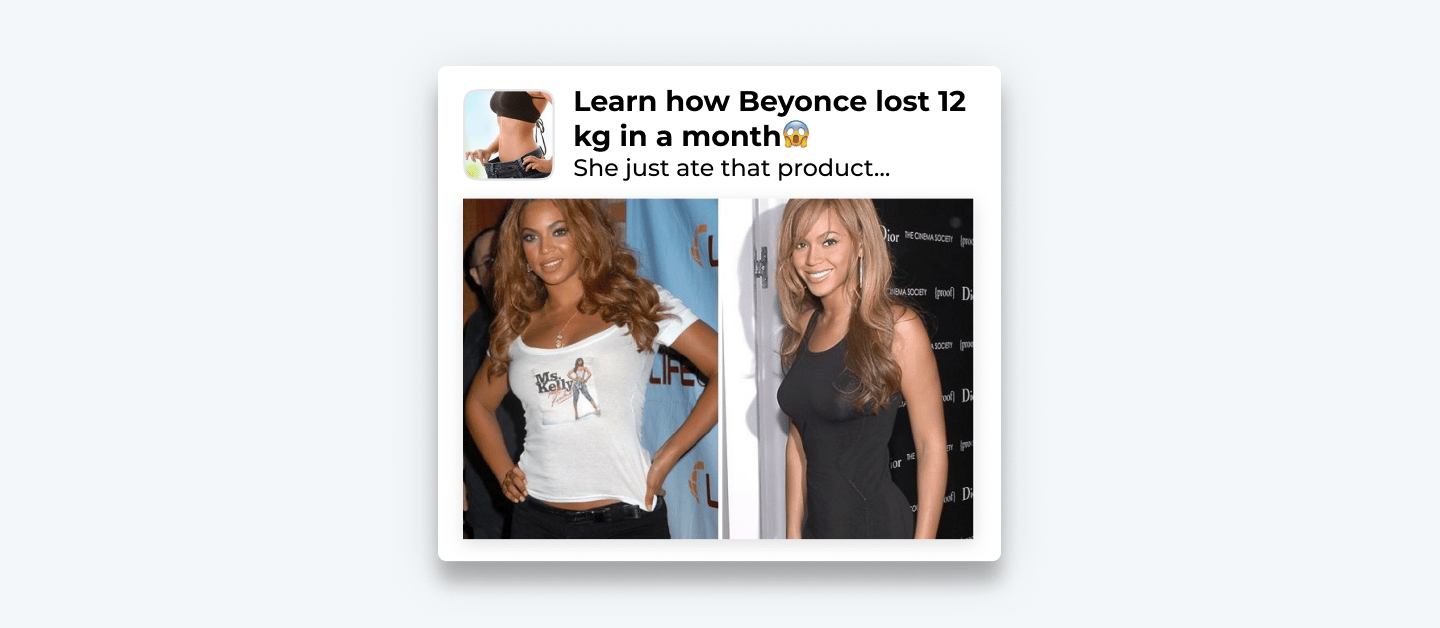 Middle-aged men. A very common mistake of marketers when making weight loss creative ads is to ignore the male part of the audience. It is important to remember that men also struggle with excessive weight, for example, with the problem of abdominal fat.
They will also pay attention to real examples of weight loss, preferably without prior effort. For men, the opinion of doctors is very authoritative, so this can also be used in your creatives for persuasiveness.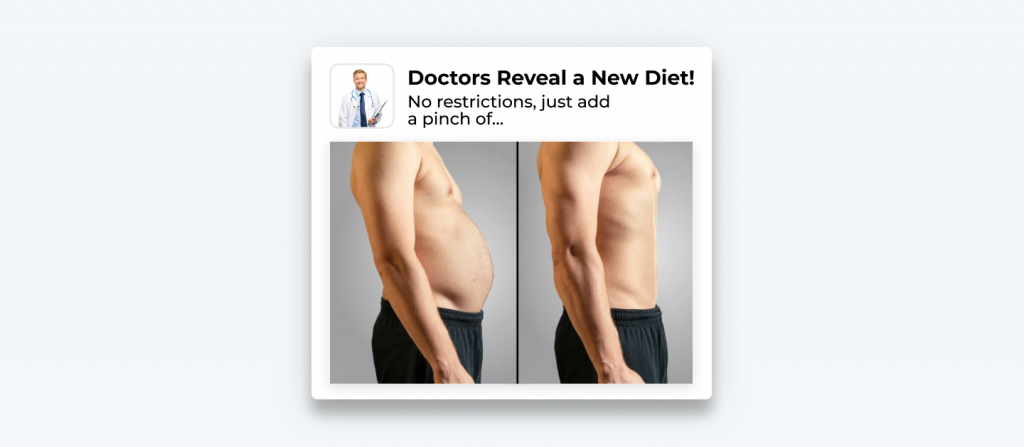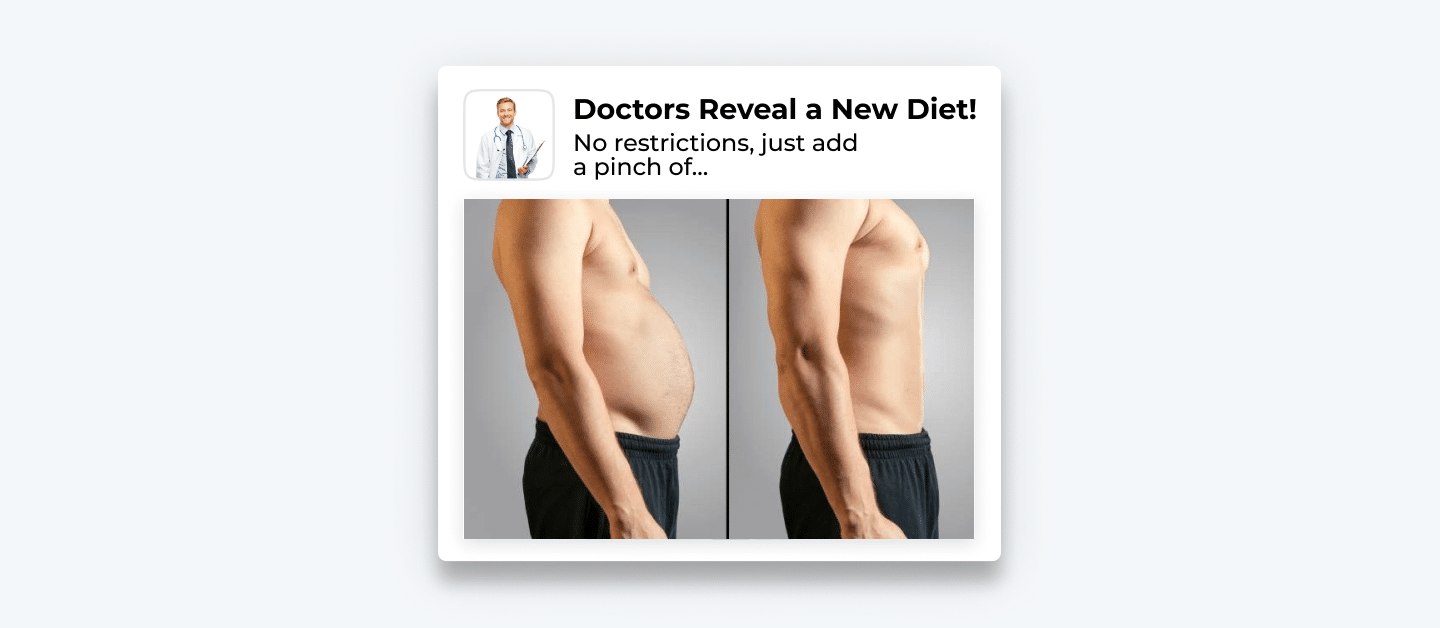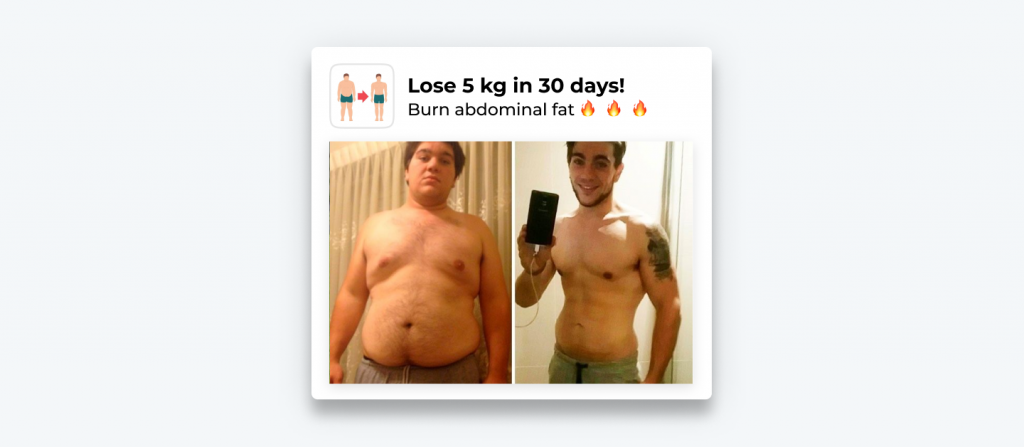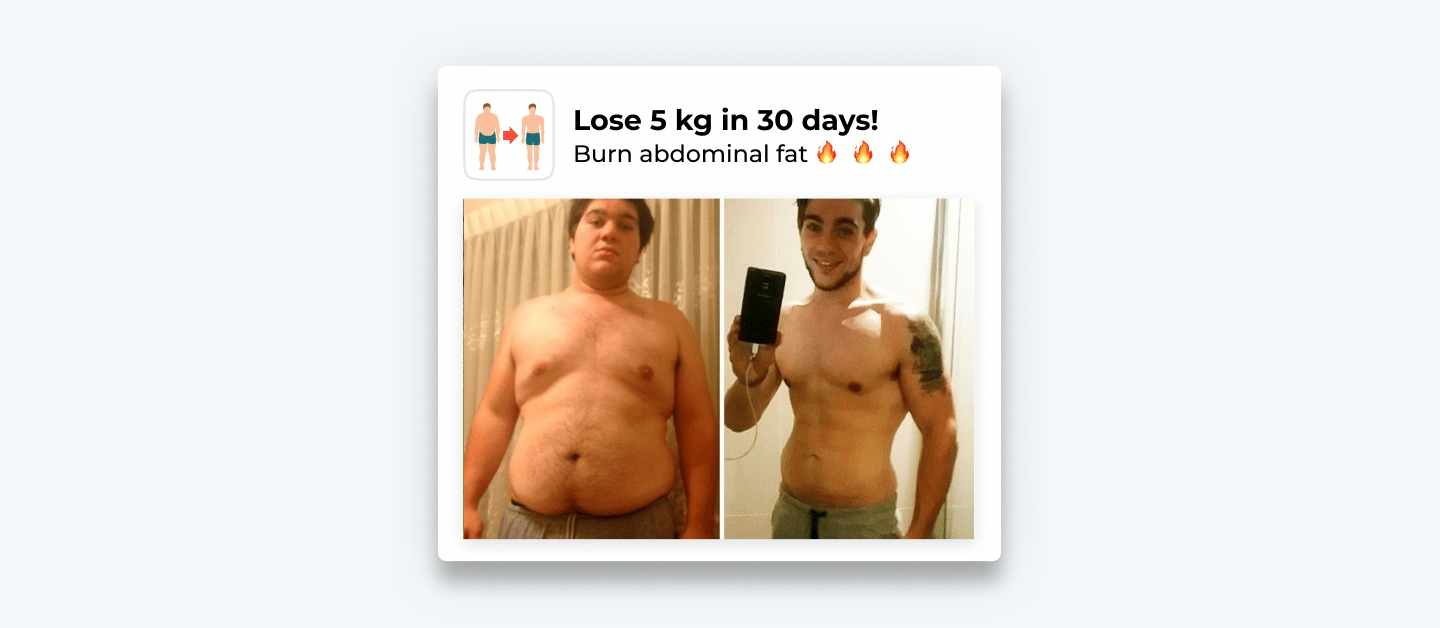 Women after pregnancy. This is the most common and profitable audience for weight loss. Basically, there are several ways to attract them — you can show a happy slim mother with children to motivate a potential client.
Another option is to use before/after weight loss ads to show an impressive result. Also try to focus on the "special secret" to emphasize the exclusivity of the offer.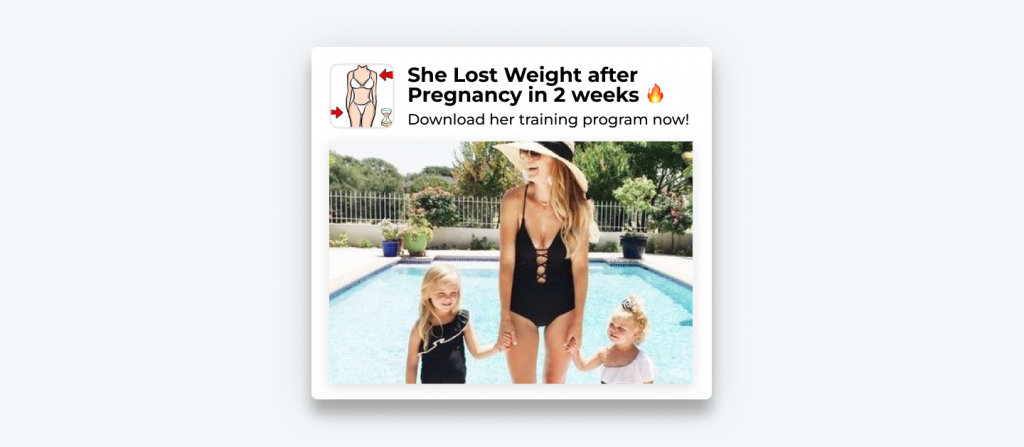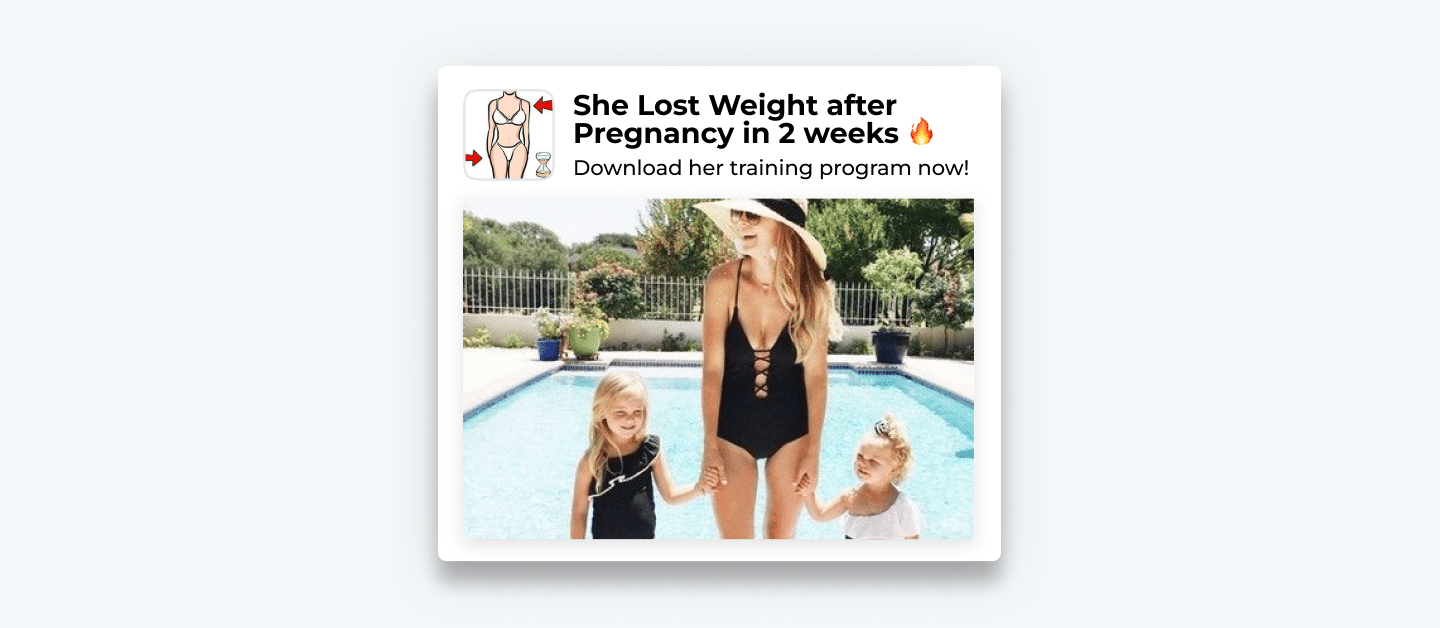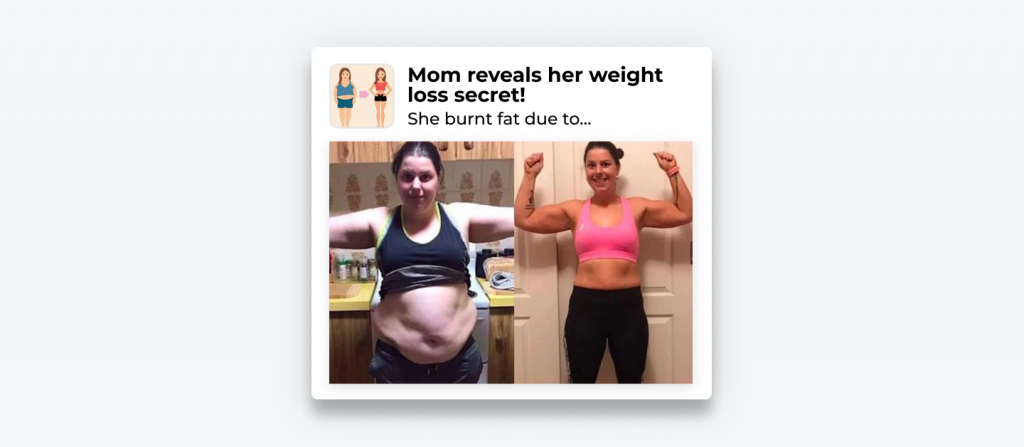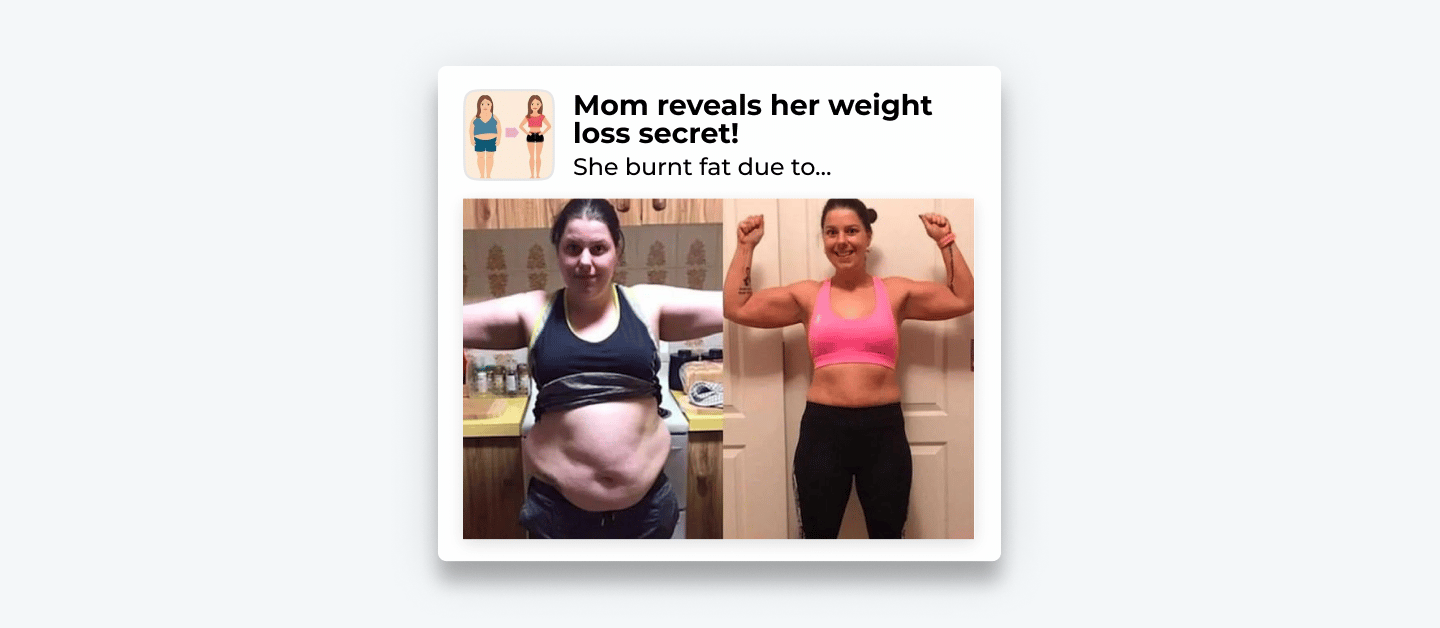 Elderly people. This group is the most sensitive to the opinion of doctors, folk medicine, as well as to the "wellness effect". They will also pay attention to the offer, if you specify that the tool is "cheap" and "time-proof".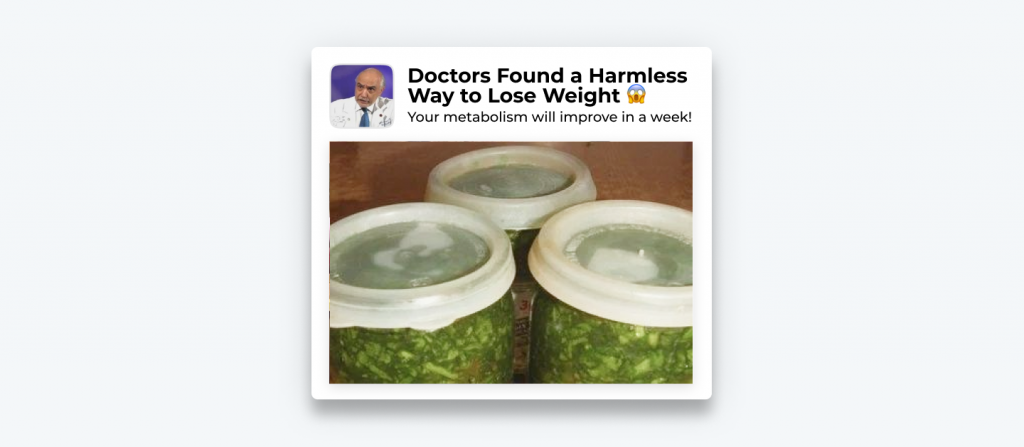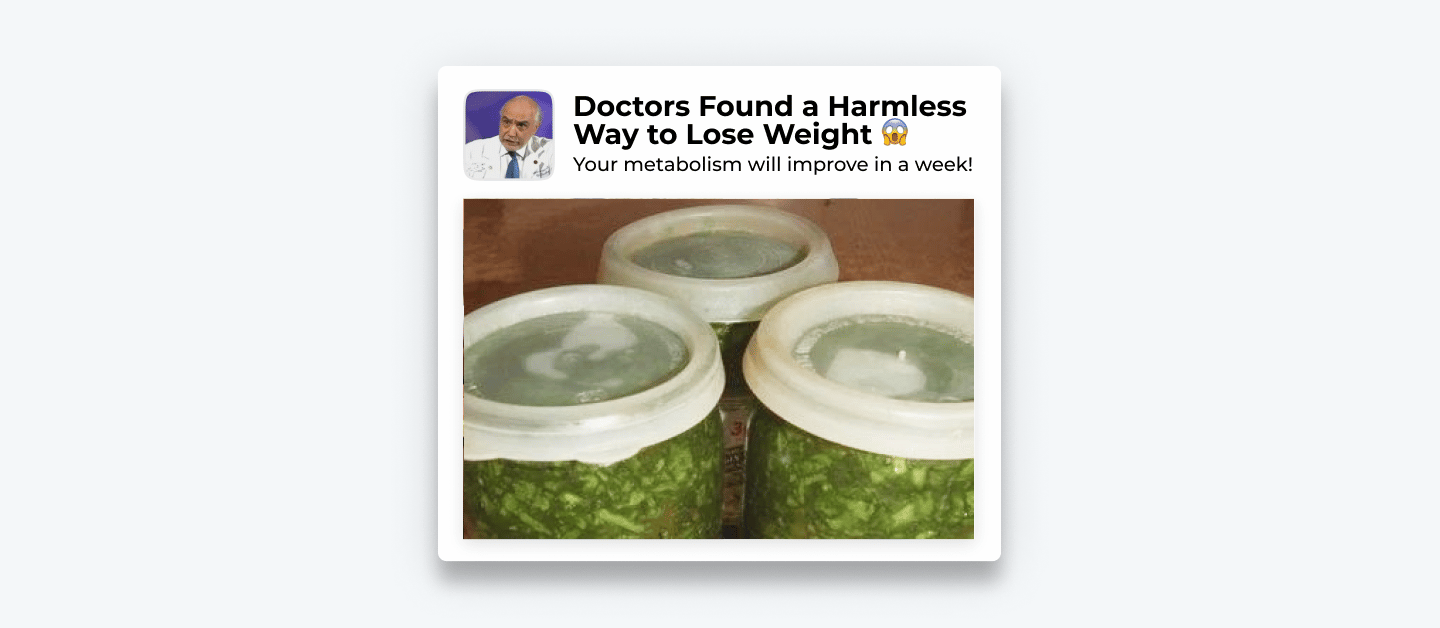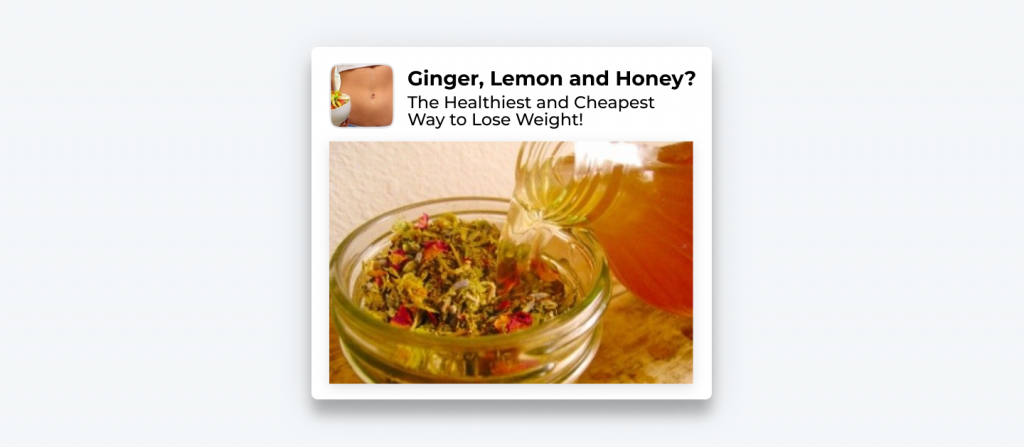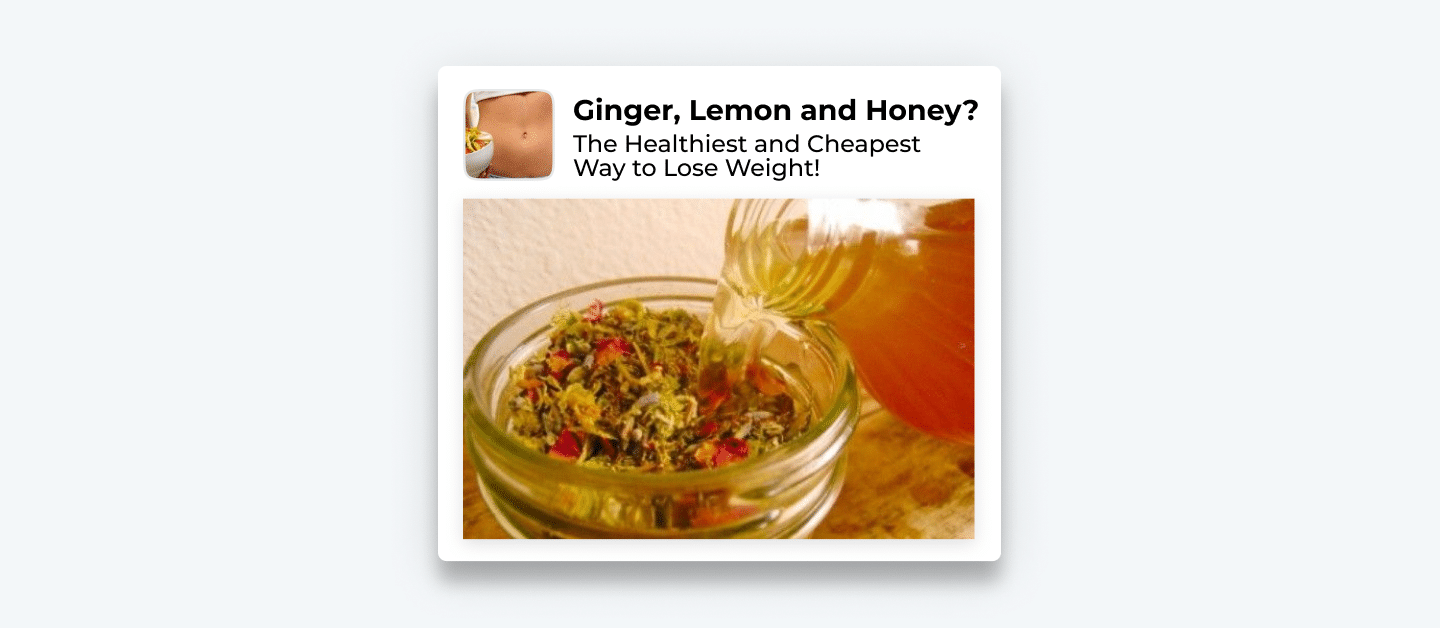 Young people. As mentioned earlier, they are most interested in losing weight for a certain season or event. We advise you to try a seasonal approach for this audience. For example, focus on losing weight by the swimming season, using photos in swimwear/underwear. You can also use real weight loss stories for a wedding or graduation.
Make use of a wow-effect, your creatives should show how weight loss has actually changed a person's life to cause emotions.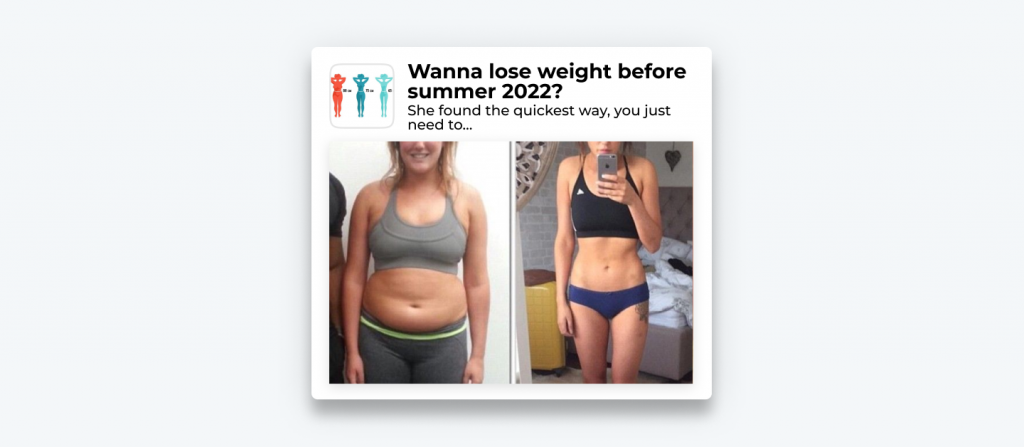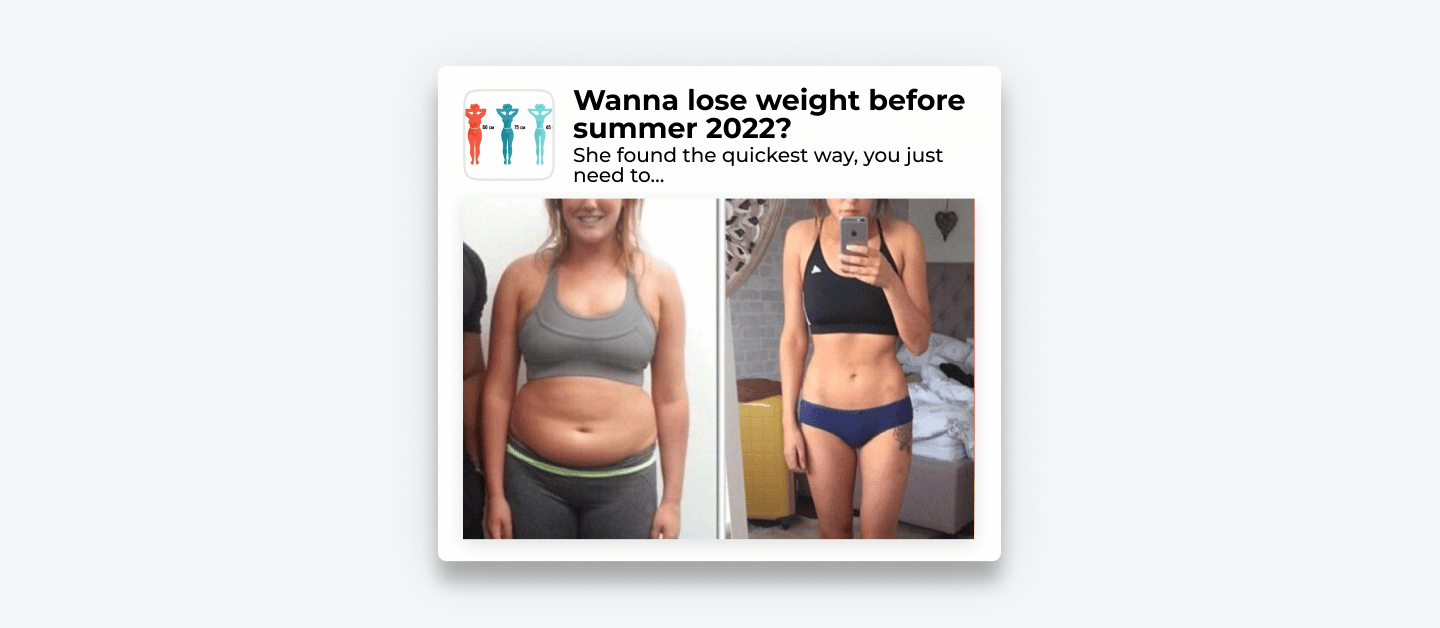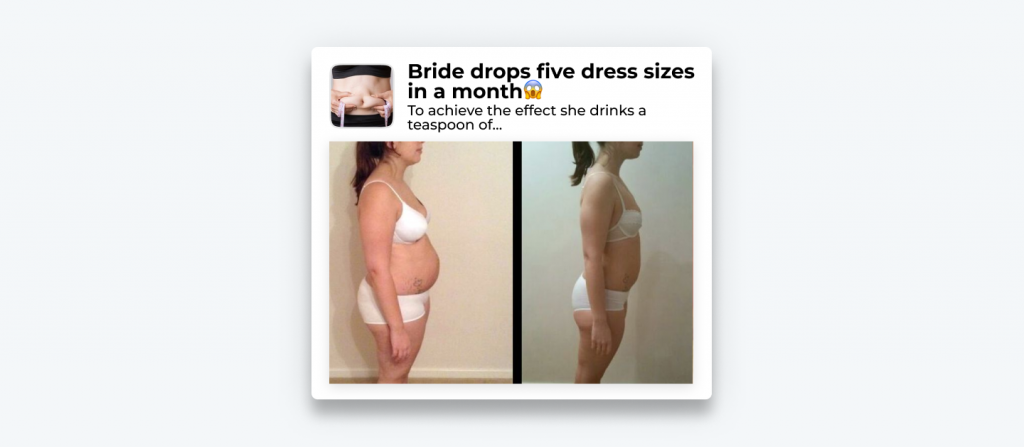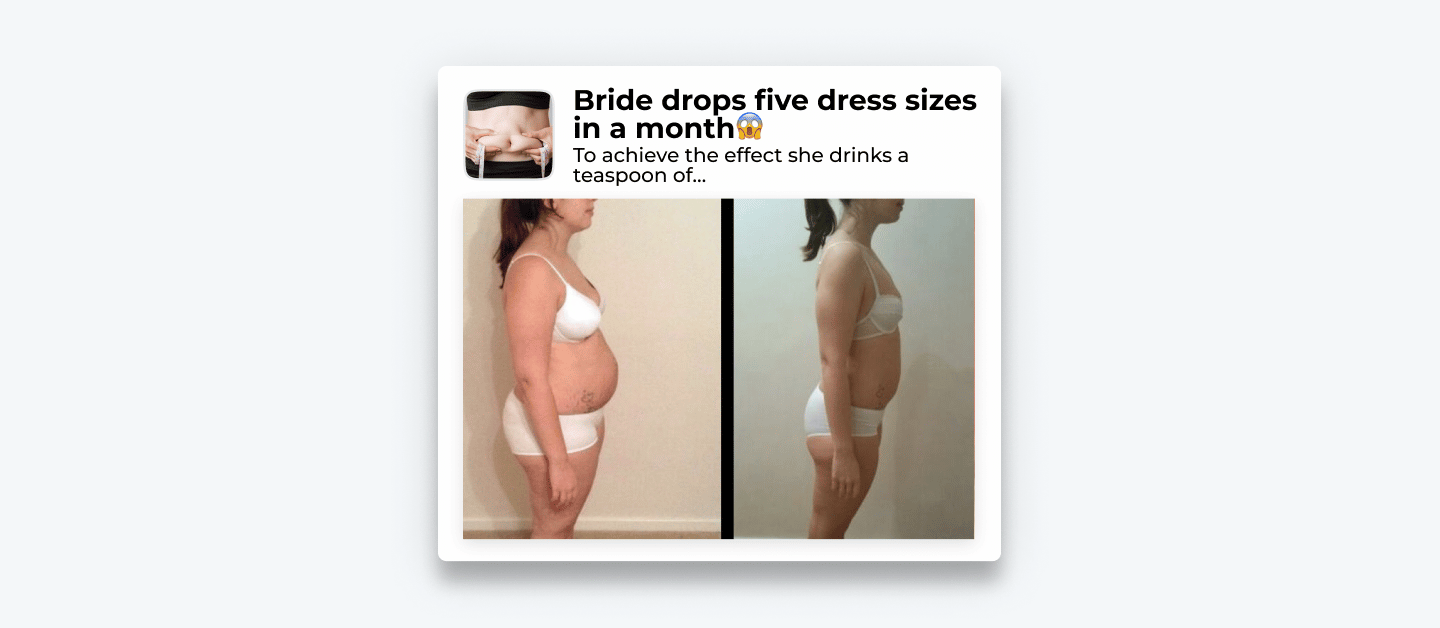 Successful Funnel for Weight Loss Offers
In addition to creatives, it is necessary to pay attention to such elements of sales funnel as landing and pre-landing pages. They play an important role in retaining the user for the Nutra vertical, and weight loss in particular.

If you launch weight loss offers on push traffic, the usage of prelending is crucial, because its target audience really likes to read real stories of celebrities and ordinary people. That is why the creative should lead to a prelanding — it'll hold your client's attention and provide him with expected information, for instance, a weight loss story, a training plan, or data about a miraculous medicine .
Important: It's crucial to place a button that leads to the landing page on your prelanding properly, it should be visible to the user, but unobtrusive. For example, it is logical to put a button at the end of the text about weight loss so that the user clicks when he's ready for your offer.
Conclusion
Remember that cool creatives are only half of the success when it comes to launching a push traffic campaign. We advise you to do your own market analysis and learn the competitors' approach. But don't use the same creatives, as it may affect the CTR and decrease it.
Just imagine how many identical push ads a user sees. Obviously, he will not click on the same ads more than two times.
If you don't have time to select creatives for each of your offers and constantly update them, you can contact your manager and he will order them for you for free.
What is RichAds?
🔝 Push and pop ads,
🔼 Domain redirect traffic,
🔝 CPM for domain ads starts from $ 1.5,
⏫ CPC for push ads starts from $ 0.003,
🔼 CPM for pops — from $0.3 in Tier 3, $1 in Tier 1,
⏫ large volumes of available traffic in more than 200 goes.