« Back to Glossary Index
Sweepstakes vertical is one of the oldest niches in affiliate marketing. This vertical was profitable for advertisers for a long time and still shows good results!
Time passes, main tendencies change, but Sweeps is still on the top. Let's closely look into the definition of sweepstakes and learn some tips about how to run them properly.
Sweepstakes vertical meaning
Sweepstakes are lotteries and raffles where users may win a prize by chance. Gadgets, gift cards — these are usual options that can be offered as a prize. Xboxes, PlayStations, sneakers, and even products for children can be drawn in the lottery as well.
The user should take a certain action to participate in the giveaway: leave the contacts and share personal details, pay a small sum of money, etc. As a result, they get the possibility to win the desirable prize.
At the same time, an advertiser (giveaways organizer) gets the user base to work with: their contacts, age, sex, address, habits, etc. It depends on what kind of information the advertiser needs. Sometimes they ask about the client's Internet provider.
Sweeps help big companies to get helpful information that can be further used to send out promotional offers or build marketing strategies. Some advertisers can also earn on the resale of data when they use it.
Affiliate marketers can earn some more from Sweepstakes if they add some questions to the questionnaire. For example, in the giveaways of IKEA gift cards, they can add the question about the user's children and then resale this data to the baby stores.
Now, when you know what Sweepstakes mean in affiliate marketing, we can talk about the difficulties in launching such offers.


Types of Sweepstakes Offers
The success of Sweepstakes offers promotion depends on the awareness of what you should do for the conversion to be counted. If you know the peculiarities of working with each funnel in the vertical, it will be much easier to choose a definite type of offer.
There are 4 offer types that can promote a Sweepstake. They are differed by required actions that a user should make for conversion.
SOI or Single Opt-In,
DOI or Double Opt-In,
Mobile Subscription,
CC Submit or Credit Card Submit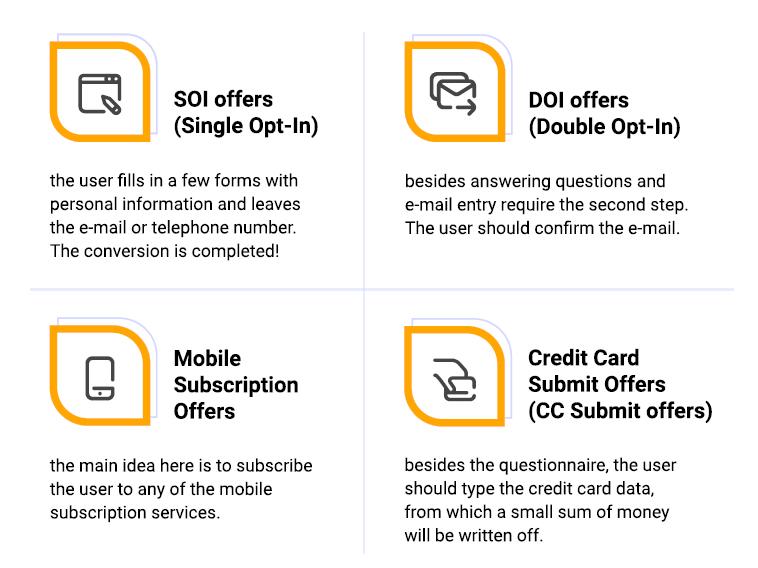 Single Opt-In and

Double Opt-In

Single Opt-In, as well as Double Opt-In, are lead generation offers with the easiest conversion flow. The user fills in a few forms with personal information and leaves the e-mail or telephone number. The conversion is completed for SOI flow!

For DOI besides answering questions and e-mail entry require the second step. The user should confirm the e-mail or telephone number. This makes the user flow more complicated.

For these offers, a questionnaire means a lot. They usually include questions about age, interests, marital status, profession, or more specific questions on the topic interesting for advertisers (for example, the cellular network may
ask questions concerning its services).

Check the size of it! Sometimes they consist of more than 10 or even 20 fields to fill so it may be not a simple offer to get conversions.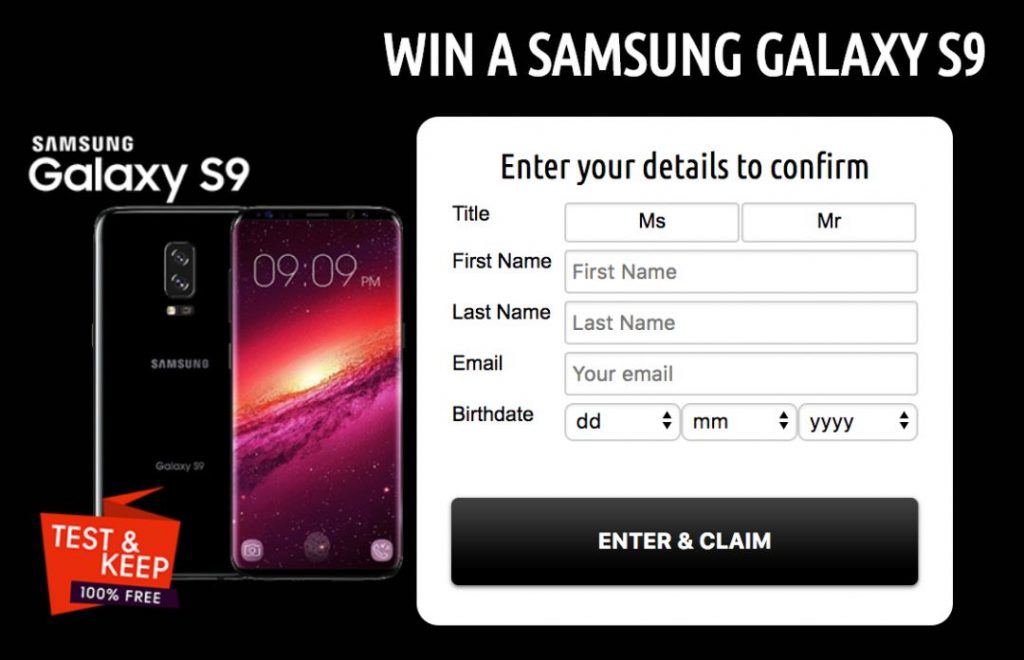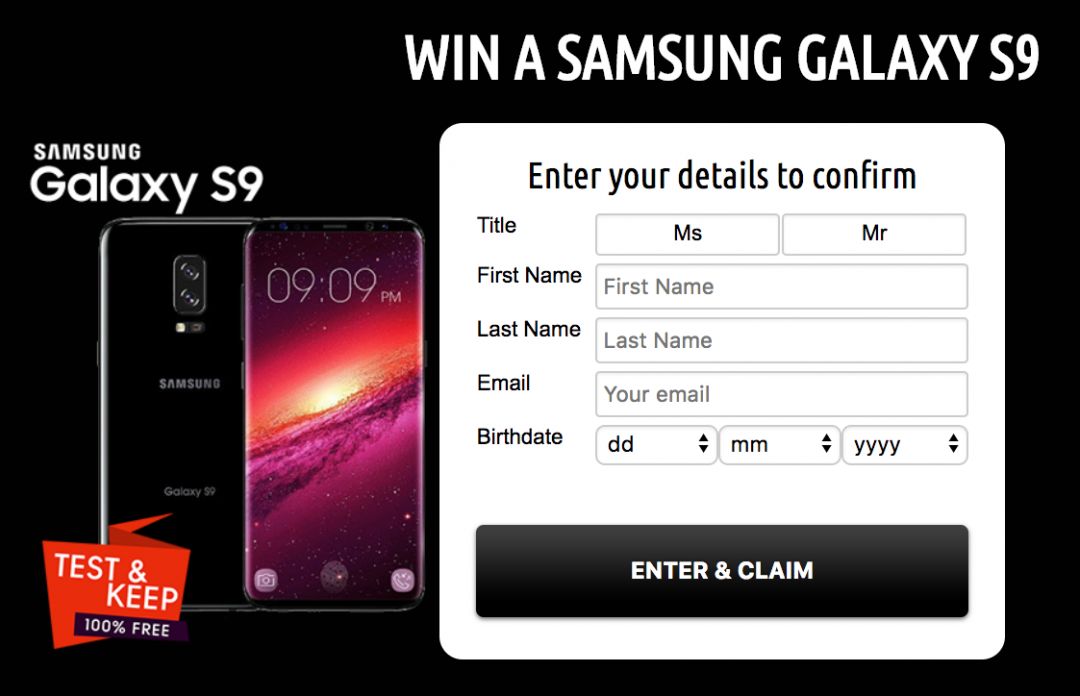 Credit Card Submit
Credit Card Submit Offers (СС Submit offers) provide a lottery of mobile phones for $1 or subscriptions to the services for films watching with a small price for the trial period. The conversion is considered to be completed when a small sum of money is written off from the user's card. As a rule, the user agrees to pay a few dollars to take part in the lottery or subscribe to the service.
The main thing: the user needs to be prepared to share their credit card information. We recommend not to offer it on the first page and lead to it gradually.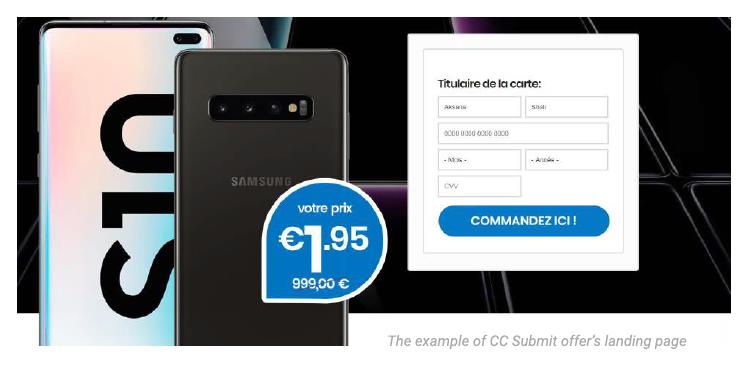 Mobile Subscription Offers
A part of offers works with certain mobile operators that support mobile subscription services. The offers here are the same: expensive prizes lotteries and subscriptions to the service.
The user gets on the offer page and besides other information enters their phone number. For successful conversion of some offers, to answer SMS is enough — the subscription will be completed. In other cases, user should enter the PIN code they've got via SMS on the page of the offer.
Payment for subscription is carried out with the help of a mobile operator: the user pays for mobile services and the sum for subscription will be included in the account.
Mind that such offers require to make 2-3 steps: enter a phone number, get an SMS, return to the offer page and enter the PIN-code. It may hamper conversion.
🔻 Learn more about what is Sweepstake in affiliate marketing here 🔻


Traffic Sources for a Sweepstake offer
This vertical is successfully run on different traffic sources. Some sources are becoming less popular over time, new sources and possibilities are appearing.

The most popular sources for Sweepstakes in affiliate marketing: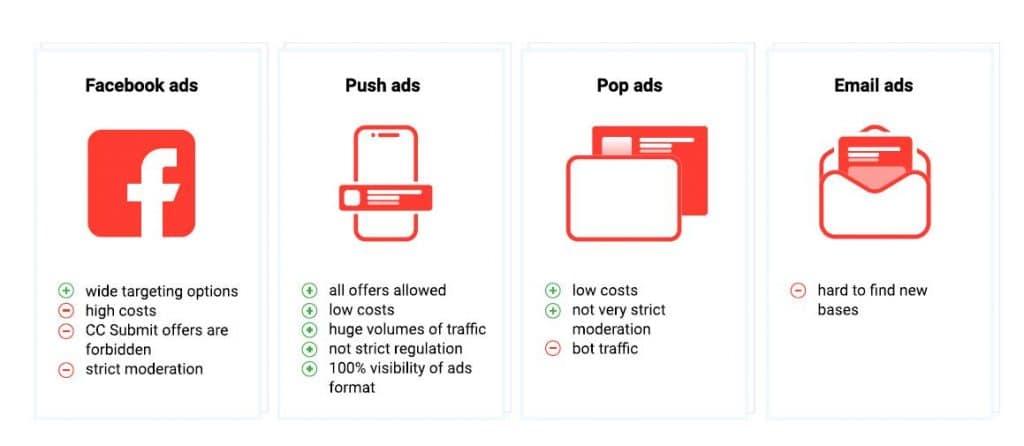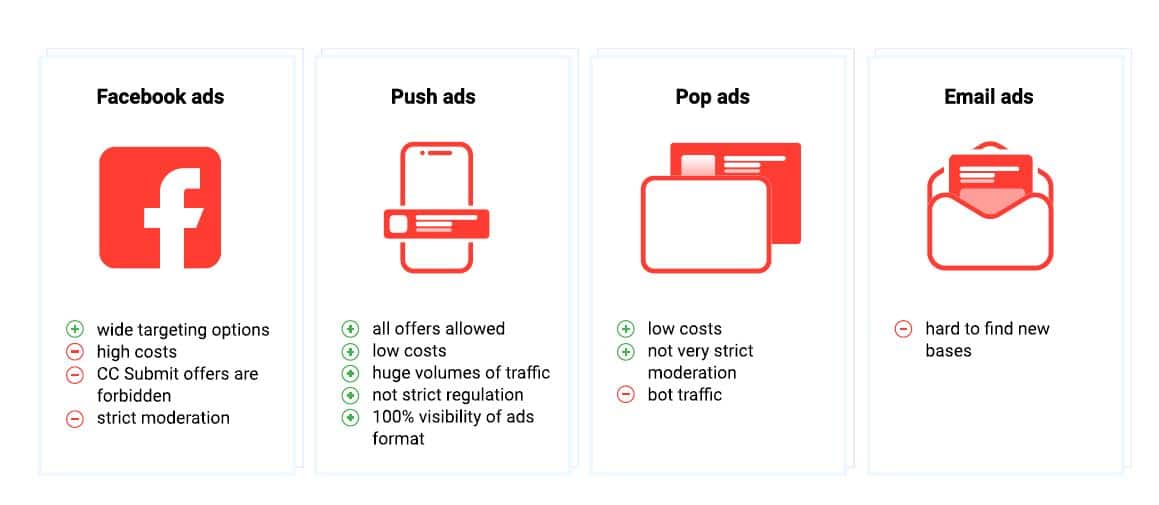 Let's have a closer look into the youngest traffic source for Sweepstakes. Push traffic has appeared very recently (in 2018) but it is one of the most popular traffic sources for sweepstake offers now.
What is the reason for it? All types of offers are available on push ads, the main thing is to pass the network's moderation. As a rule, ad networks prohibit well-established approaches to conversion: using celebrities, brands' logos, or mislead. But affiliate marketers manage to overcome even these obstacles. Sometimes saying "You can win an iPhone" instead of "You won an iPhone" is enough to pass moderation.
Both standard Samsung/iPhone offers and shopping vouchers will be appropriate for working with push notifications. But little-known shops' gift cards work badly as targeting options in push notifications are severely limited and people have to work with a wider audience.
One of the main advantages of push notifications is the cost of the ads. CPC starts from $0.03 at RichAds.
Push Ads Peculiarities for the First Steps with Sweepstakes
Before launching a push ad campaign you definitely should know some details about push ads in common not to make newbies' mistakes.
Add 5-10 creatives per one campaign to make A/B testing. It really helps you to make a profit with push ads. Also, you can test different landing pages for each ad copy. Replace creatives on time. Even successful ones need to be changed from time to time to keep high CTR rates.
Both mobile and desktop are good for user acquisition but have different bid costs. Create separate campaigns to save your budget and make optimization easier.
Use pre-landing or landing pages running Sweepstakes on push ads. Direct links are not a good option for this vertical.
Set up 2 impressions per day as an impressions limit value. Some users need to see your push ads twice before they click.
Ask account manager about the whitelist for your offers.
Start with the Premium traffic sources. They show the highest performance across all verticals and GEOs.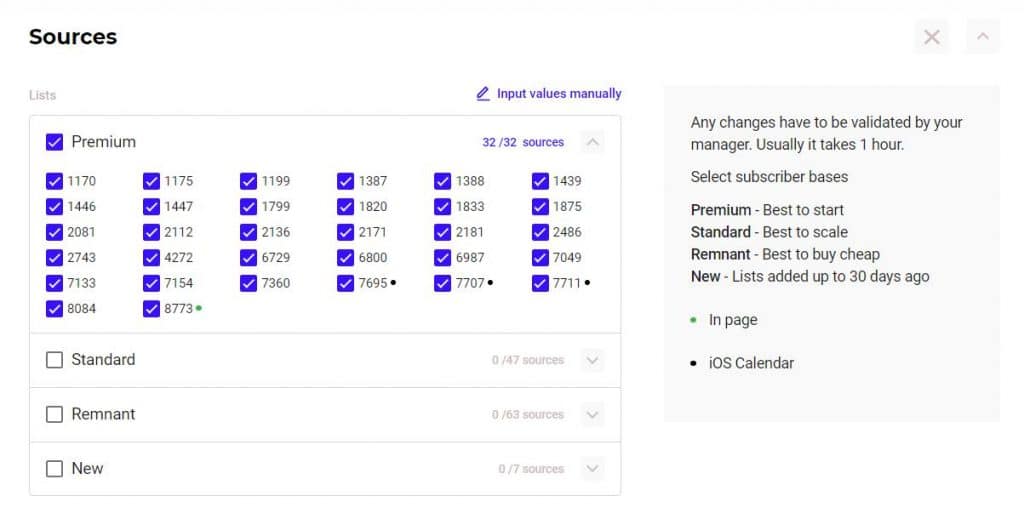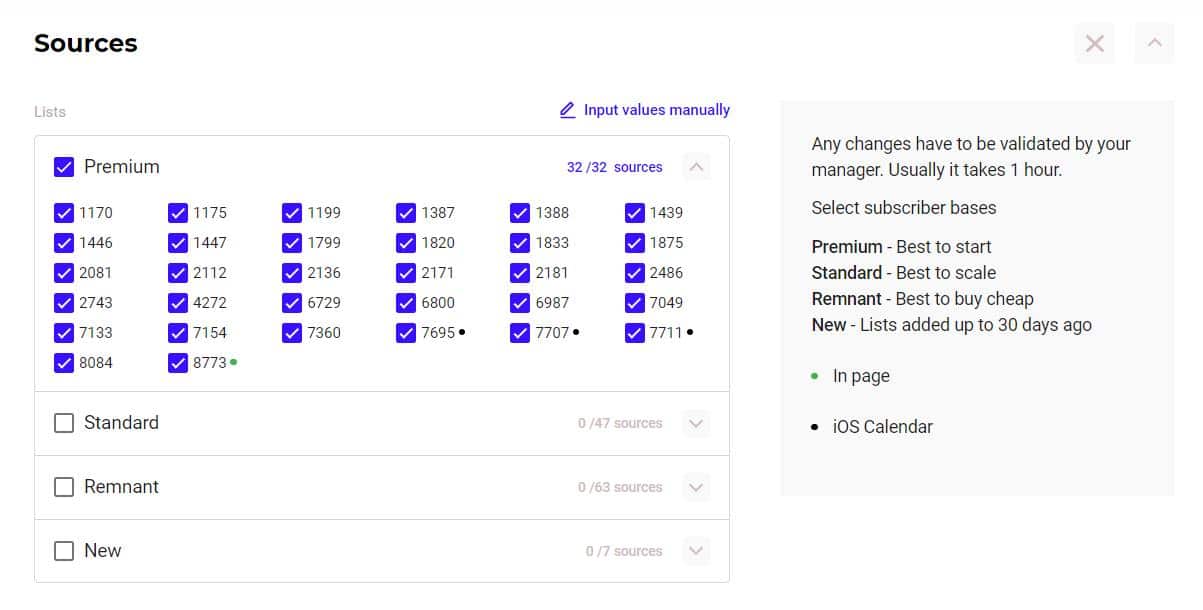 Use RichAds traffic to make a profit with Sweepstakes
What is RichAds?
🔝 Push and pop ads,
🔼 CPC starts from $ 0.003,
🔝 CPM from $0,3 in Tier 3, $0,5 in Tier 2, $1 in Tier 1,
⏫ large volumes of available traffic in more than 200 geos.
---
Related articles: