Automated rules: what is it?
Let's start from the roots.
Automated rules is a RichAds feature which helps you to make automatic rules. You can choose the actions: to add a source to the black- or whitelist, increase or decrease a bid.
And apply this action for:
publisher IDs,
site IDs,
OS,
creatives (just for Push campaigns, of course),
browsers,
devices,
campaigns.
Note!
Automated rules are allowed for the customers who send us the information about conversions. 
Using this feature you don't have to set up lots of parametres manually.
Bye-bye exhausting optimization process!
How to set up Automated rules properly?
At first sight, it might seem that setting one parameter is enough for automated rules to work successfully. But it's not!
Note!
It's very important to create 2 conditions at the same time and make it logical for the system. 
When it comes to push traffic experts say that blacklisting works much better for good results.
Let's discuss two strategies you can use for making correctly working blacklists: blacklisting non-converting sources or blacklisting converting, but expensive sources.
Example 1
The system allows blacklisting non-converting sources. Let's set them up! As it was already said previously you have to choose 2 logical conditions: for example, if the spend is greater than $3 and conversions are less than $1 the system will automatically blacklist this source.
Don't forget to set up a period of time. For blacklisting 1-3 days may be enough.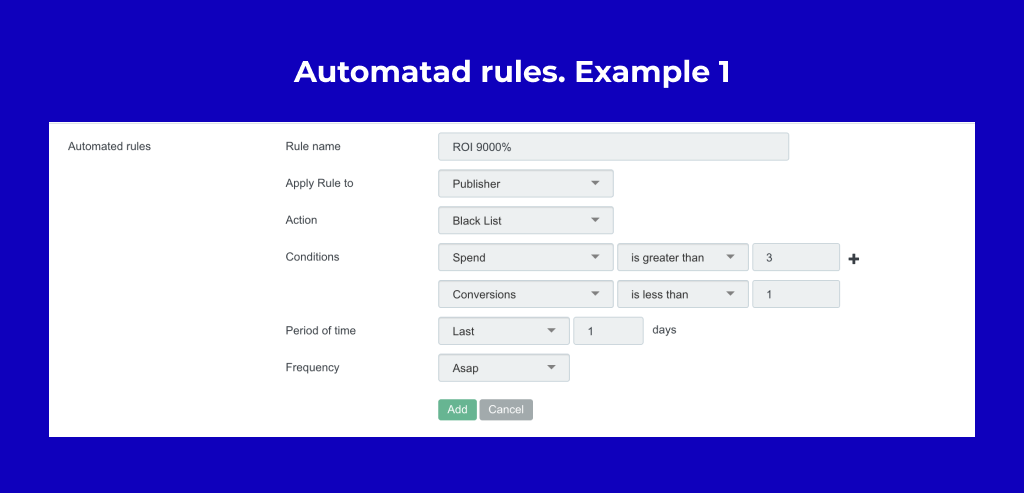 Example 2
On some occasions, you may blacklist converting but expensive sources.
In this situation, conditions are the following: if conversions are greater than $5 — CPA is greater than $2.5.
You can apply these rules for whitelists too, but remember that you need to collect much more data to create good whitelists. Set up automated rules for whitelisting at least for 7+ days to collect proper sources.
Automated rules monitores your stats every hour (if you set up ASAP) or at a certain time of the day (if you set up By Time). The results of these actions will be entered by the system in the fields of Sources whitelist/blacklist.
It's exactly the same scenarios for both traffic types: pops and push.
Use RichAds traffic and its top feature Automated rules to pocket the cash ?.
What is RichAds?
🔝 Push and pop ads,
🔼 CPC starts from $ 0.003,
🔝 CPM from $0,3 in Tier 3, $0,5 in Tier 2, $1 in Tier 1,
⏫ large volumes of available traffic in more than 200 geos.
Do you need more info about Automated rules? Find it here.