It's less than 2 weeks before one of the most anticipated conferences in 2023 takes place in Malta. We at RichAds simply can't miss it so we will take you through everything you need to know about SiGMA Europe 2023 and how you can meet us there!
Networking events, parties, awards, and most importantly — panel discussions with our CMO Vasilii Gamov!
What is SiGMA Europe 2023?
SiGMA Europe 2023 in Malta is one of the biggest conferences dedicated to the growth and spread of the iGaming industry. Its set goals are to establish a way for industry leaders to connect and discover new ways to improve the field through discussion and sharing.
The conference will take place on 13-17 November 2023. During this time some guests will be provided with an opportunity to take the floor to make a speech, participate in panel discussions and of course to party!
SiGMA Europe 2023 organization claims the event to be 'the mother of all conferences' and no wonder:
👥 25,000 delegates;
📢 250 speakers;
🌐 50 networking events;
🏆 2 big awards nights;
🎉 and about a dozen parties!
Attending this conference is the perfect opportunity not only to get to know the newest trends in the iGaming industry, but to get to know people behind them!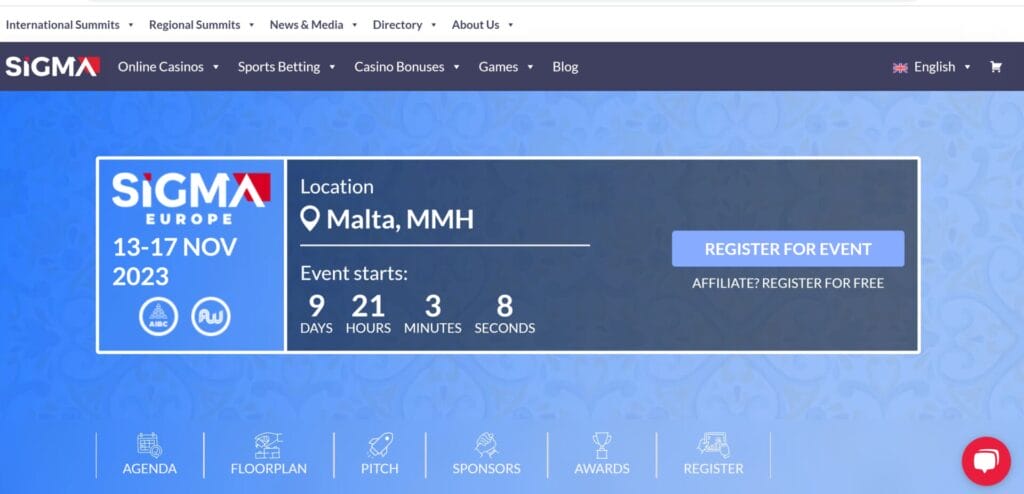 What will RichAds do at SiGMA Europe 2023?
We've already spilled that our CMO Vasilii Gamov will attend the event but what to expect from it? Don't worry, RichAds won't let you down on this one!
At all discussions, Vasilii Gamov takes part in will be shared observations and expert opinions on topics that are considered both ground-breaking and essential for every specialist entering affiliate area nowadays. And believe it or not, you don't want to miss it!
Book a meeting with RichAds at SiGMA Europe 2023 in Malta — we're always thrilled to meet fellow professionals and exchange knowledge!
More events RichAds will attend
It won't be long before RichAds will show up on public radars after SiGMA Europe 2023 in Malta! There are plenty of upcoming conferences you can come across us at and here are some of them:
7-8 December 2023 — Affiliate World Asia 2023 in Bangkok, Thailand. RichAds' booth is #D60!
6-9 February 2024 — iGB Affiliate London 2024 in London, UK. RichAds' booth is #G25!
There's also an opportunity to book a meeting with us at Affiliate World Asia 2023 in advance. Book the meeting with RichAds and we'll see you there!
What is RichAds?
🔝 Push and pop ads,
🔼 Domain redirect traffic,
🔝 CPM for domain ads starts from $ 1.5,
⏫ CPC for push ads starts from $ 0.003,
🔼 CPM for pops — from $0.5 in Tier 3, $1 in Tier 1,
⏫ large volumes of available traffic in more than 200 geos.