2020 was really challenging for affiliates. Nobody knows what to expect from 2021. The best idea is to learn the lessons about push ads from 2020 and implement them in new campaigns.
In our e-book about affiliate marketing, you'll get some extra knowledge to make your work easier in 2021. All main trends of push ads are inside!
Be the first to get hot tips about push notifications in 2021.


What's inside the e-book?
The book is constructed in the form of questions and answers. Each question is covered with responses from 7 experts. Sometimes they share opposite points of view on the problem.
The e-book is divided into 4 chapters. They are the same as the main stages of running any push ad campaign + bonus:
How to Start: best geos and verticals, tips on settings;
How to Optimize: best rules for auto-optimization;
How to Scale: main strategies and mistakes on scaling;
Push Ads Trends 2021: what to expect from push ads.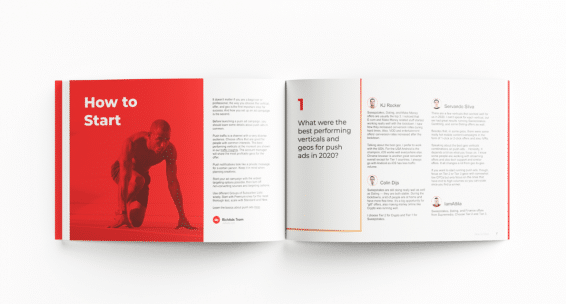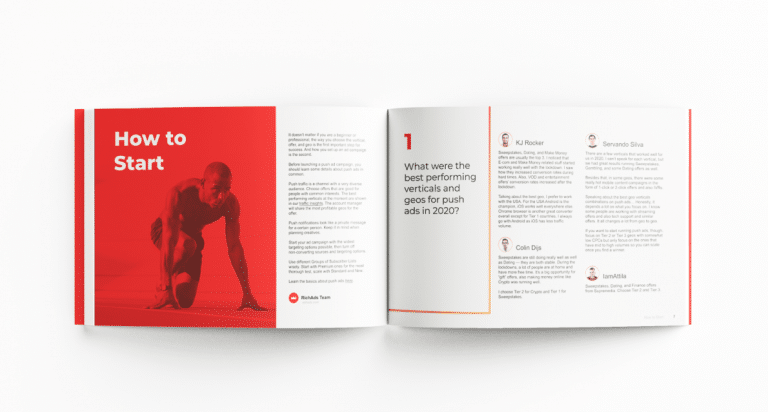 Outcomes for 2020: Top Offers and Trends from the best CPA-networks and trackers.
Who are our experts?
We have asked 7 top experts who know all about running push advertising to share their experience and 2021 year's predictions.
⭐ IamAttila;
⭐ Colin Dijs;
⭐ Ian Fernando;
⭐ Francisco Guerreiro;
⭐ Nick Lenihan;
⭐ KJ Rocker;
⭐ Servando Silva.


This e-book gives an excellent opportunity to look at push ads from both sides: push ads network and experienced advertisers. Find useful tips and tricks inside to be the first from the best affiliates who will run push ads in 2021.
If you'll find these tips useful, feel free to share this e-book with your friends and colleagues. This is another step to spread the ideas of earning on push ads and help marketers to earn more.
You are also welcome to share your opinion on the questions from the e-book in the comments below. ?Your point of view may be useful for the other affiliate marketers and us.
Try these recommendations in your campaigns and get profit with the best push ads network RichAds.
What is RichAds?
🔝 Push and pop ads,
🔼 CPC starts from $ 0.003,
🔝 CPM from $0,3 in Tier 3, $0,5 in Tier 2, $1 in Tier 1,
⏫ large volumes of available traffic in more than 200 geos.