Push Ads vs World Cup: RichAds expertise
It's crucial to point out that major sports events are always a great trigger for marketers to play on.
It started together with the boom of push ads and the novelty of the format played into the hands of marketers. Both then and now we provide managers who know best ways to promote betting offers as well as whitelists and free creatives.
Don't miss schedule for FIFA World Cup 2022
Quarterfinals — 9 and 10th of December 2022
Semifinals — 13 and 14th of December 2022
Final — 18th of December 2022
Why is Event Betting so relevant?
There are many niches in affiliate marketing that convert, but Betting has some undeniable head start. Whether its India's cricket championship, UEFA Nations League or Euro-American Cup, there's always a huge fan base that's eager to bet on it.
The answer is simple as that — the audience is the most engaged and interested one. And it's large!
Furthermore, promoting betting offers is dead easy if you keep abreast of the events and now exactly which GEOs to target. The main task for a marketer here is to check betting advertising trends and just skim the cream while gaining huge profit.
Speaking about trends, we're glad to provide a schedule of the major sports events in 2022-23 for you to know what audience to target. Find it below!
Major sports events to promote in 2022 and 2023:
FIFA World Cup 2022, November 20 to December 18, Qatar;
Champions League Final, June 10, 2023, Istanbul;
Europa League Final, May 31, 2023, Budapest;
UEFA Nations League, June 14 – 18 ,2023;
Euro-American Cup, June 1, London;
UEFA Super Cup, August 16, 2023, Kazan.
Best traffic sources for FIFA World Cup 2022
FIFA World Cup promotion is not a tough task, if you use timeproof traffic sources that convert well with similar events like Champions League Final or UEFA Super Cup and allow you to target the desired audience. Furthermore, when it comes to the FIFA World Cup traffic amounts will be a lot bigger, so you need to concentrate only on the best options in terms of traffic.
We've highlighted several working sources:
Direct click ads. The format is relatively new yet it shows amazing results on betting offers. Besides the fact that it targets only warm users that're searching for similar offers, it provides the highest conversion rate from registrations to deposits! It works best than any other format, you can test it on any GEO.

Push ads. This is the timeproof format for betting offers, in particular for online marketing for World Cup 2022. Push notifications address a user personally and offer to bet on a specific game. This ad format is very noticeable so ,even if we take past experience, the advertisers who started with us in 2018 and promoted World Cup offers then had a fantastic income.

Pop ads. It can be called the most intrusive format but it's actually great for betting offers. The thing is that the target audience for this vertical is very impulsive and tends to react on bright and enticing landings, especially if they catch attention and the message is clear and concise.
What is RichAds?
🔝 Push and pop ads,
🔼 Domain redirect traffic,
🔝 CPM for domain ads starts from $ 1.5,
⏫ CPC for push ads starts from $ 0.003,
🔼 CPM for pops — from $0.5 in Tier 3, $1 in Tier 1,
⏫ large volumes of available traffic in more than 200 geos.
Most converting GEOs for FIFA 2022
The best way to promote World Cup 2022 betting successfully is to know for sure which GEOs to test. We have traffic for all the possible GEOs for any sport event, for instance, when the Olympics and the World Cricket Championship were held the volumes were huge.

Luckily, we've made the list of the most converting countries for event betting at RichAds now:
Bangladesh
Malaysia
Indonesia
Brazil
South Africa
Nigeria
Ghana
The Checz Republic
Italy
Portugal
Important: The best way to be aware of all the trends is to consult your manager on latest statistics. One more idea — follow our tag "Best GEOs and verticals" to get freshest digests monthly.
Top creatives examples: World Cup edition
There are many converting approaches that can be used in World Cup 2022 ad creatives. Let's have a closer look at some of them:
Use pictures of famous players.
Loud names attract a huge audience, even a cold one! Furthermore, you can create and change exclusive creatives before semifinals and finals to get the hottest audience ever. Also check out the top stars that are interesting for everyone — Messi, Ronaldo, Neymar, or Kane.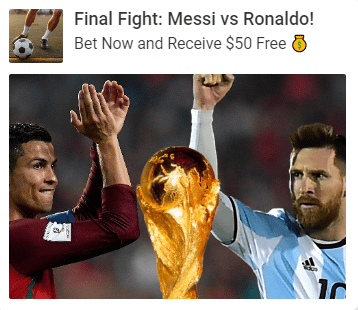 Appeal to users' expertise.
This is the best way to attract football lovers and make them believe that they know all about the game and can make precise predictions. Use wording like "Only you know", and similar approaches that enhance the fans self-esteem while inspiring them to bet!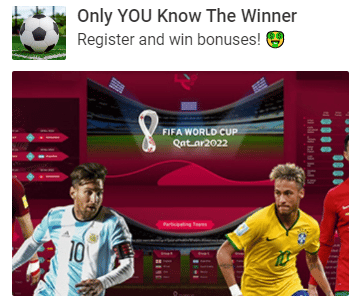 Don't forget about emotions.
Football is all about the competitive spirit and emotions that the game brings. There is a key to increase betting traffic: show not only famous players, but also the dynamics of the game, or emotions. Remember about the numbers on creatives — they increase CTR!

Play on clients' desire to earn.
All bettors play not only for emotions but also for money. Show the attributes of rich people and winners in the images as well as highlight the bonuses for the first deposits and registrations.

Highlight that the time is limited.
Make them believe that the bonuses can be received only today or the match will end really soon, and it's the last chance to bet and win. It'll encourage their desire to make a deposit now!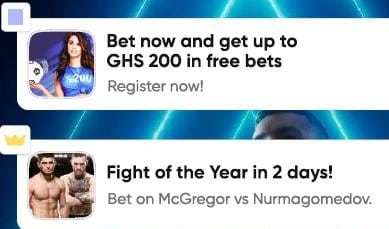 Important: have at least 5-10 creatives per campaign to achieve greatest results. If you don't have time to renew creatives or create exclusive ones for each game, approach your manager and he'll make them for you for free.
Peculiarities of FIFA promotion
Betting offers and approaches to their promotion differ significantly from other verticals. Event betting campaigns are limited by time and need to get a lot of volume during their running. Obviously, they require lots of tests, so it's better to start as early as possible.
There are some insights that will help you to promote football betting offers and receive highest ROI and CR:
Start campaigns at least 2-4 days before the event.
Some of our clients start the ad campaigns two weeks ahead and receive nice results. This way you'll get an audience that's already warmed up by news and social media sources.
Increase frequency cap.
Don't be afraid to annoy the users, for such campaigns it's better to set 2-3 clicks per 24 hours per person to increase volumes and actually get your message to the user.
Set high bids.
Such campaigns need the highest bid as they are short in time and the competition is high. The thing is that you need to collect a lot of data to start optimization as early as possible.
Hack: ask your manager for the best bid in order not to be mistaken!
Test New Subscribers Only.
Those are users who subscribed to push notifications 7 days ago or less. It means that they haven't seen such ads yet and will be more loyal to them. Highly recommended to have two campaigns — one for the usual base, the other for new subscribers.
Hack: ask your manager to set subscription hours, you can try 3 days or even 3 hours to get the hottest audience!
Use Performance Mode.
As mentioned before, event betting campaigns need to receive as many volumes of relevant traffic as possible to collect enough data.
The Performance Mode feature is perfect for it — you just need to set the campaign, and the algorithm will make black- and whitelists daily and refresh them according to your targeting, no actions are required from you!
Apply only premium sources.
This is the best quality traffic that has been already tested and has the highest CR if we compare it with other groups of sources. As event betting campaigns are really short, you don't have time for a lot of optimization and need to receive the highest quality traffic, so choose only this group of sources.
Hottest offers for World Cup 2022
We've gathered the most burning offers for FIFA World Cup 2022 from 5 CPA networks, make sure to test them and get profit!
3snet
---
Alfaleads
ID 6850 – Liga Stavok – [CPA] – [RU] [baseline 200 RUB]
Payout: 3000 RUB

ID 7414 Fonbet [CPA | ASO] – [RU] [min dep]
Payout: от 4500 RUB

ID 4997 Fonbet legal [CPA] – [RU]
Payout: 3000 RUB

ID 6294 Winline – RS – RU, Цупис
Payout: 15% Revshare

ID 6205 Winline – CPA
Payout: от 3200 RUB

ID 6143 Leon (ЦУПИС) – [CPA] – [RU]
Payout: 2600 RUB

ID 7334 Pari – [RU] – [baseline 250 RUB]
Payout: 4500 RUB

ID 5082 Melbet Цупис-RevShare [ru]
Payout: 20% Revshare

ID 7027 BetBoom [ЦУПИС] [RU] BL
Payout: 3300 RUB

ID 5173 Betcity ЦУПИС – CPA
Payout: от 3500 RUB

ID: 7286 [EXCLUSIVE] PARI – [RU] – [baseline | ASO/SEO/PPC]
Payout: 5200 RUB

ID: 7285 [EXCLUSIVE] PARI – [RU] – [min dep | ASO/SEO/PPC]
Payout: 4200 RUB
---
Pin-up Partners
---
Adcombo
GamblingPro
---
CPA#1
Conclusion
Now you know how to make money on betting offers, especially on the upcoming FIFA World Cup. All you have to do is choose an offer, launch a campaign and make a profit!
What is RichAds?
🔝 Push and pop ads,
🔼 Domain redirect traffic,
🔝 CPM for domain ads starts from $ 1.5,
⏫ CPC for push ads starts from $ 0.003,
🔼 CPM for pops — from $0.5 in Tier 3, $1 in Tier 1,
⏫ large volumes of available traffic in more than 200 geos.