It seems easy to make money on promoting other companies' products. However, you should not only be an experienced specialist. Learn from well-known affiliate marketing resources: blogs, directories, forums, and media with a good track record. In this article, we've compiled the 5 best affiliate marketing resources to master the sphere. Let's start! 💨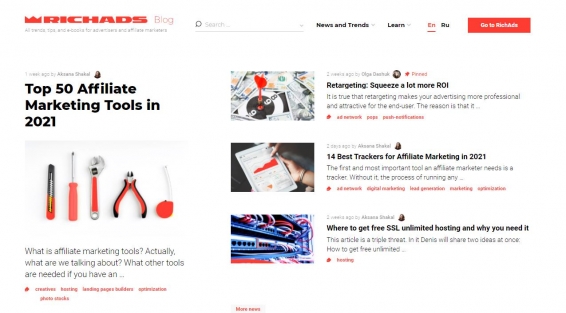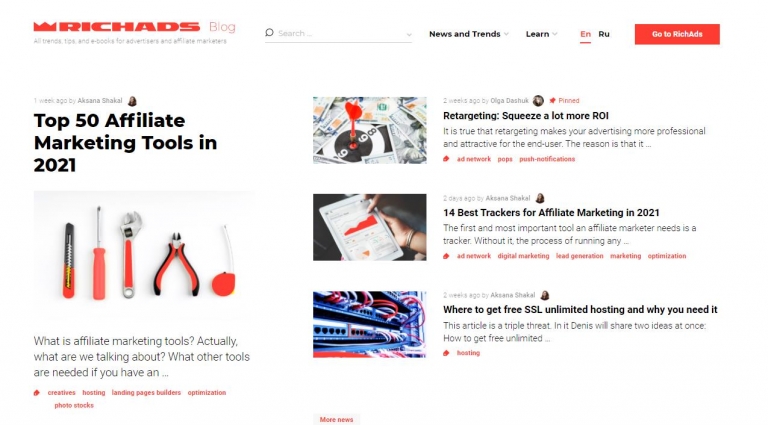 Let us start with our blog because if you don't blow your own horn, no one will do it for you 😀
RichAds blog is a great resource that has been making by top insiders of the industry involved in the process of creating and developing the best HQ ad networks – RichAds. Regularly we publish useful articles on affiliate marketing topics giving recommendations on working with RichAds flagship features. Also, we have already published 2 great e-books that you can download FOR FREE. And we are never going to stop!
Find the best:
useful guides;
"How to…" articles;
checklists;
guides on working with different verticals.
Our e-books:
Do you wanna find one of the most useful affiliate marketing blogs? Visit RichAds blog! In addition: this is one of the affiliate marketing resources that gives for free!
Looking for a forum to master from really experienced affiliate marketers? affLIFT is definitely what you need. It's one of the best resources for affiliate marketers!
affLIFT is a community of more than 30k like-minded amateurs, newbies, and professionals. The forum will cover all you need to know about affiliate marketing. Its guides, case studies, follow along campaigns, landing page examples, tracking help, and campaign optimization info will help to make a profit.
This private affiliate marketing forum will help you to become a part of a strong and cohesive community. You can learn from real professionals and master affiliate marketing sphere every single day.
Find the best:
follow along with campaigns;
guides;
affiliate marketing articles;
contests for the participants of the forum;
affiliate marketing link directory;
promo codes to save your money.
Cost: $20/month or $100/6 months.
RichAds Special Bonus: use promo code RICHPUSH and get 25% off any affLIFT membership FOR LIFE.
This is one of the affiliate marketing blogs from the affiliate marketing experts.
One of the professionals who teaches people how to earn money online is Charles Ngo. If you want to learn how to build and optimizes hundreds of processes in affiliate marketing Charles's blog is definitely what you need. Make your work in the affiliate marketing sphere structured and ordered. If you are looking for real influential experts in the sphere of affiliate marketing Charles is the person you need.
Find numerous news, listings, reviews on the topics, and get valuable expertise from the successful and professional affiliate marketer of the world.
Find the best:
marketing articles;
case studies by Charles Ngo;
affiliate marketing tools directory;
FREE affiliate marketing guides.
Where to get the most valuable and fair information? That is to say, the Internet has so many different opinions and types of ads. Adflips will help both advertisers and publishers to find the most reliable sources. So, with this information optimize their budgets. The portal includes information on different online advertising services.
Find the best:
banner advertising networks;

adult advertising networks;

popunder networks;

CPM advertising networks;

PPC networks;

popup advertising networks;

mobile advertising networks;

CPC advertising networks.
Bloggers Ideas is one more great affiliate marketing blogs. The author is Jitendra Vaswani – a digital marketing SEO consultant and professional blogger from India. On his professional website, you will find top affiliate marketing tips & tricks, interviews with the best players in the sphere of digital marketing, and recommendations for those who want to start an online business. Subsequently, find answers to the most important question and make your digital marketing journey easier with the materials from Bloggers Ideas.
Find the best:
affiliate marketing podcast;
interviews;
reviews on networks, traffic sources, and services;
WordPress tutorials;
best marketing deals.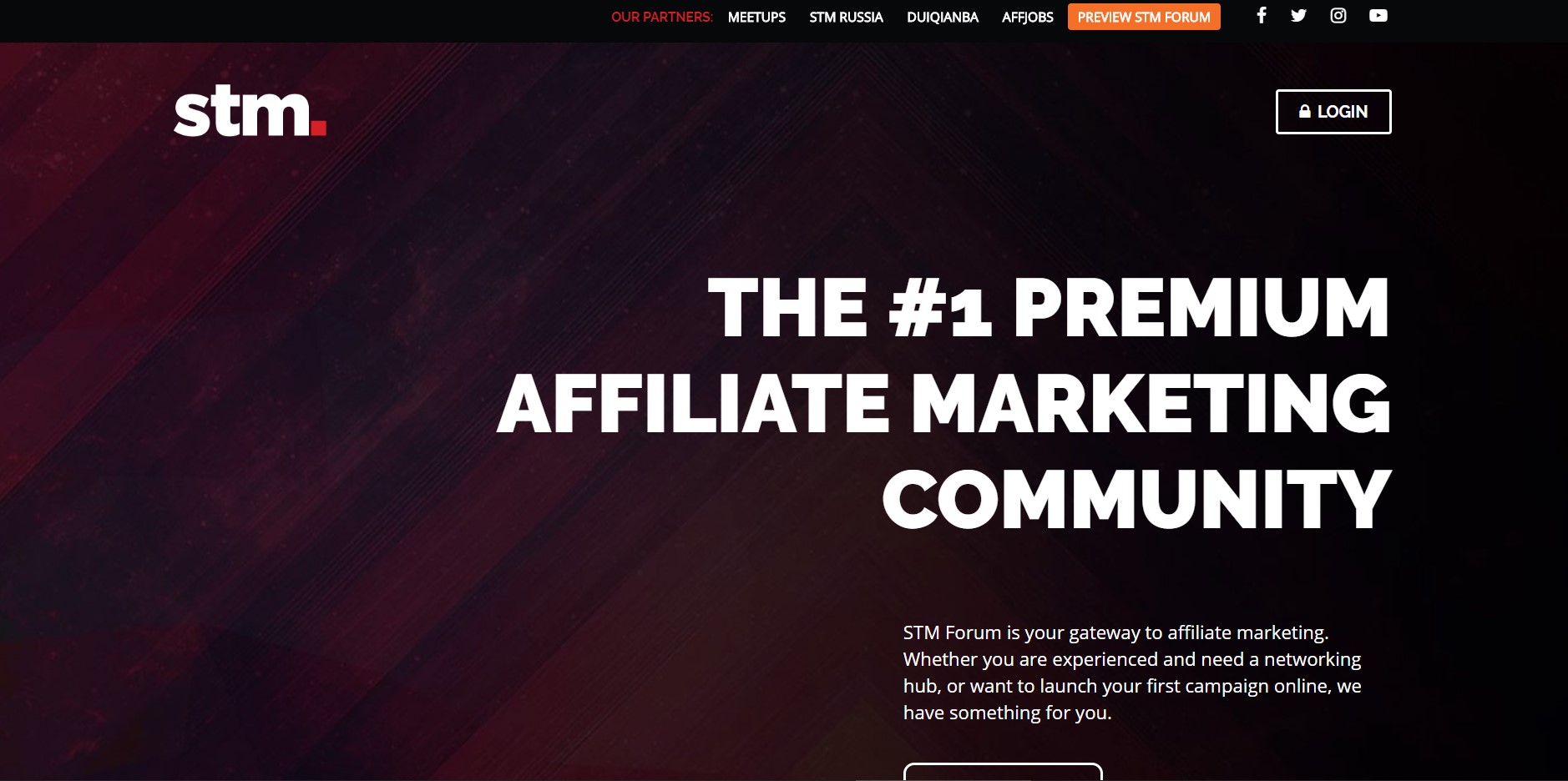 STM Forum is one of the most popular forums devoted to affiliate marketing. This resource for affiliate marketers was made in 2011 and since then STM Forum has been growing and making a strong community of affiliate marketing amateurs. Participants discuss different topics and share valuable experience helping to make money in the industry.
Find the best:
threads on different topics;

directory of affiliate networks and traffic sources;

bonuses collection.
Cost: $99/month.
RichAds Special Bonus: use promo code RICHPUSH and get 25% off first-month STM Forum membership.
Great opportunity to learn while staying at home 😷

We hope that this great list will help you to find the best affiliate marketing guides and earn more!

And don't forget about push and pop traffic – your way to success is easier than you think 😉
Was this helpful?
Yeap
Ok
Neutral
Try harder
Nope