Today we are going to discuss a hot topic — how to promote Nutra offers in 2022. 
Learn all about successful Nutra launches by watching the webinar.
No doubt that Nutra is one of the most trending verticals right now. The hard time of the Pandemic restrictions has passed and the vertical is back on horseback.
Well, the main question now is How to make the most of it? Watch the webinar to know the answer.
Each month, RichAds hosts a webinar on topics relevant to affiliate marketers.
Their recordings can be found under the tag "Webinar".
Join our Telegram channel to get the hottest updates about RichAds webinars.
Who are the experts?
In the webinar, we looked at the vertical from both sides: the ad network's and affiliate network's perspectives.
RichAds team speaks from the ad network's side. The affiliate network's side is represented by Everad — one of the oldest Nutra CPA networks.
RichAds works with Nutra vertical from the very beginning of the ad network's launch in 2018. So we can say that we have a great experience on Nutra. Especially, when it comes to push ads.
Everad provides Nutra offers for more than 10 years so they know what they do.
Let our experts introduce you to the world of Nutra! Here are the experts: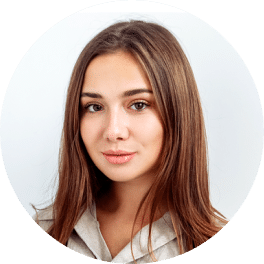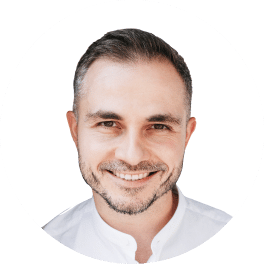 What's on the Webinar Agenda?
First, Daria will explain how to work with Nutra at RiсhAds. We will talk about the best Nutra products to promote, the best geos to launch, and settings to start with.
Then, Ivan will show some converting creatives, and landing page examples. The best Everad offers with the best geos for them will be included too.
We'll mention common failures while working with Nutra in 2022 and with push ads in particular.
Finally, we will finish with stunning case studies and stats.
+ Q&A session
Watch the webinar "Explosive ROI on Nutra in 2022"
The best niches to launch Nutra at RichAds
From year to year, here at RichAds, we observed how the top of the Nutra products changes. Some years ago it was mostly beauty products and remedies for parasites.
Today we can see 2 leading niches for Nutra. They are Men's Health and Weight loss products.
It seems that the Pandemic had a big impact on the popularity of weight loss products. We mean different kinds of pills in the first place, but sports equipment and fitness courses can also show good results if you know how to deal with them.
It doesn't mean that you can't launch with some beauty product. Yes, you can. We see such offers too but they are not so common right now here at RichAds.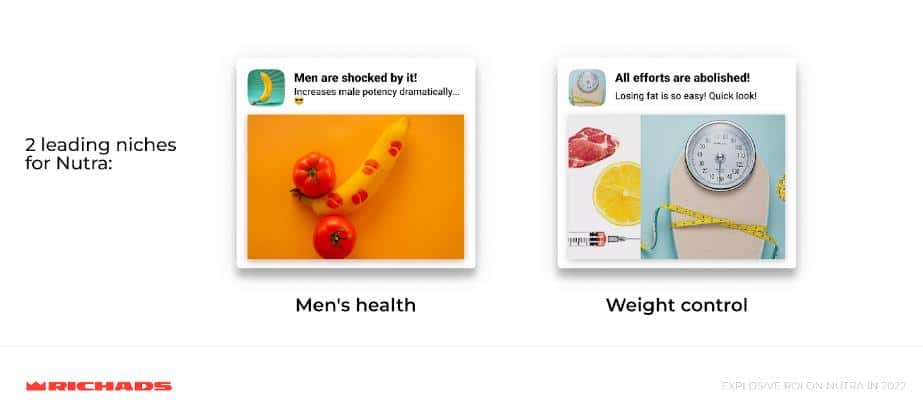 What is RichAds?
🔝 Push and pop ads,
🔼 Domain redirect traffic,
🔝 CPM for domain ads starts from $ 1.5,
⏫ CPC for push ads starts from $ 0.003,
🔼 CPM for pops — from $0.3 in Tier 3, $1 in Tier 1,
⏫ large volumes of available traffic in more than 200 goes.