All the details can be found in the article, we'll unveil the conditions, exact prizes amounts as well as the peculiarities of the contest.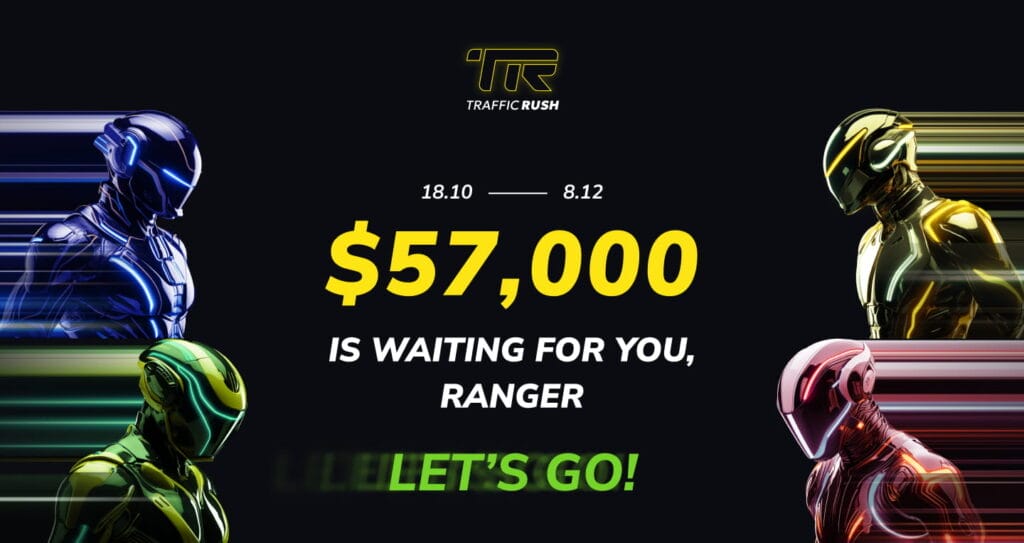 Join Traffic Rush Contest: Prizes and Participation Conditions
If you're a true affiliate ranger, it's high time to get into the game. From October 18 to December 8, BinPartner is ready to splash out and give fantastic prizes if you manage to be on top of the rating!
The four rating groups are waiting for you, with its prize pool for 1,2 and 3 places. Prizes vary from $1,000 to $12,000, and only you decide what to spend them on. If you want a Play Station, a new iPhone or a cool video card, go ahead and join BinPartner affiliate program.
Traffic Rush Contest: Rules Explained
If you already know how to work with trading traffic, register in the BinPartner affiliate program in order to have time to take part in the competition and grab your piece of the $57,000 prize fund.
Easy steps to take part:
Attract active traders to the Binomo system via your affiliate link
Become one of the top three partners in your group,
Get a prize of up to $12,000.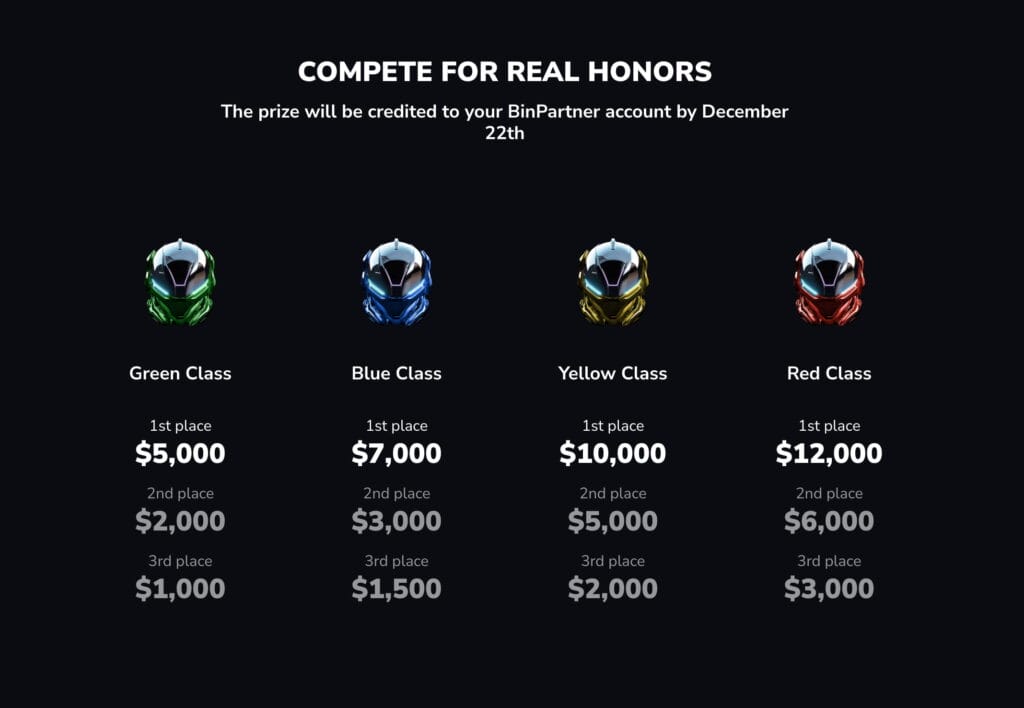 The four groups are created for equal competition between affiliates and depend on the number of FTDs on BinPartner for September 1-30.
Green Class: 0-25 FTD and all the new affiliates
Blue Class: 26-50 FTD
Yellow Class: 51-100 FTD
Red Class: 101 and more FTD
How are the points gained in the groups?
Green Class: 1 point = 1 FTD
Blue Class: 1 point = 10$ trade volume
Yellow Class: 1 очко = 10$ trade volume
Red Class: 1 point = 10$ trade volume
BinPartner comment: Trade volume is the sum of the profitability of all transactions made by the trader. Both successful and unsuccessful transactions are counted in the trade volume, but only the profitability of the asset is taken into account.
One more bonus from BinPartner: RevShare 70% for new affiliates
Haven't worked with the BinPartner affiliate program yet?
It's time to learn more about the CPA network and test your traffic. For each partner who registers in the period from October 18 to December 8, Bin Partner includes a skyrocketing RevShare of 70% for a period of 2 months.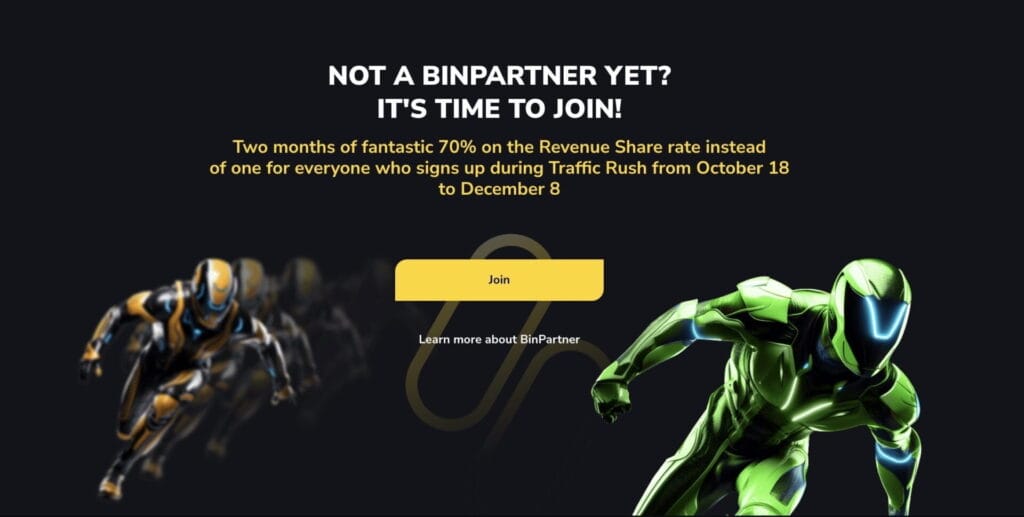 BinPartner is not only about high rates on trading traffic. The affiliate program works with affiliates of any level, the offer is available in 164 countries.
The advantages of the affiliate program include:
Detailed statistics that allows you to optimize traffic
Daily updated reports to track progress
A personal manager to tell you about the conditions and consult you on top GEOs and approaches
Professional help with any questions in 8+ languages
Unique creatives and promotional materials
Creative banners and landing pages to increase conversion
Promotions and contests
Motivational contests and personal bonuses.
Conclusion
The network is about to turn 10 years old, being a direct advertiser of the Binomo and Stockity offer, BinPartner offers high rates on RevShare, Turnover Share and CPA (on request). Even if you don't have time to participate in the contest, you have every chance to collect hot traffic at high rates.
Don't miss the opportunity to compete for the part of $57k prize pool, as well as show your skills in getting hot traffic.
May the strongest win!
What is RichAds?
🔝 Push and pop ads,
🔼 Direct click traffic,
🔝 CPM for domain ads starts from $ 1.5,
⏫ CPC for push ads starts from $ 0.003,
🔼 CPM for pops — from $0.3 in Tier 3, $1 in Tier 1,
⏫ large volumes of available traffic in more than 200 geos.