RichAds team always strives to provide affiliate marketers with the best ways to increase their income. This review is devoted to OGAds — a network that claims to assist webmasters as well as developers in getting highest profits.
What is a content locking CPA network?
Before getting down to a full review, let's comprehend what content locking actually is and why it's so profitable.
Such networks provide offers on a CPA model, meaning a client has to perform a specific action for an affiliate to get his payout.
OGAds: is it worth trying? 
OGAds is a content locking network offering marketers, publishers and advertisers to get money for their mobile and desktop traffic by promoting various offers. Founded back in 2014, the platform has more than 600 various offers and almost 10 years of expertise in the industry.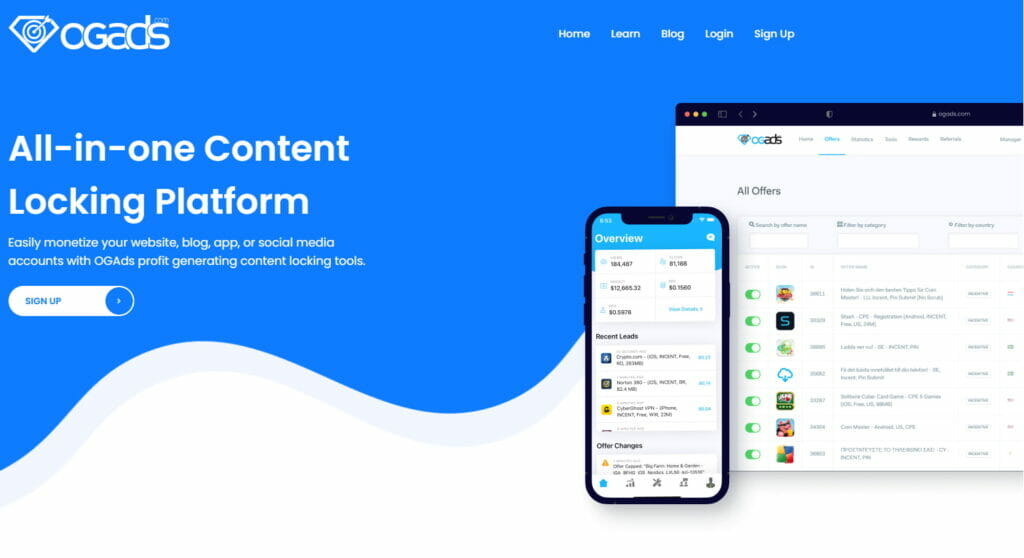 As of now, the guys claim to have more than 25,000 current publishers and the biggest selection of payout methods among similar networks.
Why test OGAds: understanding the main pros
Weekly payments. The affiliates have an opportunity to receive their payouts net 7, while for most of the networks it is at least net 14 or even 30.

Multiple convenient payout methods. The network offers such options as Crypto, Paypal, Wire, Direct Deposit and E-Cheque.

Wide variety of offers. There are more than 600 offers in such verticals as Soft, VPN, Apps, Installs and even more!

Multitude of traffic channels accepted. The network allows any traffic except for fraudulent ones, from Facebook and Tiktok to email marketing!

Automated offers optimization. The platform has a special feature that will optimize offers for you to receive the highest EPC possible.

Real-time stats. You can track the performance of your campaign in real time, so you can optimize them accordingly as fast as possible.

Customization feature. Due to the platform, there's a possibility to customize your locker and adjust on any parameters needed.

Free knowledge base. The website provides free video courses and articles on affiliate marketing not only for its clients, but also for all the users for free.

Fast support team. As any reputable network, guys do care about their clients and provide high-quality support service.
Getting started with OGAds: journey for newbies
Once you've made a decision to give it a shot and earn a great deal of money with OGAds highly converting offers, you need to understand the registration and setting up process.
So, here we go!
1. Sign up and enter your personal data
The process of registering on the net is quite easy, yet you need to fill in your personal details such as name, surname, email address, country and several other points.
After 12 hours or less, your account will be accepted and you'll be granted with a personal manager.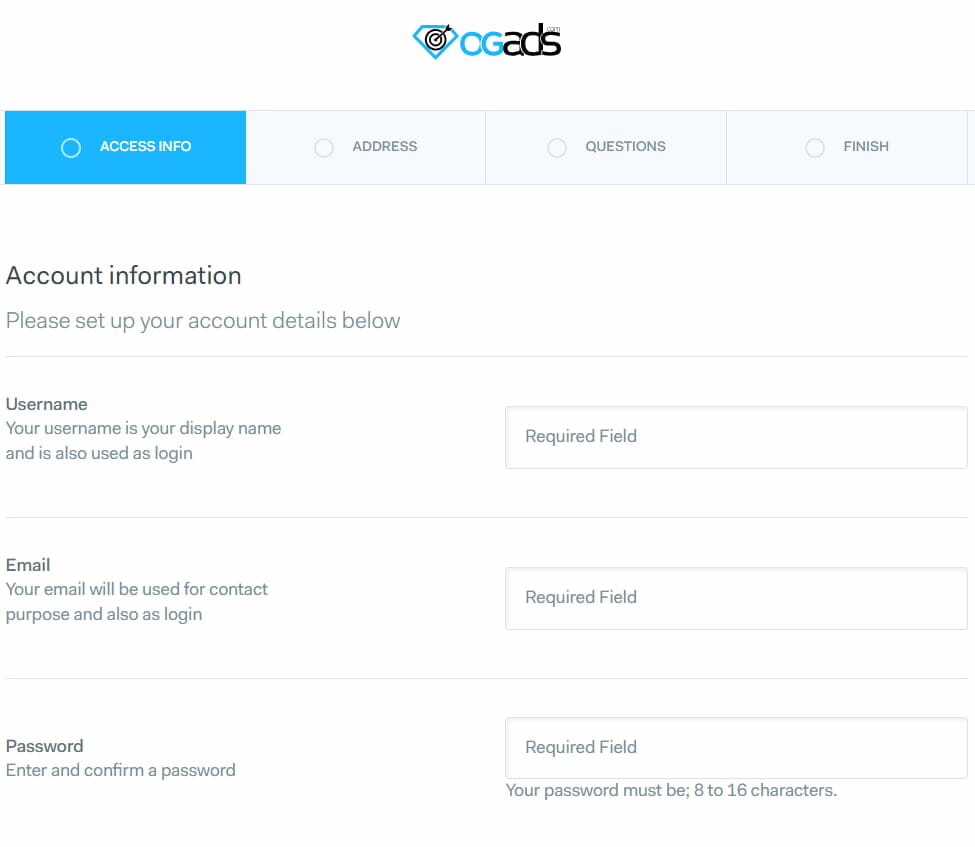 2. Choose a suitable offer
Once you get accepted to the platform, you can choose any offer to your taste. They can be sorted by category, device, country and allow the possibility to check out the payouts.
In order to actually take an offer, you need to create a content locker. Spoiler — it's easy even for beginners!
3. Create a content locker
To make money from an offer, you need to create a content locker first. To do this, you need to go to "Tools" section and then choose "Content locker", after that choose the button "Create a content locker".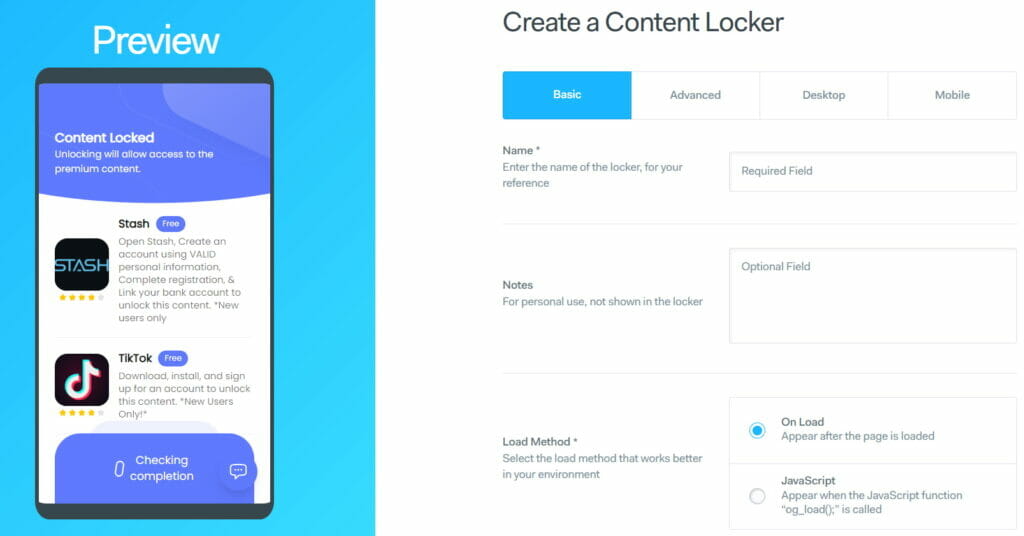 There you need to fill in the basic information about your landing page, add a redirect URL if necessary, choose your load method and delay as well as the way to unlock the action.
In the Advanced section you need to specify the amount of conversions required, payout threshold, and access time. You also need to fill in the info depending on your offer's device type — mobile or desktop.
4. Check out your stats
Finally, once you've created a locker and started driving traffic to an offer of your choice, it's high time to analyze the statistics.
To do this, you need to go to a "Statistics" page and see your current results per campaign — clicks, conversions, payout, CVR, as well as EPC either by date, hour or even week. There are different sorting options — offer, device, browser, country, locker and more!
That's all you need to know to actually get started with OGAds and earn money on its offers, as simple as that!
Conclusion
If you haven't yet worked with content locking offers, but really wish to boost your income without much effort, this is your sign from the universe to try OGAds.
Make sure you test high-converting offers from this CPA network on RichAds traffic and receive the biggest payouts in just a week!
What is RichAds?
🔝 Push and pop ads,
🔼 Direct click traffic,
🔝 CPM for domain ads starts from $ 1.5,
⏫ CPC for push ads starts from $ 0.003,
🔼 CPM for pops — from $0.3 in Tier 3, $1 in Tier 1,
⏫ large volumes of available traffic in more than 200 geos.