Our partners provide the advantages of driving traffic to Betting offers, statistics on the previous World Cup, as well as the 5 best offers for the upcoming event.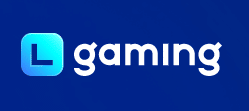 LGaming – ecosystem and affiliate program in Gambling and Betting verticals. There are more than 500 offers available with worldwide GEOs and in-house BetAndreas product with large payouts and a high conversion rate. The ecosystem in LGaming allows webmasters and marketers to use different tools without going beyond the affiliate program.
As the World Cup in Qatar is getting closer, bookmakers expect a record amount of traffic.
Working with affiliate networks with betting offers can be extremely profitable, especially during events as big as the World Cup. Webmasters are asking which offer to choose to gain maximum profit.
We will turn to Google Trends to see request stats about the main sports events. There, the popularity of sports bets increased by over 4 times during the World Cup 2018, compared to "normal" years.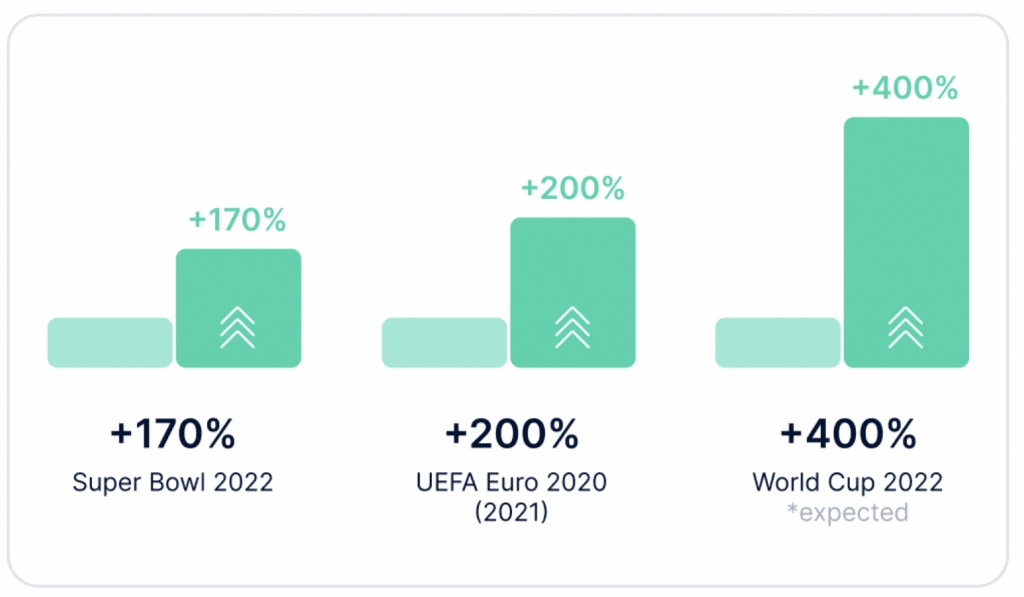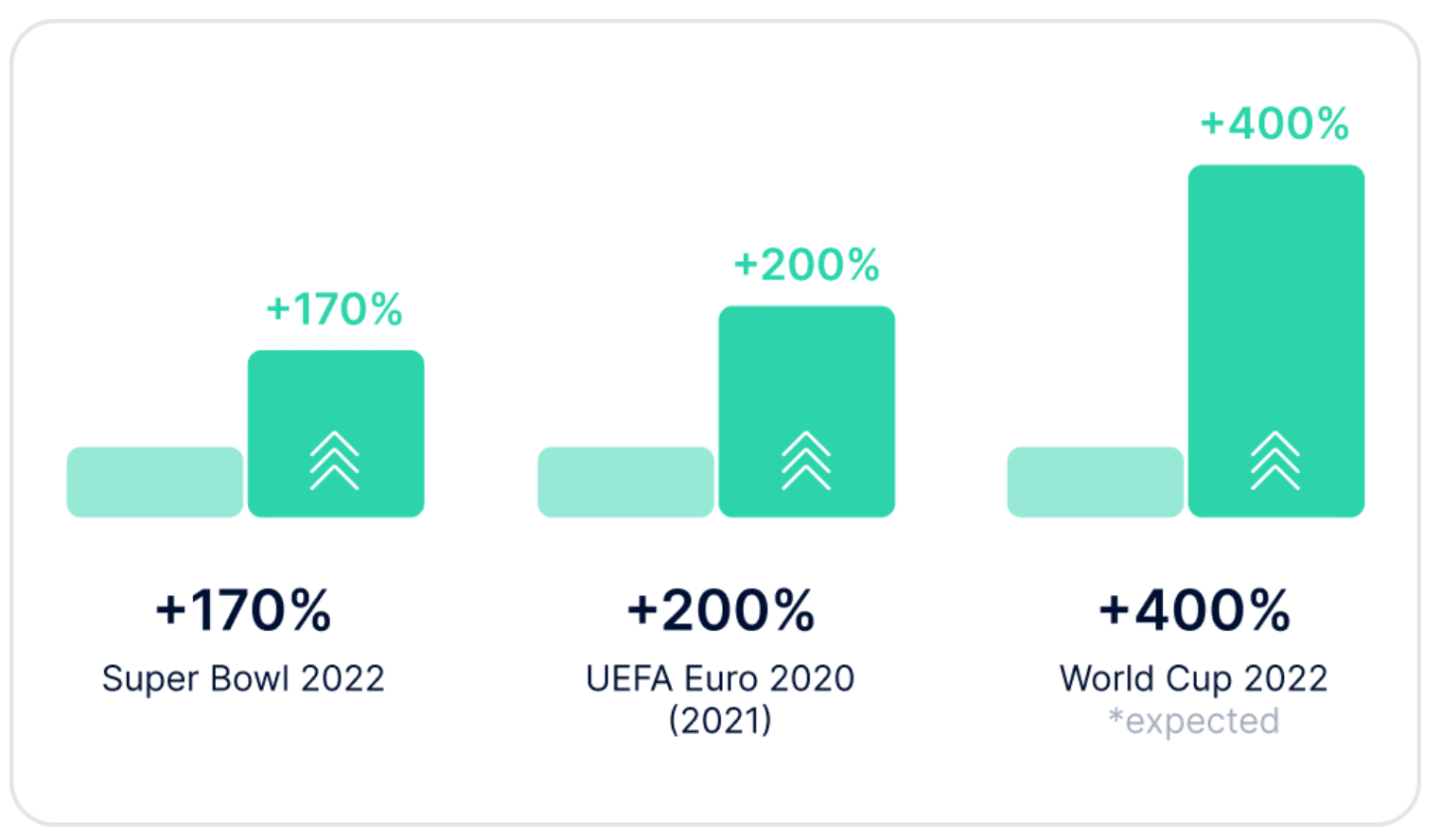 Gianni Infantino says that the World Cup in Qatar will be the most popular in the history of FIFA. They are expecting a staggering 5 billion viewers worldwide.
Based on our experience in traffic surges, we are expecting a 400% spike of traffic in bookmakers during the FIFA World Cup in Qatar.
Reasons to launch Betting offers during the 2022 World Cup
The scale and popularity of such grand events attract billions of fans across the globe. Below are only some of the reasons why the World Cup is a rare and ideal opportunity to exploit betting offers.
Rarity – the World Cup only takes place every 4 years
The global expectation makes people drawn to bookmakers. This means affiliate marketers can expect increased profit from companies that are concerned in sports betting.
Record figures in awaiting the start
Once again, football events in Qatar should get a huge influx of fans. Most sports media and mass media, as well as bookmaker analytics confirm this.
A shift in the market in the past 4 years
In recent years many countries have legalized sports betting, since large brands have got their way inside and players got access to online betting. Don't forget about the 2020 pandemic, which definitely played its role in developing the gambling industry online. According to Zion MEdia Research, all these factors bode for the sports betting market to grow 1.5 times by 2024.
A heated interest of "football" countries and the availability of offers
Based on the report of Statista, the countries most interested in football are Brazil, USA and Argentina. Experienced webmasters know that Brazil is a good GEO for driving traffic to betting offers. At the moment, basically any offer has countries from the "most football- oriented", but these GEOs will yield very good conversion rates.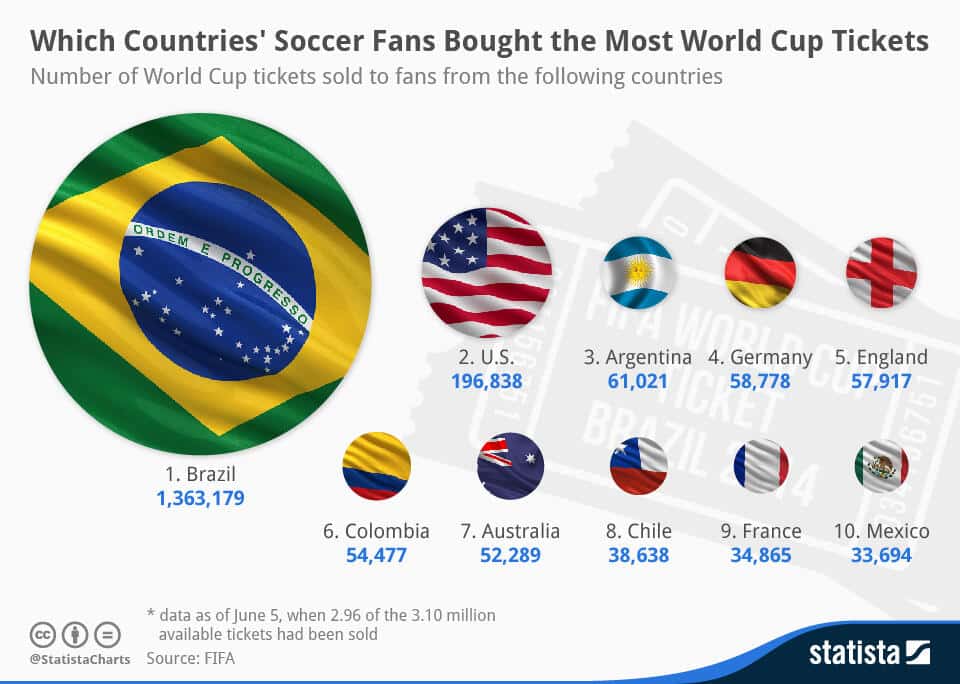 How to select the best betting offer?
When choosing an offer, you should stick to one rule. Choose the most profitable one, especially while the limited World Cup is on. You shouldn't forget about some important criteria below:
Assessing the product
Can a bookmaking company meet all the needs of the target audience? Here are some things the TA values most when selecting a bookie:
A license;
Competing rates;
A broad range of sports;
LIVE streaming;
A good mobile app;
A cashout option.
Important: Likewise, they look at promotion offers in connection with the Football World Cup. Popular bookies will offer their clients themed bonuses, live streams, unique terms and other appealing features. After comparing the conditions you need to filter out about 5-10 offers and choose the one that has the potential to bring the most profit.
Top 5 betting offers according to LGaming team
If you still have doubts, below is a list of the best betting offers compiled for WC 2022 according to the LGaming affiliate team analytics.
Winline
One of the main brands is the leader in the Russian market with an official license. Clients have access to live streaming for all matches.
A pro worth mentioning is that users can use themed bonuses for the 2022 World Cup.
Terms:
GEO – RU
CPA – $50
Holding period – 30 days
Leon
A reputable brand with rates that are just as good. Offers are available for Tier 1 and Tier 2 countries. Payment conditions are quite attractive, too. It features a low minimum deposit.
Terms:
GEO – CA, PT, IN, GR, BR
CPA – $30-$170
Holding period – 14 days
Fonbet KZ
A popular brand that has an official license in Kazakhstan and Russia. It is also a sponsor for broadcasts that are available in the mobile app and on the website.
Terms:
GEO – KZ
CPA – $40
Holding period – 30 days
Sportaza
An extremely well-known brand across Europe that features multiple sports betting functions and an amazing casino section. The brand has an official Curacao license. Offers are designed for Tier 1 countries with a high rate and good conversion.
Terms:
GEO – DE, IT, GR
CPA -$120
Holding period – 30 days
Everygame
The leader in the US and one of the most experienced players in the betting market. Users firmly believe Everygame is a verified and reliable brand. The offer is available in the USA and Canada, with a high rate.
Terms:
GEO – US, CA
CPA -$200
Holding period – 30 days
Conclusion
Due to the record growth of traffic and a peaked interest of fans to the event, driving traffic to betting offers is an absolute must for webmasters during the 2022 World Cup.
One can say that this is New Year's in the affiliate marketing market, which occurs once in 4 years. The LGaming ecosystem is ready to work with webmasters, and they can find all the necessary offers in the affiliate network.
Take offers from LGaming and launch ads at RichAds. Don't hesitate to ask managers for free creatives and whitelists for FIFA World Cup 2022!


What is RichAds?
🔝 Push and pop ads,
🔼 Domain redirect traffic,
🔝 CPM for domain ads starts from $ 1.5,
⏫ CPC for push ads starts from $ 0.003,
🔼 CPM for pops — from $0.5 in Tier 3, $1 in Tier 1,
⏫ large volumes of available traffic in more than 200 goes.