You've bought push traffic, but the ROI of your campaign is dropping to the ground level, or even lower? Does this situation seem quite familiar to you? Oh, wait. It's not the right time to get upset with push traffic and count it out forever.
iGamingCombo is here to prove that push ads can be profitable. Today you will find out what other niches help increase ROI of a push ad traffic.
Bear in mind that it's possible in case you run ads following a time-tested strategy (we're about to share it with you!).
The article is prepared by RichAds partner – CPA affiliate network iGamingCombo.
---
Good push ads = relevant push ads
Let's start with an obvious little fact: push ads, like any other type of advertising, can have a high conversion rate if used duly.
The right vertical plays an important role in predicting the success of push ads.
For example, betting offers have a decent conversion rate with push traffic. The reason is that you can design push notifications for any sports event.
Such relevant ads can boost the audience's motivation to make a bet, for example, when using a call-to-action not to lose a chance to earn on a match with high odds. What's more, such messages look natural as they seem like a notification of an upcoming sports event.
Guidelines: running push ads with converting verticals
Betting isn't the only niche for promoting with push ads. It was just an example of a vertical to make a profit with push traffic.
This article will focus on the niches that perform best with push ads at iGamingCombo. They are Dating and Crypto.

Part one: strategy of running the Dating offers
28652 Ashley RNadison – CA, GB, US.
26826 StoryLoves Mainstream – RO.
17885 Flirt Mainstream – KR – all desktop, all mobile.
21138 IamNaughty.com Mainstream – KR – all desktop, all mobile.
27124 Krimba LP14 – DE, CH, AT.
The key part of an ad campaign's success is creative materials. Indeed, a traffic source is crucial, but the way you introduce an offer to the public and call to action determines its success. Creative material should be eye-catching and contain motivational CTAs. We will show you real examples of pre-landers that heat the audience for an offer.
Dating: recommendations
Offer: 28652 Ashley RNadison – CA, GB, US.
Creative strategy example: Сreative materials looking like a real user's profile are good enough for promotion.
Landing page example:
Offer: 26826 StoryLoves Mainstream – RO.
Creative strategy example: A picture/gif of a pretty young lady attracts a user. Many girls are waiting for a date with him. To get to the site, a user should click an age confirmation button.
Landing page example:
Offer:
17885 Flirt Mainstream – KR – all desktop, all mobile.
21138 IamNaughty.com Mainstream – KR – all desktop, all mobile.
Creative strategy example: It's sweet yet plain. An intriguing text on the pic of a half-naked girl tells a user that he can get access to adult content only after confirming his age. You can place all these elements on a gif with a cute Korean girl wearing a night dress.
Landing page example:
Offer: 27124 Krimba LP14 – DE, CH, AT.
Creative strategy example: One more plain creative to heat up the audience. A sexy young lady wearing lingerie encourages users to visit the website. Next to her, there is a disclaimer which states that the website contains adult content appropriate for users aged 18+. To visit the site, a user should first confirm his age by clicking the confirmation button.
Landing page example:
Attention: to promote your offers with RichAds, push notifications should meet the following requirements:
They must not have any pics of blatant nudity;
No questionnaire must serve as a creative material.
iGamingCombo has been cooperating for a while with a new Dating brand – StoryLoves which has offers converting well from the start. At present, the brand has only one GEO available for offer promotion – Romania, but they're planning to scale. Recently, one of iGamingCombo partners has written a case study on his work with a StoryLoves offer – [28064] StoryLoves Landers Ad – RO].
He attached the statistics on creatives of his campaign with engagement rates and then developed a formula of efficient creative materials for the promotion of the offer in Romania. For example, Romanian guys prefer to see girls of their nationality on the pre-landers, but there should be some particular angles to catch a user's eye.
Click here to learn more details of his successful Romanian campaign (it's free, no registration needed).
What does push ads have to do with this case study? You can adjust all the pre-landers from this case study for push notifications. Remember that the concepts of the pre-landers have proved their effectiveness. The only limit there is a partner's fantasy and creativeness.
Part two: strategy of running Crypto offers
According to iGamingCombo stats, push ads go pretty well with the following offers:
26565 Bitcoin Era – Smartlink – 60 Countries.
26765 Bitcoin System – GB, IE, NZ, AU.
27762 Bitcoin System – CH.
28123 Bitcoin Up – LATAM – 9 Countries.
Crypto recommendations
Let's specify the best pre-landing pages that make the audience more ready for action. This page should simulate an expert's post on the blog.and highlight the benefits of cryptocurrency trading with Forex.
Also, it can look like a blog post of a trader that has tried cryptocurrency trading. And now, he is sharing his experience with readers making expressive arguments.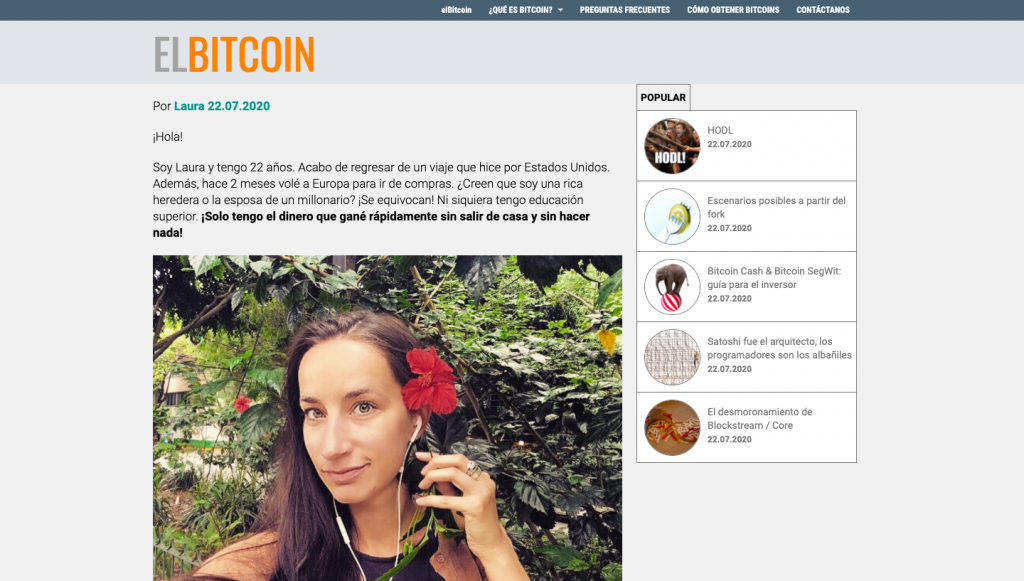 Another pre-lander that can hit the would-be traders is one that seems like the news and tells about an outstanding accident. A person (aka crypto trader) has gained an excessive amount of money. In general, the core principle of developing landing pages for the offers above is focusing on their benefits for a potential trader.
All the pre-landers provided within the article are now available for use in iGamingCombo. Although, we recommend taking our examples as a ground for your original push ads. Since that unique content has high chances for success as well. We are impatient to get you impressive case studies. Have a booming conversion rate with push ads!
Don't forget to make profit on push, pops, and native traffic with RichAds advertising platform.
What is RichAds?
🔝 Push and pop ads,
🔼 CPC starts from $ 0.003,
🔝 CPM from $0,3 in Tier 3, $0,5 in Tier 2, $1 in Tier 1,
⏫ large volumes of available traffic in more than 200 geos.