Let's find out where the effectiveness of push notifications comes from and what cool advantages they have. Why use push ads? Find the answer below.
Absolute visibility
Modern users are accustomed to the abundance of advertising on the Internet. As a result, they have developed banner blindness: subconsciously, they pay no attention to the ads.
The main advantage of sending push notifications is 100% visibility to users. Why push ads is effective? A push notification pops up on the desktop or mobile screen, so it's impossible to ignore or overlook it.
So big companies and global brands are gradually phasing out of email marketing in favour of push notifications.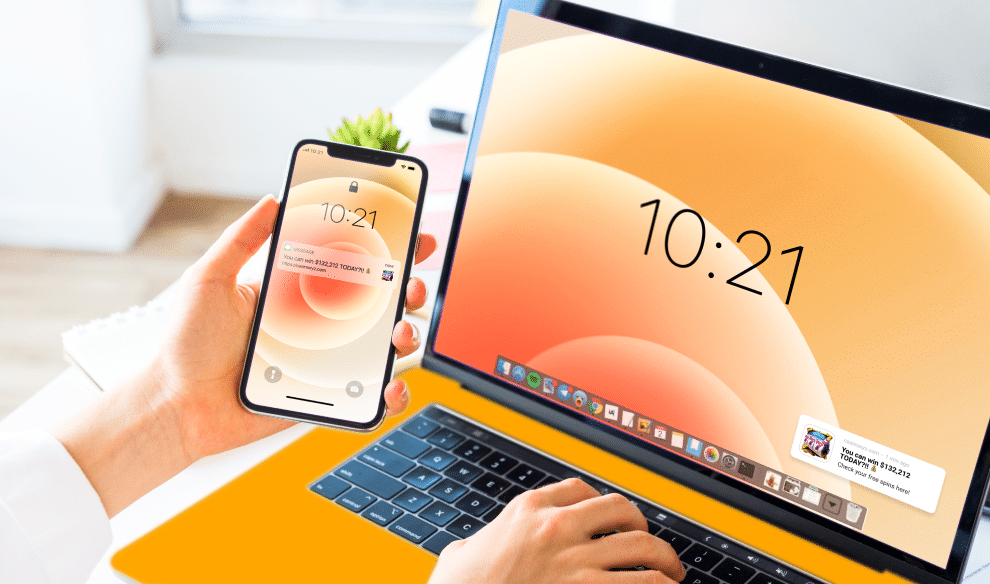 Unique settings
For those who work with online advertising, targeting features probably won't be seemed as an out-of-this-world advantage.
But push notification networks constantly add new features and implement convenient options for quick optimization. Therefore, you can:
clearly identify the target audience;
personalize the mailing list;
reduce the time for optimization.
RichAds ad network has many useful things for webmasters:
granular technical targeting;
simplified workflow with black/white sheets;
rules of the automatic disconnection of ineffective sources;
setting up of display limits;
macros.
Learn more about how to optimize push ads campaigns according to specified rules (rules-based optimization) using Automated Rules: Media Buyer's Superpower here.
Monetization opportunities
Above all, it's a great benefit for webmasters.
Your own websites make a profit with push notifications. But you don't need to allocate a special place to get subscriptions on the website. This does not annoy users.
A small message pops up on the web page suggesting to subscribe to the notifications. It is a far cry from colorful banner ads and aggressive teasers, while the pop-up window looks neat and friendly.
Here are some points to monetize your websites with RichAds.
Audience loyalty
Users themselves subscribe to the push notification mailing list, which means they are ready to receive news and offers. Therefore, push notifications are an advertising format with a high CTR and user engagement. Users can decide to stop receiving notifications at any time. This freedom of choice increases the loyalty of the audience. This one of the main benefits of push notifications.
Push notifications came about relatively recently, and not all advertisers and webmasters felt the beauty of working with this format. One year later, you can make a reasonable conclusion: the format is successfully developing and continues to gain momentum.
Push notifications are popular and show good results.
Do not take a word, launch advertising campaigns with the RichAds ad network and see push notifications effectiveness.
What is RichAds?
🔝 Push and pop ads,
🔼 CPC starts from $ 0.003,
🔝 CPM from $0,3 in Tier 3, $0,5 in Tier 2, $1 in Tier 1,
⏫ large volumes of available traffic in more than 200 geos.