What to choose if Facebook Ads aren't working?
Don't think there are any Facebook Ads alternatives? Well there are!
Push notifications, pops and domain redirect ads — their time has once again come. In today's article, we'll go over their features and advantages. 
Investing everything into just Facebook is risky. The world is too volatile. Each day new sanctions and laws are rolling out. These events can lead to bans, which is why it's so vital to scout out other sources of traffic.
Let's figure out what Facebook Ads alternatives to consider are there, in case the social network becomes unavailable.
After reading this article, you'll know what options are better than Facebook Ads, why you should move on to other traffic sources, and which of them will save your affiliate marketing activities in case you encounter bans.
Why Do You Need Facebook Ads Alternatives to Consider?
Let's start with the reasons that inspired us to write this article in the first place. The main one is the platform promptly reacting to global developments. For example, in light of the sanctions, the ad network may limit access to itself to users from a specific region. Or the countries themselves could potentially "cut Facebook off" if they deem the latter harmful to state interests.
You can deal with such problems by bypassing blocks, say, with a VPN or TOR. But this method isn't foolproof since you're forced to heavily rely on 3rd party programs. If the VPN service gets banned, you'll have to look for other ways. Plus, such methods won't protect you from data-center errors and mandatory maintenance.
That's why we recommend you master other sources of traffic. Even if you aren't planning on moving your entire operation to alternative platforms, they'll be your lifeboat should Facebook get blocked.
Let's break down the most promising platforms.


Facebook Ads Alternatives
We've compiled a list of traffic sources that can replace Facebook and let you not worry about risks. The selection includes effective and easy-to-learn options with a low entry threshold that you can find in the RichAds ad network.
Push notifications, pops and domain redirect ads, this section covers their features and advantages. Let's figure out how they can help us make money and comfortably live through any crisis.
Push Notifications: Can They Replace Facebook Ads?
The answer to that question would be "yes!". Facebook bans aren't exactly sensational news. Before the last US presidential election, the social network put many affiliate marketers on forced leave. That was when affiliate masters trodded the first path to using push notifications instead of Facebook.
Push notifications are small pop-up messages, similar to messenger notifications. And just as noticeable! We can't say that they are similar to Facebook ads but they can become one of the best traffic sources that can become an alternative for Facebook ads.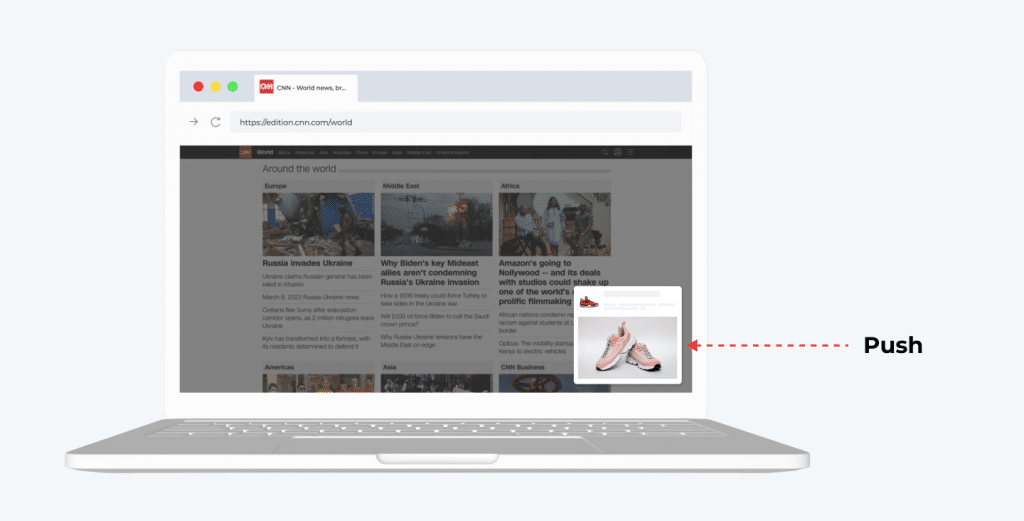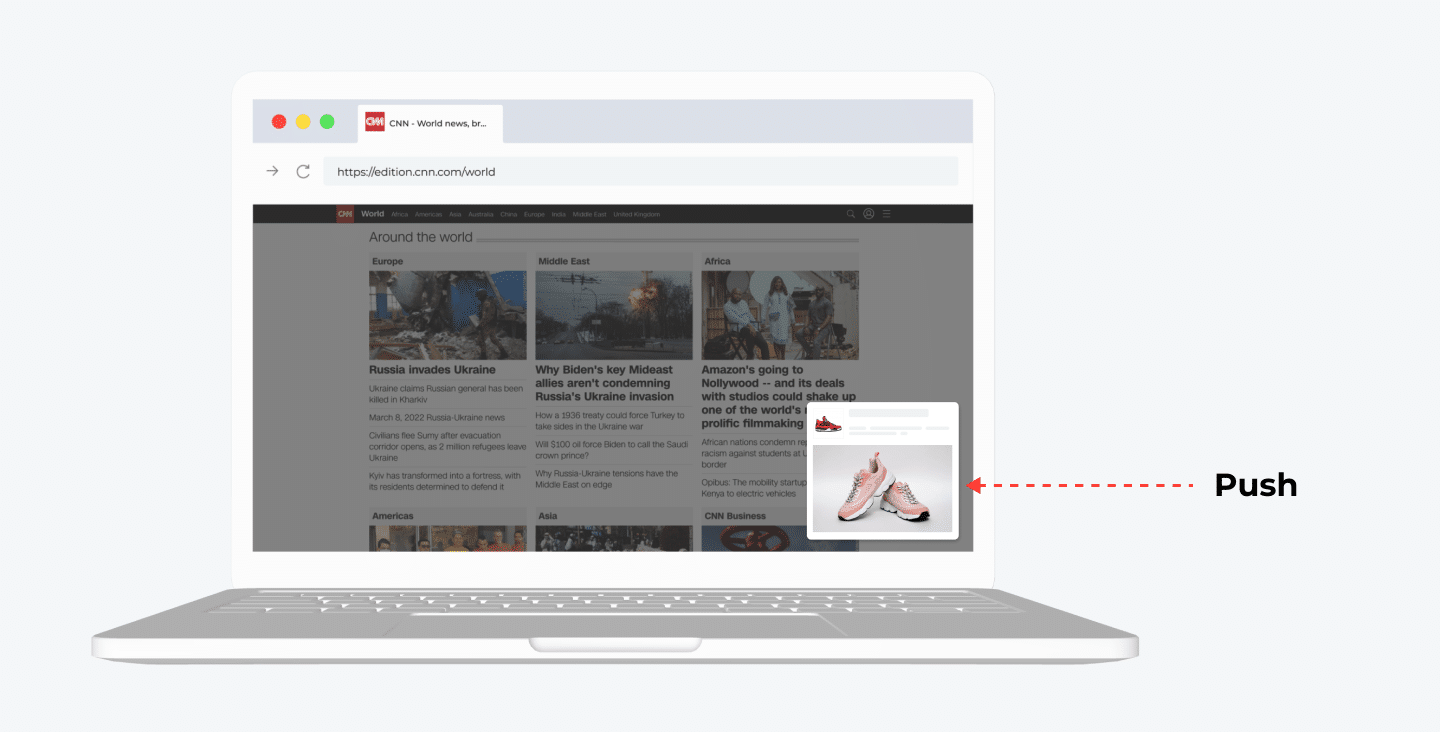 Our partners have already grasped the benefits of working with push notifications and shared their reasons for choosing this traffic source:
Maximum visibility
Banner ads can be overlooked or deliberately ignored. Ignoring notifications, especially on a computer, is just impossible. Whether you want to or not, you'll notice the message you were sent. Hence the talk of almost 100% visibility.
The price is lower than on Facebook. CPC starts at $0.003
Push notifications are some of the cheapest traffic sources out there. Our partners attract high-quality traffic, plus the ad network will let you obtain premium traffic for the same price.
Direct communication
Visually, push notifications ressemble social media messages. You can address the user directly to increase the CTR.
Easy to work with
The requirements for push notification creatives are much lower than for Facebook ads. There's also moderation here, but it lets you promote many topics that social media considers taboo. Goodbye cloaking, no need to allocate a budget for it.
What about the cons of push notifications?
No need to stretch the truth — just like any traffic source, push notifications have their drawbacks. Nothing in this world is perfect, but we know how to bypass these downsides:
Format of the creative
There are only two lines of text and a small icon to work with. This often isn't enough to properly showcase the offer and tell the user about all its benefits.
Only technical targeting available
There's no way to set up interest, age or sex targeting (or any other parameter) for push notifications since users don't specify that sort of data when they subscribe to push notifications. To find your audience, conduct extensive tests — the low cost of push traffic lets you do that to quickly get info about how well your campaign is performing.
The drawbacks of push notifications aren't too severe, as long as you know how to work around them. Get the hang of the format, avoid common mistakes and work on personalization — this will help boost the effectiveness of your promotion strategy.
Tips for launching push notifications
Finally, we have prepared a couple of tips that will increase the effectiveness of push notifications even further:
Warm up your users
Push notification audiences need to be warmed up, which is why pre-landings are crucial.
Be honest
Inflated expectations amount to misled users. Provide only transparent and honest info about the offer, this well increase the quality of leads.
Set display limits
Show a person the ad too much — they will get annoyed. Instead, conduct tests and determine the time users are ready to pay attention to the ad.
However, push notifications aren't the only format that can serve as a top Adsense alternative. Next up are pops, moving on to them.
What is RichAds?
🔝 Push and pop ads,
🔼 Domain redirect traffic,
🔝 CPM for domain ads starts from $ 1.5,
⏫ CPC for push ads starts from $ 0.003,
🔼 CPM for pops — from $0.3 in Tier 3, $1 in Tier 1,
⏫ large volumes of available traffic in more than 200 goes.
Good Ol' Pops Instead of Facebook
Pops are windows that pop up when the user interacts with the website. There are 2 types of pops: popunder and pop-ups. Popunders open under the window the viewer is currently visiting, and pop-ups open directly on top of it.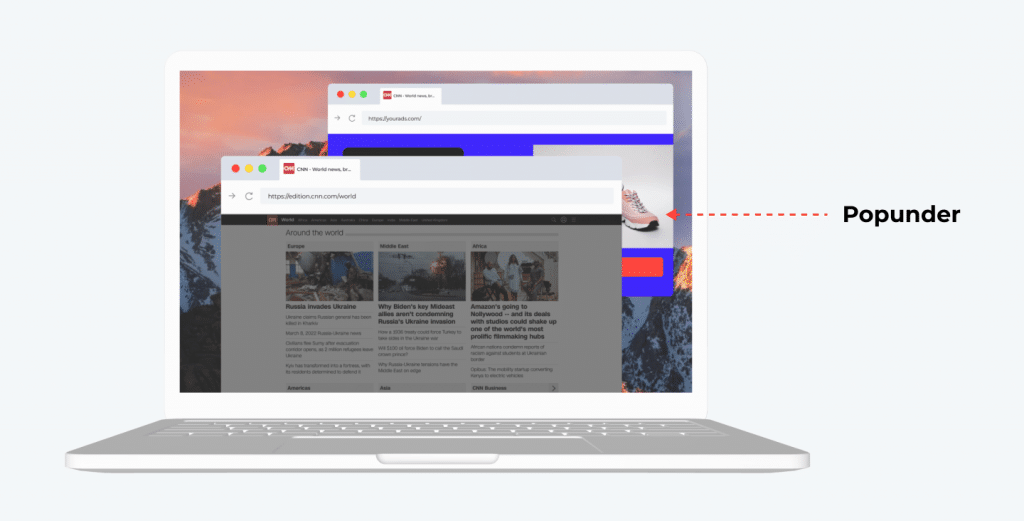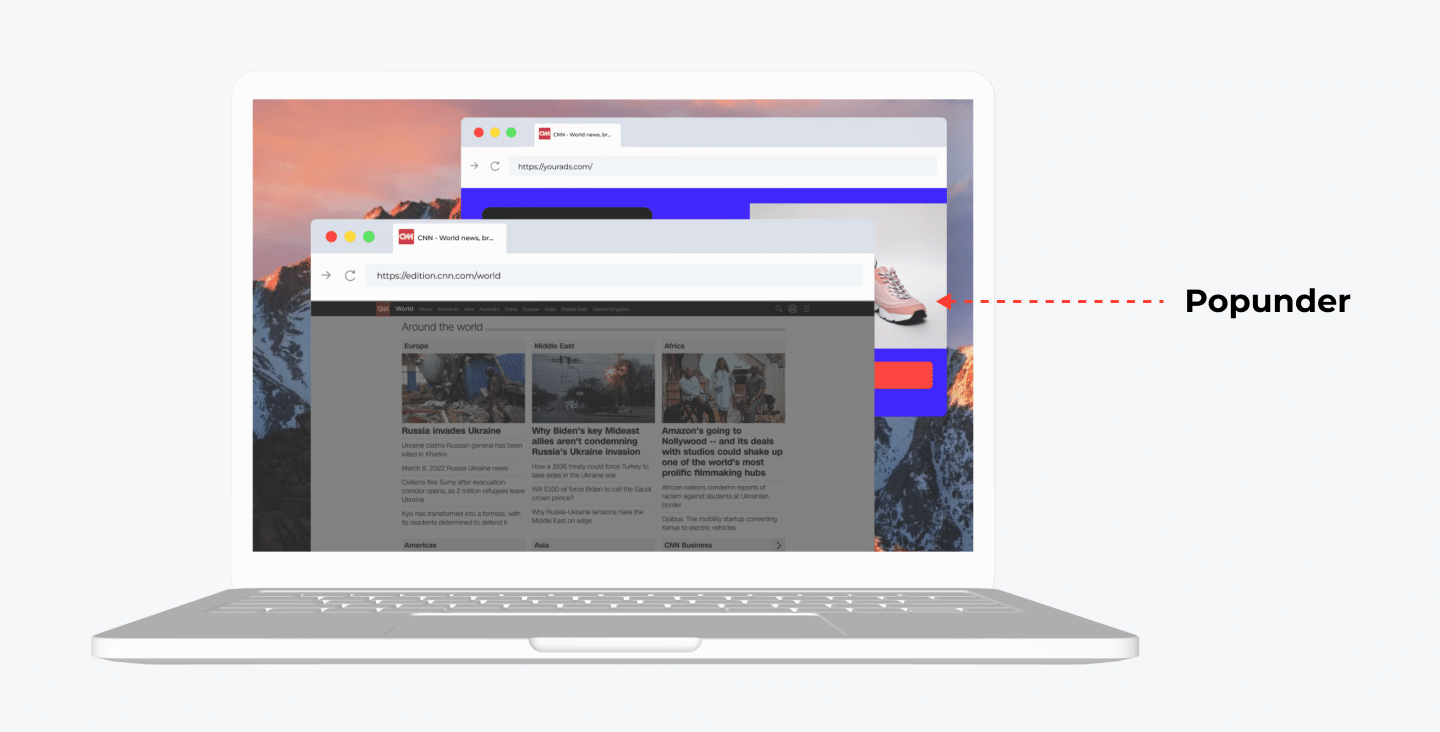 This is an old ad format that has been "sentenced" to death multiple times. Yet here we are, all the forecasts have been wrong, our pops are very much alive and well and are performing just fine.
Pops continue to attract clients, after all, they possess key advantages that you won't find with other traffic sources:
Easy to master
This is a simple ad format that even a beginner will be able to figure out. Got a landing? Launching your very first pop-campaign will take around an hour.
A universal format
Pop traffic is suitable for most verticals and the extensive coverage lets you promote any sort of offer in any GEO.
Low cost
Pop traffic can cost even less than push notifications. Pops are sold via the CPM model. In Tier 3 countries, prices start at $0.3, and at $1 in Tier 1 countries.
What you need to now to turn a profit using pops
For the format to perform well, it's vital to pick out the right landing. The main problem with pops is how aggressive they are since you're forcing the person to view ads and open pages for them.
It's important your pops show the value of the offer right off the bat in order to not annoy people. Therefore, use simple landings with large fonts that immediately grab the user's attention and engage them. You can also use gamification — interactive elements are great at retaining users.
And in order to choose an effective landing, don't forget about tests. In the case of pops, they'll take less time, since you don't need to design creatives. Split-test multiple landings the advertiser provides you with and don't forget to set up data-gathering mechanisms. Pops and large volumes of traffic go hand-in-hand, therefore a tracker is a must-have.
And don't forget about display limits. Pops are an aggressive and annoying format — going overboard with it will only serve to alienate users.
What is RichAds?
🔝 Push and pop ads,
🔼 Domain redirect traffic,
🔝 CPM for domain ads starts from $ 1.5,
⏫ CPC for push ads starts from $ 0.003,
🔼 CPM for pops — from $0.3 in Tier 3, $1 in Tier 1,
⏫ large volumes of available traffic in more than 200 goes.
Domain Redirect Ads: Smth Brand New
Domain Redirect Ads appear due to user errors when writing the site address. Ad networks collect databases of domains that are similar to the addresses of large companies or brand names. For example, for the request "richads", they can buy and prepare the domain "richards".
When the user makes a mistake, the algorithm analyzes the user and, depending on the auction, shows the advertisers' landing page. This is how it works!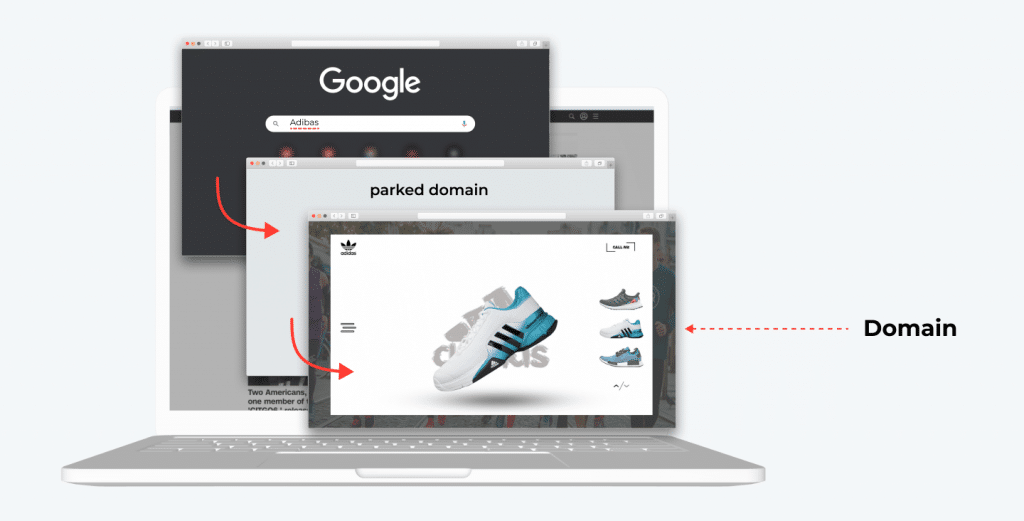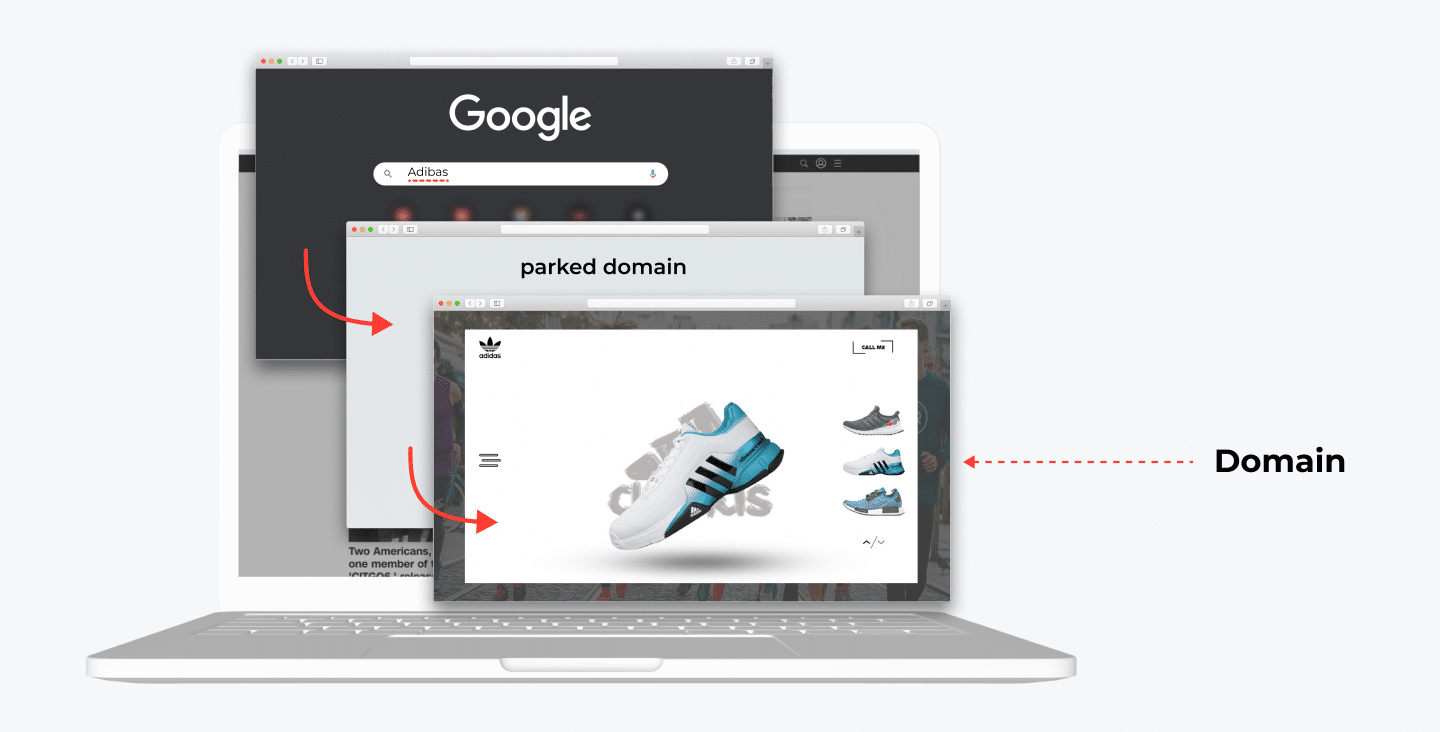 Domain ads are a relatively new form of advertising. One benefit is that they have little competition. Some marketers know about this format, but there is room to grow.
An interested audience is their second plus. The opening page grabs all the user's attention. Users do not scroll through the feed or dismiss it. Instead, they look at it.
If you keep users in the right way and smoothly lead them to purchase, domain traffic will become one of the best options.
80% of domain traffic in RichAds belongs to the Premium segment. RichAds select those sources that are more likely to bring leads in this segment. According to our statistics, domains generate 10 times more leads than, for example, pop ads.
Conclusion
Working with Facebook is becoming increasingly more difficult and risky. To protect your income, diversify the risks and master new traffic sources. Pops, push notifications and domain redirect ads are the best Facebook ads alternatives. These are the options we recommend trying out.
We hope you will join us and appreciate all the advantages of the above-mentioned formats.
What is RichAds?
🔝 Push and pop ads,
🔼 Domain redirect traffic,
🔝 CPM for domain ads starts from $ 1.5,
⏫ CPC for push ads starts from $ 0.003,
🔼 CPM for pops — from $0.3 in Tier 3, $1 in Tier 1,
⏫ large volumes of available traffic in more than 200 goes.