The antivirus niche is a good option to earn in affiliate marketing. Even the pandemic didn't manage to lower the results of marketers that promoted such ads.
So let's look at the Antivirus niche and wonder if it is a good idea to promote them. We'll call it good.
Each month, RichAds hosts a webinar on topics relevant to affiliate marketers.
Their recordings can be found under the tag "Webinar."
Join our Telegram channel to get the hottest updates about RichAds webinars.
Is the Antivirus niche a good option to try?
If there's any niche that will be stable for eternity, it's the Antivirus one.
Why? Well, even the pandemic didn't manage to lower the results of marketers that promoted such ads.
The reason is quite obvious — many companies allowed their employees to work remotely, and the protection of their devices became not just a necessity but a must.
Actually, the stats show that the risk of cybersecurity increased by 600% since the pandemic started. It is bad news for users but a golden niche for marketers who promote antivirus.
All in all, we use desktops, mobiles, and tablets in our daily life, and no one is safe from malicious viruses and attacks. That's why this vertical will always be on the go.
Now you realize why the Antivirus niche is the one you should actually pay attention to, let's focus on promoting it with push ads and getting the most of it.
The RichAds team has prepared a great webinar on this topic.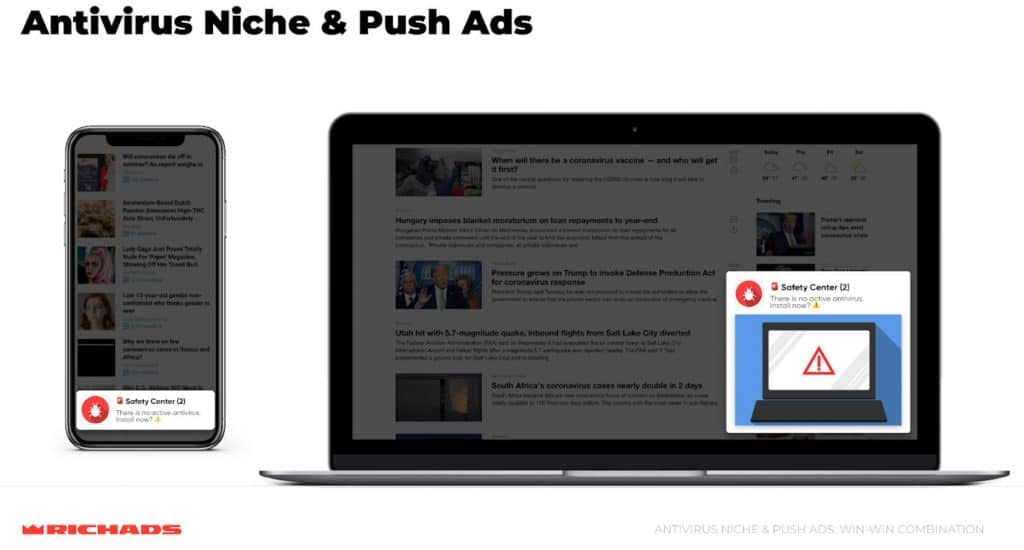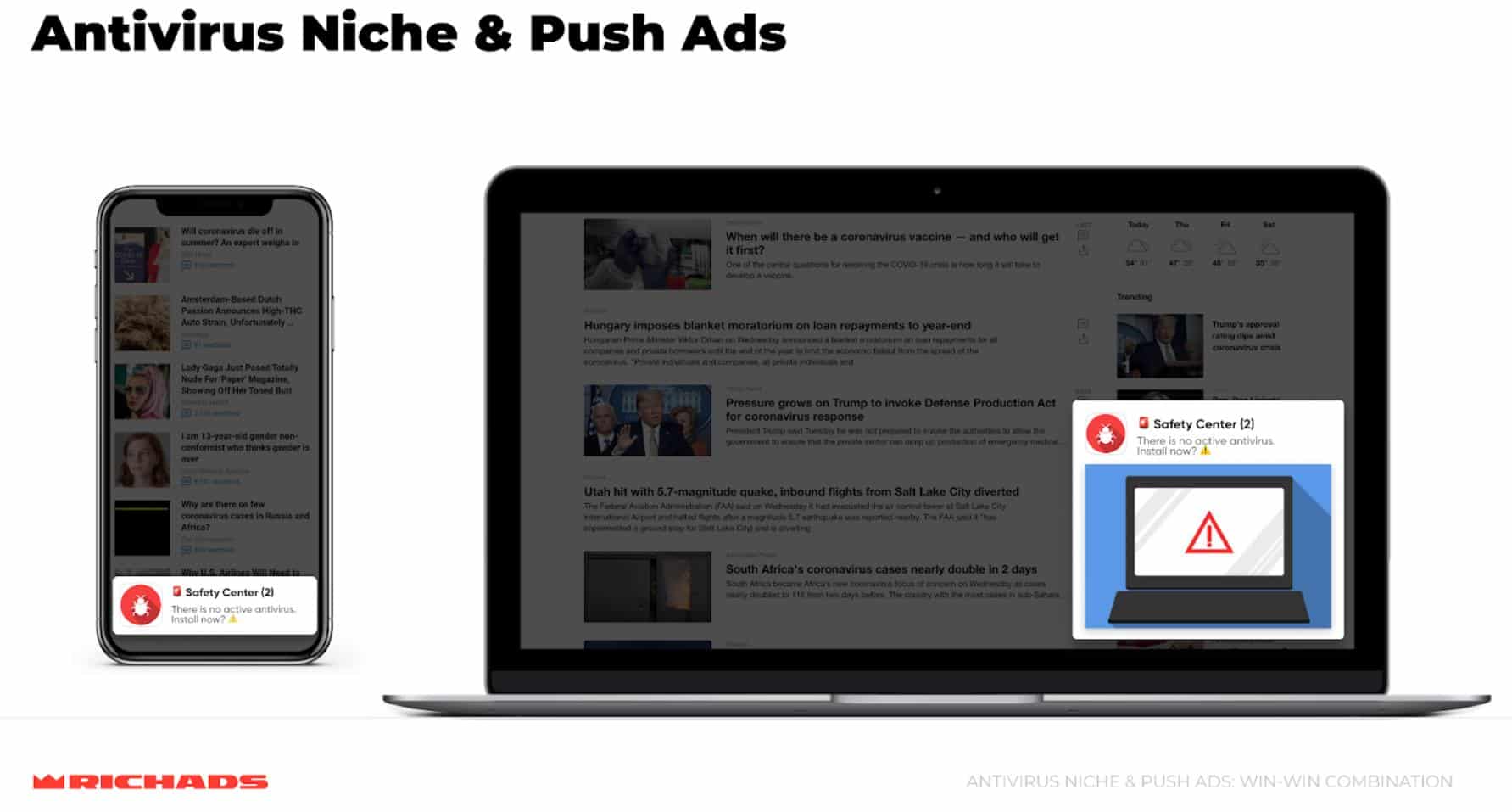 Who are the webinar's experts?
In the webinar, we looked at the vertical from different sides: the ad networks and media buying team that run Antivirus CPA offers.
RichAds speaker performed from the ad network's side. RichAds have 5 years of experience helping affiliate marketers achieve their goals while running Antivirus.
Coinis speaker performed from the media buying team side. Their team has at least 10 years of experience running different verticals, and Antivirus ads are one of them.
Let our experts introduce you to the world of the Antivirus niche!
Here are the experts: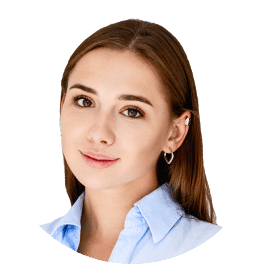 What's on the Webinar Agenda?
Well, our plan for the webinar was to cover all the aspects to benefit from the Antivirus vertical.
Let's find out what is covered in the webinar:
First of all, we will share insights on the Antivirus niche and have an overview of it.
Then we'll discuss the most converting GEOs and offers. Tips on choosing an offer will be covered.
After that, we'll look at the examples of creatives with the highest CTR and landing page creation.
We'll discuss promoting Antivirus ads on push. We'll focus on setting up a successful campaign.
Then we're going to discuss antiviruses campaigns optimization.
Finally, we'll show real case studies.
Ultimately, speakers answered the most burning questions during the Q&A session.
Watch the webinar "Antivirus niche & push ads: Win-win combination"
What is RichAds?
🔝 Push and pop ads,
🔼 Domain redirect traffic,
🔝 CPM for domain ads starts from $ 1.5,
⏫ CPC for push ads starts from $ 0.003,
🔼 CPM for pops — from $0.3 in Tier 3, $1 in Tier 1,
⏫ large volumes of available traffic in more than 200 goes.