« Back to Glossary Index
Blacklist meaning
Adding sources to a blacklist in advertising (also known as "blocklisting") is a process of turning off traffic sources that are too expensive or do not bring conversions at all within one campaign.
There are three groups of sources that exist at RichAds:
Subscribers lists;
Publishers;
Sites.


Basically, subscribers list is a group of sources that consists of publishers, which in its turn include different sites.
Where is "Blacklist" function on the platform?
There are several ways to add non-working sources to a blacklist at the RichAds platform.
Let's have a look at all of them to understand how to use blacklist.
Go to Optimizer interface by clicking on the name of the desired campaign.
You just need to choose the desired sources group (publishers, sites, SSP) and press "Active" button to turn it into "Paused".
Turn off ineffective subscribers lists in the "Sources" section.
This applies only to subscribers lists, you just need to remove a tick in front of the ineffective SSP, as easy as this.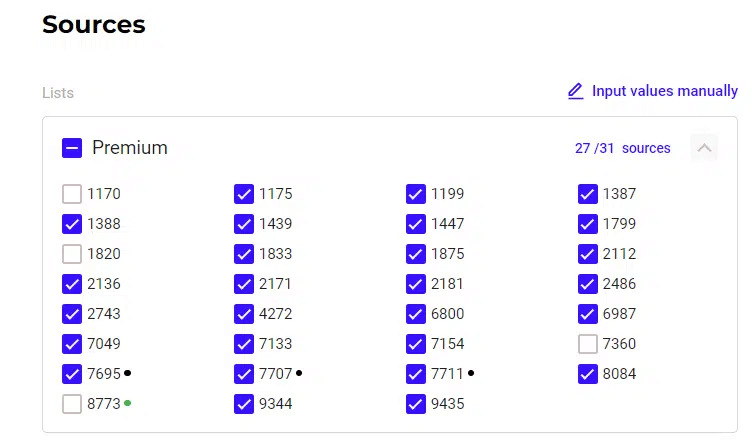 Important: it's better to start optimization with smaller groups of sources like publishers or sites, and turn off SSPs only in the end of the process if required.
Add the sources to "blocklist" section within the campaign.
This applies only to publishers and sites. You need to add the source ID (32-digit code) in the format 1 line – 1 source, without additional characters and spaces.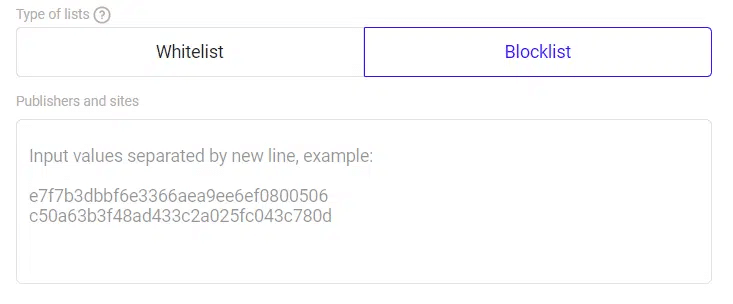 Important: You can create the blacklists yourself with the help of the tracker, or ask a manager to assist you in the process and provide the list for free.
Features for automated blacklisting at RichAds
The manual blacklisting process may seem to be time-consuming, that's why there are features at the platform that allow to speed up and automate the process.
Automated rules
This function allows to set an exact rule for a specific campaign. It will automatically analyze the statistics for 7 days, for example, and blacklist a desired sources group if it doesn't correspond to the conditions.
For example, if a publisher brought zero conversion but spent the amount of money that equals one conversion price or more, it shall be blocked.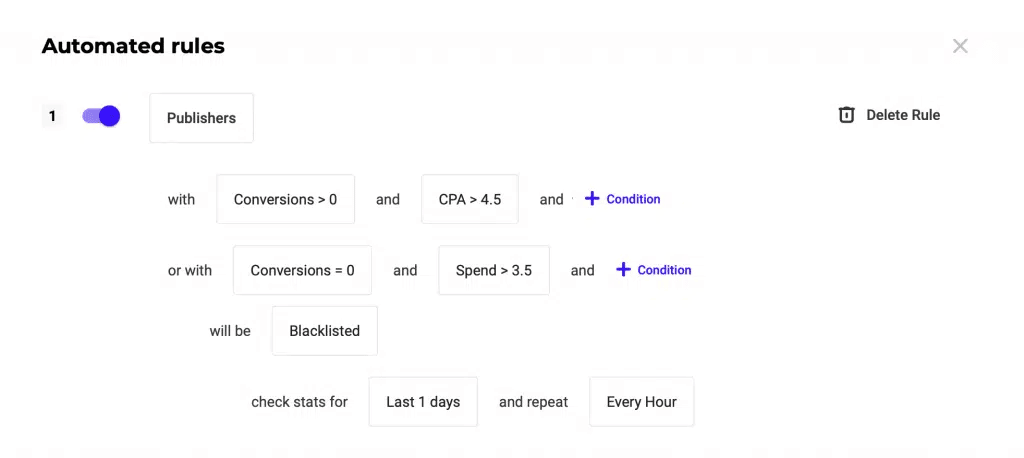 Performance Mode
This is the easiest way possible to automate the blacklisting process, the Performance Mode feature creates blacklist automatically depending on your settings and renews them daily.
It's crucial to know that the tracker is optional, the algorithm works well both with and without it.

Target CPA
Last but not least, the best way to get non-converting sources blacklisted is to use the Target CPA algorithm. It blocks sources that do not fit into your conversion price, again you just need to choose settings and targeting, and simply get profit, no more actions are required from you.
In this case you need to set up tracking to make the algorithm work.


What is RichAds?
🔝 Push and pop ads,
🔼 Domain Redirect traffic,
🔝 CPM for domain ads starts from $ 1.5,
⏫ CPC for push ads starts from $ 0.003,
🔼 CPM for pops — from $0.3 in Tier 3, $1 in Tier 1,
⏫ large volumes of available traffic in more than 200 goes.
---
Related articles