To increase the CTR of push notifications for weight loss vertical, use titles and descriptions that sell.
The Secrets for Weight loss vertical titles
According to statistics, push notifications that guarantee results get more clicks.
Recommendation: specify in the title or in the description of how long it will take for the results to be noticeable. This approach increases the interest and confidence in the push notification and, as a result, the CTR goes up.
Examples of the best weight loss creatives here.
Title Formulas
Let's consider the options for selling headlines on the example of the 7-Slim weight loss offer.
Please note: the length of the title in the push notifications is 30 characters, and in the descriptions — it's 45 characters.
Titles that include a timeline
[Solution] [time]
7-Slim: lose 7 kg per week
Weight disappears with innovative solutions.
***
[Problem] [time]?
To lose weight in a week?
It's possible with 7-Slim. The solution stimulates…
***
[Time] [event]
Lose 7 kg without diets in a week
The irisin hormone will improve your metabolism and…
Titles that mention the benefits of weight loss
[Verb] [product] [benefit]
Lose 7 kg without a diet
The new solution improves metabolism and…
***
How [benefit] [product]
How to lose weight with the 7-Slim system?
7-Slim increases the level of irisin in your blood, which
***
[Verb] effortlessly[product]
Lose weight effortlessly with 7-Slim
The body produces a hormone that…
***
[Benefit] [time]
Lose weight before summer in 7 days
With 7-Slim the extra kilograms will not return
***
How [verb] [benefit]?
How to lose weight without any sports?
7-Slim turns fat into energy thanks to …
Titles with"speed"
Do you want [benefit] fast?
Do you want to lose 7 kg fast?
Try a new solution for effective…
***
[Product]: fast
7-Slim ensures fast weight loss
The extra weight disappears in a week, thanks to the new…
***
Important announcement for [people]
Important announcement for women!
A new way to lose weight without dieting
Creatives for Weight Loss vertical
It seems that creatives for arbitrage are always "classic." For slimmers, these are the standard before/after photos:
But few people know that creatives in the form of statistics get a lot of clicks: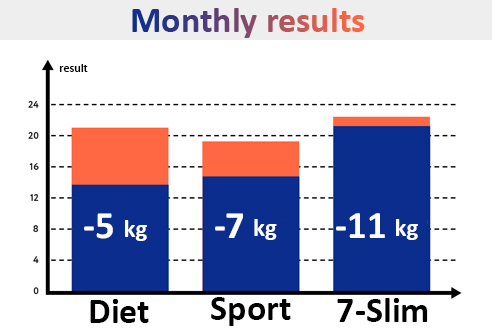 For titles-slogans, such as "Forget about calories!" you can use photos of fruits and vegetables. The theme of measuring weight, size, and calories is relevant.
In the title or in the description, ask if women are ready for a summer photo shoot in a swimming suit. The majority will give a negative answer and, therefore, will be interested in the offer. In this case, you can get truly creative:
Offers "without diets and workouts" always attract attention because of the ease of achieving results. It is rather easy to choose a visual for such a creative. "Classic" photos for the vertical with photos of slim girls and women who are tired of working out may be used:
Depending on the title of the push notification, you can come up with unusual ideas for the creatives. The question "Does the extra weight bother you?" in the title can be accompanied by a visual that is unusual for a slimmer:
We recommend staying away from shocking content. Use interesting and unusual visuals for push notifications and combine them with effective titles.
Increase conversions with RichPush push traffic.
Nutra and Native Ads: 2020 Tips & Tricks.
Was this helpful?
Yeap
Ok
Neutral
Try harder
Nope