If you're looking for some Google AdSense alternatives, you've come to the right place.
While AdSense is an awesome way to monetize your website, it's not the only option available.
However, before diving into the alternatives, let's take a look at what Google Adsense is, a brief history of the platform, and how you can earn from it.
What is Google Adsense?
AdSense is a Google product that helps bloggers, webmasters, forum owners, and website owners monetize their websites by placing ads on their properties for revenue. Since it launched in early 2003, Adsense has become the most popular ad network where millions of publishers sign up to monetize their blogs and websites.
Google Adsense has two different types of ads, specifically text ads and display ads. Display ads tend to consist of banner and video ads. Text Ads, on the other hand, are in a familiar format consisting of an ad title and a small description. When users click the ad, they are redirected to the advertiser's website.
The best part about AdSense is that Google handles all your targetings. Site owners simply have to insert the ad code in their website, and Google will automatically start showing ads that are targeted to your viewers based on geography, demographics, search history, etc. 
As it's a big company, it can be tough to get in. Your website must be at least six months old, have at least 20 posts, and have decent traffic. Even if you achieve this, Google is picky with webmasters they accept. 
If you want to earn more from your website or if you won't get accepted with Adsense, it would be better to just search for the best Adsense alternatives for your website.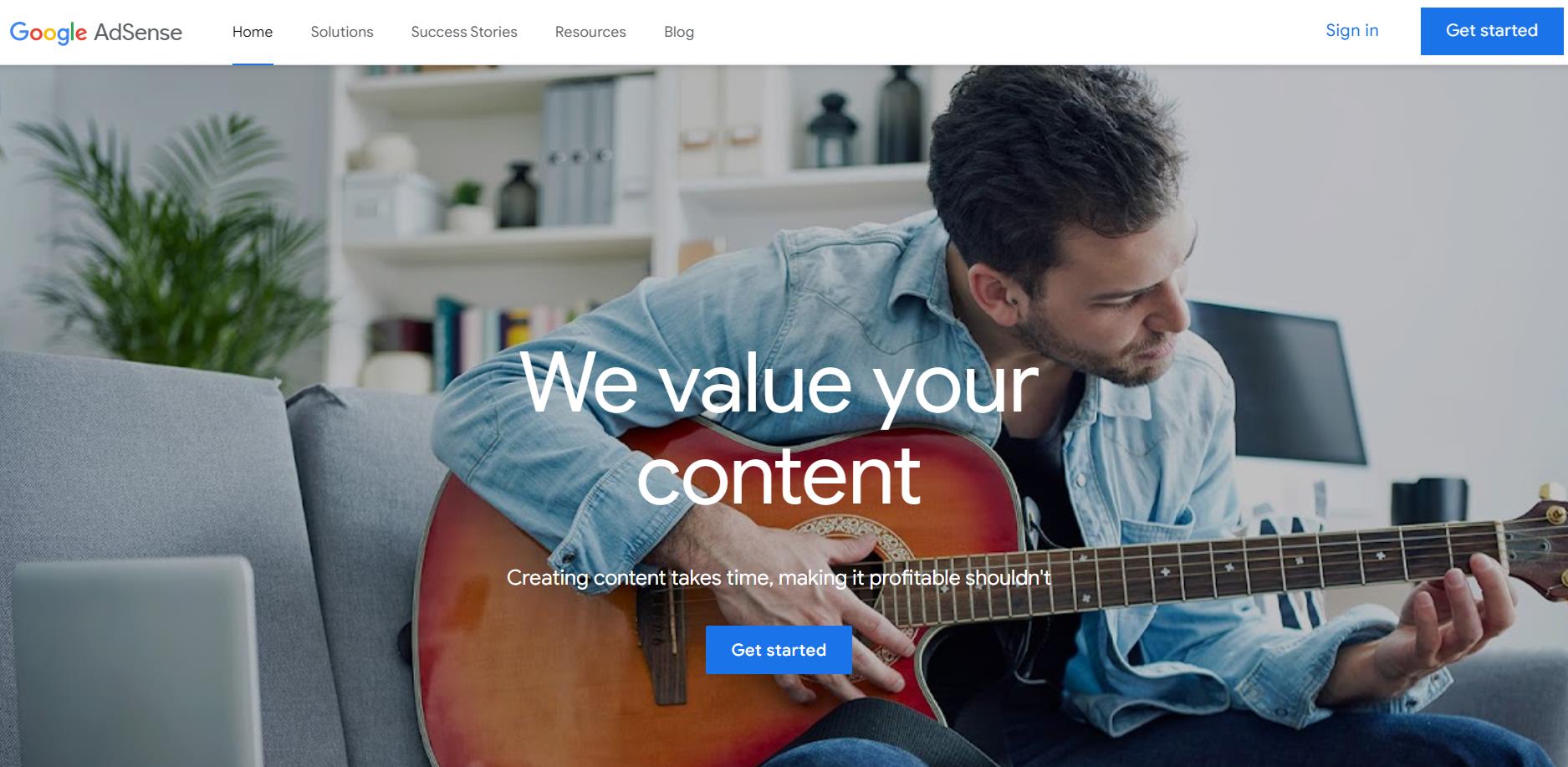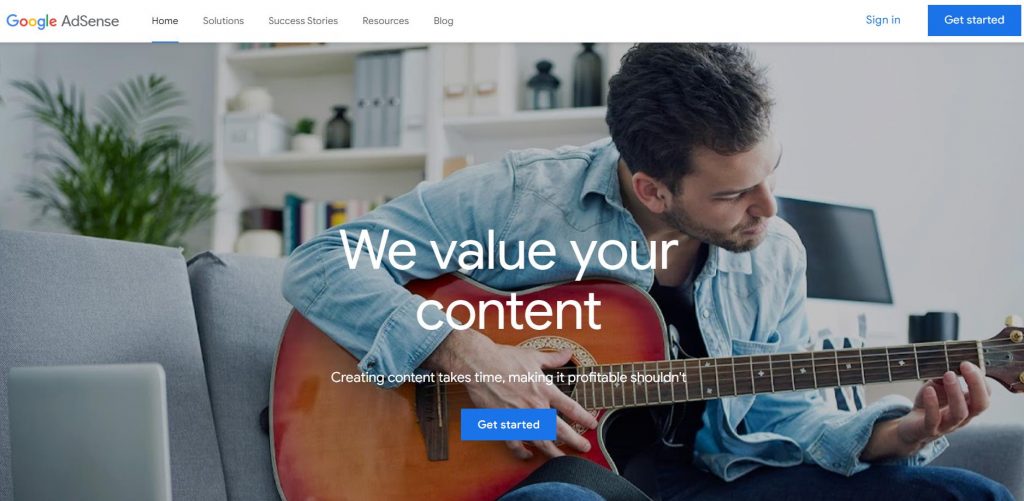 5 Good Adsense Alternatives
We will cover five of the top Adsense alternatives to consider. Some of these alternatives are better than AdSense, while some simply offer different monetization options.
1. Ezoic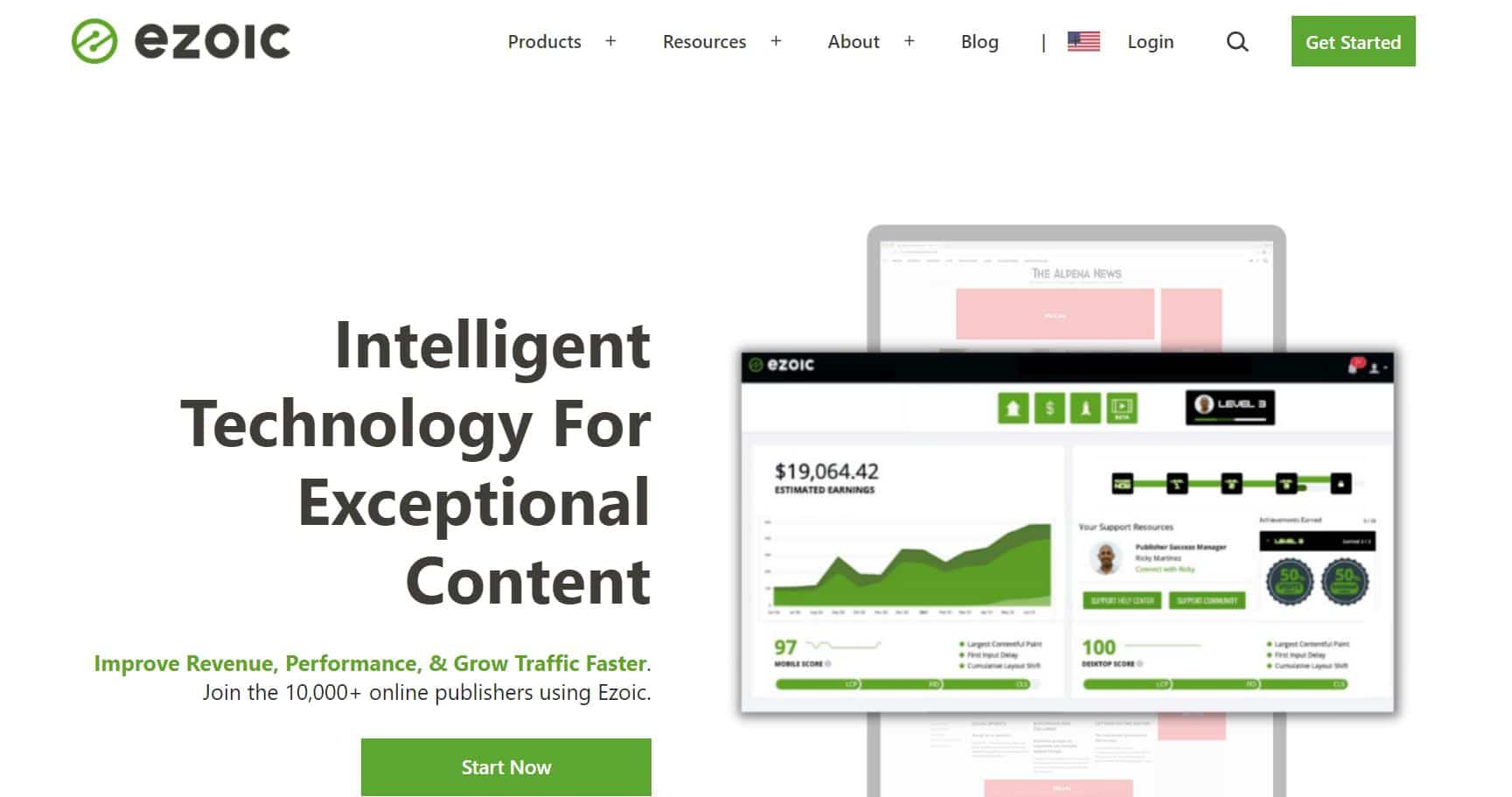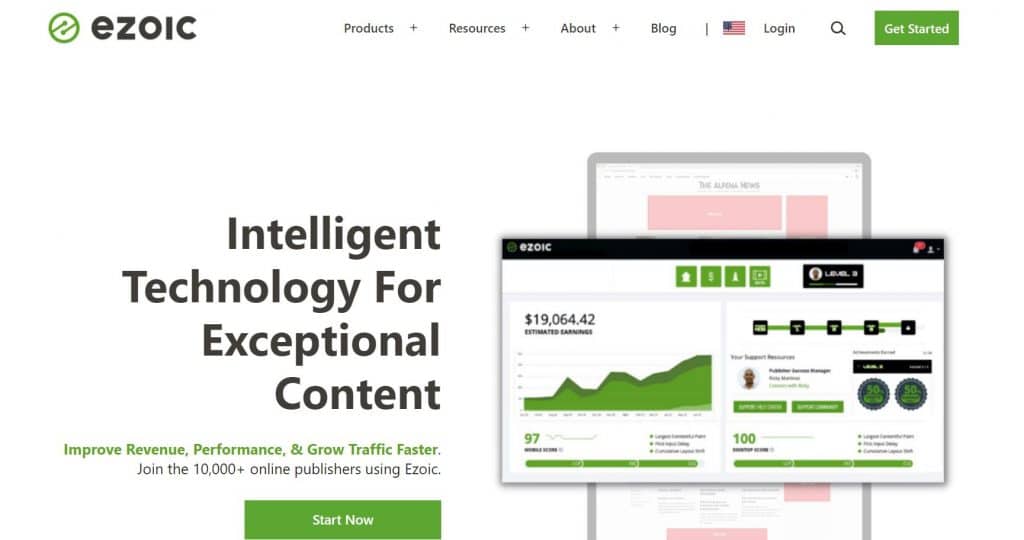 Ezoic is a popular alternative to Google Adsense that allows publishers to earn more revenue by upgrading their website with multiple ad formats for increased chances of earnings.
They offer various types of ads, such as an Expandable unit that takes up the whole screen, video ads, image ads, text ads, etc. They even show highly responsive ads on mobile devices, which are also offered by Adsense are not open to all publishers.
As an added bonus, Ezoic is free to use. There are no set-up fees or contracts to sign up with the platform. The only thing you have to do is sign in and start using it for monetization. However, getting accepted requires a minimum of 10 thousand views per month.
Two categories explain how you may join Ezoic:
If you have under 10k page views per month, you are most likely in the Ezoic Basic category.
If you have more than 10k page views per month, you are probably looking for the Ezoic Plus category.
The biggest difference is that Ezoic offers a more publisher-friendly payment threshold of only $20. That means you can withdraw earnings as soon as they are accrued, especially if you need the money to send traffic to your website.
Ezoic can be a great alternative to Google AdSense since they offer higher eCPMs and ads that fit the theme of your website, all while having a low withdrawal amount.
2. RichAds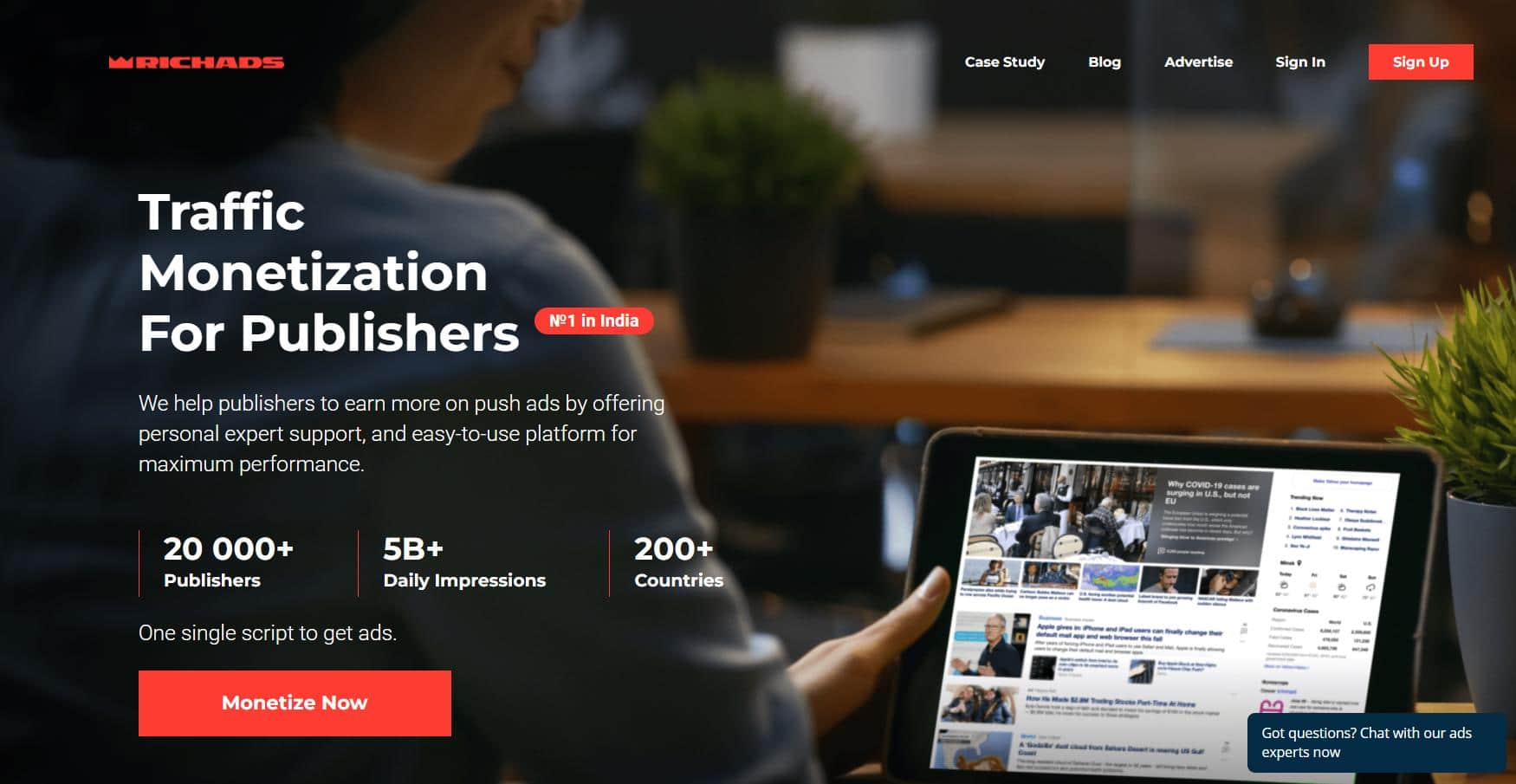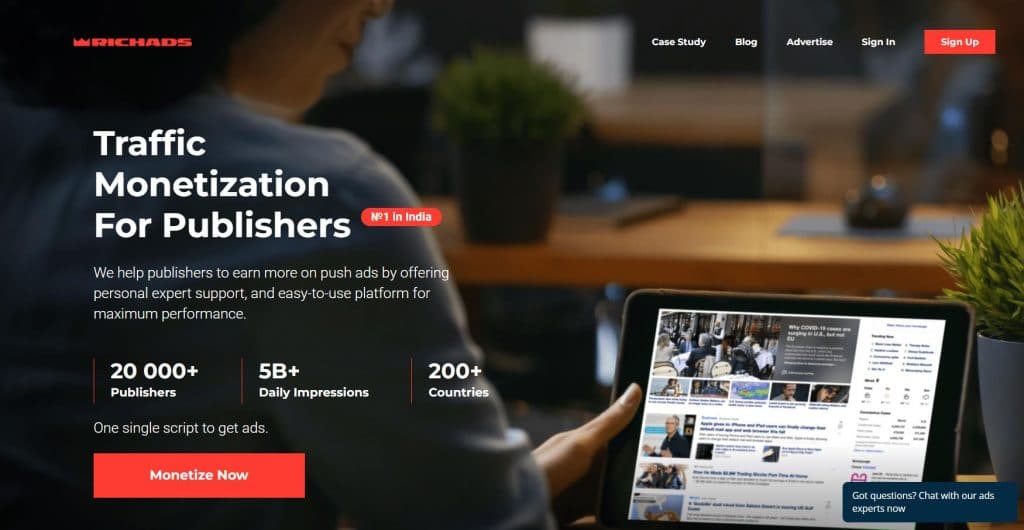 RichAds is another Adsense alternative for your website. It is an advertising network that provides targeted ads for publishers so they can monetize their websites through push notification ads.
This means that you won't place any banners on the website. It is easy to combine push notifications subscriptions with banner ads and other methods of monetization. This is a good way to earn more revenue.
How does it work?
The website owner adds a little piece of code to their site. A small pop-up window appeared asking the user for permission to send him notifications. The user can choose whether to accept or decline the notification. Ad networks will either pay you for every subscription or for every click on a push notification ad they send.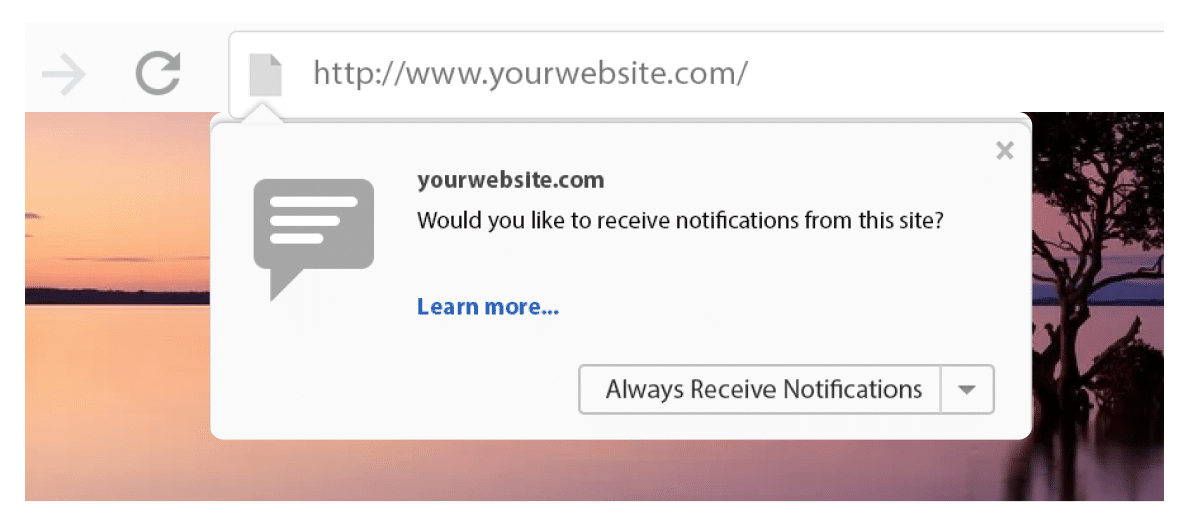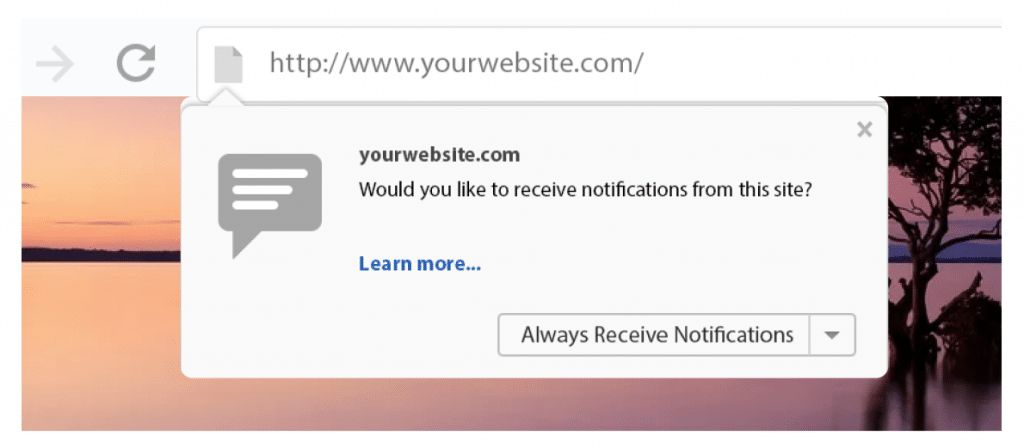 RichAds works as a mediator between advertisers and publishers. The advertiser pays the ad network directly, and RichAds shares a percentage of the revenue with the publisher. The best part about using this platform is you don't need any knowledge of coding or complicated steps. Only one line of script to add to your website is all that's needed.
To get paid, you need to have a minimum of $10 worth of earnings for e-wallet payouts — one of the lowest in the industry. Payments are processed twice a month, one the first and third weeks. Signing up is pretty easy, too. If you're interested, you can sign up to RichAds here.
RichAds removed the restrictions on minimum visits to the website and canceled the obligatory site moderation process. And this is another confirmation that RichAds is the best alternative of google Adsense. Take advantage of this opportunity to join!
What is RichAds?
🔝 Push and pop ads,
🔼 Domain Redirect traffic,
🔝 CPM for domain ads starts from $ 1.5,
⏫ CPC for push ads starts from $ 0.003,
🔼 CPM for pops — from $0.3 in Tier 3, $1 in Tier 1,
⏫ large volumes of available traffic in more than 200 goes.
3. Media.net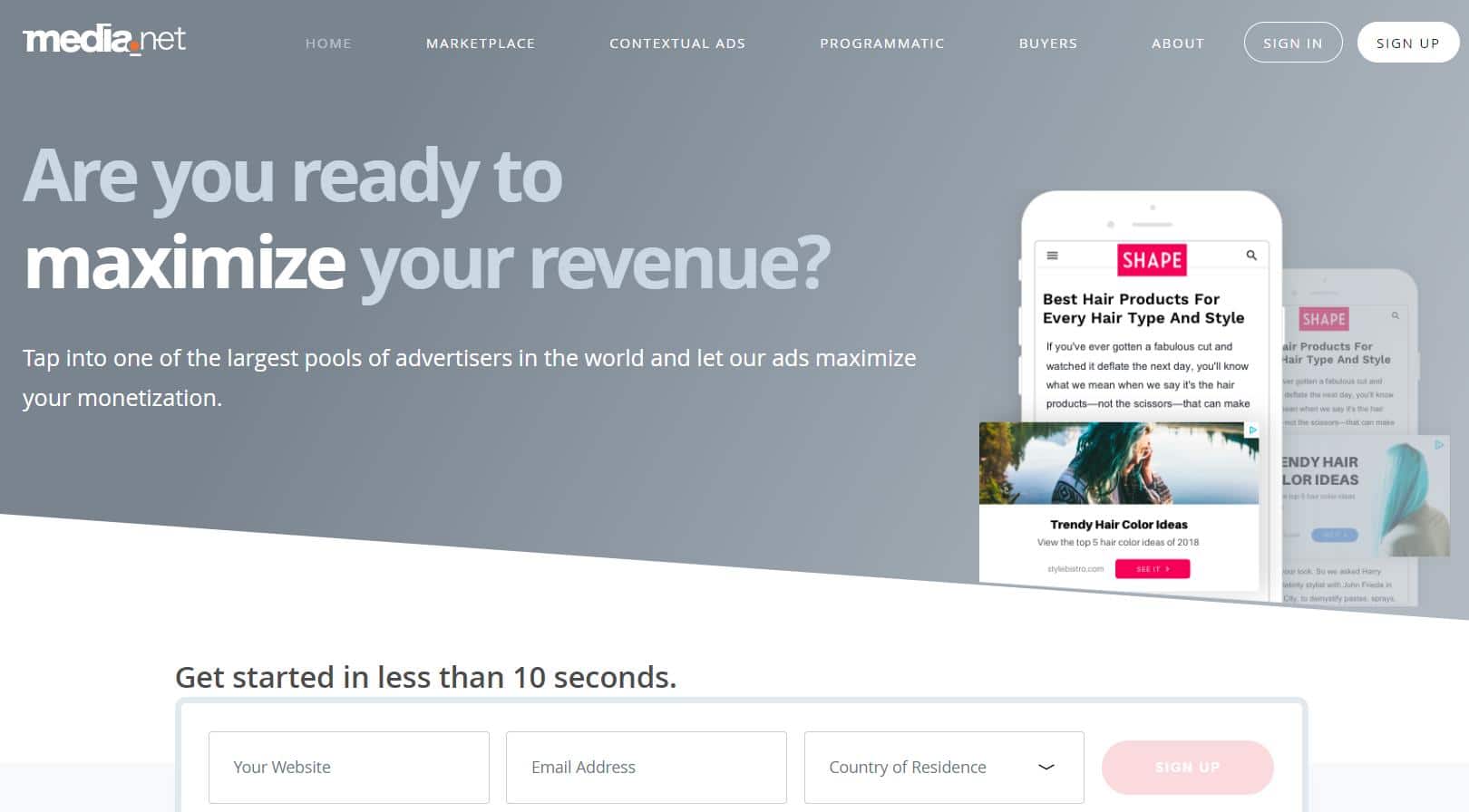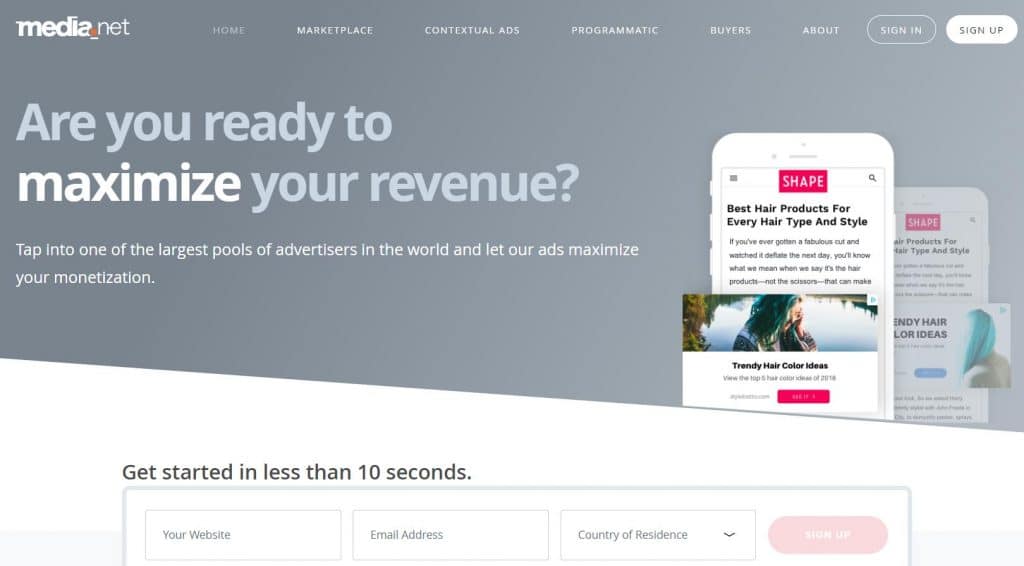 Media.net is a contextual ad network similar to Adsense that offers web publishers the opportunity to earn revenue by displaying targeted ads on their websites. The program is free to join, and there are no minimum traffic requirements. In addition, publishers can use Media.net's tools to customize the look and feel of the ads they display on their sites.
This is an advertising network similar to RichAds and Google AdSense, which offers display ads such as banner ads, text ads, pop ads, and more on your website. A Yahoo/Bing ad partner allows publishers to get paid for each click on an ad of their choice.
To get started, simply sign up for an account with Media.net and add your website to the network. Once your site gets approved, you can start displaying ads on your pages. You'll earn money each time a visitor clicks on one of these ads. The amount you earn will depend on various factors, including the country where the ad is displayed and the size of the ad unit.
Media.net offers advertisers three types of ads:
Sponsored Links (similar to Google Adwords)
Content Links (this type of ad is shown on the side with information ranging from news, finance, etc.)
Video Ads (displayed before or after videos play)
The minimum payout for this platform is $100.
4. InfoLinks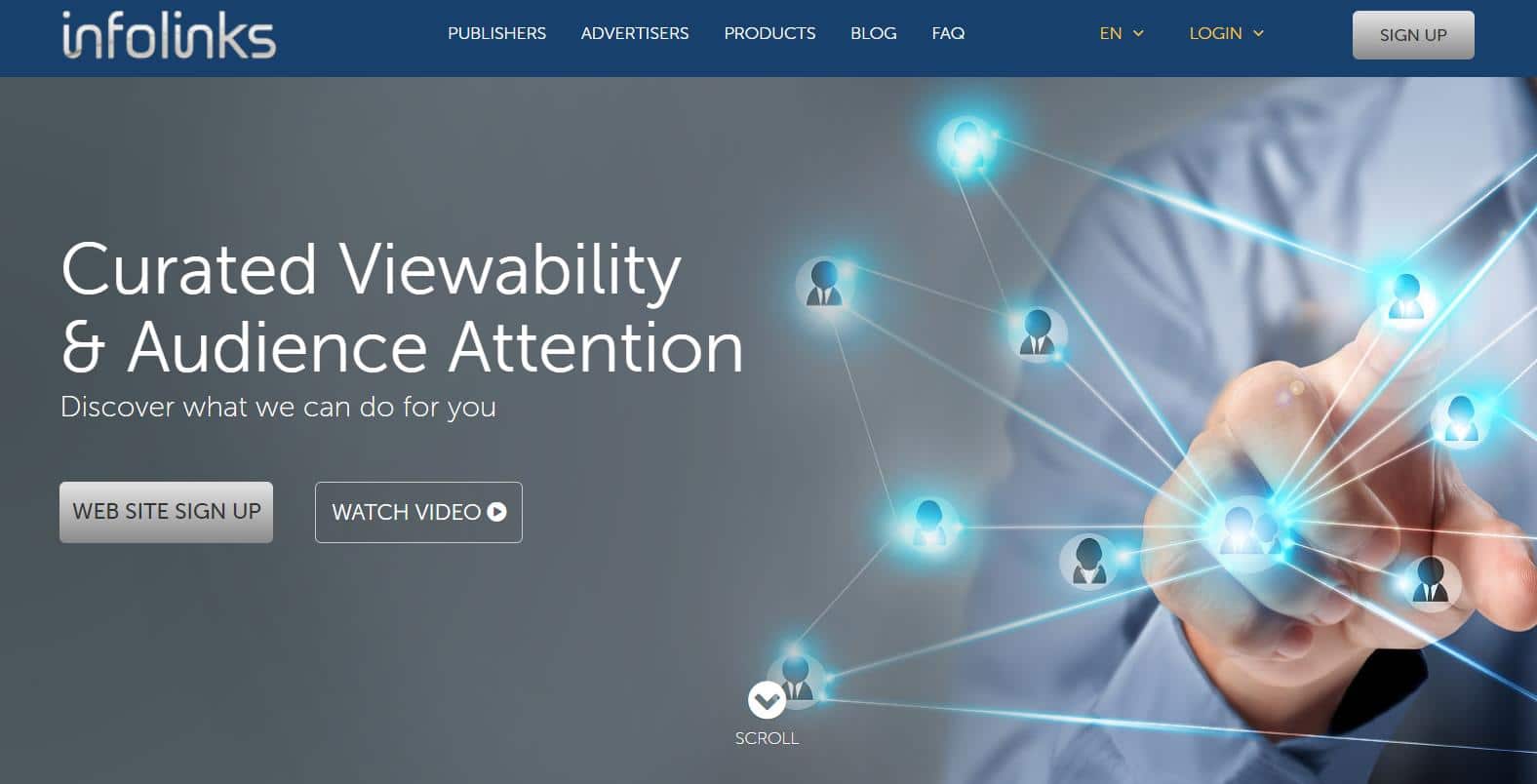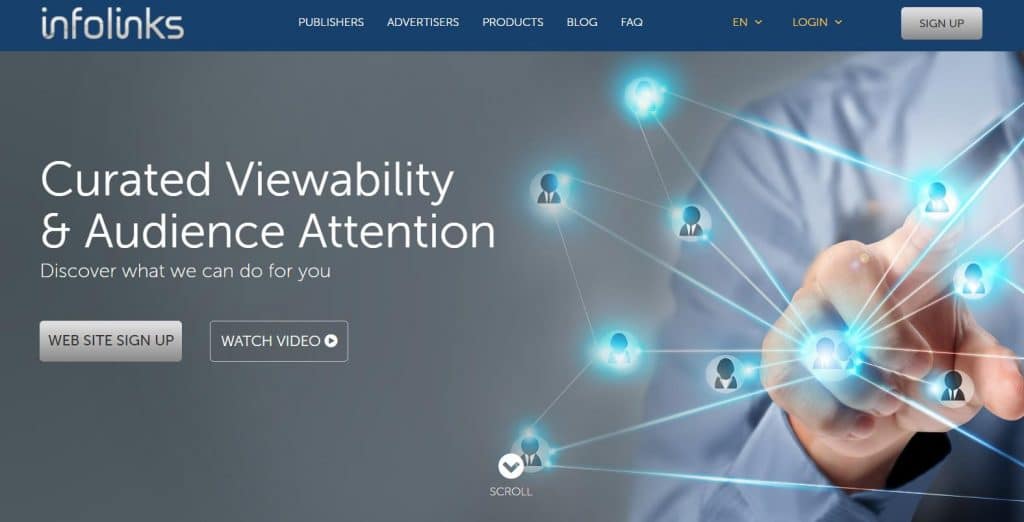 InfoLinks works differently than Google Adsense. It is the third-largest publisher marketplace today, which means you can expect your site to always be full of ads since a high number of advertisers work with them.
InfoLinks is a contextual ad network which means it only shows ads that are relevant to your website. Instead of showing banner ads, it allows you to place text snippets and links with content that is related to the topic of your page.
When someone clicks on one of those links, they're taken to a page with more information about the product or service being advertised. If you've ever noticed links that show miniature pop boxes when hovered over, that's it. This type of advertisement is known as a CPC (cost per click) ad because the advertiser only pays when someone eventually clicks on the link.
The best part about this ad network is that it doesn't require you to have thousands of traffic on your website in order to get accepted. All you have to do is add your website's URL so the folks at InfoLinks can have a look at it and see if it passes their requirements.
5. Amazon Affiliates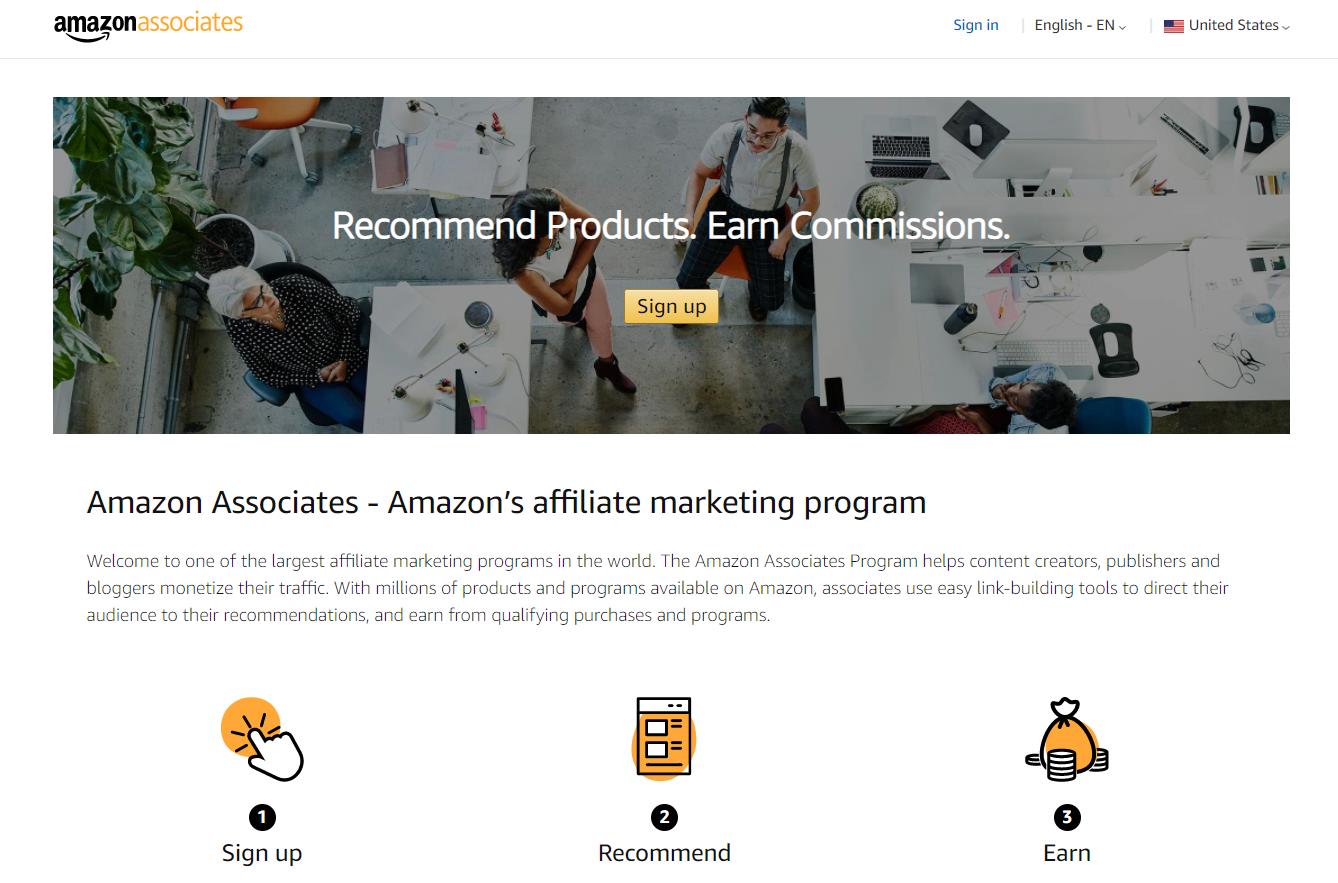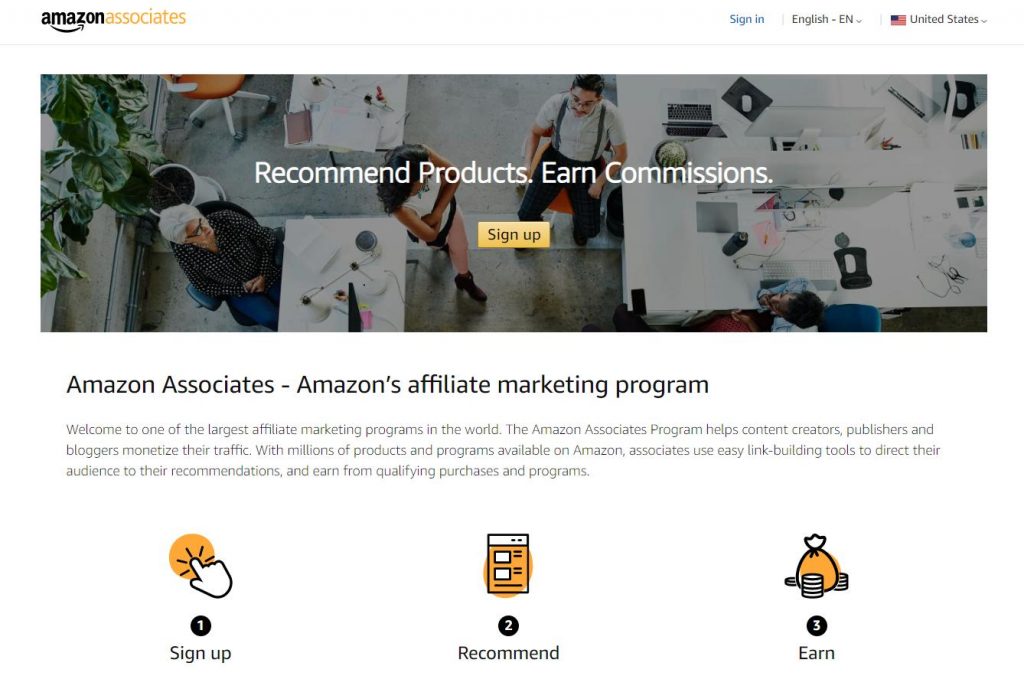 If you run a website, there are many ways that you can monetize it. One of the most popular methods is to join an affiliate program and promote products from other businesses. Amazon is the most popular affiliate program available out there, and it offers a wide range of products that you can promote on your website.
The first step is to create an Amazon affiliate program account. Once you have registered, you will be able to access the affiliate dashboard. This is where you can find all of the information that you need to get started. The next step is to add links to your website. You can do this by copying and pasting HTML code or using a plugin for WordPress websites.
Once you have added links to your website, it's time to start promoting products! When a visitor clicks on one of your affiliate links, they will be taken to Amazon's website. If they make a purchase, you will earn a commission on the sale.
The minimum payout is just $10, too. Visit this link to sign-up for Amazon Affiliate.
Final Thoughts
Even though it is clear that Google AdSense is dominating the advertising market, there are still other alternatives to Adsense out there — some are even better when it comes to requirements, earning rates, and minimum payouts. With these Google ads alternatives in mind, you can be successful even without having to adhere to Adsene's strict requirements.
You should also keep in mind that this list comprises only five platforms which mean that there are still many other options for an alternative to Adsense. Signing up for one of these Adsense alternatives for small websites will allow you to diversify your revenue and even expand the number of ads that appear on your website, helping you monetize all of your content in a much more efficient way.
It is not hard to find another programs that are similar to AdSense. Just have a try or use RichAds for monetization.
What is RichAds?
🔝 Push and pop ads,
🔼 Domain Redirect traffic,
🔝 CPM for domain ads starts from $ 1.5,
⏫ CPC for push ads starts from $ 0.003,
🔼 CPM for pops — from $0.3 in Tier 3, $1 in Tier 1,
⏫ large volumes of available traffic in more than 200 goes.