Peculiarities of work with ad offer on popunder ads
How to launch a successful pop ads campaign? We know the answer.
The success of any popunder ad campaign is kept afloat thanks to 5 keys. Without these elements, you will not launch and optimize your campaign successfully. By the way, optimization plays the most important role while working with popunder traffic. It's hard to make a profit without switching off non-converting sources.
5 things you need to launch a popunder campaign:
offer for a wide spectrum of users;
the source of high-quality pop traffic, for example, RichAds ad network;
tracker with maximum functionality to know where the traffic comes from and disable non-converting sources;
quality landing page as in case of pop traffic the user immediately gets on the offer page;
quick hosting for the landing page to upload the page as soon as possible during the visits avalanche.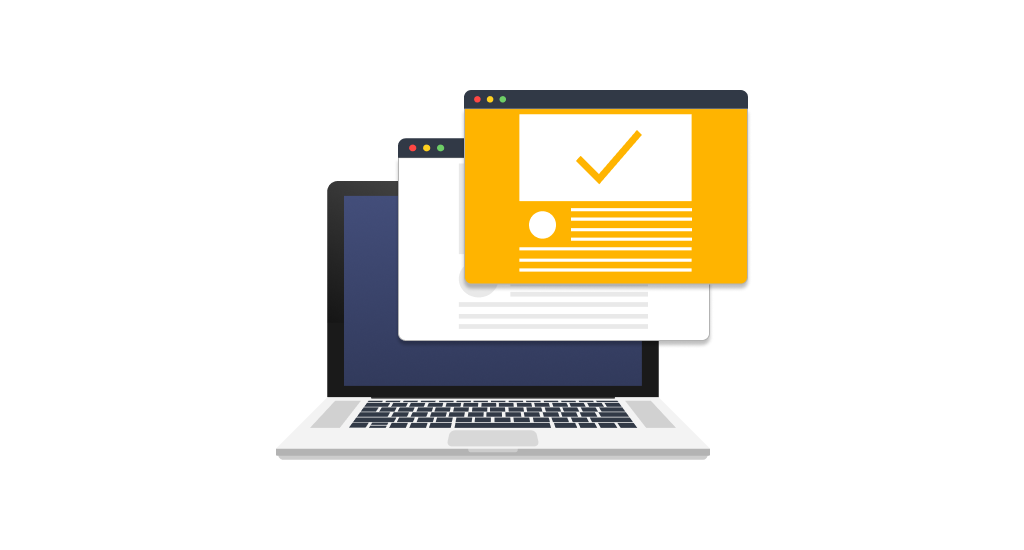 Any pops campaign launch starts with the choice of the offer. Pop traffic is very fragmented. Offer page will be shown to absolutely different people that's why it's better to choose offers interesting for a wider audience. Choose popular brands, consumer products, verticals that cover people's daily needs.
Top verticals for pop ads advertising campaign launch:
Gambling;
Betting;
E-commerce;
Mobile content;
Dating.

Important: best verticals and GEOs at RichAds for pop ads constantly change, make sure to subscribe to the tag "Best GEOs and Verticals at RichAds" and always be informed!
The key element in conversion on pops is the landing page the user will see on the tabs opened. Remember that the user probably doesn't expect to see the offer. A simple and clear landing page with large text you can read and understand for a few seconds is the way to successful conversion on pop traffic.

How to create pops ads campaign
1. Add Destination URL
Make sure the link of the landing page is correct not to waste your test budget on a broken or incorrect URL. You can add several landing pages in one campaign for testing. Make use of this opportunity — you never know which landing page will perform better.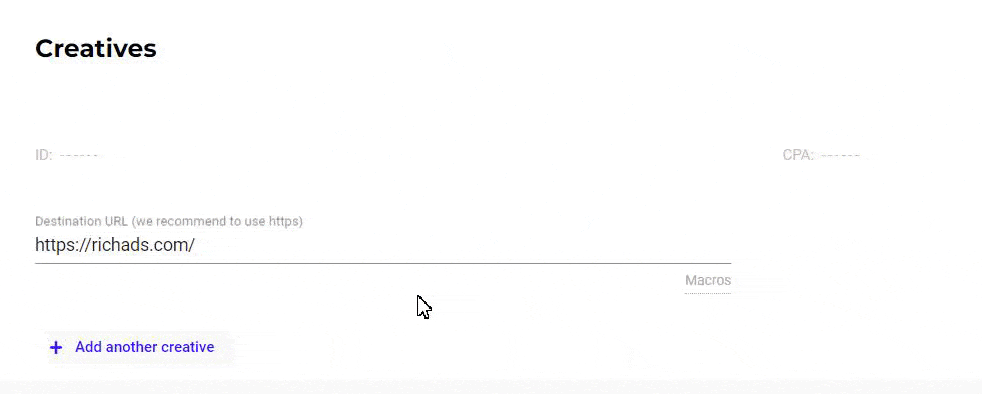 2. Set up conversion tracking
After the campaign launching, you will start getting conversions. It's important for optimization to know where they come from to whitelist or blacklist some source.
In RichAds you can set up conversions tracking via postback. Thanks to conversion tracking you will get access to unique flagship features (Target CPA, Automated rules, Micro Bidding).
Postback is the most reliable way of data transfer. It can be set up using any third-party tracking tool. RichAds popup ads is integrated with 10 trackers. Integrated trackers help track results of ad campaigns according to set parameters as accurately as possible.

Learn more about How to set up a Postback in our step-by-step guide.
3. Choose the country
In RichAds one ad campaign is set up for one country. Except for the country, you can enable separate regions or cities. It's useful for specific offers made for certain regions or cities.
At the start, we recommend choosing the whole country and then decide on disabling separate regions and cities.

4. Сhoose the device you are going to launch your campaign on.
You can launch your campaign on Computer (desktop), Mobile, or Tablet. We recommend dividing campaigns for mobile and desktop traffic as they have different CPM as well as landing pages. Also, if you have a mVas offer, you'll need to choose specific carriers, you'd better make sure that you target mobile devices only.

We'd highly recommend to start pop campagns with mobile devices as the percentage of mobile traffic is huge at RichAds. Then you can scale your campaign on desktop as well.
5. Test traffic sources with the help of Source Sampling (optionally)
Start popunder campaign with Source Sampling. It is a flagship platform's feature that helps test sources on a small number of clicks, evaluate their quality, and scale good results making performing white lists. There are several parameters available that you can set up for testing.

6. Set up Visits cap
Pops may be annoying. We recommend setting up a visit cap not to bother users and not to decrease the possibility of conversions. A perfect option is to set the limit of 1 visit per user daily. If you need a more unique audience you can choose 1 impression per week.
Moreover, such restrictions will help you to spend ad budget reasonably. You will not pay the user who is not ready to respond to your offer today but may change his mind tomorrow.

7. Set up advanced targeting options (optionally)
We recommend setting up additional parameters based on the first results.
There are cases where the settings are necessary at the very start:
If you launch the antivirus offer, for example, on Windows XP, it's necessary to use Windows XP targeting.
If you need traffic only from users of a certain mobile provider.
In a country with several languages choose the browser language of a certain audience. It's reasonable to limit impressions for the audience that doesn't use this language.
Note that targeting settings shouldn't exclude each other. For example, if desktop targeting and Android OS are chosen, the ad campaign will not be shown to users before eliminating this mistake.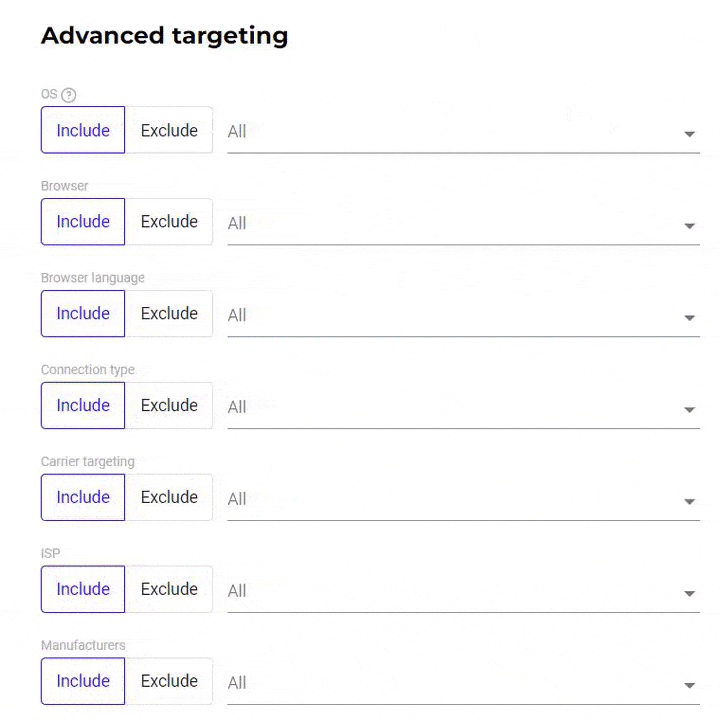 8. Set up Cost per Mile
RichAds offers traffic according to CPM (cost-per-mille) model — the user pays for 1000 impressions. The amount of traffic bought depends on the bid size. If the bid is too small the campaign will be in lack of traffic or will not get it at all. You can see the size of the minimum and recommended bids for a certain country in the section of the country as well as Predictor that forecasts available traffic volume for different bids.

9. Limit daily budget during testing
To test working bundles at the start we recommend setting up budget limits — at least $25 per day. It will help to avoid unpredictable spend on the stage of testing.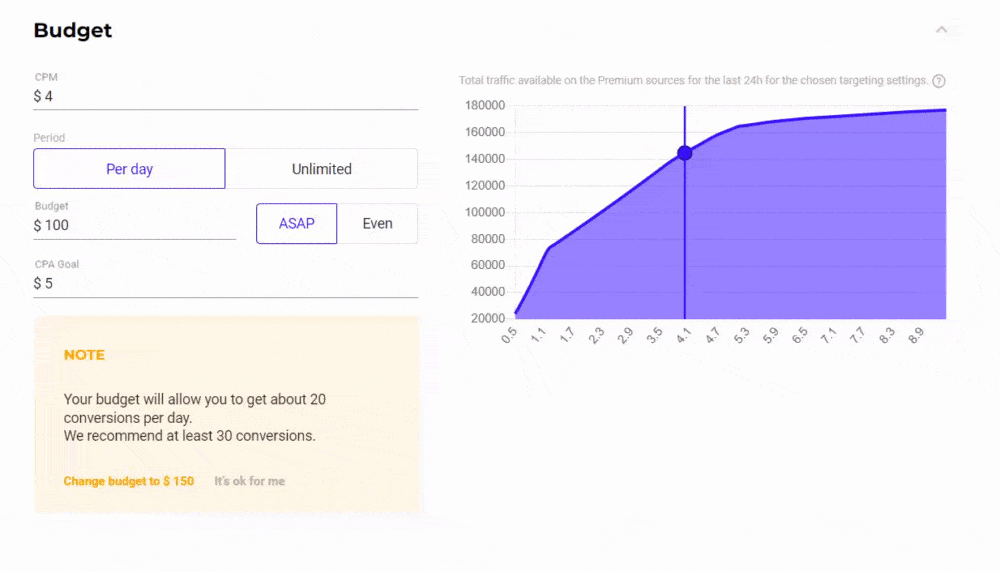 10. Use CPA Goal (optionally)
CPA Goal (or Target CPA) allows specifying maximum possible conversion price. As soon as the ad campaign reaches 10 conversions, the algorithm will start to send more bids to the sources that have already converted successfully. This function is available for those who use conversion tracking.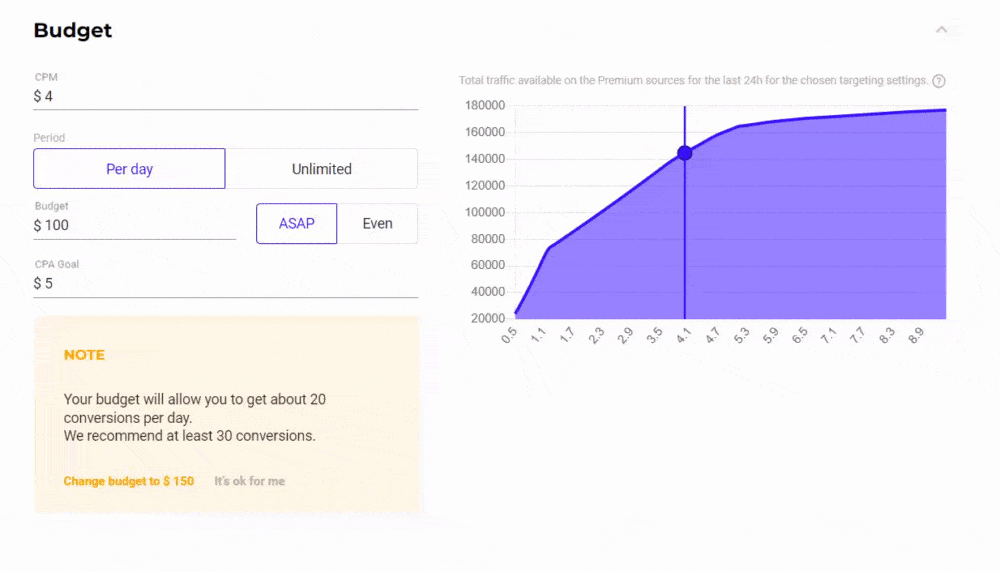 11. Start with Premium sources
A zone is the largest traffic source in pop traffic. It consists of a few publishers consisting of a few separate websites.

We also have different groups of Subscriber Lists.
We recommend start popup (or popunder) campaign with Premium ones, scale with Standard and New.
Premium sources show the highest performance: conversion rate is 3 times higher than in other categories, no matter what niche you promote. Read more about Groups of Subscriber Lists here.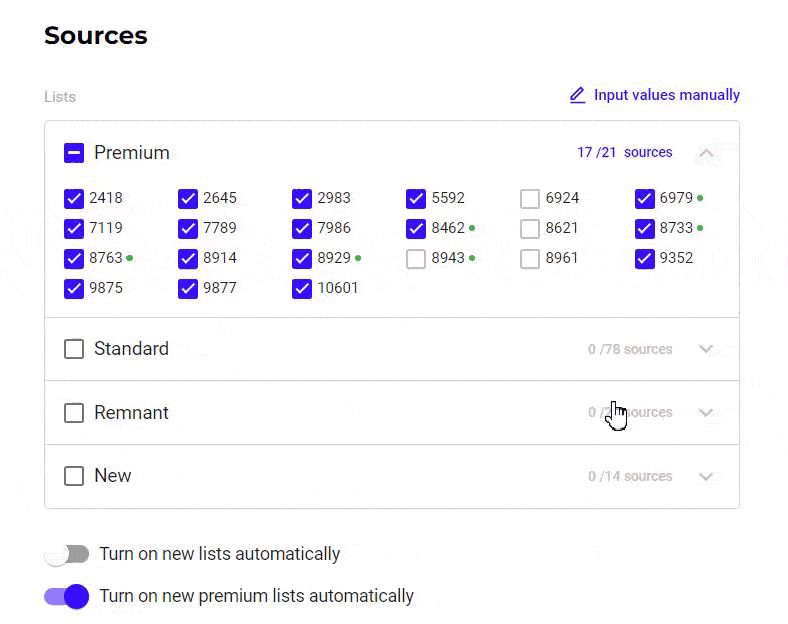 It's better to switch on all zones from the Premium list of sources if you haven't launched the same offer in the same GEO. Only in this case, you know exactly which zones work and which don't. It's better to disable ineffective sources during optimization.
12. Set up a schedule
In the pop ads campaign starting, you can set up the date of the start and end of the campaign. It's better to use this function if you run the offer with a discount or special offer. Besides, you can choose the time on certain days of the week when your ads will be shown to users. To choose "user local time" settings not to worry about the scheduling.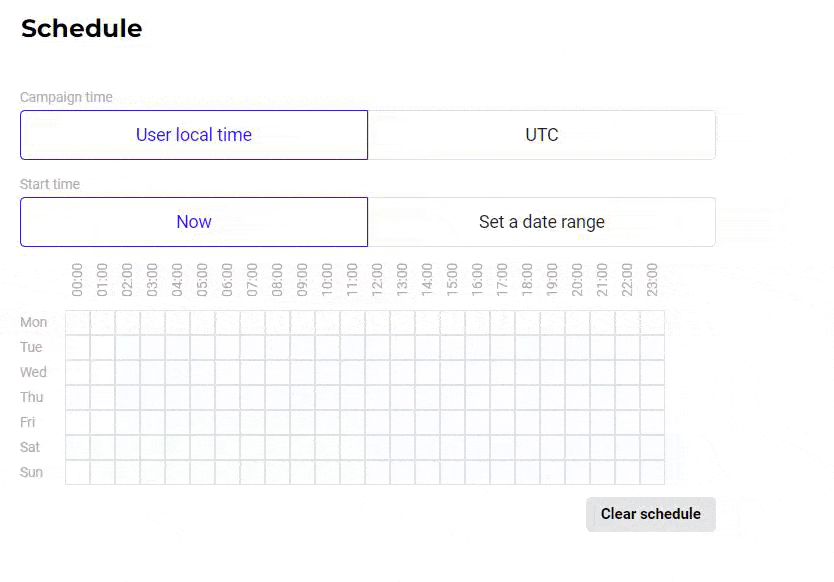 Watch Onboarding webinar on pop ads and learn how to make a profit
Choose promising advertising offers and profit from RichAds traffic.
What is RichAds?
✅ Push and pop ads,
✅ Target CPA optimization,
✅ loyal and fast moderation,
✅ help of a personal manager,
✅ CPC from $ 0.003, CPM from $ 0.3
✅ large volumes of available traffic in more than 200 geos.
How to Optimize Pops Ad Campaign Like a Pro? Learn here.