Global stats claim that the online Gambling market reached $63.53 billion in 2022. What's more, it is expected to come to $153.57 billion in 2023. It means that the niche is going to be prosperous and it's high time to start reaping its fruit. In the post you'll find hacks on doing that this year, tips on choosing GEOs, creatives, traffic sources as well as using AI tools. 
Stay tuned for the tips to promote online casinos in 2023!
Choose both trending and proven GEOs
Marketers usually try to find new and fresh countries that have great potential and might bring high CR. This approach is correct, though it's better to be combined with proven GEOs that already brought leads and show consistency. In 2022 there were several regions that worked well and are bound to gain momentum in 2023.
Germany: new licenses in 2023
No doubt that Germany converted well for Gambling during the whole year of 2022. Our report also proves that — the country was among the best for the vertical. Furthermore, new German regulator, GGL, is bound to approve 50 more licenses for online casinos in 2023. It means that the perspectives of the GEO are rocking.
To be even more precise, Delasport stats reckon that the online gambling market size was about €2.8bn in 2021 and will increase to €3.3bn in 2024. Moreover, according to Xace, about 75% of all Germans gambled at least once in their lives, which means they're really prone to the activity.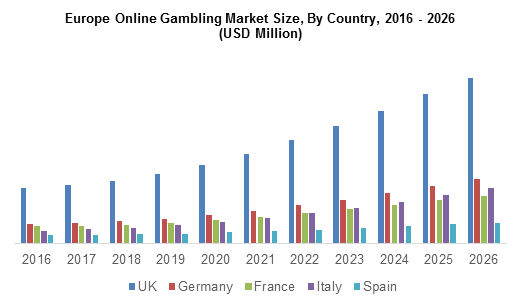 LATAM: promising and hyped
There's not any marketer in the industry who hasn't heard about the LATAM region and Gambling prospects. There are several reasons why the region's worth paying attention to — coming legislation, huge market growth and engaged audience.
The region is actually the fastest growing one in the world, not to be unfounded, 2022 NewZoo Global Games Market Report shows that the year over year growth in revenue for LATAM is 10%, which was estimated at USD 8.9 billion. The amount of players for the region reaches 289 million.
Another proof that LATAM is growing is the fact that GiG wants to strengthen its positions in this market. They actually signed an agreement with the leading land based operator in Latam, so the increase shall be emerging.
If we talk about specific targets for 2023 in LATAM, pay special attention to Peru and Chile. Online Gambling was legislated there in 2022. Obviously, the niche is not taken yet, use this to your advantage! Of course, another promising one is Brazil, as soon as it becomes regulated, the region will be the tidbit for marketers.
Asia Pacific: proven and growing
Last but not least, Asia Pacific is really worth driving traffic to. It has been on the go for many years, and stats show no signs of slowing down.
The online gambling market size there reached US$ 19.5 billion in 2022. IMARC Group did a research and according to it the market will come to US$ 37.5 billion by 2028, exhibiting a growth rate of 11.39% during 2023-2028. 
In terms of specific regions, try Oceania and Southeast Asia countries. If you want to target only the most up-to-date ones, check out the latest "Best GEO and vertical" reports at RichAds, this way you won't be mistaken.
What is RichAds?
🔝 Push and pop ads,
🔼 Domain redirect traffic,
🔝 CPM for domain ads starts from $ 1.5,
⏫ CPC for push ads starts from $ 0.003,
🔼 CPM for pops — from $0.3 in Tier 3, $1 in Tier 1,
⏫ large volumes of available traffic in more than 200 goes.
Make eye-catching creatives
This year the way to promote Gambling is just the same. As usual you need to make sure your ad copy provokes interest in as many potential clients as possible. To do this, you need to use several working hacks we'll provide below.
Apply direct address. A user must have the feeling that it's not an ad, but a personal message. to actually believe that he has a chance to win. You can create this effect by using phrases like "you won" or "take your bonus", and some catchy image.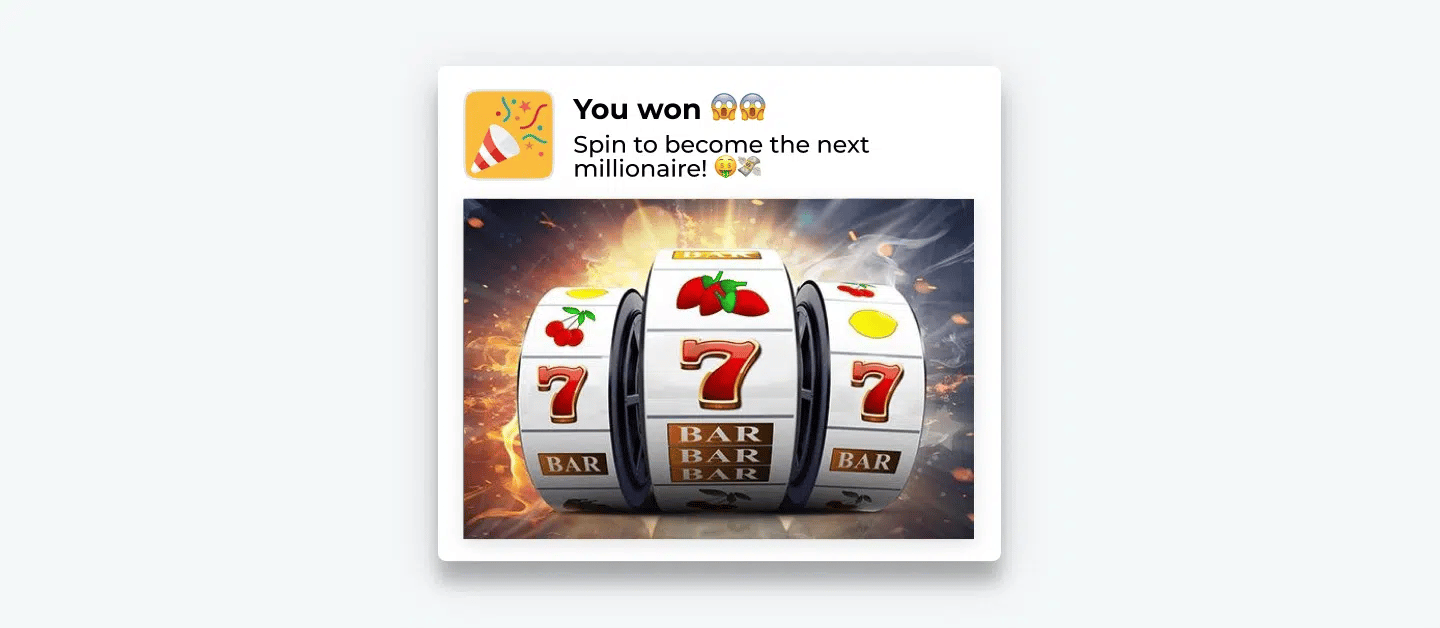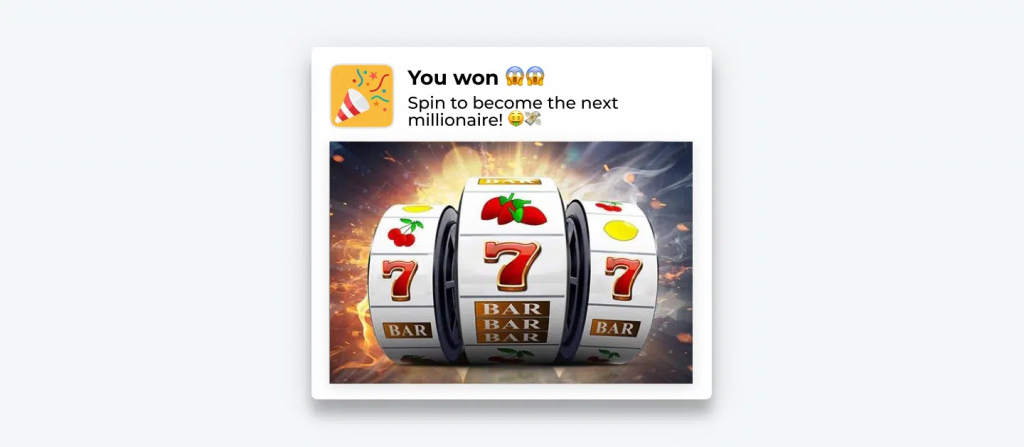 Tell stories about winning. Yes, this is still a thing for online casino promotion, make sure the story is about an ordinary person and sounds plausible. This will inspire a thought of real winning in your potential customer's mind.
Use gamification. You can show spin-wins, slots and any other elements of your choice to lure your audience. This works especially well not only on creatives, but also for landing pages, make sure to use it in your funnel.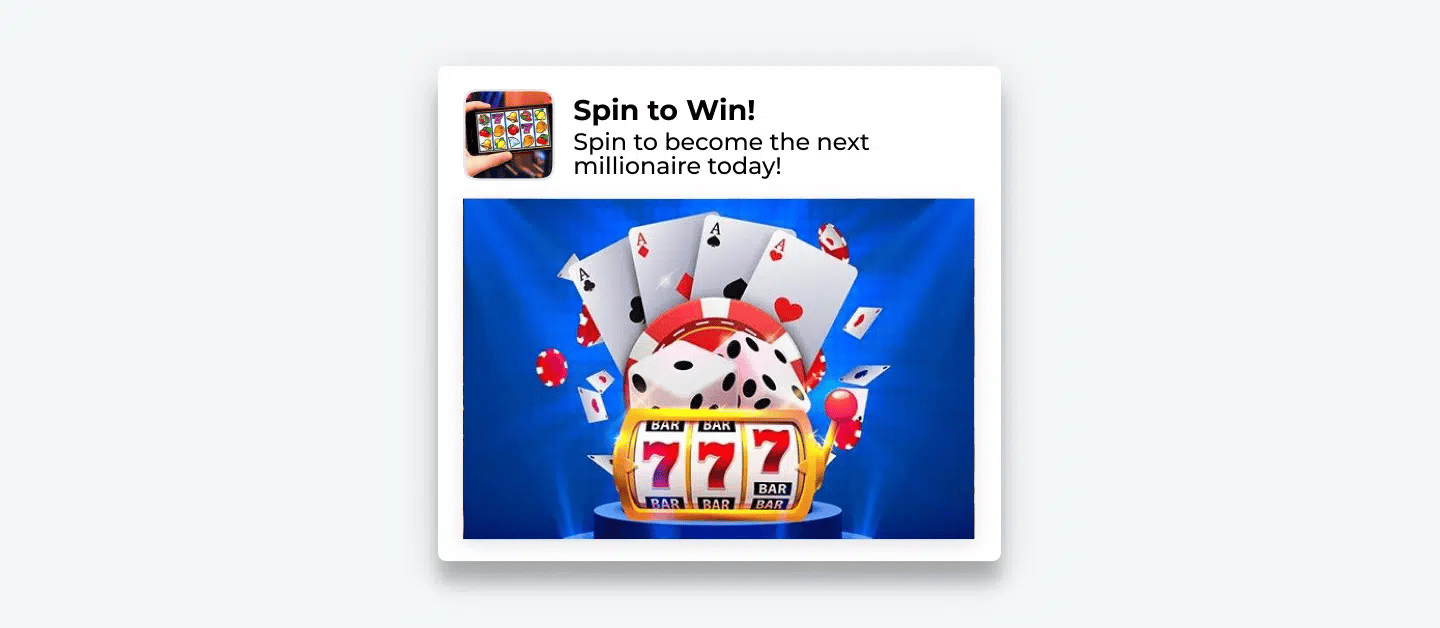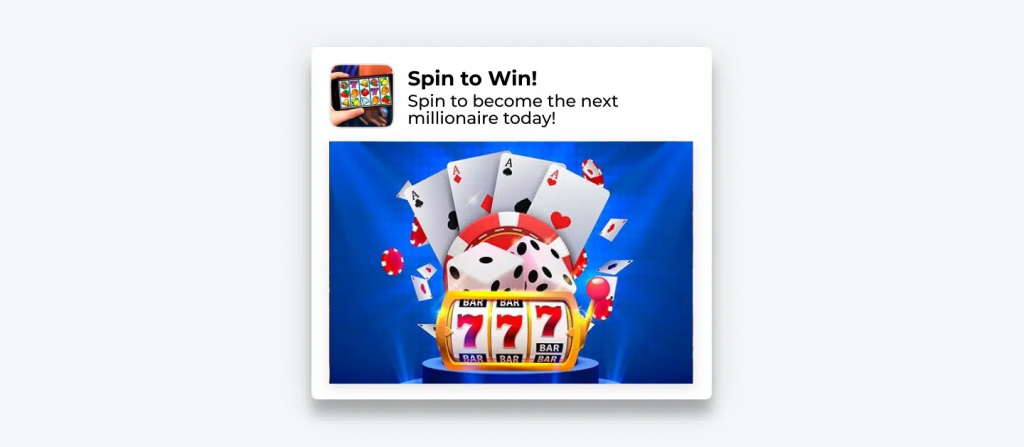 Hit at the desire to get rich. Most people gamble and engage in online casinos not just for fun, they want or even need to get as much money as possible. Take this desire and use it on your creatives!


Important: use at least 5-10 creatives per campaign to get enough data on further optimization. If you don't have time or ideas on images, you can contact your manager at RichAds and get free creatives.
Go out of the box with traffic sources
Undoubtedly, Facebook, Google, SEO, and ASO traffic channels are widely used as the basics of a casino marketing strategy, and will still be on top in 2023. But the more popular a traffic channel is, the higher competition it has, so the smartest way is to think out of the box and try new channels of traffic.
If you're tired of bans and restrictions, we'd recommend trying more traffic sources in 2023, specifically push and direct click formats at RichAds. Let's have a closer look at each of them to understand why they're so relevant for Gambling and attract people to online casinos.
Engaged audience. This is especially relevant for direct click ads (also known as domain redirect traffic) as they target only warm and interested users by redirecting them to your offer page.
Loyal content policy. No need to come up with tricks and puzzle over making suitable images not to get banned, everything's allowed for both of the formats, there are no limitations at all.
Huge traffic volumes. As an example we can take daily impressions for the most popular Gambling countries at RichAds — Germany is 33.9 million, in Brazil it's 35.2 million and Mexico — 20.3 million.
Affordable price. To be precise, CPC starts from 0.003 for push ads, which is quite a good deal. The direct click format is a bit more expensive, but the CR is higher, it actually is skyrocketing.
Optimize your campaigns with AI tools
No one can argue that automation is key in 2023 and actually is the future of affiliate marketing, no marketer wants to spend a great deal of time doing manual optimization daily, if this can be done faster. If you promote gambling offers and want to speed up the process, make sure you implement the AI tools!
Performance Mode: daily assistance
Wanna boost your CR by 253% and decrease your CPA by 79% without any efforts? Performance mode algorithm is a perfect solution without any doubt. It works to your advantage really simply — the feature creates black- and whitelists automatically according to your targeting, and does it on a daily basis. What's more, you don't need to bother setting up conversion tracking, the algorithm works without it.
Automated rules: cutting off the expenses
Another way to spend less time on optimization is to set up the rules that will automatically turn off irrelevant sources for your campaign. The Automated Rules algorithm will recheck publishers or sites in correspondence with your desired CPA and cut off the ones that do not bring conversions or are too expensive, no more actions are required from you.
Target CPA: conversions at the desired price
This feature is also dead simple — you just set up a usual campaign writing down your desired cost per conversion aka Target CPA, and that's it! The algorithm will create black- and whitelists as well as do Micro bidding for you to fit into this conversion goal. You just need to set up the postback for the feature to work, and again no more time and efforts are required.
Conclusion
Driving traffic to Gambling offers can be not an easy task for marketers, but we believe that these online casino promotion tips will help you to reach the highest ROI and CR in 2023. Just make sure you keep abreast of all the industry trends, automate your process and choose the best creatives.
Go ahead and promote Gambling at RichAds!
What is RichAds?
🔝 Push and pop ads,
🔼 Domain redirect traffic,
🔝 CPM for domain ads starts from $ 1.5,
⏫ CPC for push ads starts from $ 0.003,
🔼 CPM for pops — from $0.3 in Tier 3, $1 in Tier 1,
⏫ large volumes of available traffic in more than 200 goes.