« Back to Glossary Index
What is RichPops?
RichPops is an international ad network that offers hight-quality pop traffic. The ad network was created at the end of 2019, right after the successful launch of the RichPush ad network from the same owners. Now the two ad networks are now merged into one – RichAds.
RichPops provides 4 billion ad impressions in 220 countries every day. CPM starts from $ 0.3 in Tier 3 countries and goes up to $ 1 in Tier 1 countries.
14 targeting options allow you to fine-tune your ad campaigns.

Pops traffic from this ad network is 100% live. There are no bots due to special behavioral filters. The ads network has built-in protection against fraud and additional external protection from AdScore.
RichPops is a well-equipped ad platform with advanced targeting, automation, and optimization features.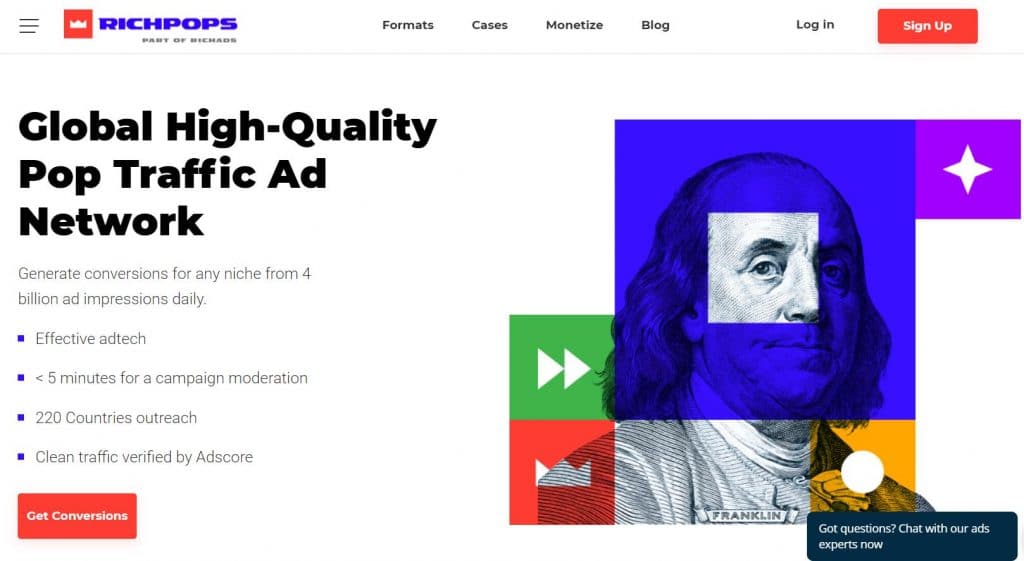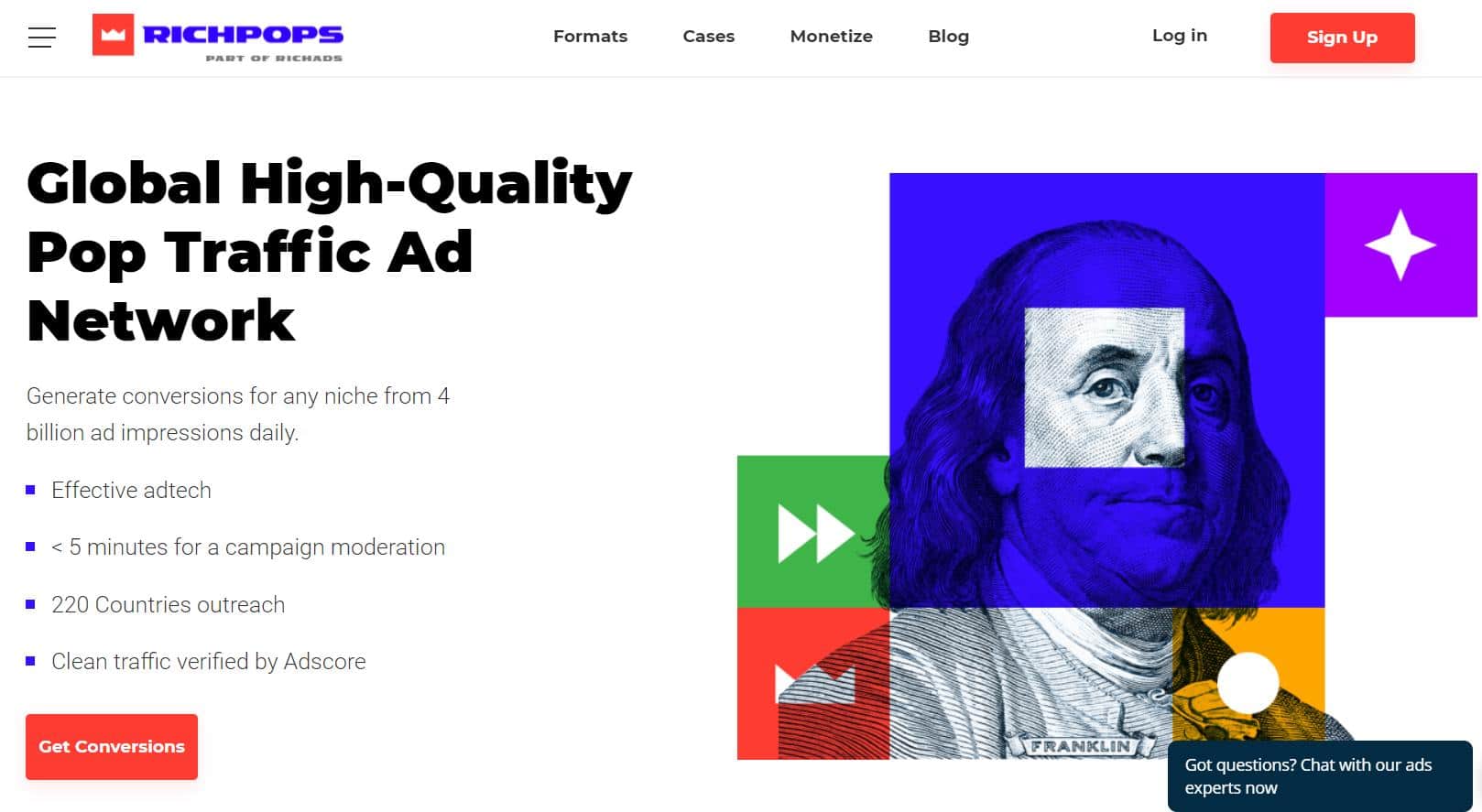 What's the difference between RichAds and RichPops?
If you have heard or primarily worked with RichPops, you may wonder what RichAds is? Is this the same brand or something new? Let's make a short explanation about it.
RichPops is part of the large RichAds ad network.

Today it is a proven source of push and popunder traffic for many affiliate marketers.
The story started in 2018 when a group of founders launched their first advertising network. It was a push ad network called RichPush.
Who was that group of founders? Well, that guys had a great experience in that field. Their company developed sophisticated software for creating new ad networks.
They used their technology to create their own ad network — RichPush. As you can see, the launch was successful. One year after the RichPops ad network was announced.
In 2020, the RichAds platform combined all ad formats in one place and under one brand. In the 2023 RichAds offers 5 traffic types for affiliate marketers.
If you need high-quality traffic, remember this name — RichAds.
What is RichAds?
🔝 Push and pop ads,
🔼 Domain redirect traffic,
🔝 CPM for domain ads starts from $ 1.5,
⏫ CPC for push ads starts from $ 0.003,
🔼 CPM for pops — from $0.5 in Tier 3, $1 in Tier 1,
⏫ large volumes of available traffic in more than 200 geos.
Best niches for pops traffic from RichPops
There is an unspoken list of the verticals that work with pops traffic better than others. They have been tested for years and still work to bring money into the pockets of affiliate marketers.
Top niches for pops traffic:
Dating,
Gambling,
Betting,
Adult,
Smartlinks,
Sweepstakes.
At the same time, each year makes its adjustments and moves some niches to the very top of popularity. 2023 is no exception.
In 2023 three new verticals reached the top and showed the best results on RichPops traffic. 
Top-3 verticals that work well for RichPops traffic are:
VPN,
Utilities,
Crypto,
and Paid search (top vertical in 2023).


The best traffic from RichPops: how to find it without tests
Pops are known for vast traffic volumes, which makes it a little bit challenging to work with them. Even with a low CPC, quality tests require quite large test budgets. Not every affiliate marketer is ready to spend it to test the offer and find converting sources.
The RichPops team has already filtered the most successful sources depending on their quality and the number of conversions.
On Premium sources, the conversion rate is 2.5 times higher than on Standard ones.
RichPops Team
Groups of sources available at RichPops:
Premium — the best traffic, a great option for testing offers,
Standard — inferior in quality to premium, it is better to add them for scaling.
New — new connected traffic sources; detailed statistics have not yet been collected for them.
Remnant — the remaining traffic, add them at the very end when other sources are exhausted.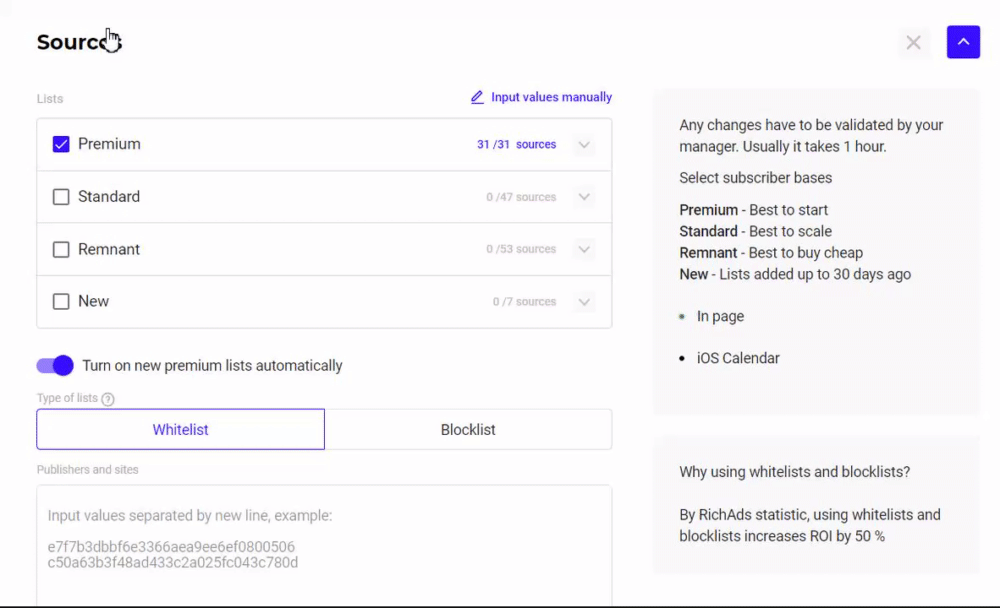 What is RichAds?
🔝 Push and pop ads,
🔼 Domain redirect traffic,
🔝 CPM for domain ads starts from $ 1.5,
⏫ CPC for push ads starts from $ 0.003,
🔼 CPM for pops — from $0.5 in Tier 3, $1 in Tier 1,
⏫ large volumes of available traffic in more than 200 geos.
Overview of the features of RichPops ad platform
One of the essential arguments when choosing an ad network is the platform's functionality. Who wants to pay for third-party services when this work can be done inside the ad network for free? Nobody. That's why the RichPops team adds a lot of valuable tools that help to optimize campaigns.
Of course, the ad network has usual black- and whitelists. At RichPops, sources, publishers, and sites can be added to them. But that's not all!
Here are three whales that make the platform's functionality 100% helpful:
Automated rules are built-in RichAds functionality that allows you to automatically optimize a campaign according to specified rules (rules-based optimization).
Micro bidding is a pro feature for those who want to optimize their campaigns for maximum performance and accuracy. It allows us to make a custom bid for a parameter and treat it differently within a campaign. There are 13 such parameters.
Target CPA feature allows getting conversions at the targeted price.
In addition, on the platform, you can find perhaps the most developed list of targeting options for pops compared to the other ad networks.
Learn more about pop ads from the e-book


---
Related articles: