Popunder traffic is a type of paid advertisement that shows up in pop-ups beneath the window of the active website. This form of advertising is known for its high viewability, which can be attributed to the fact that it shows a full-page ad once the user closes his active window or tab.
They can be targeted to specific audiences, and they're very effective at getting people's attention. There are many more benefits to popunder ads, but the only way to find out whether this traffic is for you is to run popunder tests.
Here's a quick guide to help you get started.
Step 1.
Choose an Offer that Accepts Popunder
Not all offers accept popunder traffic, so to avoid getting blacklisted by an advertiser, make sure you follow the offer's requirements. If you're working with an affiliate network, you should reach out to your account manager and inquire about offers that perform well that also accept pop traffic.
Here are some ideas about the best verticals for popunders if you don't know which kind of offers to look for. The list changes from time to time, but the main direction stays the same.
They are:
VPN
Utilities
Dating
Gambling
Betting
Smartlinks
Sweepstakes
Each ad network has its own favorites, which convert better than others. This summer at RichAds, the best results on pop ads show Utilities, VPN, and Gambling.
Step 2.
Create Landing Pages
While you always have the option to send viewers straight to the offer page, it would still be best to use a pre-lander to warm up your audiences and filter out those that have no interest in the offer at all.
Coding a landing page can be a bit tough, so instead of creating one from scratch yourself, you can utilize a done-for-you landing page builder.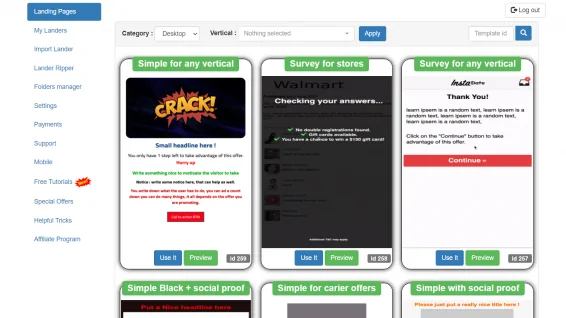 One of my favorites is PureLander. They have prebuilt templates that you can modify to match your offer. The style of your pre-lander would depend on the offer's niche, but my go-to style is the Survey Pre-lander.
This gives the viewers time to warm up to the offer and increases the chances of conversion. Here are a couple of landing pages following the survey theme: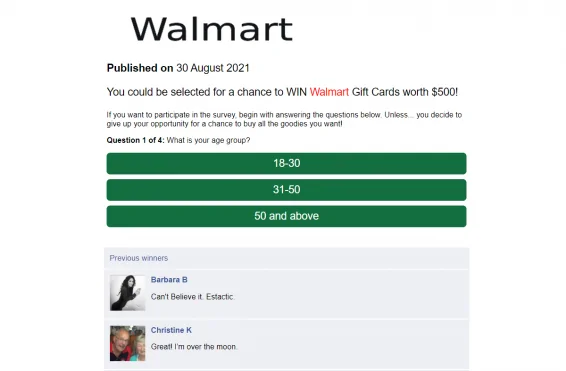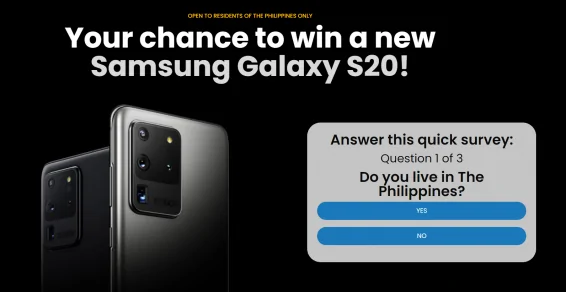 You can simply choose one, modify it according to your offer, add links, then download the landing page. Finally, upload your finished landing page to your hosting, and it's ready for use.
That's it! You can start using this pre-lander for your popunder test.
Step 3.
Set-up Campaign Filters
When testing popunder ads, it's important to immediately filter and segment campaigns. Popunder has a huge amount of volume — you wouldn't want to burn all your budget because you ran pop ads prematurely. If done incorrectly, you can burn hundreds of dollars in just a few minutes.
Here are some of the filters you should set up properly:
1. Country or Region
Narrowing down your traffic based on location is a very basic step. Usually, offers focus on specific countries. Even if your offer can be run worldwide, that doesn't mean you should just accept worldwide traffic in one campaign. Choose just one location and focus on it on your campaign.
If you want to run traffic from multiple countries toward one offer, you can create separate campaigns per country.
2. Device Segmentation
You can run two separate campaigns based on the device: one campaign can run desktop traffic, the other can run mobile traffic. The performance of these two differs greatly, so it is always best to separate them. Or you can just focus on one device type.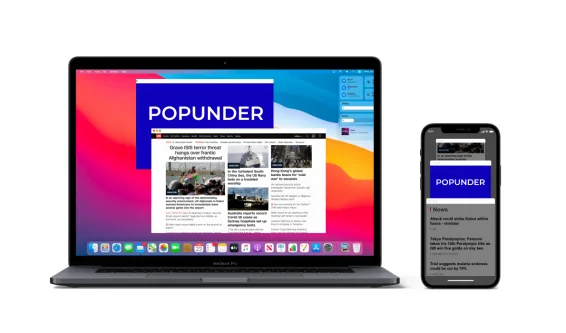 3. Visit Frequency
It is essential that you limit the number of times a user views your ad. This way, they won't feel irritated by the number of times they see the ad, and you won't waste your money showing ads to the same people that are not interested in your offer.
With popunder, a good viewing frequency would be one to three views per day.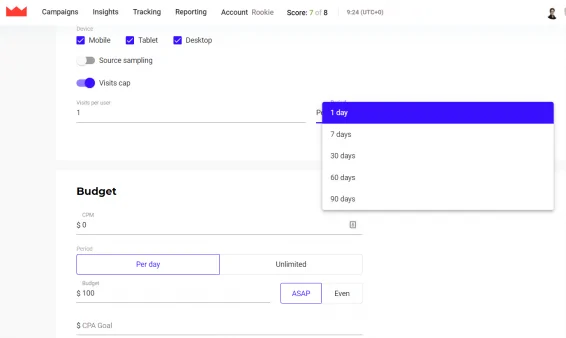 4. Source quality
If your ad network has this option, choose traffic from good-quality sources. In RichAds, for example, there are four different source options based on quality. These are Premium, Standard, Remnant, and New.
Obviously, if you want your campaign to have a fighting chance, you'd have to choose Premium. You can go for Standard if you'd like to scale (in the affiliate scenario, scale means to explore more traffic for a good-performing campaign).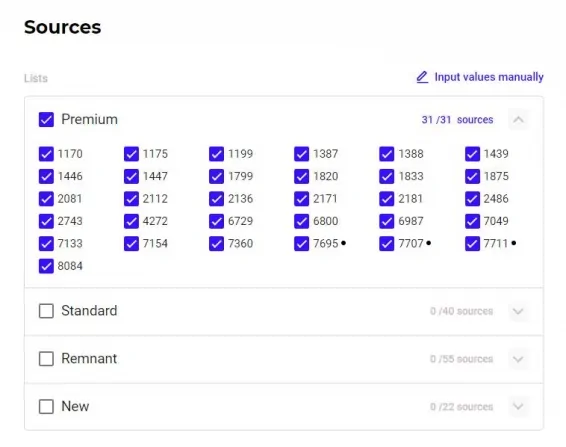 5. Other Filters
There are also other filters available to help you narrow down even further, although I suggest not touching them when testing popunder ads. You don't want to narrow down too fast while you're still in the testing phase to the point that you won't receive enough traffic. Also, your results can become inconclusive.
Step 4.
Set-up Conversion Tracking
Aside from allowing you to set up auto-optimization, and in the case of Richads, Target CPA, Conversion Tracking can help you monitor which campaigns, source groups, publishers, landing pages, ad variations, etc., are delivering conversions.
After setting up your conversion tracking (whether inside your ad network or through your third-party ad tracker and then using the link in your campaign), you're good to launch!
Here is some more information about the 6 benefits of tracking conversions in RichAds.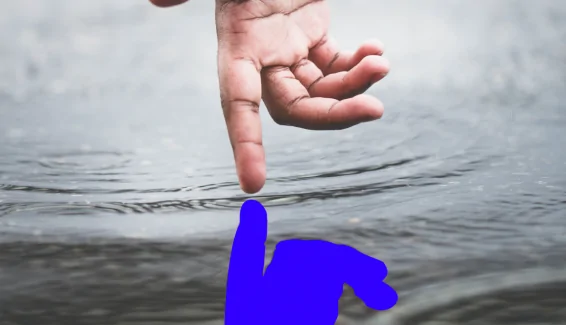 Step 5.
Evaluate Results
You don't have to watch your campaigns like a hawk; you can wait for a day or two after receiving traffic before optimizing. Just check in from time to time to make sure your budget is not being spent too quickly.
Once you've received enough traffic, you can start looking into the campaign's stats to see the performance of websites and publishers.
For low-paying offers, I recommend pausing publisher IDs or websites after they've spent twice the offer's payout and have not delivered any conversion.
For high-paying offers? Well, that's a little more complicated, so it should not be used to test popunder traffic. You can run high-paying offers in popunder traffic once you've already become an expert with this ad format.
As for source IDs that deliver conversions, you can increase their bids or whitelist them. You can later run a separate campaign using only whitelisted sources but only do that once you've received enough conversions for that source.

When should you stop the popunder test?
That's a really good question! How do you know when enough is enough?
For me, I would stop the popunder test when it has reached ten up to 20 times the offer's payout and has not delivered any conversions.
If it has delivered some conversions, I will do any of the following:
create a new campaign using whitelisted sources;
test a new ad creative or landing page; or
continue running the same campaign with underperforming sources blacklisted and good performing ones with higher bids.
Now that you know the basics of how to test popunder traffic, then the next thing to do is to try it out for yourself!
There are several choices out there, but I recommend starting at RichAds. Creating ads here is easy, and approval is fast. Plus, you can set up auto-optimization so you won't have to micro-manage every single campaign! So, what exactly are you waiting for?
---
Start earning on pop ads with RichAds traffic
What is RichAds?
🔝 Push and pop ads,
⏫ loyal and fast moderation,
🔝 help of a personal manager,
🔼 Target CPA, auto-optimization,
🔼 CPC from $ 0.003, CPM from $ 0.3
⏫ large volumes of available traffic in more than 200 geos.