« Back to Glossary Index
Push traffic meaning
Push traffic is a new ad format that advanced affiliate marketers have been working with for several years.
When it comes to push ads traffic, the users begin to receive advertising notifications after going to the website, where there is a subscription form to receive notifications from the website.


After acceptance, the user will begin to receive advertising push notifications. It doesn't matter if the user quits the session or not. The subscription data is already in the database, and the user will receive notifications through the browser.


You can subscribe to web push notifications from any device: desktop, mobile, tablet. For a long time, iOS users were out of reach for push and in-page push traffic. Later affiliates started to make money on this solvent audience.
What do push notifications consist of?
Push traffic is generated by push notifications. It consists of a small image (an icon) and two text lines: a title and a description. The main image complements them.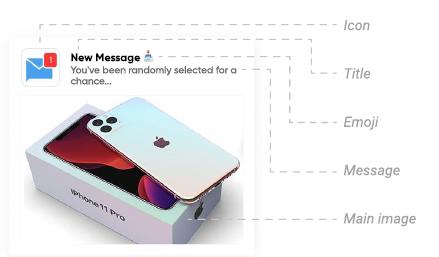 What are the advantages of using push traffic?
1. 100% visibility and no banner blindness.
2. Push traffic is real people
3. High CTR
4. Low cost of push traffic
Best verticals for push traffic
Best verticals for push ads
E-commerce
Nutra
Subscriptions
Mobile
Betting
Gambling
Dating
VPN
Games
Finance
Sweepstakes
Launch profitable ad campaigns with RichAds!
What is RichAds?
🔝 Push and pop ads,
🔼 CPC starts from $ 0.003,
🔝 CPM from $0,3 in Tier 3, $0,5 in Tier 2, $1 in Tier 1,
⏫ large volumes of available traffic in more than 200 goes,
🔼 Best niches: VPN, antiviruses, Dating, Sweeps, Gambling, Betting.
---
Related articles: