The last quarter of the year is a special time for affiliate marketers.
The holiday season is upon us, which means it's time to uncover Christmas advertising campaigns and reap the benefits.
Read the tips to increase Christmas affiliate marketing sales and put them into practice.
While Cyber Monday and Black Friday have already passed, December offers even more reasons to shop than any other month. Now it's time to think about Christmas and the New Year.
Christmas gifts and purchases for the holiday dinner encourage people to pay more attention to advertising.
Please take a look at the trends of 2022 to offer your customers exactly what they want, when they want it, and in an ad format that converts.
Which Products Should Affiliates Offer at Christmas? 2022 Gift Trends
Marketers may assume what will be popular this year, but real buyers might think differently. Situations change every year, and pandemics also have an impact on global trends.
Is it possible to make the right decision about what goods or products to promote during the new Holiday Shopping Season? We have some ideas about it!
Studying statistics from major players on the market is a smart move. It can be considered one of the key Christmas tips for affiliate marketers. It is helpful to understand what the residents in the specific area want. The good news is that various services actively collect such data, and Google is one of them.
Google has just released its Google Shopping Holiday 100 for 2022, which lists 100 of the most popular gift ideas based on Google searches this holiday season. The company reports that people what to buy this year for the holidays in categories such as gaming, fragrances, tech, health and beauty, sports and wellness, kitchen gear, and toys.
You can see the following items on this list (and note that this is not the whole list):
Sony PlayStation 5,
Nintendo Switch OLED,
Dyson Airwrap Styler,
Chanel Coco Mademoiselle Eau De Parfum,
Maison Francis Kurkdjian Baccarat Rouge,
KitchenAid KP26M1XNP,
Nespresso and Espresso Machine by De'Longhi,
Wilson Evolution Indoor Game Basketball,
Deep Tissue Massage Gun for Athletes,
Gotrax GXL V2 Commuting Electric Scooter,
Barbie Dream House Playset,
Lego Santa's Visit,
Apple iPhone 14,
Apple AirPods,
Samsung Galaxy Watch5.
We find it interesting that the top three categories on the list are gadgets, toys, and game consoles. Use this information to choose the offer to promote.
On the other hand, this ready-made list of products can be used on advertising banners to promote a product.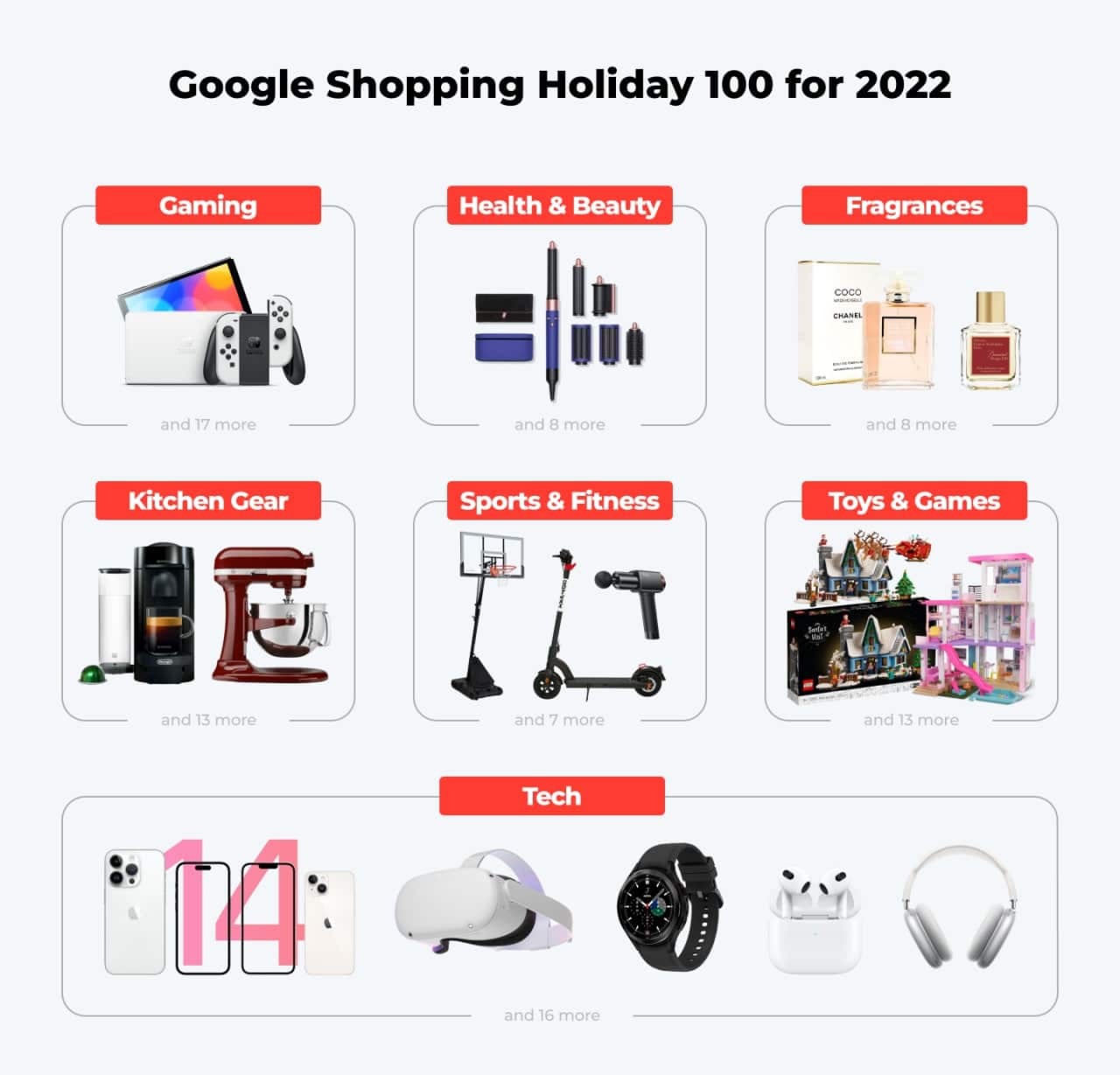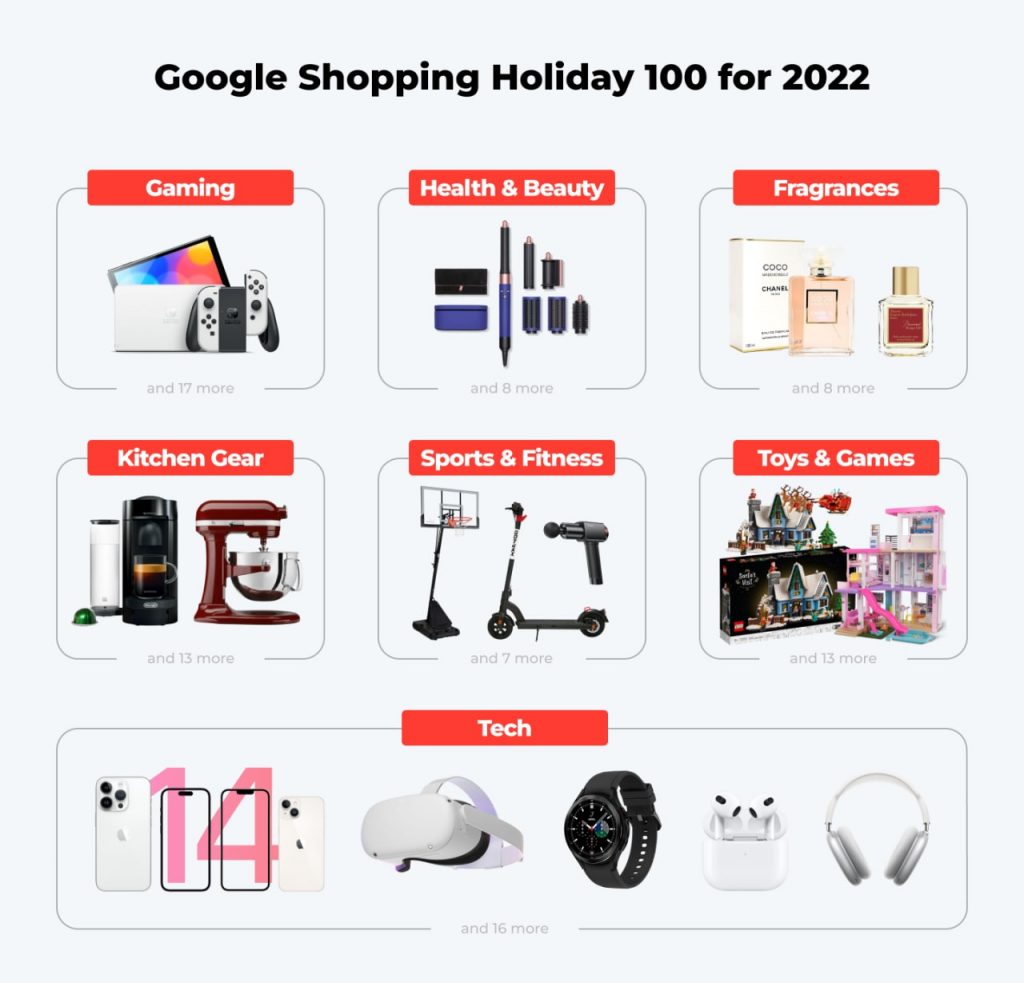 In Addition to E-commerce, What Else Can be Promoted?
Of course, e-commerce is the most popular vertical for Christmas affiliate marketing sales. It isn't the only option available during the Holiday Shopping Season.
Check out the Christmas gift plans and preferences for 2022. This is the latest research on what Americans would like to receive as a gift.
Among the most coveted gifts for Christmas 2022 were: money, gift cards, clothes, shoes, food, smartphones, jewelry, watches, cosmetics, and books. And there's a place to turn around for an affiliate marketer!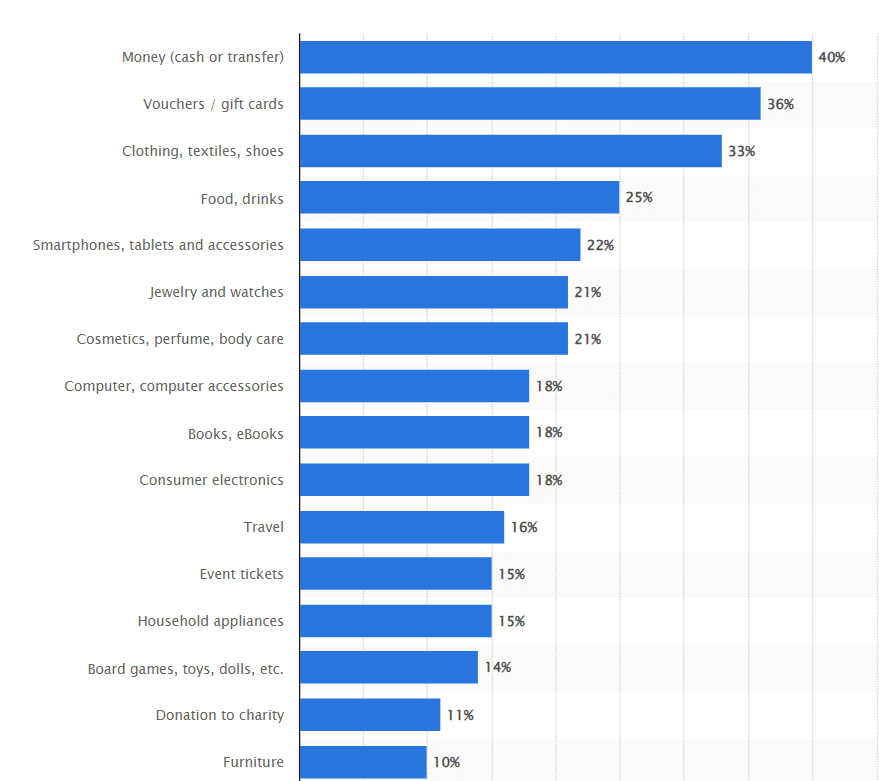 Can we draw any conclusions from this? People still believe in miracles and hope to solve their financial problems by getting a sum of money on New Year's Eve. There are many opportunities here for people to promote Sweepstakes, Financial offers, and even Gambling.
Find out what are the most desired gifts and use this information to select a Sweepstakes offer. It may not necessarily be an iPhone 14, AirPods, or PlayStation. Espresso Machine and the latest models of sneakers can be a good option to promote. Don't forget about those who want to get gift cards or vouchers — they are all potential buyers.
Another suggestion for what to promote is the best last-minute Christmas gifts. It refers to gift cards for various streaming services that can be sold in January as well. Netflix, Apple, Disney+, Amazon, and HBO Max are not the only streaming services to promote.
Different kinds of Nutra's products also sold well in December. Affiliate marketers can also promote weight loss products and courses or sports apps. Another reason to choose Nutra offers is that marketers can continue their ad campaigns in January. It is not uncommon for people to set themselves goals of "losing weight in the new year" as well as "learning something new" — therefore, online educational projects can also be considered a product for promotion.
When is the Best Time to Start Driving Traffic to New Year's Offers?
This question appears very simple at first glance, especially for countries that celebrate Christmas on the 25th of December.
Affiliate marketers typically launch campaigns with New Year's products in late November or early December. This is the usual practice to maximize Christmas sales for affiliate marketers. However, even in the middle of the month, you can still start and hit the jackpot.
You may be surprised by the recent statistics about when consumers are most likely to begin holiday shopping in the United States. Here's what people have to say about it.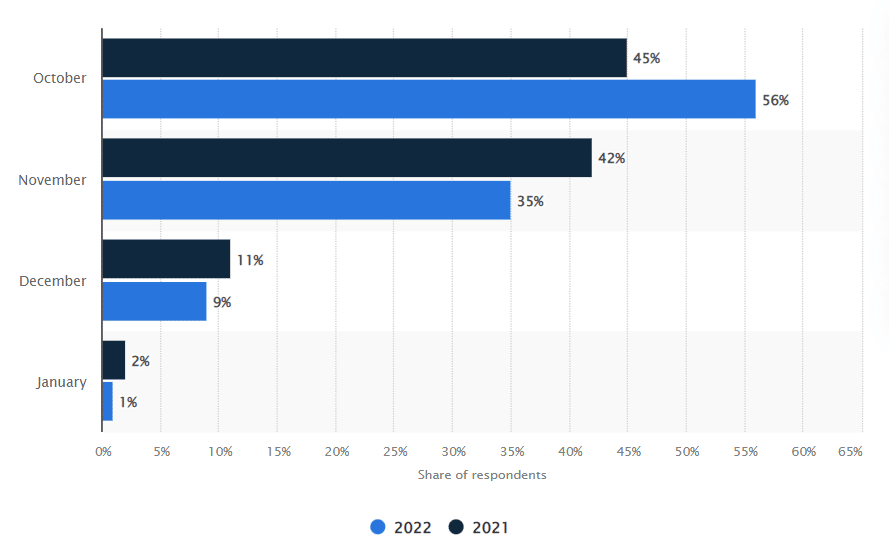 Human behavior seems unusual based on this data. It appears that Christmas ad campaigns may be started much earlier. Bear that in mind for next year's holiday season.
One more thing needs to be discussed in relation to this question. There are countries that do not celebrate Christmas on the 25th of December or give presents on a different day. Let's take a closer look at them.

What is the Right Time for Giving Presents in Different Countries?
Affiliate marketers' interests don't end with the USA or Canada. There are a lot of countries that also can bring profit in December. Let's look at the top countries in which the RichAds ad network has the most traffic in order to select which countries we will discuss.
Push ad impressions statistics for 1 day in the RichAds ad network
| Device | GEO | Impressions | Device | GEO | Impressions |
| --- | --- | --- | --- | --- | --- |
| Mobile | IND | 229M | Desktop | USA | 18M |
| Mobile | THA | 115M | Desktop | JPN | 3.1M |
| Mobile | BRA | 23M | Desktop | BRA | 4M |
| Mobile | IDN | 187M | Desktop | MEX | 2.1M |
| Mobile | RUS | 32.2M | Desktop | GBR | 2.9M |
*The data is relevant for December 2022
All is clear about the US, UK, Canada, Australia, and New Zealand. Christmas gifts are exchanged on the 25th of December for Catholic or Protestant Christmas. The same holds true for Brazil, one of the great affiliate marketing countries. People from Indonesia have the exact date but their own traditions. They celebrate Indonesian Christmas on the 25th of December, and it is a time to exchange gifts.
But who knows that in Poland gifts start on the 6th of December for St. Nicholas Day and end on Christmas Day on the 25th of December? By the way, this day is celebrated not only in Poland but also in many countries of Western Europe.
When it comes to Russia, Ukraine, Belarus and Kazakhstan people are waiting for the presents on the 31st of December. The same situation takes place in Japan. They celebrate from the 29th of December to the 3rd of January.
In India, New Year is celebrated three times depending on the religion. Holidays occur at different times: January 13-14, early March, and late October. Thailand celebrates its "proper" New Year on the 13th of April. In Mexico, the holidays begin as early as the 3rd of December and continue until the 1st of January.
Consider these dates for your holiday campaigns, and launch them with RichAds.
What is RichAds?
🔝 Push and pop ads,
🔼 Domain redirect traffic,
🔝 CPM for domain ads starts from $ 1.5,
⏫ CPC for push ads starts from $ 0.003,
🔼 CPM for pops — from $0.3 in Tier 3, $1 in Tier 1,
⏫ large volumes of available traffic in more than 200 goes.
Top GEOs to launch Christmas ads in 2022
If you want to launch profitable ads during the upcoming holidays, you should take care of converting GEOs for a specific vertical. We have prepared for you the most trending GEO for each vertical in RichAds, so that there will definitely be a high CR!
Best GEOs for E-commerce in December
The most desirable and working vertical during the New Year holidays is E-commerce. If you want to get the maximum profit, pay attention to these GEOs:
Brazil
USA
Poland
Mexico
France
Puerto Rico
Best GEOs for Sweepstakes in December
As already mentioned, people don't mind making money before the holidays, so be sure to launch Sweepstakes in the following countries:
Philippines
USA
India
Russia
Argentina
Mexico
Best GEOs for Gambling in December
Another vertical that attracts people who want to easily increase income before the holidays, and top GEOs for it are:
India
Thailand
Germany
Brazil
Malaysia
Bangladesh
Remember that your managers are always happy to provide you with a list of the latest GEOs and whitelists for them, do not hesitate to ask!
Christmas Affiliate Marketing Strategies
The main ways to boost holiday sales come down to the points of what to promote, when, and what types of traffic to use. Let's have a closer look at different traffic sources and the right campaign set up for the holidays season.
Which Type of Traffic Work Best for Christmas Sales?
Advertisements are seen by potential customers 100 times a day, so they have adapted to not noticing them. Banner blindness is something that marketers have been struggling with for years. An affiliate marketer's main goal is to select an ad format that is noticeable to the user.
In terms of visibility, both formats are difficult to ignore. The push notification format, in this sense, has advanced better than other advertising formats. They guarantee almost 100% visibility for ads. However, it's hard not to notice the push notification on the screen, especially if it's a computer screen.
You can also consider options that do not require a large launch investment after launching Black Friday and Cyber Monday campaigns. The price for push notifications starts at $ 0.003 (CPC). Pops are available under the CPM model for $ 0.3 in Tier 3, $ 0.5 in Tier 2, and $ 1 in Tier 1.
The Best Match Between the Traffic Source and Vertical
Pop ads are traditionally good for promoting e-Commerce offers, Sweepstakes, and Gambling. Advertisers can use push notifications in verticals where personal appeal and privacy are important.
If you selected an e-Commerce offer, try pops. Prepare pre-landing pages with top products of users' interest. This strategy shows that the website has the goods they need.
Push notifications can be useful if you want to invite users to win money, a gadget, meet a girl, or tell a personal story (like a weight-loss story or a success story) on the pre-landing page.
Creatives for Christmas Ad Campaigns
Before New Year's, advertising campaigns revolve around three basic themes: discounts and special offers, limited-time offers, and the belief in a miracle. Choose one or combine them all.
In a push notification, you cannot put a GIF or a countdown on the creative, but you can indicate urgency in the ad text: "Only for 10 users," "The offer is valid for an hour." This is easier to resolve on the landing page: the countdown without words will do the trick.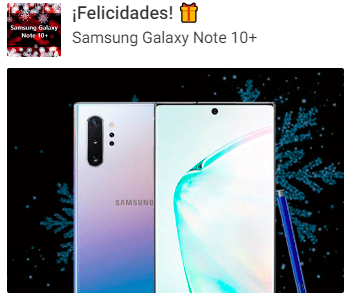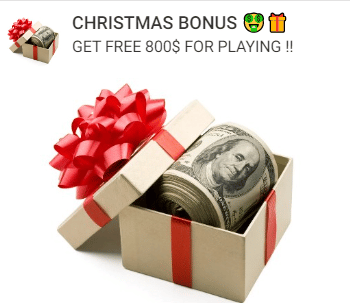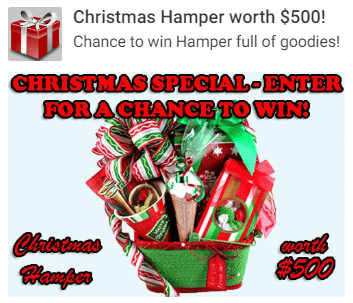 Important: to understand which approach works, it is important not to focus on just one creative ad but to test at least five to six.
How to Set up an Advertising Campaign?
This period also presents its own characteristics in terms of advertising campaign settings. One of them is urgency. Time is limited, and affiliates should get their profit as soon as possible. The best way to accomplish this is to set up an ads campaign properly.
If you don't want to invest a lot of time in optimizing campaigns, we recommend starting with the Performance Mode algorithm. It's very simple, you set up a regular campaign, and the algorithm updates the black- and whitelists daily according to your settings. To do this, you do not need a tracker, everything will work and convert without it! Statistics confirm its effectiveness, you will be able to increase CR by 253% and reduce CPA by 79%!
Set the frequency cap higher than usual
As a general rule, we advise you to set up 1 ad impression per day for one user, but in this case, you can increase the number to 2 or even 3. The main thing is to keep track of the CTR and Win rate. If they decrease, you will need to take action.
Bid higher than the geo average
Your ad campaign needs to win as many auctions on the ad network as possible to get more attention from users. Even if you are accustomed to starting campaigns at medium bids, it is best to abandon this strategy during this time.
Use the best network traffic to launch the campaigns
Higher bids are clearly associated with better quality traffic. However, bids are not the only factor affecting campaign performance. RichAds allows you to pick the traffic sources that perform better than the rest from the beginning. They convert better than other sources of the ad network. Premium traffic sources, despite their name, have the same cost as the rest and convert much better. It is a good way to reduce New Year's campaigns' testing time and budget.
Use built-in tool for auto-optimization
The last week in December is a busy time for affiliates. This is especially true when you want to make money and spend time with your family. A way out can be found by utilizing the free auto-optimization tool available on the advertising network. Automated rules is exactly what you need.
This feature can significantly reduce the time for optimization. Unlike third-party services such as theOptimizer and the like, you will not have to pay for it.
Conclusion
There could be a long list of reasons why now is the time to launch an ad campaign. But you already know this. Only one thing we want to say is: let this December be successful and not too stressful for you.
Do everything you can in time for this month.
What is RichAds?
🔝 Push and pop ads,
🔼 Domain redirect traffic,
🔝 CPM for domain ads starts from $ 1.5,
⏫ CPC for push ads starts from $ 0.003,
🔼 CPM for pops — from $0.3 in Tier 3, $1 in Tier 1,
⏫ large volumes of available traffic in more than 200 goes.