« Back to Glossary Index
RichAds is an advertising network that offers push, in-page push, calendar push ads, pop ads, and direct click ads formats. It grows from the RichPush ad network.
RichAds is a cost-per-click (CPC) and cost-per-thousand (CPM) ad network that works with both advertisers and publishers. It offers a wide range of features and benefits that make it an attractive option for businesses of all sizes.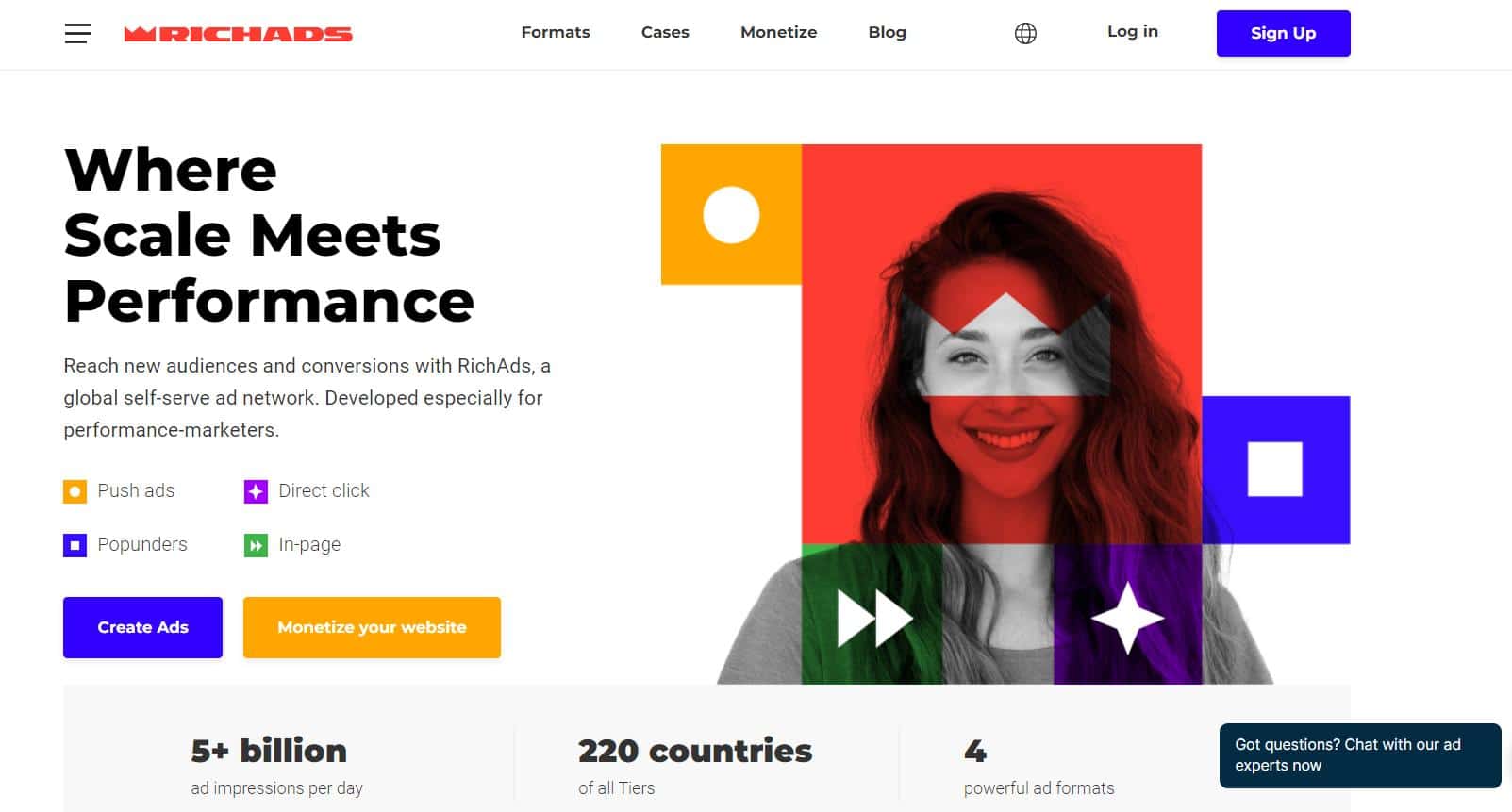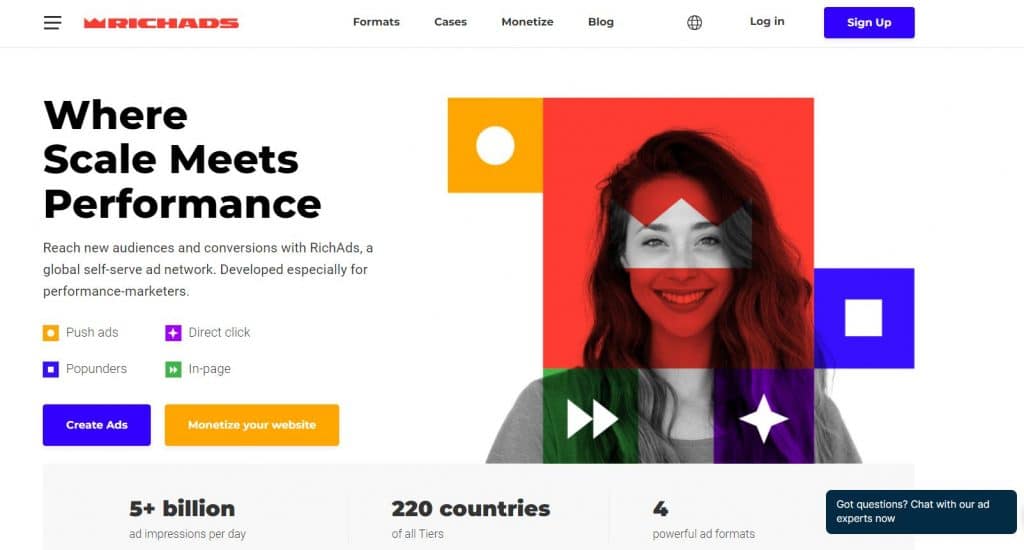 What is RichAds?
RichAds is a CPC ad network that connects advertisers with publishers in order to deliver ads effectively and efficiently. Its features are meant specifically for affiliates who are media buyers, performance marketers, and advertising agencies.
Businesses of any size can use this network to promote their products and services to a wider audience.
It has been around since 2018 and has evolved from being a push notification ads provider (known as RichPush) to an advertising platform that has multiple advertising formats.
Main RichAds ad formats
RichAds advertising platform offers 5 ad formats: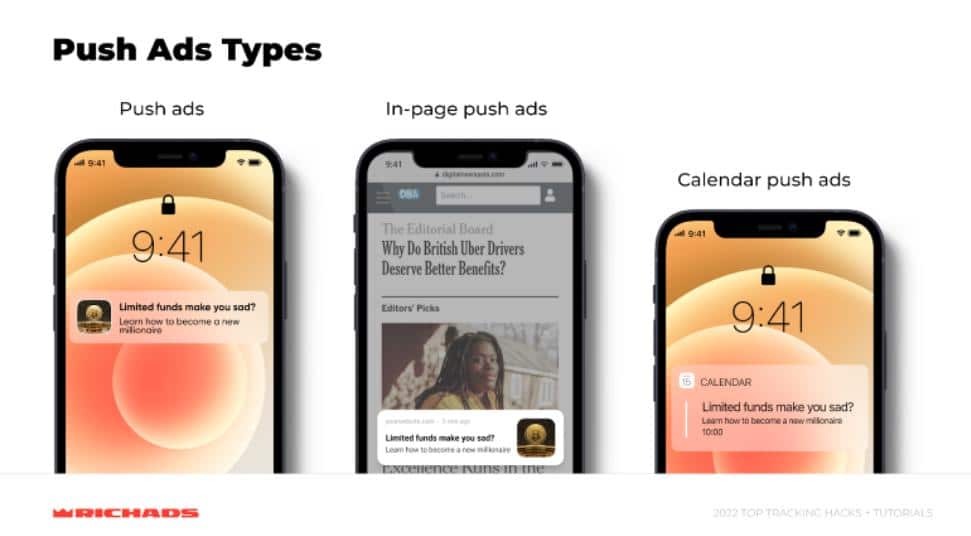 RichAds pros and cons
More than 5 billion ad impressions daily
Reach new audiences in 200+ countries all over the world.
RichAds traffic quality is verified by Adscore. We block any bot or other fraudulent traffic.
Performance team who can help to launch productive ads from the start
The effective onboarding process, making creatives for your ads, whitelists for the start, and fully managing your campaigns.
Apply automated actions, use smart targeting options and pre-built whitelists, customize bid parameters, and enable API integration.
There is no need to set up a campaign from beginning to end if you already have one in the other ad network. Import your ad campaigns in two clicks and start testing immediately.
Enable interaction between your data and applications.
RichAds features
New Subscribers Only
New Subscribers Only targeting option allows showing ads to users that have subscribed to push notifications during the last 7 days. They haven't seen push ads before and will react more actively.
Advanced Targeting
Hit the target with the widest list of available targeting options. Use different devices and OS, manufacturers, and device models to find your users. Build the right strategy for your geo by monitoring the percentage of popular OS, carriers, and browser languages.
Personal Whitelists
RichAds provides highly relevant personal whitelists for its clients. Share information about your GEO, vertical, and offer with your manager, and they will help launch a campaign with the best sources in the ad network.
Micro Bidding
Spend the budget wisely with the Micro bidding feature. You might notice, for example, that newer Android OS convert better, and you'd like to increase traffic from them. Raise its bid and influence the cost of conversion.
Target CPA
Obtain conversions at the targeted price without any of your efforts. Set a budget and conversion cost, and RichAds will do all the work for you.
Automated Rules
Automated rules make optimization easier. Set up the rules that will automatically create blacklists and whitelists for different sources, operating systems, etc. Then the system will check the campaign every hour.
Watch the video overview of RichAds ad platform
Here is the RichAds advertising platform overview for 2022.
In this overview, we'll discuss several important questions:
Ad formats available to launch at RichAds
The best verticals to try
Account types benefits
Payment options at RichAds
Where to find traffic insights
Strategies for a start with RichAds
How to deal with creatives
How to set up the most suitable bid
Targeting options to reach your clients with RichAds
RichAds features for your success
After watching this video, you'll know everything you need to start a successful ad campaign with your CPA offers.
Subscribe to our YouTube channel and click the bell icon not to miss new videos.
Each week we add at least 2 videos about affiliate marketing.
Deliver the desirable results from the start with RichAds.
What is RichAds?
🔝 Push and pop ads,
🔼 Domain redirect traffic,
🔝 CPM for domain ads starts from $ 1.5,
⏫ CPC for push ads starts from $ 0.003,
🔼 CPM for pops — from $0.3 in Tier 3, $1 in Tier 1,
⏫ large volumes of available traffic in more than 200 goes,
🔼 Best niches: VPN, antiviruses, Dating, Sweeps, Gambling, Betting.
---
Related articles: