« Back to Glossary Index
What is RichPush?
RichPush is a conversion-optimized push-notification ad network. The network was created at the end of 2018, right after the new advertising format — push notifications appear.
RichPush gain access to over 450 000 000 potential customers all over the world. Traffic is 100% live, there are no bots due to special behavioral filters.
Before launching its first ad network, RichPush, the founders were actively developing the ad network constructor. This tool can easily create a new ad network to sell traffic and succesfully works today. 
In 2018, based on their technology, they launched their own advertising network for selling push ads traffic — RichPush.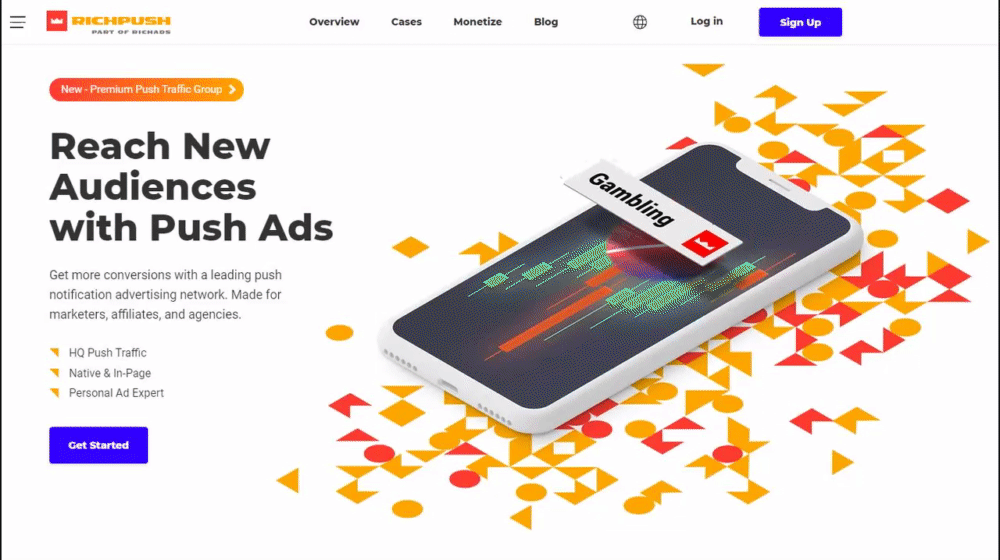 RichPush and RichAds: What's the Difference?
At first, RichPush ad network focused only on push traffic. A year after its successful launch, the company added another advertising format — RichPops.
In 2020, the ad platform combined all ad formats under one brand — RichAds. Nowadays, any affiliate marketer can buy push notifications and popunder ads at RichAds.
RichAds brings together publishers who have website traffic and want to monetize it and advertisers who are looking for the traffic to promote their offers.
If you need high-quality traffic, remember this name — RichAds.
What is RichAds?
🔝 Push and pop ads,
🔼 CPC starts from $ 0.003,
🔝 CPM from $0,3 in Tier 3, $0,5 in Tier 2, $1 in Tier 1,
⏫ large volumes of available traffic in more than 200 goes.
RichPush traffic review
Let's make a small review of the RichAds' traffic and their features.
Some points about RichPush traffic:

Real users,
100% ad visibility,
Minimum CPC starts from $ 0.003,
Audience 450M + in 220 countries,
Best verticals for push traffic from RichPush:
Cleaners/Antiviruses /VPN,
Dating,
Sweepstakes,
Crypto,
Gambling/Betting,
Nutra,
Mobile installs and subscriptions, telecom offers.
How to find the best Traffic Sources from RichPush?
It's not a secret that different sources in the same ad network convert in different ways. It is possible to check the quality of traffic during tests, but this is a laborious and expensive method. Therefore, the team has already done this job for you.
The RichPush experts have tested all sources and divided them into groups according to their performance:
Premium — the best traffic, great to start and test offers,
Standard — inferior in quality to Premium, but also shows promising results.
New — these are new traffic sources that have been added to the ad network recently. There are no detailed statistics collected for them yet. New sources always have one advantage: new subscribers to push notifications show better responses than those who have already seen a lot of push ads.
Remnant — contain remaining traffic. Sources from this group tend to convert worse than all the others. Add these traffic sources for scaling campaigns when the other is already used.
The conversion rate for Premium is 61% higher than for Standard. And compared to the Remnant group, Premium converts 221% better!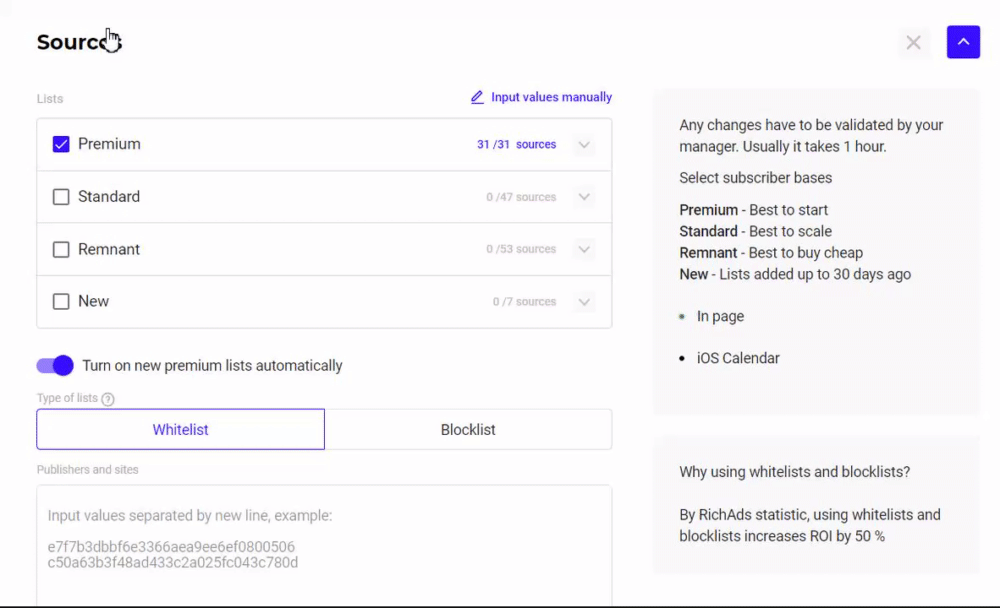 RichPush' advertising platform overview
One of the essential arguments when choosing a push ad network is the platform's functionality. Few people want to pay for third-party services like theOptimizer when their job can be done inside the ad network and absolutely free.
RichPush ad network has 3 main tools for affiliate marketers:
Automated rules are built-in RichAds functionality that allows you to automatically optimize a campaign according to specified rules (rules-based optimization).
Micro bidding is a pro feature for those who want to optimize their campaigns for maximum performance and accuracy. It allows us to make a custom bid for a parameter and treat it differently within a campaign. There are 13 such parameters.
Target CPA feature allows getting conversions at the targeted price.
In addition, on the platform, you can find the most developed list of available targeting options compared to other push ad networks
Reviews on RichPush
All reviews were found in open sources so that you can assess the actual state of affairs.
It's not easy to find traffic source that works, and RichAds works for my offers!

Luke from afflift.com forum
---
Nice network with amazing support and a plethora of campaign settings you can choose from.

They even gave me an AM.

jaouadk from afflift.com forum
---
I have been working with the network since October; the quality and quantity of traffic is often better and more significant than other networks 🙂 I am very pleased with the responsive personal manager who helps solve most questions 🙂 Wishes on changes to the interface and network are always considered, and periodically the guys roll out something new and pleasant 🙂 Also, we don't forget about bonuses from managers 🙂

pqbd from kote.ws forum
Case studies from RichPush
To make sure that our traffic converts, we have prepared several new cases: